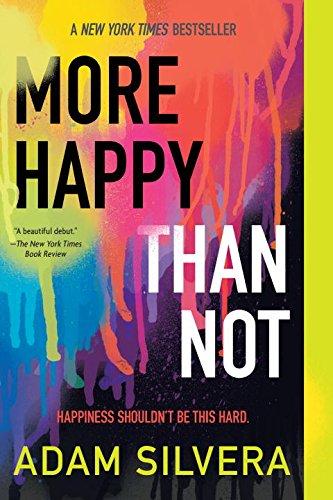 MORE HAPPY THAN NOT
---
A New York Times Bestseller
A New York Times Editors' Choice
A Booklist Best First Novel of 2015
A Booklist Editors' Choice of 2015
A Kirkus Best Teen Book of 2015
Sixteen-year-old Aaron Soto is still coping with his father's suicide when he meets Thomas,
A New York Times Bestseller
A New York Times Editors' Choice
A Booklist Best First Novel of 2015
A Booklist Editors' Choice of 2015
A Kirkus Best Teen Book of 2015
Sixteen-year-old Aaron Soto is still coping with his father's suicide when he meets Thomas, the new guy in his South Bronx neighborhood. Overwhelmed by his intensifying feelings for his friend, Aaron considers turning to a revolutionary memory-alteration procedure to straighten himself out, even if it means forgetting who he truly is.
Paperback
Price: $10.99
ISBN: 9781616956776
Praise
"A beautiful debut novel . . . Mandatory reading."
—The New York Times Book Review
"A bold, inventive, raw look at male sexuality in an irresistible sci-fi package." 
—The Globe and Mail
"Silvera's tale combines the best features of science fiction with social justice in this engaging read."
—Los Angeles Times
"Smart . . . Sensitively told." 
—Good Housekeeping
Discussion Questions
Aaron Soto is a 16-year-old Puerto Rican living in the South Bronx and is falling in love with a boy, but Aaron feels threatened by pursuing this attraction because of his friends. A lot of teen literature where characters are coming out often features violence against the teen for being gay. Did you find the violence in this book to be realistic because of the book's setting or unnecessary?
The Leteo Institute offers a groundbreaking service where they can alter memories for those suffering psychologically and emotionally. There is controversy within the book surrounding the ethics of this procedure. Do you forgive Kyle Lake for forgetting his twin brother's existence after being responsible for his murder? Or should everyone—including Kyle—be forced to confront their issues without the help of a procedure like the Leteo Procedure?
What would this novel have looked like from Genevieve's perspective? And is there another character whose side of the story you'd be interested in hearing?
What did you think of the way the author structured the novel with different levels of happiness to measure Aaron's journey? (These levels included Happiness, A Different Happiness, Unhappiness, Less Happy Than Before, More Happy Than Not.)
The end of the book finds Aaron facing trials that are far from a happy ending. Did you find these conditions to be harrowing or hopeful? Would Aaron's story have felt complete or forced if he got a clean break?
Where do you think the characters (specifically Aaron, Thomas, Genevieve, Brendan, and Collin) end up ten years later?