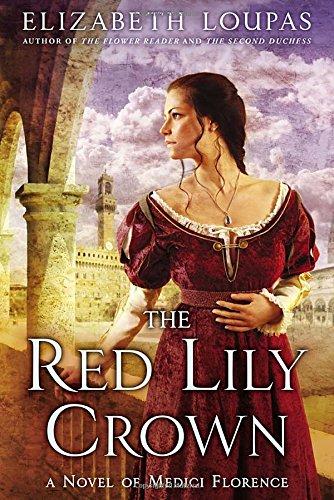 THE RED LILY CROWN
A Novel of Medici Florence
---
Elizabeth Loupas returns with her most ambitious historical novel yet, a story of intrigue, passion, and murder in the Medici Court…
April, 1574, Florence, Italy. Grand Duke Cosimo de' Medici lies dying. The city is paralyzed with dread, for the next man to wear the red lily crown will be Prince Francesco: despotic,
Elizabeth Loupas returns with her most ambitious historical novel yet, a story of intrigue, passion, and murder in the Medici Court…
April, 1574, Florence, Italy. Grand Duke Cosimo de' Medici lies dying. The city is paralyzed with dread, for the next man to wear the red lily crown will be Prince Francesco: despotic, dangerous, and obsessed with alchemy.
Chiara Nerini, the troubled daughter of an anti-Medici bookseller, sets out to save her starving family by selling her dead father's rare alchemical equipment to the prince. Instead she is trapped in his household—imprisoned and forcibly initiated as a virgin acolyte in Francesco's quest for power and immortality. Undaunted, she seizes her chance to pursue undreamed-of power of her own.
Witness to sensuous intrigues and brutal murder plots, Chiara seeks a safe path through the labyrinth of Medici tyranny and deception. Beside her walks the prince's mysterious English alchemist Ruanno, her friend and teacher, driven by his own dark goals. Can Chiara trust him to keep her secrets…even to love her…or will he prove to be her most treacherous enemy of all?
Paperback
Price: $16.00
ISBN: 9780451418876
Praise
"Machiavelli meets The Brothers Grimm: a dark fairy tale with the addictive allure of a poison dream. Renaissance Florence springs to life in all its gorgeous, treacherous glory when a brave street urchin finds herself neck deep in Medici blood-lust. A dash of magic, a maze of murder, a heroine to root for, and a villain who needs to die–this is historical fiction at its most compelling."—Kate Quinn, author of The Serpent and the Pearl and The Lion and the Rose
"Brings to life all the brutality, deception, and glamour of one of history's most intoxicating eras. I could not put it down!"—C.W. Gortner, author of The Queen's Vow
"Elizabeth Loupas works her own particular alchemy on her readers as she brings the heady elements of the Medici court to life—fascinating!"—Marina Fiorato, author of The Botticelli Secret and The Venetian Secret
"You will race through this book and then find yourself wishing it did not have to end."—Sophie Perinot, author of The Sister Queens
Discussion Questions
What did you enjoy most about The Red Lily Crown?
What most intrigued and shocked you about the depiction of life in the Medici royal court?
Chiara Nerini manages to survive many scandals and murders. Discuss the choices she makes that help keep her alive. When does she act wisely and when does she just get lucky?
Both Chiara and Ruan have strong feelings for their childhood homes, in Cornwall and Florence. Discuss the origins of those feelings. Have you ever felt a similar emotional attachment to a particular place?
As you read the novel, did your feelings for Bianca Cappello change? At any point, do you find her sympathetic? Is she in some ways as trapped by her circumstances as Chiara is?
Discuss the factors that blind Isabella and Dianora to the danger they face because of their infidelities and scandals. What might they have done differently?
Discuss Francesco de' Medici's complex character. Do you agree that he was not particularly suited to be a grand duke? How might his life have unfolded without that responsibility? Compare him to his brother Ferdinando.
At points in the novel, Ruan and Chiara are both driven by a desire for revenge. Discuss how that desire plays out. Are they saved by it, or corrupted by it?
Even today, we remain fascinated by ancient texts that promise secrets to achieve power, health and immortality. Discuss examples from popular culture that exploit this fascination. Why do you think we find such knowledge irresistible? Does something in our nature beyond a simple fear of death explain it? When does such a pursuit become dangerous?
What adjustments do you imagine Chiara will have to make as Ruan's wife living in Cornwall? How do you think the locals will perceive her, and how will having an Italian mother affect her children?
What do you think you will take away from the novel? What aspect left the strongest impression?