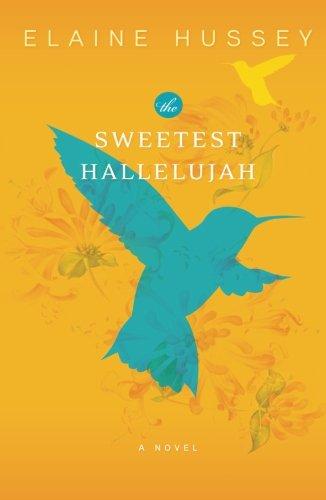 THE SWEETEST HALLELUJAH
---
An unforgettable story of two courageous women brought together by one extraordinary little girl
Betty Jewel Hughes was once the hottest black jazz singer in Memphis. But when she finds herself pregnant and alone, she gives up her dream of being a star to raise her beautiful daughter,
An unforgettable story of two courageous women brought together by one extraordinary little girl
Betty Jewel Hughes was once the hottest black jazz singer in Memphis. But when she finds herself pregnant and alone, she gives up her dream of being a star to raise her beautiful daughter, Billie, in Shakerag, Mississippi. Now, ten years later, in 1955, Betty Jewel is dying of cancer and looking for someone to care for Billie when she's gone. With no one she can count on, Betty Jewel does the unthinkable: she takes out a want ad seeking a loving mother for her daughter.
Meanwhile, on the other side of town, recently widowed Cassie Malone is an outspoken housewife insulated by her wealth and privileged white society. Working part-time at a newspaper, she is drawn to Betty Jewel through her mysterious ad. With racial tension in the South brewing, the women forge a bond as deep as it is forbidden. But neither woman could have imagined the gifts they would find in each other, and in the sweet young girl they both love with all their hearts. Deeply moving and richly evocative, The Sweetest Hallelujah is a remarkable tale about finding hope in a time of turmoil, and about the transcendent and transformative power of friendship.
Paperback
Price: $15.95
ISBN: 9780778315193
Praise
"This novel could have easily spanned another hundred pages and readers would willingly have stayed along for the ride…Hussey merges (the characters) stories together beautifully. Readers will yearn for a happy ending for them all."—Romantic Times
"Author Elaine Hussey has added her distinct creative voice to the impressive list of literary greats hailing from the South with her novel The Sweetest Hallelujah. This book takes you on an unforgettable emotional journey as long-held secrets threaten to tear apart the fragile fabric of a small Mississippi town during the 50's. Hussey's words are powerful and gut-wretchingly believable as her characters come alive, forced to confront the realities they fear most and knowing their lives will never be the same."—Kathie Fong Yoneda, author of The Script-Selling Game
Discussion Questions
Discuss how the themes of sin and redemption play out in the lives of Betty Jewel and Cassie. In what ways does Cassie save Betty Jewel and vice versa?
What do you think of Cassie's decision to adopt Billie? Is it dangerous? Selfless? What does it say about Cassie's character, about her friendship with Betty Jewel, and about her marriage to Joe? Would you have made the same choice? Why or why not?
Discuss the role of family in the book. In what ways does familial responsibility drive the actions of the characters? Do you agree or disagree with the line "Family is family no matter what"? Why or why not?
The Sweetest Hallelujah features a cast of strong fe¬male characters: Betty Jewel, Cassie, Billie, Queen, Fay Dean, Sudie and Merry Lynn. Discuss each of their roles in the story and how they drive the narra¬tive forward. Which of the characters do you relate to the most and why? Do you have a favorite?
The novel is told in alternating perspectives between Cassie, Betty Jewel and Billie. How does this affect how you read/understand the book? What are the advantages and disadvantages of multi-perspective storytelling?
History plays a particularly important role in The Sweetest Hallelujah. In what ways does the setting and period (Mississippi in the summer of 1955) impact the story? How would the story have been different if it had been set in the present?
Discuss Billie's journey in the story and her relation¬ship to Betty Jewel, Queen, Saint, Cassie and Mike Malone. How does each of these characters impact Billie's life? How do you think her life will play out after the last page of the book has been turned?
Discuss the role of Dead Alice in the story. What does her presence signify, and how does it change throughout the book?
Betty Jewel, the Saint and Joe are all musicians. There are song lyrics referenced throughout the book, and the gentle sound of the blues is present at every turn. Discuss the significance of blues and music in the story?