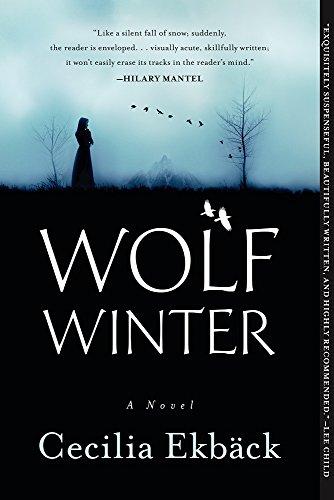 WOLF WINTER
---
Swedish Lapland, 1717 – Maija, her husband
Paavo and her daughters Frederika and Dorotea
arrive from their native Finland, hoping to forget
the traumas of their past and put down new roots
in this harsh but beautiful land. Above them looms
Blackåsen, a mountain whose foreboding presence
looms over the valley and whose dark history seems
to haunt the lives of those who live in its shadow.
One day, Frederika happens upon the mutilated
body of one of their neighbors. The death is dismissed as a wolf attack,
Swedish Lapland, 1717 – Maija, her husband
Paavo and her daughters Frederika and Dorotea
arrive from their native Finland, hoping to forget
the traumas of their past and put down new roots
in this harsh but beautiful land. Above them looms
Blackåsen, a mountain whose foreboding presence
looms over the valley and whose dark history seems
to haunt the lives of those who live in its shadow.
One day, Frederika happens upon the mutilated
body of one of their neighbors. The death is dismissed as a wolf attack,
but Maija feels certain that the wounds could only have been inflicted by
another man. She's compelled to investigate, determined to find answers
for herself—just as the "wolf winter," the harshest winter in memory,
descends upon the settlers, threatening her family's survival. Chilling both
in landscape and plot, Cecilia Ekbäck's debut novel is a remarkable work of
sophisticated suspense and beautiful prose.
Weinstein Books
Paperback
November 2015
376 Pages
9781602862944
Praise
"The time and place seem so remote as to be unearthly, and the style has a
stealthy quality, like a silent fall of snow; suddenly, the reader is enveloped.
Visually acute, skillfully written; it won't easily erase its tracks in the reader's
mind." —Hilary Mantel, Man Booker Prize-Winning Author
"This snapshot of life in a place where winter can be unspeakably cruel, where
simply staying alive is a victory, proves irresistible." —The Kirkus Review
"Exquisitely suspenseful, beautifully written, and highly recommended."
—Lee Child, #1 International Bestselling Author
"A compelling, suspenseful story." —Sunday Times
Discussion Questions
To what extent does landscape affect the behavior of the
characters in Wolf Winter?
There are three narrators in this story: Maija, Frederika,
and the priest. How do their narrative styles differ?
Women are at the center of this story. Given the period in which the
book is set, their agency is limited. How easy is it for a modern reader
to accept this?
How would you characterize the relationship between Maija and
Frederika?
Jutta, Majia's grandmother, appears to her. What role does she play?
Why is Maija so hostile to Frederika's gifts?
What role do animals – real and imagined – play in this story?
Other, older belief systems lie very close to the surface of people's lives
on Blackåsen Mountain. How does the Church attempt to control and
manipulate them for its own end?
Cecila Ekbäck has described a 'Wolf Winter' as a moment in our lives
when we confront our very darkest thoughts. How do the three main
characters emerge from their Wolf Winters?
What do you imagine lies in store for the priest?
When Maija's husband returns (we may assume he does), how might
their relationship have changed?
Each of the settlers has brought with them to their new homes on
Blackåsen Mountain the burdens of their pasts. How do the events in
the book impact on them?
What lies behind Elin Eriksson's actions?
The Lapps lead their lives largely in parallel to the settlers. What
happens when the two communities come together?
Why does Maija persist in her inquiries?
Do you think the priest is a moral, immoral, or amoral agent in the story?
Why do you think the other settlers regard Maija as a threat?