RGC's Little Free Libraries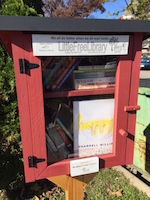 RGC partnered with The Little Free Library Organization on their National Build Day in Madison, Wisconsin in 2015. RGC employees and friends built a library, and then donated two libraries to two communities in Wisconsin.
One of the LFLs is at the family student housing community at the University of Wisconsin. It is located on the path between the student housing community and the K-5 elementary school so there is great foot traffic! It is well used and appreciated by children and parents from all over the world.
RGC received a special donation of books for this LFL from Lee &