July Spotlight: Reading Between the Wines
The members in our July Spotlight Group, six years strong, met as parents and stayed together as friends!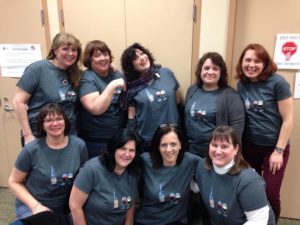 Here is a photo of our book club at an author visit event for the annual All of Rochester Reads selection. We are ten women who initially came together on the sporting fields, concerts and musicals, and parade routes as parents in the Gates Chili School District in Rochester, New York. Our love of reading and curiosity brought us together, and now friendship keeps us searching for new books and adventures to share.