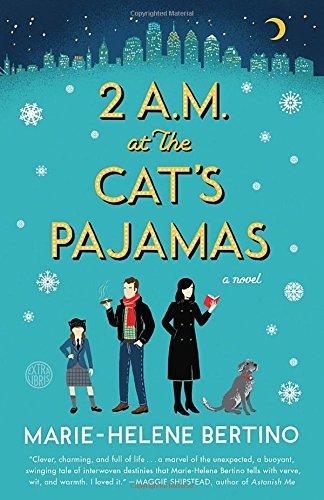 2 A.M. AT THE CAT'S PAJAMAS
---
NPR's Best Books of 2014 selection
PopSugar 2014 Must Reads selection
L Magazine 2014 Gift Guide
Kansas City Star – 100 best books of 2014 Selection
BuzzFeed – The 22 Most Exciting Literary Debuts Of 2014 Selection
An enchanting and staggeringly original debut novel about one day in the lives of three unforgettable characters
Madeleine Altimari is a smart-mouthed, rebellious nine-year-old who also happens to be an aspiring jazz singer. Still mourning the recent death of her mother,
NPR's Best Books of 2014 selection
PopSugar 2014 Must Reads selection
L Magazine 2014 Gift Guide
Kansas City Star – 100 best books of 2014 Selection
BuzzFeed – The 22 Most Exciting Literary Debuts Of 2014 Selection
An enchanting and staggeringly original debut novel about one day in the lives of three unforgettable characters
Madeleine Altimari is a smart-mouthed, rebellious nine-year-old who also happens to be an aspiring jazz singer. Still mourning the recent death of her mother, and caring for her grief-stricken father, she doesn't realize that on the eve of Christmas Eve she is about to have the most extraordinary day—and night—of her life. After bravely facing down mean-spirited classmates and rejection at school, Madeleine doggedly searches for Philadelphia's legendary jazz club The Cat's Pajamas, where she's determined to make her on-stage debut. On the same day, her fifth grade teacher Sarina Greene, who's just moved back to Philly after a divorce, is nervously looking forward to a dinner party that will reunite her with an old high school crush, afraid to hope that sparks might fly again. And across town at The Cat's Pajamas, club owner Lorca discovers that his beloved haunt may have to close forever, unless someone can find a way to quickly raise the $30,000 that would save it.
As these three lost souls search for love, music and hope on the snow-covered streets of Philadelphia, together they will discover life's endless possibilities over the course of one magical night. A vivacious, charming and moving debut, 2 A.M. at The Cat's Pajamas will capture your heart and have you laughing out loud.
Broadway Books
Paperback
October 2015
288 Pages
9780804140256
Praise
"Delightful…[This] story has it all."—Time Out New York
"Inventive, gorgeously written and unforgettable."—NPR
"The purely original construction of an irresistible story… Readers will fall in love…This assured, moving, brilliantly funny tale of music, mourning, and off-kilter romance entrances with its extraordinarily inventive language. Be prepared for a quick reread of this novel to try to answer the question: How did Bertino do that?" —Library Journal (starred review)
"[2 A.M. at The Cat's Pajamas] is the most charming thing I have ever read in my entire existence on this planet…Come for the beauty and heartbreak, stay for the funny one-liners." —Book Riot
Discussion Questions
In order to provide reading groups with the most informed and thought-provoking questions possible, it is necessary to reveal certain aspects of the story in this novel. If you have not finished reading 2 A. M. at The Cat's Pajamas, we respectfully suggest that you wait before reviewing this guide.
As Madeleine imagines herself onstage, how does she picture the ideal woman? Who did you pretend to be when you were her age?
The author lets us see Madeleine's teacher both as Sarina and as Miss Greene. How do Madeleine's impressions compare to the reality of Miss Greene's personal life? How does Sarina manage to carry a torch for Ben after so many years? What does her story tell us about "grown-up" love?
Discuss the recipe box that Madeleine's mother created. Which tips are your favorites? What are your own rules for living?
As you read about Clare and Madeleine's life at Saint Anthony of the Immaculate Heart, did it bring back any memories of you as a fifth grader? What makes Madeleine vulnerable to rejection by the other kids? Why is it hard for everyone to understand what she's going through?
How would you react to a student like Madeleine if you were Principal Randles?
What inspiration does Jack Lorca find in his son, Alex? How is he guided by the other two names tattooed on his arm: Francis and Melissa?
As the author paid tribute to her hometown in 2 a.m. at The Cat's Pajamas, what did you discover about Philadelphia? What makes it the ideal setting for Madeleine's magical moment?
"4:00 P.M." ends with the observation on page 83 that "we carry our ancestors in our names and sometimes we carry our ancestors through the sliding doors of emergency rooms and either way they are heavy, either way we can't escape." How do family legacies affect the characters in the novel? How do Lorca and Madeleine cope with tragedy and loss? What is it like for them to live in the shadow of someone else's dreams?
Beginning on page 144, "11:00 P.M." gives us a poignant glimpse into Madeleine's early years with her parents, Mark and Corrine. How do these images enhance your understanding of Madeleine's world? How did your feelings about Mark shift throughout the novel?
Revisit the history of The Cat's Pajamas nightclub on pages 163–164 and discuss the club itself as a character. What gives life and personality to The Cat's Pajamas? What does the club mean to the Lorca family and to music lovers? How does the club cope with aging? Are there similar one-of-a-kind gems in your community?
As Madeleine takes the stage with Alex, what is at stake for each of them, and for the Cubanistas, beyond the world of The Cat's Pajamas?