Featured Young Adult Books
---
Angie Thomas
Eight Starred Reviews and a #1 New York Times Bestseller! Angie Thomas's searing debut about an ordinary girl in extraordinary circumstances addresses issues of racism and police violence with intelligence, heart, and unflinching honesty. Sixteen-year-old Starr Carter is thrust into the national spotlight after her childhood friend is killed by a white…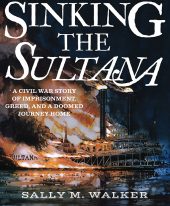 Sally M. Walter
The worst maritime disaster in American history wasn't the Titanic. It was the steamboat Sultana on the Mississippi River — and it could have been prevented. In 1865, the Civil War was winding down and the country was reeling from Lincoln's assassination. Thousands of Union soldiers, released from Confederate prisoner-of-war camps, were to be…
Sign Up
Stay in the loop with Reading Group Choices, get notified about the release of our print editions, and receive handy materials from our publishing partners.
Store
Shop online for our annual print editions, which include book overviews, suggested discussion topics and discussion questions for all our annual books.
2016 Survey Now Available
Tell us about your favorite books from 2016 and win more books for 2017!
Reading Group Advice
Starting a reading group? Follow our handy advice for lively conversation.
Reading Group Spotlight
Each month, we feature one of our reading groups. Next month could be yours!