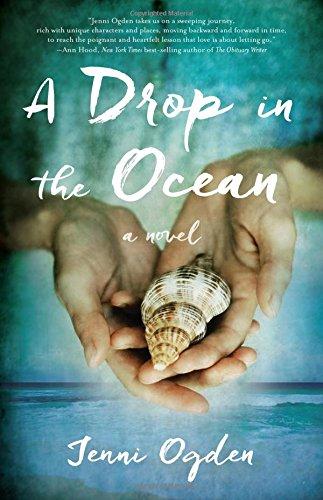 A DROP IN THE OCEAN
---
GOLD WINNER, IPPY AWARD for
AUSTRALIA/NEW ZEALAND – BEST REGIONAL FICTION
On her 49th birthday, Anna Fergusson, Boston neuroscientist and dedicated introvert, arrives at an unwanted crossroads when the funding for her research lab is cut. With her confidence shattered and her future uncertain, on impulse she rents a cabin for a year on Australia's Great Barrier Reef. However Turtle Island, alive with sea birds and nesting Green turtles, is not the retreat she expected. Here she finds love—for the eccentric islanders who become her family; for Tom, the laid-back turtle whisperer; and for the turtles whose ancient mothering instincts move her to tears.
GOLD WINNER, IPPY AWARD for
AUSTRALIA/NEW ZEALAND – BEST REGIONAL FICTION
On her 49th birthday, Anna Fergusson, Boston neuroscientist and dedicated introvert, arrives at an unwanted crossroads when the funding for her research lab is cut. With her confidence shattered and her future uncertain, on impulse she rents a cabin for a year on Australia's Great Barrier Reef. However Turtle Island, alive with sea birds and nesting Green turtles, is not the retreat she expected. Here she finds love—for the eccentric islanders who become her family; for Tom, the laid-back turtle whisperer; and for the turtles whose ancient mothering instincts move her to tears. But Anna finds that even on her idyllic drop in the ocean there is pain, and as the months fly past her dream for a new life is threatened by a darkness that challenges everything she has come to believe about the power of love.
Evocative and thought-provoking, A Drop in the Ocean is a story about second chances and hard lessons learned in the gentlest of ways.
She Writes Press
Paperback
May 2016
295 Pages
9781631520266
Praise
"…everything a reading experience should be, endearing and enduring, time spent with characters who seem to be people I already knew."—Jacquelyn Mitchard, New York Times #1 best-selling author of The Deep End of the Ocean and Two If By Sea
"Readers will enjoy this novel of second chances, not only at love but at life, reminiscent of Terry McMillan's How Stella Got Her Groove Back."—Booklist
"…Jenni Ogden takes us on a sweeping journey, rich with unique characters and places, moving backward and forward in time, to reach the poignant and heartfelt lesson that love is about letting go."—Ann Hood, New York Times best-selling author of The Obituary Writer
"…a quietly majestic book, taking on quests for identity, for connection, for love, for self – a book to lose oneself in – and then share, enthusiastically, right away."—Robin Black, bestselling author of Life Drawing
Discussion Questions
In Chapter One, 49-year-old Boston neuroscientist, Anna Fergusson, describes herself as: "introverted," a washed-up old spinster," and "an ivory tower nerd, clueless about people." This fits a popular stereotype of older, unmarried women scientists. By the end of Chapter One, what was your "deeper" impression of Anna? Did you see any other more positive personality characteristics in her that made her decision to rent a cabin for a year on a tropical island on the far side of the world believable?
Losing a major research grant is equivalent to being made redundant from a long-term job—especially difficult for middle-aged people. Have you (or a family member) ever been in a similar situation? How did it make you feel? Do you think young people today have a different attitude to changing jobs than baby boomers, and if so, what can baby boomers learn from them?
Have you ever been to a tropical island? Looking back, what evokes the most powerful memories for you of that experience? Can you imagine living on such a small island for an entire year? Some people see themselves as primarily "city" or "country" people. Do you think Anna would have viewed herself as a "city" person at the beginning of the novel, with rural or wild places for holidays only? What are you: a "city" or "country" person?
Whether you are a "city" or "country" person, or somewhere inbeween, do you sometimes find solace, alone, in a "wild" place? Do you think that this need is an intrinsic aspect of human nature, or is it learned—for example from good wilderness experiences in childhood?
Ever since The Horse Whisperer by Nicholas Evans was published in 1995—selling over 15 million copies, making it one of the best-selling novels of all time—the label "Whisperer" has been attached to all sorts of things: dogs, babies, books, ghosts, Alzheimer's disease sufferers… there are hundreds of books with "Whisperer" in the title on Amazon. What did Tom's tongue-in-cheek nickname, "The Turtle Whisperer," convey to you when it was first mentioned? Did the metaphor with Anna as the reclusive turtle, hiding in her shell and being whispered out by Tom, become clear to you at some point in the novel?
Wild places and wild life—particularly turtles—and the wonder and joy these bring to Anna, play a pivotal role in her transformation. She almost seems to identify with turtles—their reclusive nature, their mothering instincts, and perhaps the fact that they are central in Tom's life. Have you ever had a strong emotional connection with an animal—perhaps a pet? What do you think of the notion that lonely people are more likely to build such deep bonds (even if one-way!) with animals?
When it comes to sex and intimate relationships, double standards are still present. Even today, older woman—younger man intimate relationships raise some eyebrows. Certainly Anna, with her low self-esteem, didn't hold out much hope that Tom would find her desirable. How did Tom convey to Anna that in his eyes she was attractive and the difference in their ages was of no account? If Anna had not seen for herself the love between her mother and her younger husband, do you think she would have had the confidence to take the courageous step of almost begging Tom to let her stay with him? If you are middle-aged or older, do you ever feel invisible, and do you think this is primarily an experience women have, and not men?
As we discover Anna's backstory, it becomes clear that she's always favored her father over her mother. Later in the novel we meet her mother, and it is difficult to believe that she was ever the uncaring or distracted mother Anna remembered from her childhood. Where parents are separated and one parent (usually the mother) is the primary caregiver, and the other parent just takes the child out for treats, do you think it understandable that the child sees the "treat" parent as her or his "hero"? How might this situation be avoided?
Anna comments that she is "clueless about people" and perhaps believed that that is why she has difficulty making friends, both as a child and an adult. Why do you think the residents of Turtle Island befriend Anna so readily? Is this an example of the city/country situation, where people in cities prefer to be anonymous but in small communities this isn't possible, or is it simply that perhaps Australians are more friendly than Americans? How often do you extend the hand of friendship to new people in your area?
Pat becomes an important part of Anna's life. What is it about Pat that draws Anna to her?
Neither Tom nor Anna likes Tom's boss, Collette, very much. In Tom's case, do you think he would have been more comfortable if his boss had been a man, or do you think personality was more the issue? In a work situation, does gender ever matter to you, or is this always secondary to personaity, management style, etc.
Anna originally trained as a doctor, but discovered she was "hopeless at anything that involves actual patient contact" and thus retrained as a lab-based scientist. On Turtle Island she is challenged by a number of medical issues: Hamish's birth; Pat's breast cancer; her own menopausal symptoms; Morrie's Huntington's disease symptoms; and most dramatically, the possibility that Tom had the Huntington's disease gene. Do you think Anna's responses to those situations are influenced by her medical training, or are her responses simply those any one of us might have in similar circumstances? If you had to deliver a baby, do you think you would know what to do, and be able to follow through?
When Pat returns to the island after her first round of chemotherapy, she is moved when she is greeted at the wharf by all her friends who have shaved their heads in support. Would you shave your head if you thought it would help a friend with cancer feel more supported? Why do you think symbols like this can bring forth such strong emotions?
During the birth scene, did you think something would go wrong? Were you surprised when it all went smoothly? How real did it feel to you? Whose 'head' were you in while you were reading the scene—Anna's; Kirsty's; or perhaps poor Ben's? Generally when reading a novel, are you in the head space of the character whose point-of-view is prominent (Anna, in this case), or do you find yourself experiencing the situation from the point-of-view of one of the other characters, perhaps a character you empathize with strongly?
When Anna first meets Morrie, given that people like Morrie are the very participants she has been researching for years, she is ashamed of her initial feelings of repulsion and fear. Do you think her decision as the head of the lab to have her research assistants work on a one-to-one basis with the Huntington's disease patients and their families so she could avoid personal contact with them suggests that she had been exploiting them for the sake of her research? Anna's reaction is perhaps extreme, but it is not uncommon to feel fear or other negative or inappropriate feelings when we first meet someone very different from ourselves—especially people who are severely mentally or physically disabled. What strategies can you think of to help yourself or your children feel at ease with all kinds of people, and to 'see' the person inside?
Anna's specialty area is Huntington's disease. When she finally discovers why Tom won't commit to a long-term relatonship, she can't understand his decision not to be tested. After all, he has a 50% chance of not having the gene, and then they could be together forever. There are many difficult ethical decisions to be made when deciding to have this test, and clearly Tom has made his decision. Do you think Anna would have had a different response if she had not been an HD specialist? Have you ever been in a situation where someone you love makes a decision about their health that you disagree with? Imagine a scenario where your partner refuses to have treatment for a heart condition that may extend his or her life, or decides to have a vasectomy or a tubal ligation because he or she doesn't want children even though you desperately do. Do you think there are some health decisions that should be jointly made? If partners can't agree, do you think you might see your partner's decision as a sign that he or she doesn't love you enough?
In the first 49 years of her life Anna loses much that she loves: her father; the man she was having an affair with; the baby she was carrying; her career; and even her mother, in the sense that she feels they have no connection. On Turtle Island she feels that she is losing baby Hamish, she almost loses Pat, she loses her trust in her father, and she loses her dream of staying with Tom on Turtle Island. Yet her life becomes richer as the Island people become her family, and she reconnects with her mother and forgives her father. When she at last accepts that Tom must make his own decision, she learns the hard lesson that love is about letting go. What do you think about this? Can you let go?
One of the authors who endorsed the novel commented that A Drop In The Ocean is "a story about belonging—and the ripples that can flow from the family we choose to the family that chooses us." When Anna met her father's sister and her son, she liked them, but they did not feel like family; her Island friends had become that for her. How did her "chosen" family help her to bond with her mother and forgive her father? What is it for you that makes a family?
Tom's father's funeral is a turning point for Anna. Funerals often seem to have this effect on us—our tears may not be just in empathy with the grieving family but also for people in our own lives whom we have lost. Did this scene evoke any emotions in you?
How did you feel at the end of the story (before the Epilogue) when Anna had to leave Turtle Island and Tom?
Was the Epilogue important for you? If there had been no Epilogue, how do you think you would have wanted Anna's future life to unfold?