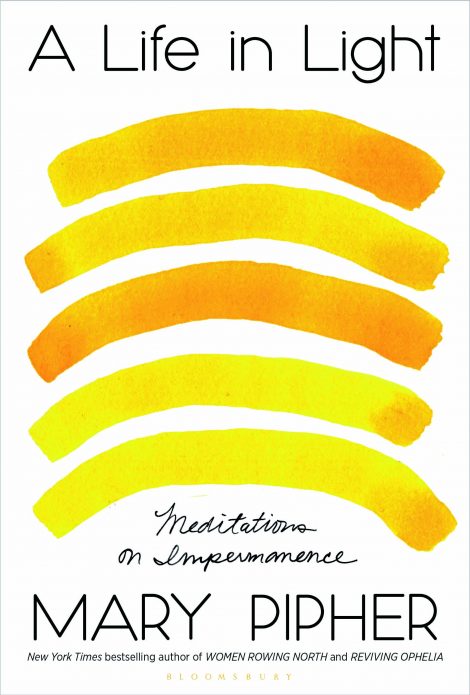 A LIFE IN LIGHT
Meditations on Impermanence
---
From the bestselling author of Women Rowing North and Reviving Ophelia-a memoir in essays reflecting on radiance, resilience, and the constantly changing nature of reality.
In her luminous new memoir in essays, Mary Pipher-as she did in her New York Times bestseller Women Rowing North-taps into a cultural moment, to offer wisdom, hope, and insight into loss and change. Drawing from her own experiences and expertise as a psychologist specializing in women, trauma, and the effect of our culture on our mental health, she looks inward in A Life in Light to what shaped her as a woman,
Bloomsbury Publishing
Hardcover
June 2022
320 Pages
9781635577587
Praise
"Radiant essays about how joy and loss often coexist. . . To nudge readers toward building their own 'transcendent narratives,' Pipher braids in insights from her 25 years as a therapist, citing how acknowledging 'evidence of growth' in one's story, regardless of how big or small, can open up pathways toward healing. Those struggling to overcome darkness will find a guiding light in this incandescent work."–Publishers Weekly (starred review)
"For psychologist Pipher, the light found in nature, caring relationships, work, and books has always been the key to happiness. In this beautifully written memoir, her memories of childhood in Nebraska are vivid and poignant. . . . This lovely book teaches gentle lessons on gratitude and celebrating life."–Booklist (starred review)
"A writer discovers herself in a new light… [Pipher] reflects on aging, loneliness, and happiness in a serene, gently told memoir. . . . Sensitive meditations from a 'solar-powered' writer"–Kirkus Reviews
"In her incandescent new book, Mary Pipher shines a light on what really matters, and in doing so, she reflects our lives back at us with exquisite awareness. I was deeply moved by every page, laughing, crying, always reflecting on her words long after. She has given us all essential lessons on how to balance despair with a sense of wonder and inspires us to lead more lightfilled lives."–Lori Gottlieb, New York Times-bestselling author of Maybe You Should Talk to Someone
"Mary Pipher's work, always illuminating, is especially so in this dazzling memoir with its focus on light and transcendence. Beautifully written, heartfelt and poignant, the book draws universal lessons from the rich details of Mary's life. Her luminous spirit shines on every page."—Jean Kilbourne, Senior Scholar, Wellesley Centers for Women, author, culturaltheorist, filmmaker
Discussion Questions
1. Mary Pipher begins the book by describing her first memory: light dancing in the leaves of a tall tree in her grandmother's front yard. She writes, "I didn't have the language, but I knew that what I was watching was beautiful." How did that experience inform her life going forward? What is your earliest memory? Is it positive or negative, and does it carry this kind of significance for you?
2. In the introduction, Pipher describes resilience as the ability to find light in dark times. "We build it by our attitudes, efforts, and coping skills." How, specifically, did Pipher's attitudes, efforts, and coping skills lead to her ability to be resilient?
3. Pipher's parents were complicated figures in her life. How did you feel about them when they were introduced in "A Motherless Child" and "My Father's Shirt"? How did you feel about them by the end of the book?
4. When she was a child, swimming filled Pipher with a deep sense of love, safety, and well-being. What was it about swimming that generated these feelings in her?
5. In "A Best Friend," Pipher writes about the importance of friendships in childhood and says that having a best friend and confidant at age nine changed her life. How did her friendship with Jeanie change her life at this age? How did your own childhood friends help shape you and, perhaps, change your own life?
6. Pipher writes about the importance of animal companions in childhood, both wild and domesticated. What did these early encounters with animals teach her about herself, humanity, and the world?
7. Books were a solace for Pipher in her formative years. What books helped construct your identity beyond the bounds of family?
8. In "House Calls," Pipher's mom explains that parents often gave their children what they never had, not necessarily what the children wanted or needed. Have you seen this happen in your own, or someone else's, life?
9. Pipher's grandmother, her fourth-grade teacher Mrs. Oliver, and her pottery teacher Mrs. Van Cleave all made her feel truly seen. How did these adults help shape her into the woman she would become?
10. Working at the A&W taught Pipher a great deal about the world and herself. What did she learn there about people, and about work?
11. While in San Francisco with her parents, Pipher is able to see how she is both like her parents and different from them. She realizes that part of growing up and being ready to leave home is being able to accept these differences without judgment. What does she realize about her parents in this section?
12. How does Pipher react to the death of each of her parents?
13. Fame is not what Pipher wanted, but she got it anyway. What does she find challenging about it, and how does that affect her future life choices?
14. Light at different times of the day penetrates the book. Quiet dawns, bright midday sun, sunsets, and moonlight feature often. Why has light been so significant to Pipher?
15. How did the pandemic change your relationship to your home, and to the word home?
16. In the last section, Pipher distinguishes between ordinary happiness (which depends on the circumstances of the day) and deep happiness (which is independent of conditions). She says, "It is a matter of attention." What allowed Pipher to offer that attention? Do you agree?
17. The Japanese word komorebi appears throughout the book, referring to "the interplay of light and leaves as sunlight shines through trees." Pipher says that it can also "refer to a melancholic longing for a person, place, or thing that is far away. Or it can refer to impermanence. Dappled light shows us that what is here now will be gone in an instant. Nothing stays the same." How does this word deepen our understanding of impermanence? How does it relate to Pipher's feelings about resilience?