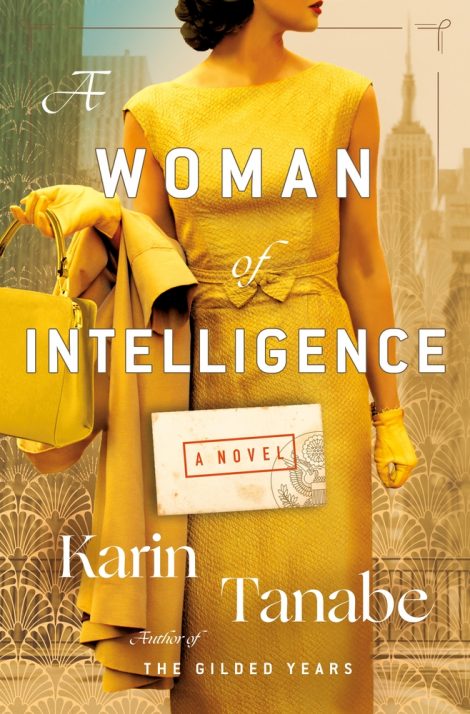 A WOMAN OF INTELLIGENCE
A Novel
---
From "a master of historical fiction" (NPR), Karin Tanabe's A Woman of Intelligence is an exhilarating tale of post-war New York City, and one remarkable woman's journey from the United Nations, to the cloistered drawing rooms of Manhattan society, to the secretive ranks of the FBI.
A Fifth Avenue address, parties at the Plaza, two healthy sons, and the ideal husband: what looks like a perfect life for Katharina Edgeworth is anything but. It's 1954, and the post-war American dream has become a nightmare.
A born and bred New Yorker, Katharina is the daughter of immigrants,
From "a master of historical fiction" (NPR), Karin Tanabe's A Woman of Intelligence is an exhilarating tale of post-war New York City, and one remarkable woman's journey from the United Nations, to the cloistered drawing rooms of Manhattan society, to the secretive ranks of the FBI.
A Fifth Avenue address, parties at the Plaza, two healthy sons, and the ideal husband: what looks like a perfect life for Katharina Edgeworth is anything but. It's 1954, and the post-war American dream has become a nightmare.
A born and bred New Yorker, Katharina is the daughter of immigrants, Ivy-League-educated, and speaks four languages. As a single girl in 1940s Manhattan, she is a translator at the newly formed United Nations, devoting her days to her work and the promise of world peace—and her nights to cocktails and the promise of a good time.
Now the wife of a beloved pediatric surgeon and heir to a shipping fortune, Katharina is trapped in a gilded cage, desperate to escape the constraints of domesticity. So when she is approached by the FBI and asked to join their ranks as an informant, Katharina seizes the opportunity. A man from her past has become a high-level Soviet spy, but no one has been able to infiltrate his circle. Enter Katharina, the perfect woman for the job.
Navigating the demands of the FBI and the secrets of the KGB, she becomes a courier, carrying stolen government documents from D.C. to Manhattan. But as those closest to her lose their covers, and their lives, Katharina's secret soon threatens to ruin her.
With the fast-paced twists of a classic spy thriller, and a nuanced depiction of female experience, A Woman of Intelligence shimmers with intrigue and desire.
St. Martin's Press
Hardcover
July 2021
384 Pages
9781250231505
Praise
"Layered and engrossing." –Publishers Weekly (starred review)
"Tanabe crafts the historical setting convincingly [and] the novel moves at a brisk pace…perhaps the most subversive thing about the twinned stories is this: how well the masks and performances Rina puts on as wife and mother prepare her for the world of espionage." –Kirkus
"A smart thriller with heart…and some simmering sexual tension, too." –BookRiot
"What a delicious skein of secrets Karin Tanabe has spooled in A Woman of Intelligence, somehow entwining the lies it takes to sustain the fiction of happy motherhood with the lies it takes to work as a covert operative for the FBI in 1954 at the height of the McCarthy hearings. Katharina Edgeworth's awakening into the gray area of patriotic action is prescient, relevant, and above all, deeply satisfying. I loved diving into this world." –Sarah Blake, New York Times bestselling author of The Guest Book
"Tanabe has long delighted readers of historical fiction with her beautiful writing, compelling plots, and sumptuous historic details. In A Woman of Intelligence, she gives fans a heroine to root for in the strong, complex, and spirited Katharina Edgeworth. This is the story of a woman who dares to dream beyond the gilded cage and stifling social mores into which life has boxed her, and who proves the indelible power of women to change the world in the process." –Allison Pataki, New York Times bestselling author of The Queen's Fortune
"Karin Tanabe delivers her most complex heroine yet in A Woman of Intelligence. Katharina Edgeworth, a former UN translator, unfulfilled in her role as wife and mother, finds herself leading a double life as an FBI informant during the McCarthy era. Filled with intrigue and wit, Tanabe takes readers on a meticulously researched journey through post WWII New York. This is a novel for fans of thrillers and historical fiction alike." –Renee Rosen, bestselling author of Park Avenue Summer
Discussion Questions
1. Consider the opening scene of the novel. What does it reveal about Katharina's feelings toward motherhood and her daily existence? How does it set the tone for the unfolding narrative?
2. Discuss the moment when Tom says he doesn't want to marry someone like his mother, Amelia Edgeworth. What does this reveal about Tom and Rina's relationship? What does it reveal about Tom's relationship with Amelia? How did your feelings toward Amelia evolve over the course of the novel?
3. On page 38, Rina says, "But I'm still a woman in 1946." Consider the weight of this statement. What did you learn about the societal expectations for women during the 1940s and 1950s?
4. What did you make of the novel's title?
5. The novel's setting of New York City is so integral to the narrative, serving as a character in and of itself. What are some moments in the novel when you see this to be true?
6. Discuss the significance of the hallway in Rina and Tom's apartment ("the gallery") and the window seat. What does this spot represent for Rina?
7. Discuss the evolution of Rina and Tom's relationship over the years, from the beginning of their relationship to their marriage. What do you think the future holds for the two of them?
8. Examine the female friendships that Rina has in her life. How do Faye Buckley Swan, Ava Newman, and Marianne Fontaine influence Rina?
9. What did the novel teach you about the Red Scare and McCarthyism that you may not have known before?
10. On page 346, Turner Wells says to Rina, "Don't let your circumstances extinguish you." Discuss the impact and meaning behind his words. In what ways have the characters in the novel––and Rina in particular––been affected by and/or overcome their circumstances?
11. Consider the role of Turner Wells in Rina's life. What does he mean to her? How does he change her? Did the racism regarding interracial couples in the 1950s impact them and their interactions?
12. Do you think our views on the roles of motherhood, a mother's identity, and postpartum depression have changed since the 1950s?
13. Discuss the end of the novel. How did it make you feel? What do you think comes next for Rina?
Excerpt
CHAPTER 1
Mother.
Only one word cut through the noise of a New York afternoon.
The rest of my neighbor Carrie's monologue was lost to me as a Packard ambulance raced past us along Fifth Avenue, siren screaming and bright red gumball light flashing. On its oversize tires, the Packard looked like a white scarab beetle, slicing a path through Manhattan's congested Upper East Side.
Our view of wide and pulsating Fifth Avenue was flanked by a parade of elms now in full leaf. When the shriek of the sirens had faded, we turned our attention back to each other, two women seated on a wooden bench at the playground near the Metropolitan Museum of Art's Egyptian wing.
Carrie, a red-headed, doe-eyed girl with a pin-up body and an alabaster face, scrunched up her pretty features. "Those ambulances are awfully loud, aren't they?" she noted.
"Indeed."
She glanced uptown, as if they might suddenly start rolling down Fifth Avenue by the dozen, like the tanks during the Victory Parade in '45, nine years back. "Is it just me or did they get louder after the war?"
"Could be," I said.
"I think they have, and it's really too much," she replied decisively, her heart-shaped chin rising a pinch. "The noise scares the children." She pulled on the large diamonds clipped to her earlobes as if to adjust her eardrums back to softer sounds. "They shouldn't let ambulances take this route to Lenox Hill, so close to the park. But I suppose, if someone dies on Fifth Avenue, someone dies on Fifth Avenue," she said with a sigh.
"Even the rich have to meet their maker," I replied.
"I suppose that's true," Carrie said, sounding doubtful. As a woman made of sunshine, never clouds, Carrie was the type of uplifted soul who always focused on life, not death. Part of her seemed quite sure that her husband could simply make a large bank transfer to the grim reaper in exchange for eternal life for the whole family—that is, the moneyed New York sort of life that they were already living. If eternity meant being a farmer's overburdened wife in one of the Dakotas or that state shaped like a mitten, then Carrie would surely take her last breath in that ambulance to Lenox Hill instead. At least she'd die in the correct postal zone.
"What were you saying before the ambulance came?" I asked. "The sirens drowned you out."
"Oh," Carrie replied, frowning as she thought back. "I was saying that our children are at a perfect age. Don't you love it? Don't you just love being a mother?'"
She looked out at her daughter, Alice, and my son Gerrit, trying to climb up the metal slide, squawking happily, their faces a mix of dirt, mucus, and joy. Next to us on the bench, my one-year-old, Peter, was tucked in a white cashmere blanket, sleeping with his head on my lap, wrapped up as tightly as the mummies in the Egyptian wing a few yards away.
"Being a mother," I echoed, thinking how the sirens had seemed to amplify the word's impact. "And yes, of course," I added quickly. "Of course I do. I love it. There's nothing I love more." I stretched as much as I could in my heavy coat. April was proving no breath of spring. "We all love being mothers."
"We do," she said firmly. "It is the greatest gift."
In her teal green dress and matching coat, a child-friendly one-inch heel on her beige shoes, Carrie was a vision of a certain kind of femininity, her whole being screaming of spryness, full of the vivacity that I lacked. At twenty-seven, she was a full decade younger than I was, and suddenly she seemed even younger.
"I remember when I was pregnant with Alice," Carrie continued, touching her flat midsection reflectively. "I was at the opera with Matthew, just a human beach ball taking in Tosca," she said, grinning, "and during intermission, a woman patted my stomach with a hand covered in diamonds—yellow diamonds, very large—and said, 'Isn't it so wonderful? To be having a baby? Just think, when it's born, you'll never be alone again.'" Carrie cocked her head and moved her pretty red hair—shampoo advertisement hair—to the other side of her neck. "For the rest of my life I'll always have someone at my side, or at least somewhere roaming the earth, who I've created. Never alone again," she repeated. "Isn't that just the most wonderful sentiment?"
"Wonderful," I replied quickly, adding an overly emphatic nod of the head.
"You can rid yourself of a husband, or friends, and your parents die, but as long as you live, your children will always be tethered to you. The rope may get longer, but it never breaks."
"Never," I repeated, digging my nails into the bench's wooden slats.
"I wasn't expecting a revelatory moment at the opera," Carrie went on, patting baby Peter, still sleeping soundly between us. "Frankly, I was a bit unnerved to be pulled to the theater in my eighth month of pregnancy, but the Maximillian Millses had invited us and we couldn't say no to that, could we?"
"Absolutely not," I replied. My own husband would have made me accept an invitation from the Maximillian Millses even if I had been in active labor, the baby coming into the world as everyone howled at their jokes and nodded yes, please, for more canapés. No one ever declined an invitation from the Millses.
"But that woman's words made me feel … I don't know, exactly." Carrie looked up at the gray sky as if waiting for God to deliver the right adjective. "Peaceful. More peaceful than I had felt my whole pregnancy. It was a beautiful, comforting thing to think about. Never alone again."
She eyed me to make sure I was still listening.
"I've thought about it every day since, and Alice is two already," she said, giving a wave to her daughter, her diamond tennis bracelets clinking. Alice's flaxen hair was in her eyes, but she didn't seem to notice, too busy playing in the dirt that stuck to her as if she were made of flypaper.
"I never quite thought about motherhood that way." I loosened the gray silk scarf around my neck, one of the last presents I remembered receiving from my own mother. After I married, she told me I had enough money to buy my own scarves.
"That woman was my own angel Gabriel of sorts. It was the best moment of my pregnancy."
"Lovely," I muttered again. My own pregnancies had only been heaven-sent during conception. The rest had been highlighted by vomiting, tears, and an excessive consumption of desserts from Glaser's Bake Shop.
I continued to pull at my scarf, suddenly conscious of feeling rather like Nathan Hale on the gallows as the executioner tightened his noose. "It is all such a blessing, isn't it?" I said brightly, glancing over to see my older son poke himself in the face with a stick. As I watched, he stopped, pulled up his coat sleeve, held the stick out in front of him, and then turned to Alice. With a single precise movement, he jabbed her right in the eye. She screamed and fell backward, her little legs straight up in the air like a tipped calf's. "A gift," I added before we both jumped up.
I sprang forward ahead of Carrie, since my child was the offender, but remembered I had a sleeping baby on the bench and went back to pick him up before I scolded Gerrit. My motions were jerky, and Peter woke up abruptly. He blinked in surprise a few times, then howled. I left the toddlers to Carrie, who gently took the stick away from Gerrit while trying not to let her daughter bite his face in retaliation. I attempted to comfort Peter, holding him as tightly as I could manage, and took off my scarf with my other hand. It would be better off in my purse than around my neck.
I hoisted the baby up, then went to yell at my other son as etiquette required when one two-year-old tried to maim another. I bent down to get closer to him.
"Gerrit! No hitting! No poking! No sticks!" I shouted. "No violence!" What else could I add to make Carrie think I was the right kind of mother? "No mischief! No roughhousing! No moving at all!"
Gerrit looked up at me, his face pink from the cold and the excitement of trying to murder his playmate, and said, "No." He picked up another stick before I could lunge at him, and poked me hard in the leg, ripping my stocking.
I clutched Peter even tighter, glad that I hadn't ended up like a tipped calf myself.
"Oh, Rina, your stockings," Carrie said, gripping Alice's hand. I waved her off and peered at Alice. The child had emerged from the fray still fully sighted, but as I looked at her blue eyes I noticed the sky behind her had darkened by several shades—gone the color of concrete.
Before I could panic, the baby panicked for me. A huge drop of water hit his fat cheek, surprising him. He started to howl and wiggle out of his folded blankets, like an animal under attack. As I hung on to him, I heard sharp little dings. Hail was bouncing at my feet. I clutched the baby to my breast and grabbed Gerrit's hand. "Carrie!" I screamed, though she was only two feet away.
"What should we do?" she said, looking from me to our bags open on the bench, food and toys strewn everywhere. "Go inside the museum?"
"With my monsters? We'll end up in prison. Let's try to get a taxi."
We threw our things into bags and purses while the toddlers cackled with glee and the baby wailed. As we rushed to Fifth Avenue, one of Peter's blankets fell to the ground. Carrie turned back for it, as I could barely hold my children, and I yelled at her to leave it.
"There will be no taxis left!" I shouted.
At the corner of Eighty-fourth, we shot our arms up, but we were among dozens doing the same.
"Watch it, kid!" a man barked as he tried to get to the curb. I looked down. Gerrit was stepping on the back of his shoes, perhaps accidentally, most likely not.
"I'm terribly sorry," I apologized as my purse slid down my arm. Some of its contents spilled out, a glass jar shattering. He stepped over the shards and whistled for a cab. As I kicked the glass off my feet, he muttered obscenities, then darted into the road and threw himself into a taxi, nearly upending an elderly woman.
"I'll cross the street!" Carrie shouted as she flung herself across Fifth Avenue, Alice's hand in an iron grip. "Whoever hails a cab first, the other runs across and climbs in!"
For ten minutes we tried, without success. I almost dropped the baby, and in my efforts to keep him off the pavement, flipped him horizontally and tucked him under my arm like a salami. A living, breathing, angry salami. Across the street, Carrie finally appeared as desperate as I felt.
"Subway!" she shouted.
We rushed to Lexington, then nearly rolled down the steps of the 86th Street station, barely able to squeeze through the turnstiles as the crowd surged toward the arriving train. Right before the car's double doors opened, Gerrit squirmed free. I stuck out my leg to keep him from sprinting away, and in one swift motion, Carrie yanked him onto the train. With all three children wailing, food dripping in our expensive handbags, my stocking torn, our lipstick smeared, and our hair ruined, the subway doors shut in front of us.
"I love being a mother," I whispered as the train groaned to a start.
CHAPTER 2
During my childhood and through my twenties I had taken the subway constantly, loving it even in the sweltering summer. Subways were a microcosm of humanity, and the New York slice of it was the most intriguing in the world, I was sure. But since I'd had children, I almost never burrowed underground anymore. "Leave that to the rats," Tom had said jokingly when I was rearranging my bronze subway tokens in my purse a few days after we'd returned from the hospital with Gerrit. He had taken them from me and placed them in his doctor's bag with the intention of giving them to the drunks who wandered into his hospital, Lenox Hill.
I looked around the subway car as I clutched Peter to my chest, trying to muffle his sobs. Carrie was shushing Alice and Gerrit with little success. I grabbed Gerrit's coat collar and pulled him to my side, trying to ignore the judgmental stares, focusing on the conversations around me instead of my inconsolable sons. Rants about the weather dominated.
"Those ice cubes nearly took my eye out."
"Why did the papers not predict this?"
"Surely it's a sign of the apocalypse."
"I thought it was raining bullets. Thought I was back in Normandy."
"You're in Manhattan, darling. You're safe here."
I turned to see the woman who had tried to calm the shaken former soldier, but people had started crowding the doors, ready to exit at Seventy-seventh.
Copyright © 2021 by Karin Tanabe