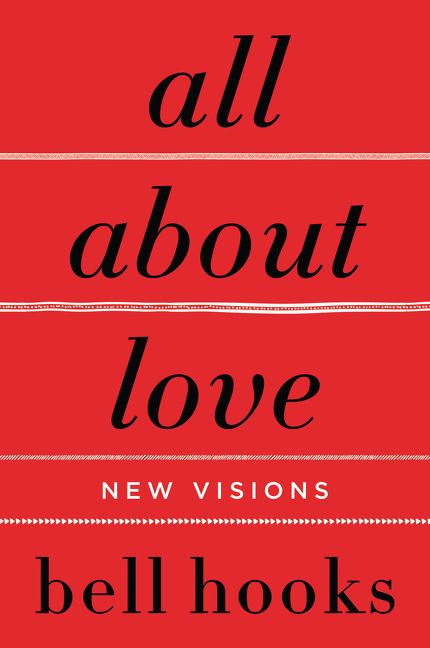 ALL ABOUT LOVE
New Visions
---
The acclaimed first volume in her "love song to the nation"
"The word 'love' is most often defined as a noun, yet . . . we would all love better if we used it as a verb," writes bell hooks as she comes out fighting and on fire in All About Love. Here, at her most provocative and intensely personal, the renowned scholar, cultural critic, and feminist skewers our view of love as romance. In its place she offers a proactive new ethic for a people and a society bereft with lovelessness.
As Bell Hooks uses her incisive mind and razor-sharp pen to explore the question "What is love?" her answers strike at both the mind and heart.
The acclaimed first volume in her "love song to the nation"
"The word 'love' is most often defined as a noun, yet . . . we would all love better if we used it as a verb," writes bell hooks as she comes out fighting and on fire in All About Love. Here, at her most provocative and intensely personal, the renowned scholar, cultural critic, and feminist skewers our view of love as romance. In its place she offers a proactive new ethic for a people and a society bereft with lovelessness.
As Bell Hooks uses her incisive mind and razor-sharp pen to explore the question "What is love?" her answers strike at both the mind and heart. In thirteen concise chapters, hooks examines her own search for emotional connection and society's failure to provide a model for learning to love. Razing the cultural paradigm that the ideal love is infused with sex and desire, she provides a new path to love that is sacred, redemptive, and healing for individuals and for a nation. The Utne Reader declared bell hooks one of the "100 Visionaries Who Can Change Your Life." All About Love is a powerful affirmation of just how profoundly she can.
William Morrow Paperbacks
Paperback
January 2018
272 Pages
9780060959470
Praise
"Each offering from bell hooks is a major event, as she has so much to give us." –Maya Angelou
"She provides a refreshing spiritual treatise that steps outside the confines of the intellect and into the wilds of the heart." –Seattle Weekly
"Like love, this book is worth the commitment." –Toronto Sun
Discussion Questions
1. In the preface, hooks writes, "love returns us to the promise of everlasting life. When we love wecan let our hearts speak" (p. xi). What does this mean?
2. hooks describes the inspiration and solace she finds in graffiti art declaring, "The search for love continues even in the face of great odds" (p. xv). Where have you found similar signs that have restored your faith in love?
3. Historically, how have the demands of love for women been different from those for men? How have they differed for adults and children? What does hooks suggest about these distinctions?
4. Discuss the way in which hooks uses her personal experience throughout this book. How does her personal experience enhance her assertions? Which vignette do you find particularly meaningful?
5. hooks describes the allure of lying in relation to the allure of power. What are the lies you tell to feel powerful? How do our concepts of power — born from the patriarchal culture we inhabit — keep us from love? What role does greed play and where does it come from?
6. hooks probes the gap between the values many people "claim to hold and their willingness to do the work of connecting thought and action, theory and practice" (p. 90). How does our culture reward those who nurture this gap? What changes would we haveto make in society to nurture and inspire the closing of this gap?
7. If we must sacrifice "our old selves in order to be changed by love" (p. 188), what is it that we're giving up?
8. Although she warns against attempting to return to the past rather than forging ahead, hooks advocates repairing and restoring family bonds. Why is this an important goal? How do these bonds enable us to live with love in all areas of our lives?
9. What are the political ramifications of hooks's visions of love? Is love a political issue?
10. Look over the chapter titles in All About Love. If you were to add a chapter, what would it be?
11. Why do we fear love? Are we more afraid of surrendering ourselves to love or of living without love? What sacrifices does love require? What relief and salve can love offer? Is it possible to be too damaged, too wounded to love?
12. How has All About Love enhanced, contradicted, challenged, altered your vision of love?
Excerpt
One
Clarity: Give Love Words
THE MEN IN my life have always been the folks who are wary of using the word "love" lightly. They are wary because they believe women make too much of love. And they know that what we think love means is not always what they believe it means. Our confusion about what we mean when we use the word "love" is the source of our difficulty in loving. If our society had a commonly held understanding of the meaning of love, the act of loving would not be so mystifying. Dictionary definitions of love tend to emphasize romantic love, defining love first and foremost as "profoundly tender, passionate affection for another person, especially when based on sexual attraction." Of course, other definitions let the reader know one may have such feelings within a context that is not sexual. However, deep affection does not really adequately describe love's meaning.
The vast majority of books on the subject of love work hard to avoid giving clear definitions. In the introduction to Diane Ackerman's A Natural History of Love, she declares "Love is the great intangible." A few sentences down from this she suggests: "Everyone admits that love is wonderful and necessary, yet no one can agree on what it is." Coyly, she adds: "We use the word love in such a sloppy way that it can mean almost nothing or absolutely everything." No definition ever appears in her book that would help anyone trying to learn the art of loving. Yet she is not alone in writing of love in ways that cloud our understanding. When the very meaning of the word is cloaked in mystery, it should not come as a surprise that most people find it hard to define what they mean when they use the word "love."
Imagine how much easier it would be for us to learn how to love if we began with a shared definition. The word "love" is most often defined as a noun, yet all the more astute theorists of love acknowledge that we would all love better if we used it as a verb. I spent years searching for a meaningful definition of the word "love," and was deeply relieved when I found one in psychiatrist M. Scott Peck's classic self-help book The Road Less Traveled, first published in 1978. Echoing the work of Erich Fromm, he defines love as "the will to extend one's self for the purpose of nurturing one's own or another's spiritual growth." Explaining further, he continues: "Love is as love does. Love is an act of will—namely, both an intention and an action. Will also implies choice. We do not have to love. We choose to love." Since the choice must be made to nurture growth, this definition counters the more widely accepted assumption that we love instinctually.
Everyone who has witnessed the growth process of a child from the moment of birth on sees clearly that before language is known, before the identity of caretakers is recognized, babies respond to affectionate care. Usually they respond with sounds or looks of pleasure. As they grow older they respond to affectionate care by giving affection, cooing at the sight of a welcomed caretaker. Affection is only one ingredient of love. To truly love we must learn to mix various ingredients—care, affection, recognition, respect, commitment, and trust, as well as honest and open communication. Learning faulty definitions of love when we are quite young makes it difficult to be loving as we grow older. We start out committed to the right path but go in the wrong direction. Most of us learn early on to think of love as a feeling. When we feel deeply drawn to someone, we cathect with them; that is, we invest feelings or emotion in them. That process of investment wherein a loved one becomes important to us is called "cathexis." In his book Peck rightly emphasizes that most of us "confuse cathecting with loving." We all know how often individuals feeling connected to someone through the process of cathecting insist that they love the other person even if they are hurting or neglecting them. Since their feeling is that of cathexis, they insist that what they feel is love.
When we understand love as the will to nurture our own and another's spiritual growth, it becomes clear that we cannot claim to love if we are hurtful and abusive. Love and abuse cannot coexist. Abuse and neglect are, by definition, the opposites of nurturance and care. Often we hear of a man who beats his children and wife and then goes to the corner bar and passionately proclaims how much he loves them. If you talk to the wife on a good day, she may also insist he loves her, despite his violence. An overwhelming majority of us come from dysfunctional families in which we were taught we were not okay, where we were shamed, verbally and/or physically abused, and emotionally neglected even as were also taught to believe that we were loved. For most folks it is just too threatening to embrace a definition of love that would no longer enable us to see love as present in our families. Too many of us need to cling to a notion of love that either makes abuse acceptable or at least makes it seem that whatever happened was not that bad.
Raised in a family in which aggressive shaming and verbal humiliation coexisted with lots of affection and care, I had difficulty embracing the term "dysfunctional." Since I felt and still feel attached to my parents and siblings, proud of all the positive dimensions of our family life, I did not want to describe us by using a term that implied our life together had been all negative or bad. I did not want my parents to think I was disparaging them; I was appreciative of all the good things that they had given in the family. With therapeutic help I was able to see the term "dysfunctional" as a useful description and not as an absolute negative judgment. My family of origin provided, throughout my childhood, a dysfunctional setting and it remains one. This does not mean that it is not also a setting in which affection, delight, and care are present.
On any day in my family of origin I might have been given caring attention wherein my being a smart girl was affirmed and encouraged. Then, hours later, I would be told that it was precisely because I thought I was so smart that I was likely to go crazy and be put in a mental institution where no one would visit me. Not surprisingly, this odd mixture of care and unkindness did not positively nurture the growth of my spirit. Applying Peck's definition of love to my childhood experience in my household of origin, I could not honestly describe it as loving.
Pressed in therapy to describe my household of origin in terms of whether it was loving or not, I painfully admitted that I did not feel loved in our household but that I did feel cared for. And outside my household of origin I felt genuinely loved by individual family members, like my grandfather. This experience of genuine love (a combination of care, commitment, trust, knowledge, responsibility, and respect) nurtured my wounded spirit and enabled me to survive acts of lovelessness. I am grateful to have been raised in a family that was caring, and strongly believe that had my parents been loved well by their parents they would have given that love to their children. They gave what they had been given—care. Remember, care is a dimension of love, but simply giving care does not mean we are loving.
Like many adults who were verbally and/or physically abused as children, I spent a lot of my life trying to deny the bad things that had happened, trying to cling only to the memory of good and delicious moments in which I had known care. In my case, the more successful I became, the more I wanted to cease speaking the truth about my childhood. Often, critics of self-help literature and recovery programs like to make it seem that far too many of us are eager to embrace the belief that our families of origins were, are, or remain dysfunctional and lacking in love but I have found that, like myself, most people, whether raised in an excessively violent or abusive home or not, shy away from embracing any negative critique of our experiences. Usually, it requires some therapeutic intervention, whether through literature that teaches and enlightens us or therapy, before many of us can even begin to critically examine childhood experiences and acknowledge the ways in which they have had an impact on our adult behavior.
Most of us find it difficult to accept a definition of love that says we are never loved in a context where there is abuse. Most psychologically and/or physically abused children have been taught by parenting adults that love can coexist with abuse. And in extreme cases that abuse is an expression of love. This faulty thinking often shapes our adult perceptions of love. So that just as we would cling to the notion that those who hurt us as children loved us, we try to rationalize being hurt by other adults by insisting that they love us. In my case, many of the negative shaming practices I was subjected to in childhood continued in my romantic adult relationships. Initially, I did not want to accept a definition of love that would also compel me to face the possibility that I had not known love in the relationships that were most primary to me. Years of therapy and critical reflection enabled me to accept that there is no stigma attached to acknowledging a lack of love in one's primary relationships. And if one's goal is self-recovery, to be well in one's soul, honestly and realistically confronting lovelessness is part of the healing process. A lack of sustained love does not mean the absence of care, affection, or pleasure. In fact, my long-term romantic relationships, like the bonds in my family, have been so full of care that it would be quite easy to overlook the ongoing emotional dysfunction.
In order to change the lovelessness in my primary relationships, I had to first learn anew the meaning of love and from there learn how to be loving. Embracing a definition of love that was clear was the first step in the process. Like many who read The Road Less Traveled again and again, I am grateful to have been given a definition of love that helped me face the places in my life where love was lacking. I was in my mid-twenties when I first learned to understand love "as the will to extend one's self for the purpose of nurturing one's own or another's spiritual growth." It still took years for me to let go of learned patterns of behavior that negated my capacity to give and receive love. One pattern that made the practice of love especially difficult was my constantly choosing to be with men who were emotionally wounded, who were not that interested in being loving even though they desired to be loved.
I wanted to know love but I was afraid to surrender and trust another person. I was afraid to be intimate. By choosing men who were not interested in being loving, I was able to practice giving love, but always within an unfulfilling context. Naturally, my need to receive love was not met. I got what I was accustomed to getting—care and affection, usually mingled with a degree of unkindness, neglect, and, on some occasions, outright cruelty. At times I was unkind. It took me a long time to recognize that while I wanted to know love, I was afraid to be truly intimate. Many of us choose relationships of affection and care that will never become loving because they feel safer. The demands are not as intense as loving requires. The risk is not as great.
So many of us long for love but lack the courage to take risks. Even though we are obsessed with the idea of love, the truth is that most of us live relatively decent, somewhat satisfying lives even if we often feel that love is lacking. In these relationships we share genuine affection and/or care. For most of us, that feels like enough because it is usually a lot more than we received in our families of origin. Undoubtedly, many of us are more comfortable with the notion that love can mean anything to anybody precisely because when we define it with precision and clarity it brings us face to face with our lacks—with terrible alienation. The truth is, far too many people in our culture do not know what love is. And this not knowing feels like a terrible secret, a lack that we have to cover up.
Had I been given a clear definition of love earlier in my life it would not have taken me so long to become a more loving person. Had I shared with others a common understanding of what it means to love it would have been easier to create love. It is particularly distressing that so many recent books on love continue to insist that definitions of love are unnecessary and meaningless. Or worse, the authors suggest love should mean something different to men than it does to women—that the sexes should respect and adapt to our inability to communicate since we do not share the same language. This type of literature is popular because it does not demand a change in fixed ways of thinking about gender roles, culture, or love.
Rather than sharing strategies that would help us become more loving it actually encourages everyone to adapt to circumstances where love is lacking.
Women, more so than men, rush out to purchase this literature. We do so because collectively we are concerned about lovelessness. Since many women believe they will never know fulfilling love, they are willing to settle for strategies that help ease the pain and increase the peace, pleasure, and playfulness in existing relationships, particularly romantic ones. No vehicle in our culture exists for readers to talk back to the writers of this literature. And we do not really know if it has been truly useful, if it promotes constructive change. The fact that women, more than men, buy self-help books, using our consumer dollars to keep specific books on bestseller lists, is no indication that these books actually help us transform our lives. I have bought tons of self-help books. Only a very few have really made a difference in my life. This is true for many readers.
The lack of an ongoing public discussion and public policy about the practice of love in our culture and in our lives means that we still look to books as a primary source of guidance and direction. Large numbers of readers embrace Peck's definition of love and are applying it to their lives in ways that are helpful and transformative. We can spread the word by evoking this definition in day-to-day conversations, not just when we talk to other adults but in our conversations with children and teenagers. When we intervene on mystifying assumptions that love cannot be defined by offering workable, useful definitions, we are already creating a context where love can begin to flourish.
Some folks have difficulty with Peck's definition of love because he uses the word "spiritual." He is referring to that dimension of our core reality where mind, body, and spirit are one. An individual does not need to be a believer in a religion to embrace the idea that there is an animating principle in the self—a life force (some of us call it soul) that when nurtured enhances our capacity to be more fully self-actualized and able to engage in communion with the world around us.
To begin by always thinking of love as an action rather than a feeling is one way in which anyone using the word in this manner automatically assumes accountability and responsibility. We are often taught we have no control over our "feelings." Yet most of us accept that we choose our actions, that intention and will inform what we do. We also accept that our actions have consequences. To think of actions shaping feelings is one way we rid ourselves of conventionally accepted assumptions such as that parents love their children, or that one simply "falls" in love without exercising will or choice, that there are such things as "crimes of passion," i.e., he killed her because he loved her so much. If we were constantly remembering that love is as love does, we would not use the word in a manner that devalues and degrades its meaning. When we are loving we openly and honestly express care, affection, responsibility, respect, commitment, and trust.
Definitions are vital starting points for the imagination. What we cannot imagine cannot come into being. A good definition marks our starting point and lets us know where we want to end up. As we move toward our desired destination we chart the journey, creating a map. We need a map to guide us on our journey to love—starting with the place where we know what we mean when we speak of love.