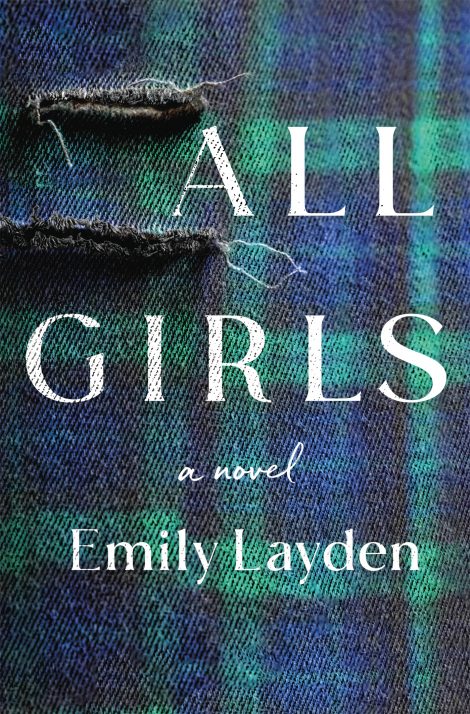 ALL GIRLS
A Novel
---
A keenly perceptive coming of age novel for fans of Sally Rooney, Curtis Sittenfeld, and J. Courtney Sullivan, All Girls follows nine young women as they navigate their ambitions and fears at a prestigious New England prep school, all pitched against the backdrop of a scandal the administration wants silenced.
But as the months unfold, and the school's efforts to control the ensuing crisis fall short, these extraordinary girls are forced to discover their voices, and their power. A tender and unflinching portrait of modern adolescence told through the shifting perspectives of an unforgettable cast of female students,
A keenly perceptive coming of age novel for fans of Sally Rooney, Curtis Sittenfeld, and J. Courtney Sullivan, All Girls follows nine young women as they navigate their ambitions and fears at a prestigious New England prep school, all pitched against the backdrop of a scandal the administration wants silenced.
But as the months unfold, and the school's efforts to control the ensuing crisis fall short, these extraordinary girls are forced to discover their voices, and their power. A tender and unflinching portrait of modern adolescence told through the shifting perspectives of an unforgettable cast of female students, All Girls explores what it means to grow up in a place that promises you the world––when the world still isn't yours for the taking.
You grow to love a place… and then you grow up.
St. Martin's Press
Hardcover
February 2021
320 Pages
9781250270894
Praise
One of "The 28 Must-Read Books of Winter 2021"–Town & Country
One of "The Most Anticipated Books of Winter 2021"–Parade
One of the "Best Books to Read in 2021"–Good Housekeeping
"Incisive, astute… Layden succeeds at bringing the effects of an institutional cover-up into sharp relief." -Publishers Weekly
"Readers will find themselves thinking about the vividly and compassionately rendered characters long after their chapters end, and considering decisions they would make in the same situations. Give it to grown-up fans of Gossip Girl and readers of Curtis Sittenfeld and Emma Straub." -Booklist
"An important take on sexuality and #MeToo from the perspective of the young." -Library Journal
"A striking debut." —Good Housekeeping
"Sharp, engrossing." —Town & Country
"What's it like to attend a promising, prestigious New England prep school engulfed in a scandal it wants silenced? In All Girls, a diverse cast of nine young women offer shifting perspectives, discover their voices and navigate friendships and fears in the middle of crisis." —Parade
"With extraordinary insight and craft, All Girls explores what happens when Atwater, an all-girls boarding school, is rocked by allegations of sexual assault. All Girls kept me turning pages not only to uncover its central mystery but to discover something deeper: the surprises and secrets of thisriveting cast of characters, in all of their full and complex humanity." –Chloe Benjamin, New York Times bestselling author of The Immortalists
"All Girls is an exciting, innovative debutfrom a fresh and assured new voice. Emily Layden renders the fictional Atwater School in nuanced, honest, and rich depth, guiding its young characters with a tender and knowing hand. This is a sincere, poignant, and moving story of a group of teenage girls coming to terms with the world they've inherited." –Taylor Jenkins Reid, New York Times bestselling author of Daisy Jones and the Six
Excerpt
Here
There are no major highways into the northwest corner of Connecticut that comprises Litchfield County. Travelers from the more densely populated suburbs of New York—from Westchester and Long Island, from Danbury and Greenwich—find themselves frustrated by the path of winnowing thoroughfares, turnpikes and interstates splitting again and again like capillaries from an artery. No matter the starting point, the final approach to Atwater requires navigating Litchfield's web of two-lane county roads, flanked in most cases by farmland and medium-thick deciduous forest, the only signage suggesting lowered speeds around particularly treacherous curves. In this corner of New England—like the PCH in certain parts of Southern California; like the pavement that cuts between oil fields outside Odessa—these are the roads meant for windows down and music on loud. This is where teenagers wrap themselves around telephone poles.
The vandal—if vandalism is what you wanted to call it—clearly knew this when she considered her options. (Unlike the question of whether the act was vandalism, there was near-unanimous agreement that the culprit was, in fact, a she.) She clearly knew that families dropping their daughters off at school had their pick of county routes to zig and zag across, like ants to the nest. She might have also known that the nearest billboards were at the interchanges and highway overpasses near Waterbury and Hartford; she might have further estimated the number of students who drove that way and decided: Not enough. When she placed her order with Vistaprint—the label was printed neatly on the back of each poster board—for one hundred eighteen-by-twenty-seven-inch signs and one hundred stands, it was with the understanding that the best approach was a scattershot one, shrapnel blasted across the entire county. She likely researched Connecticut laws and local ordinances regarding yard signs and public property and determined that what she was planning was probably not illegal, not exactly, but that it was best to plant the signs under the cover of darkness on a night as close to Opening Day as possible.
And so when the residents of Kent and Goshen and Roxbury woke one morning in late August, the day the boarding school at the heart of their suburban-rural community was set to open for the academic year, and made their way to the little main streets and intersections that held their corner stores and gas stations, they found their roads peppered with little black rectangles, low and squat and set thirty feet from the pavement. It wasn't until they passed two or three that the words coalesced into meaning, the rs and ps sorted and organized by a fogged morning brain. Longer still it took to identify the purpose of these campaign signs in a nonelection year, and so the phrasing of the placards planted like seeds in a fifteen-mile radius from The Atwater School settled confusedly onto the surrounding community. A RAPIST WORKS HERE, they read, the message positioned next to a sepia-toned photo of a schoolhouse steeple, haloed in black like an antique portrait.
They were gone almost as soon as they'd popped up, lingering only for a day or two, so that those that remained withered like mailbox balloons after a birthday party, wilted and random, more frequent the farther you traveled from campus. They guessed the school came around and tore them up, or maybe it was their neighbors for whom the vulgarity of the signs was too much: Who wanted to look at that word every day? Who wanted to think about that kind of violence? Because of this, few of them had the chance to look up the URL that slugged the bottom of each sign, the one that might have directed them to a petition to extend Connecticut's statute of limitations on rape and sexual assault, a kind of activism that might have struck them as surprisingly reasonable given the shock of the headline and the tabloidishness of the signs. In time, the townspeople for whom Atwater was a kind of ivory tower would decide the words on the yard signs weren't meant for them, not really, and the act of vigilante justice would fade in their memories to a kind of sad and misguided prank. They were used to this kind of thing, the whispers of scandal that accompany the very, very privileged. It was never any of their business.
Orientation
Lauren Triplett has vomited in a lot of public places: on the sidelines of a soccer field; in the parking lot of a Dunkin' Donuts; at Six Flags; at Disney World; once, even, at the edges of a black-diamond run on a mountain in the Adirondacks, orange-pink throw-up melting the powder on contact. And now: Somewhere on the Side of the Road in Rural Connecticut.
Her mother has not bothered to get out of the car. Susan Triplett has a spectacularly weak stomach of her own, and while a person might think that would make her more sympathetic to her daughter's propensity for motion sickness, in fact it does not.
Instead, Lauren's dad hangs a few feet off, hands on his hips: "Sorry, kid."
Lauren spits, her hands still braced against her knees. She eyes her shins for flecks of stray vomit. She'll need to find a place to brush her teeth. Did she pack mouthwash? That would be easier. "Not your fault," she says, her eyes not quite meeting her dad's as she peels herself up, unfurling her vertebrae one at a time. "How much longer?"
"Not much. Fifteen minutes."
Lauren nods. A large SUV zips past them, its draft shaking the Tripletts' own Forester and kicking up dead leaves settled at the shoulder. "I hope that's not one of my classmates."
Her dad shrugs. "No way they got a good-enough look."
Lauren rolls her eyes. "Not helpful."
As they climb back into the car, Lauren's mother extends a hand into the back seat, passing a tin of mints in her daughter's direction. "D'you guys see that?" she says, nodding her chin toward the windshield.
"Hmm?" Lauren's dad starts the car and checks his mirror.
"There," her mom says, pointing now, the tin of mints aimed at a small poster twenty yards up the road.
Her dad sighs and shakes his head. "What do you think that's about?"
"I hope it doesn't have anything to do with your school," Susan says.
The mint opens Lauren's nasal passages, and she chokes back a sneeze.
"Mom," she says, by way of rebuke.
"I'm just saying. These places are all dealing with this stuff now."
"Sue."
"What?"
Her father turns on his blinker and eases the car out onto the road. They are quiet as they roll past the sign, all three of them engaged in a kind of mental matching game. The tower in the photo is perfectly nondescript, as though the sign's creator did a standard image search for steeples and selected randomly from the algorithm's assortment. There could be another prep school here, Lauren thinks. She remembers from her search that there are a dozen of them in western Connecticut, maybe more, all multisyllabic and old-moneyed: Westminster, Canterbury, Loomis Chaffee. But as their car draws even with the yard sign and Lauren cranes her neck toward the window, tapping her nose accidentally against the glass, she feels the familiar sink of disappointment, of a false hope not borne out. When she decided to apply to Atwater, her desk at home was covered with marketing and admissions materials from the school, thick-papered pamphlets and flyers and viewbooks dipped in navy and white. Almost all of them featured a low-angled shot of an open-air steeple, looming like a fortress watchtower. After she was accepted, she kept the viewbooks and flyers and pamphlets in their haphazard pile like a casual reminder. She absorbed them through the periphery of her mornings and evenings every day for months.
She would know that clock tower anywhere.
* * *
The truth is that this whole thing, really, was Grace's idea. Grace's mom and grandmother and great-grandmother (and probably great-great-grandmother, back and back until before women were even allowed to go to school) all went to the same all-girls boarding school in Massachusetts. It was never a question that Grace would, in eighth grade, apply there as well. Grace was Lauren's best friend, but Grace—knowing that she would leave their prison-compound-like middle school in upstate New York for the hallowed halls of a historic boarding school—always treated their friendship like a temporary arrangement, like Lauren was a placeholder until Grace could make real friends, the ones she'd have for life. Grace's mother went to Napa every year with her classmates; Grace's grandmother, in her late eighties, never missed Alumnae Weekend.
It was a whole world Lauren knew nothing about. Her parents went to public high schools and respectable-but-public colleges and graduate schools. It wasn't like they were poor and Grace was rich—in their modest-size town, they lived in the same subdivision and their moms went to the same gym and the biggest difference Lauren could see was that Grace's family went to Nantucket in the summer and Lauren's went to Cape Cod. But Grace's family had something Lauren's dad called pedigree, and it set their otherwise identical suburban lives apart from one another.
By the start of eighth grade, boarding school was all Grace would talk about. When her locker got stuck, she'd roll her eyes and say that next year she wouldn't have to deal with nuisances like lockers. When she was bored in study hall, she'd say that next year she'd have "frees." Pushing iceberg lettuce around her sectioned lunch tray, she'd longingly sigh: The food's going to be so good next year.
And so one day during study hall Lauren googled "best boarding schools" (the predictive search added "in America") and started scrolling. Grace's school was on all the top-fifty lists, as high as number twenty-seven on a list of the most elite boarding schools, whatever that means. They were all beautiful. Most of them were in New England, although there was one in Santa Barbara where each student had her own pet horse. Literally. They called it the Horse Program, capital H, capital P, just like that—and it was, according to the website, an essential bonding experience for the freshman class. For the most part, though, the schools looked less like world-class resorts and more like baby colleges: small campuses nestled in leafy valleys or below lazily rolling hills with neatly arranged quads and coordinated Gothic or colonial architecture. At some of them, the students wore uniforms—plaid skirts and sweater vests for the girls; blazers for the boys—but at others the students dressed like Lauren's classmates on their better days: jeans, sweaters, combat boots.
* * *
"Lauren?" The girl in front of Lauren is very tall, and she leans over and forward slightly as she says her name. She is also impossibly beautiful, so ridiculously flawless that Lauren is temporarily speechless. Her skin is smooth and poreless. Her eyes are almond-shaped and flecked with gold. Her hair is curly in the way of hair let out of loose braids, deeply parted, and tossed over one side. Lauren had been expecting the girls at Atwater to be pretty, but Standard American Rich Girl pretty: tall and white with Hamptons tans and shiny hair. This girl, the one saying Lauren's name with a question mark, is movie-star gorgeous.
"I'm Olivia Anderson," she continues, extending a hand from a long and lithe arm. "I'm your Proctor."
"Um, hey," Lauren says, jostling the duffel bag she has over one shoulder to reach toward Olivia. Olivia's palm is soft and the smooth kind of dry, like baby powder.
"A proctor? What's that?" Susan stops riffling through the trunk of the car and stands next to her daughter. "Hi," she adds, extending her own hand. "I'm Lauren's mom."
"Hi, Lauren's Mom," Olivia says. She smiles like an old friend: big, generous, knowing. "Every Hall has a kind of leadership team," Olivia explains, "made up of a Dorm Parent and two upperclasswomen: a Proctor and Peer Educator."
"I thought this was the underclass … women dorm?" Lauren's mother asks, fumbling her way through a valiant attempt to speak Olivia's language. Twinned lines tunnel between her eyes, creasing the skin behind the bridge of her sunglasses.
"It is," Olivia says, "with the exception of the student leaders."
She pauses, assessing Susan's furrowed brow. "Can I tell you a secret?" she says, leaning in slightly.
Lauren can't tell whether the question's directed at her or her mother. In the beat she takes to consider, Susan answers, also leaning in: "What?"
"We say we want to be student leaders because we want to help 'foster community,'" Olivia says, her voice hushed, grinning, "but the truth is: we really just want to live closer to the dining hall."
At this, Lauren's mom cackles, her head craned back. She reaches an arm out and rests a hand on Olivia's shoulder, and in the brief moment that Susan's head knocks back, her sunglassed eyes tilted to the clouds, Olivia half winks at Lauren.
"Anyway, as I was saying: your Peer Educator is a junior who runs bimonthly health and wellness programs during Hall Meeting. On our floor, the Peer Ed is Tate McKenzie." Olivia cranes her head over Lauren's shoulder, scanning the parking lot. "I'll introduce you when I see her. The Dorm Parent is a faculty or staff member assigned to live in the Hall apartment, and she's the adult in charge of things like sign-outs and chores and nightly check-in."
"And who's that?"
"Our Dorm Parent is Ms. Daniels. She teaches history." Olivia directs her gaze at Lauren. "She's chill. You'll really like her. And then, finally, there's me, your Proctor. You can come to me for anything: directions to your classes, insider info on teachers, where to find the best Korean food in a hundred miles—anything. So," she says, pausing as if coming up for air, "can I show you your room?"
It is clear that Susan Triplett is thoroughly charmed. She thinks she and Olivia are already confidantes, old friends. Her voice lowered, she asks, "Do you know anything about those yard signs? The ones"—here she drops to almost a whisper—"about the rapist?"
Lauren is temporarily stunned. Her eyes widen so quickly that she can feel her lids tuck into the farthest reaches of her ocular bone. "Mom," she hisses.
"Oh, those," Olivia says, pursing her lips into a tight, bemused smile. "So upsetting, aren't they?"
Susan nods emphatically.
"I don't know much about it, to be honest. I haven't even seen one yet. They popped up this morning, I guess, and we—the Proctors—got to school a couple of days ago."
"I see. But you've heard about them?"
Olivia's eyes flicker to Lauren, and Lauren imagines they say: Your mother is a handful, isn't she? I see why you wanted to come here.
"Mom," Lauren says. "Drop it."
"Oh no, it's fine!" Olivia flashes Lauren's mother her biggest, most generous smile. "The administration told us about them this morning and said we might get questions about it. They're still fact-gathering, but Admin plans to send out a letter to parents as soon as they have the correct information."
"So it does have to do with Atwater," Susan says, and for a moment Olivia's face contracts, confused.
"Well, yes. It appears that way, given the photograph."
A snapshot of Lauren's desk at home slides across her brain, the glossed cardstock reflecting the lamp glow, obscuring the image.
"But I don't really know much else about it."
Susan Triplett looks chided, although Olivia continues to smile warmly at both of them. When Lauren's mother does not press the issue, Olivia's shoulders seem to drop and her smile transforms into a grin. Grabbing a bag from the trunk, she begins to rattle off a series of expectations regarding dorm life (she uses that word, "expectations," and it is not until much later that Lauren learns that "expectation" is Atwater code for "rule"). Study hall is from seven to nine. Quiet hours begin at nine thirty, but some of their hallmates may like to get to bed before then and they should be respectful of that. Check-in is by ten on weekdays, eleven on weekends. Lights-out is at ten thirty during the week—"which sucks, I know," Olivia adds sympathetically—and eleven thirty on weekends. Do not empty your personal trash in the common-room trash; bring it outside to the dumpsters. Do not leave dirty dishes in the common-room sink. Chores are typically completed on Sunday evening after study hall, and will be assigned by Ms. Daniels.
Although the details are businesslike, Olivia talks as though she has known Lauren and her family for years. She seems to listen with her entire being. When she is not pointing out landmarks and holding doors open and motioning directions, she looks Lauren directly in the eyes. Lauren imagines the conversations they'll have by the soft glow of their desk lamps, late into the night.
Copyright © 2021 by Emily Layden