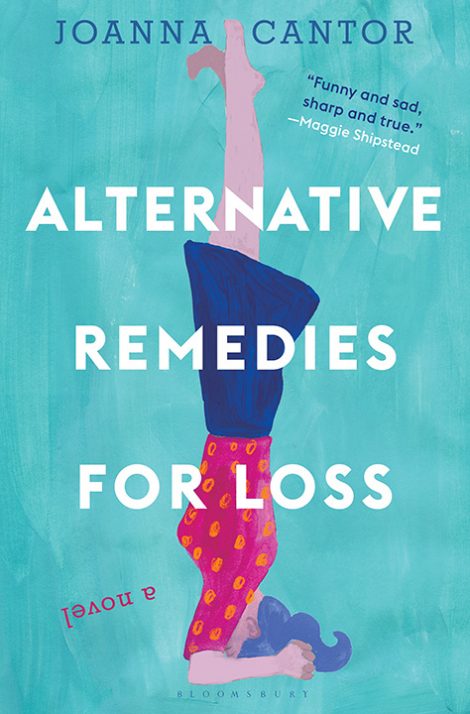 ALTERNATIVE REMEDIES FOR LOSS
---
A slyly funny coming-of-age novel about a young woman fumbling her way into the mysteries of loss and the travails of adulthood as she tries to make sense of a vanished mother's legacy.
When 22-year-old Olivia learned that her mother had only months to live, she pulled up roots and left her career plans far behind to be with her mother for her last days. And yet, just four months after her mother's death, everyone in Olivia's family already seems ready to move on. Her brothers are settled comfortably in careers and families of their own;
A slyly funny coming-of-age novel about a young woman fumbling her way into the mysteries of loss and the travails of adulthood as she tries to make sense of a vanished mother's legacy.
When 22-year-old Olivia learned that her mother had only months to live, she pulled up roots and left her career plans far behind to be with her mother for her last days. And yet, just four months after her mother's death, everyone in Olivia's family already seems ready to move on. Her brothers are settled comfortably in careers and families of their own; her father has already started to date again, inviting a woman named June on a family trip. Still reeling from the loss, Olivia looks for a new start of her own, throwing herself headlong into Manhattan's fast-moving media world, where she is alternately demeaned by bosses and pursued by men.
But then Olivia makes a shocking discovery: a secret romantic correspondence her mother had with a man who only signed each letter "F." To untangle the mystery of F, Olivia will journey halfway across the world, to an ashram in rural India, on a quest that will reconfigure everything Olivia thought she knew about her family and her own place in an increasingly complex world.
A profoundly moving and keenly observed contemplation of the debts we owe to the past and the ways we discover our futures, Alternative Remedies for Loss is the rare sort of book that can break and mend your heart in a single and unforgettable read.
Bloomsbury
Hardcover
May 2018
320 Pages
9781635571714
Praise
"Heartbreakingly honest…. This is a whip-smart debut."—Booklist
"Funny and sad, sharp and true, Alternative Remedies for Loss kept me reading late into the night, riveted by the unfolding of a life."—Maggie Shipstead, bestselling author of Seating Arrangements and Astonish Me
"A compelling, memorable debut."—Joshua Henkin, author of Matrimony
"With this sharp and lovely debut, Joanna Cantor weaves a spell of what it feels like to be unmoored by grief but also by the mysterious process of becoming an adult. This is a sexy, smart and subtly moving book about youth and loss and, ultimately, grace."—Joanna Hershon, author of Swimming
Discussion Questions
1. Olivia believes that she's affected by her mother's death more than any other member of her family. Do you believe that's true? Why or why not?
2. Did you empathize with Olivia's grief process? Why or why not? Did your feelings towards her change throughout the book? If so, how?
3. What prompts Olivia to change her mind about wanting to meet Franco?
4. Do you think Olivia regrets finding out about her mother and Franco's relationship? The information she uncovers makes her see her mother in a different light. Is the effect it has on her negative or positive?
5. How does Olivia change between her first and second trips to India? How are those changes reflected in her experiences of the country during her two visits?
6. Have you ever traveled to a foreign place that had the same effect on you as India seems to have on Olivia? If so, describe your experience. Why do you think Olivia has such strong reactions—both emotional and physical—to being in India?
7. Compare and contrast Olivia and Ty's reactions to their mother's death in the year after it happens.
8. Do you agree with Olivia's decision not to tell her brothers what she finds out about her mother? Why or why not? What impact do you think that knowledge would have had on Ty and Alec?
9. Olivia has various romantic relationships/encounters throughout the novel, starting with Geoffrey. Discuss how each of these contributes to her grief process and ability (or lack thereof) to move forward after the loss of her mother, and vice versa.
10. How does June's relationship to Olivia and the other family members evolve as the novel progresses? Do you think it was appropriate for June to accompany them on the trip to India? Why or why not?
11. Discuss Bridget's reaction to Olivia when Olivia stays at her apartment upon returning from India. Why do you think Bridget spoke to Olivia the way she did?
12. We only get a sense of Eleanor's characters through other people's memories of her. Did you feel that you got a full portrait of her character? What can we discern about Eleanor based on other people's recollections of her? How do Franco's memories of Eleanor differ from those of her husband and children?
13. Discuss your feelings about Eleanor's decision to keep her illness a secret from her family and seek treatment independently.
14. Based on what we know about Eleanor, Franco, and their relationship, why do you think Eleanor decided to have an affair with Franco? Do you empathize with her decision or not?
15. Why does Olivia change the concept of her thesis project? How do you think her thesis helps her recover from the loss of her mother?
Excerpt
Preface
"You must be new."
It was Olivia's third week at the production company, and she was standing outside of the office on Fifth Avenue. The man speaking to her was a client—she'd seen him arrive for a meeting earlier. He looked fortyish, and he was around her height, with a paunch. He was smoking a cigarette, and she had just returned from delivering a hard drive. He said his name was Geoffrey, but that everyone called him Geo.
It was a Tuesday night around seven, the first September in nearly two decades—as long as Olivia could remember—when she hadn't been in school. Days were still summerlike, but the light was changing quickly, and she could feel the crisp undertones of fall.
As they rode the elevator up, Geoffrey asked if she'd have a drink with him.
She told him she never knew what time she got to leave. Last night, she wasn't home until almost eleven.
"It doesn't seem that busy," he said. "I'll wait for you now."
There was something familiar in the way Geoffrey smiled at her that made Olivia queasy. He believed she would say yes, although he was close to twice her age and a stranger, and it was her impulse to thwart his expectation. But when she looked at him, she saw the possibility of seafood. There was nothing in her apartment besides black tea, a shriveled lemon, and a carton of milk she was afraid to open, even to pour down the drain.
She told him it was okay if he wanted to wait. He took a beer from the fridge in the kitchen and sat out front until a little before eight, when one of the editors asked Olivia what she was still doing there. Then she got her things and Geoffrey.
He led her to a Spanish place on Fifteenth Street she'd passed before on the way to the train. They sat at the bar, which was nearly full but subdued, and drank vodka martinis. The bartender who served them was older than Olivia but much younger than Geoffrey, and handsome, with wavy hair he tossed away from his pale green eyes. Olivia wanted to somehow telegraph to him that this was not a date—that she was there with Geoffrey only because—but there was nothing she could articulate, just a hot, restless anger. Her mother was dead.
Geoffrey told her to order whatever she wanted, so she ordered octopus and a potato omelet and clams with chorizo. The bartender set down a breadbasket and poured herbed oil on a white plate. Geoffrey asked her questions about her job and where she grew up and ignored the fact that she answered with a mouth full of bread.
Geoffrey worked for a large advertising firm. "A lot of golf," he told Olivia, with a smile that suggested this was likely to impress her. He barely touched the food when it came but ordered them another round of drinks.
He said he had separated from his wife six months before. She was living at their place in the Hudson Valley—a drag, he said, because it was beautiful there this time of year.
"So I'm stuck staying at a hotel while I'm still paying taxes on the house," he said. "Not the worst thing. I could get used to room service." When he laughed, the skin under his jaw wobbled.
Near the end of his second drink, Geoffrey excused himself to go to the bathroom. Olivia prepared to flee. Never mind that she might see Geoffrey again at the office. That awkwardness, existing as it did in the improbable future, was nothing compared to the trapped feeling that came from listening to him talk and made her regret the oily food she had just eaten so hungrily.
She reached for her purse, on a hook under the bar—a faded woven bag her mother had bought in Mexico before she was born—and stood up.
"Anything else?" the bartender said, leaning toward her.
"I'm just—" she began. He regarded her, calm and unhurried. His ethereal eyes surprised her again. She wished she had come alone to have a drink at the bar. Maybe she still would, another night.
"We'll take the check," Geoffrey said. She hadn't noticed his return. His thigh brushed heavily against hers as he took his seat. If he sensed that she'd been about to slip out, he didn't let on. The bartender brought the bill, and Geoffrey handed over a credit card without looking at it.
Then his hand was on her back, guiding her out through the crowded entrance. It was the first time Olivia had done this: come out of a New York restaurant with a man who had just paid for her meal, a man besides her father. It felt like an iconic moment in the movie of her life gone sour. She knew she should go home—it was just one regrettable night of drinks, nothing that couldn't be washed off. And yet something within her rebelled against a meek goodnight and a walk to the subway. Her mind felt like an overheating motor, chewing an inchoate, ludicrous plan.
Geoffrey hailed a taxi. "I'll drop you off," he said, and Olivia looked down at the sidewalk with a bare hint of a smile to indicate that this was what she'd been hoping for. They rode uptown in near silence. After ten blocks, he put his hand on her knee, and when she did not object, he began to stroke it lightly.
Geoffrey let her out of the cab and kissed her on the curb, clutching her lower back, his mouth boozy. He murmured something about a restaurant he wanted to take her to, next time.
"Would you like to come up for a drink?" Olivia said. Her mouth was dry and her palms were damp. She didn't want him in her apartment. And yet she needed to feel that she could make something happen.
Giddily, Geoffrey paid the driver. Olivia led him through the small lobby, avoiding the doorman's gaze. In the elevator, as he kissed her again with more confidence, it occurred to her that she didn't have anything to drink. The terrible milk came to mind, and she bit her lip to keep from laughing. Finding her mouth unavailable, Geoffrey kissed her neck.
In the apartment, she turned on as few lights as possible. She didn't want him seeing her life.
Geoffrey didn't seem to mind the absence of the promised drink. He propelled Olivia into the living room, kicking off his loafers while he made soft moaning noises. His tongue was a fish on land, muscular and desperate. "Not to be unoriginal," he said, "but you're a knockout."
She was the one to lead him to the bedroom, which was furnished like a mid-range chain hotel, with floral curtains that matched the bedspread and a large mahogany armoire. Light came through the windows from the street. The ancient clock radio on the nightstand reported that it was not yet eleven.
They were kneeling on the bed, both of their shirts off, when she said it: "It's a thousand dollars."
"Huh?" Geoffrey murmured. He was working the zipper of his jeans.
Olivia pressed her fingertips into his hairy chest, hard. "A thousand. For the night."
He pulled away, his drunken mouth gaping, his small eyes darting around the room.
Once she said the words, she felt calm. In the moment before he replied, everything constricted within her opened into vast, empty space.
"I thought," Geoffrey said softly.
Olivia felt a particular combination of elation and repulsion, a longing for everything that could not be. The room was too small to hold the way she felt. "What'd you think, Geoffrey?"