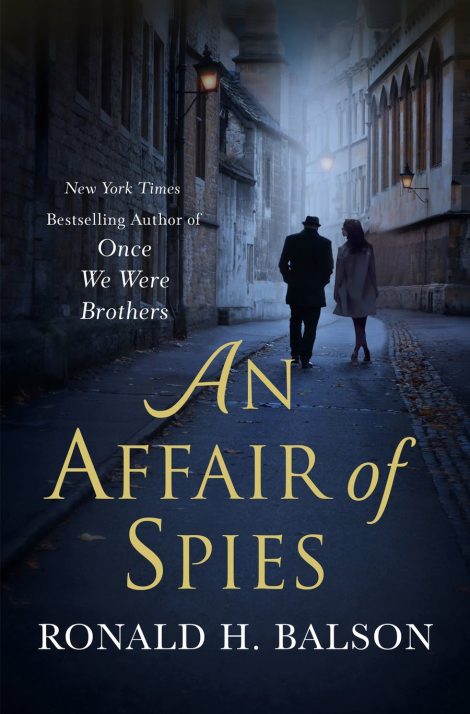 AN AFFAIR OF SPIES
---
From the winner of the National Jewish Book Award—Ronald H. Balson's An Affair of Spies tells of a spy mission to rescue a defector from Germany and prevent the Nazis from creating an atomic bomb.
Nathan Silverman grew up in Berlin in the 1920s, the son of a homemaker and a theoretical physicist. His idyllic childhood was soon marred by increasing levels of bigotry against his family and the rest of the Jewish community, and after his uncle is arrested on Kristallnacht, he leaves Germany for New York City with only his mother's wedding ring to sell for survival.
From the winner of the National Jewish Book Award—Ronald H. Balson's An Affair of Spies tells of a spy mission to rescue a defector from Germany and prevent the Nazis from creating an atomic bomb.
Nathan Silverman grew up in Berlin in the 1920s, the son of a homemaker and a theoretical physicist. His idyllic childhood was soon marred by increasing levels of bigotry against his family and the rest of the Jewish community, and after his uncle is arrested on Kristallnacht, he leaves Germany for New York City with only his mother's wedding ring to sell for survival.
While attending an evening course at Columbia in 1942, Nathan notices a recruitment poster on a university wall and decides to enlist in the military and help fight the Nazi regime. To his surprise, he is quickly selected for a special assignment; he is trained as a spy, and ordered to report to the Manhattan Project. There he learns that the Allies are racing to develop a nuclear weapon before the Nazis, and a German theoretical physicist is hoping to defect. The physicist was a friend of his father's, and Nathan's mission is to return to Berlin via France and smuggle him out of Europe.
Nathan will be accompanied by Dr. Allison Fisher, a brilliant young scientist who can speak French; he travels to her lab at the University of Chicago for a crash course in nuclear physics, then they embark on their adventure. Nathan and Allison soon develop feelings for one another, but as their relationship deepens they move ever closer to their dangerous goal. Will they be able to escape Europe with the defector and start a new life together, or will they fail their mission and become two more casualties of war?

An Affair of Spies is an action-packed tale of heroism and love in the face of unspeakable evil. Author Ronald H. Balson has applied his unmatched talent for evocative and painstakingly authentic storytelling to the high-stakes world of espionage and created his most thrilling novel yet.
St. Martin's Press
Hardcover
September 2022
336 Pages
9781250282460
Praise
"Balson's meticulous historical detail, vivid prose and unforgettable characters further solidify his place among the most esteemed writers of historical fiction today." —Pam Jenoff, bestselling author of The Lost Girls of Paris on Eli's Promise
Discussion Questions
1. The war came home to Berlin in November 1943 when bombs were dropped on the city. Do you have sympathy for the everyday Berliner who was just trying to live a normal life? Are you critical of those who were followers? Do you think many of them realized that this was a consequence of looking the other way or blindly following Hitler and the Nazis when they came to power?
2. Early on, Nathan reminisces about his relationship with Lena in the 1930s. Clearly, he was more committed than she was. What are your impressions of both Nathan and Lena when they first confront each other on the street?
3. As the story unfolds, Nathan seeks out Lena for help. What prompts him to seek her assistance? Was it a mistake for them to get involved? Was there another way Nathan's dilemma with Major Weber could have been resolved?
4. Allison is a nuclear physicist, yet she is conflicted about her work. In what way? How did her conflicts affect the mission?
5. What were Nathan's feelings toward the development of the atomic bomb, both in Germany and in the U.S. Did they from differ from Allison's? Which opinion do you agree with and why?
6. Courage and bravery are themes that run throughout the story. Allison said that she wasn't brave, she was scared to death, yet she pretended to be Irène Curie and sneak into the heavily guarded KWI laboratory. Did she demonstrate bravery or was she foolhardy? What other characters demonstrated bravery?
7. Before reaching Berlin, Nathan expressed to Allison that he faulted his father for not leaving Germany when the other scientists emigrated. Did Josef abandon his responsibility to his family, or did he do the best that he could under the circumstances? He placed Rachel at a convent for her protection. Should he have done more? Could he have done more?
8. When Nathan became separated from Dr. Snyder, Rachel, and Allison, he said that the success of this entire mission was now in Allison's hands. He was confident in her leadership and her ability to finish the mission. What gave rise to that confidence?
9. If you were going to write a sequel, what do you think would be the next chapter for Nathan and Allison?
Excerpt
1CAMP RITCHIE NOVEMBER 1943
A black Lincoln with U.S. military plates pulls to the side of the road in Frederick, Maryland. After consulting his map, the driver heads north beside the pristine lakes and forests of the Catoctin Mountain range. The treetops display a palette of autumn colors on the hills of northern Maryland. There is a chill in the breeze, and the driver rolls up his window. A family of white-tailed deer lifts their heads and calmly watches the car glide by. All in all, picking up a passenger seventy-five miles from Washington, D.C., on this fall day has turned into a pleasant duty assignment for Corporal William Johnson.
He comes to a stop at a crossroads, checks his map again, nods, and turns off the two-lane highway onto Cascade Road, a bumpy wooded stretch that meanders past a crystal blue lake and abruptly comes to a halt at a military checkpoint. The corporal hands a large white envelope to the sentry, and after examining the contents, the sentry waves him on. "Camp administration office is straight up on your right," he says.
As the corporal approaches the compound, he has to blink. There are German Wehrmacht soldiers in full battle gear marching in formation beneath an iron sign that reads CAMP RITCHIE. He sees another group of young men in GI fatigues gathered in a circle, appearing to study map coordinates. On the other side of an expansive meadow, he is stunned to see what he's damn sure is a Nazi Panzer tank and a German half-track, both with a Balkankrauz insignia, the white and black cross that is the German national symbol. "What in the hell is this place?" he says out loud.
The camp has dozens of stone buildings that undoubtedly serve as barracks. A few are larger and rectangular, and the corporal surmises they must be mess halls and assembly halls. The design of the administration building is no less out of place, with Gothic-like turrets, but to the corporal's relief, an American flag flutters on a twenty-foot post. It is indeed an American camp, albeit nothing like Corporal Johnson has ever seen.
After a few minutes in the reception area, the corporal is shown into an office where a uniformed officer sits behind his desk. The corporal snaps to a salute. The officer is a full bird colonel. The bronze name plate on his desk reads COL. CHARLES Y. BANFILL. His short-sleeve shirt has several rows of bars and ribbons. A lit cigar sits on the lip of his ashtray.
The corporal clears his throat. "Excuse me, sir, I have orders to pick up a Nathan Silverman."
Colonel Banfill smiles, picks up his cigar, sits back and says, "Do you have a name, soldier?"
"Oh, yes, sir, I do. I mean, it's William, sir. William Johnson. Corporal William Johnson. Sir."
"A pleasure to meet you Corporal William Johnson. For what purpose are you here to pick up Staff Sergeant Silverman?" The colonel has close-cropped gray hair, a ruddy complexion, and a square jaw. "Shall I assume that the envelope in your hand contains your orders? Is that right, Corporal?"
Johnson immediately places the envelope on the desk. "Yes, sir. This is for you, sir."
Banfill takes his time reading the order. He hasn't been given the usual heads-up and he is curious, if not peeved. "What does the Army want with my Sergeant Silverman? He is a nice young man and one of my best. He's a squad leader."
"I can't say, sir. I was just told to come pick him up."
"Well, what if I don't want him picked up? I have plans for him. The Army has plans for him. He's fluent in German, you know? He could be driving one of those Nazi tanks out there and you wouldn't know the difference."
"That's a scary thought, sir."
"I hope so. Where is he going next? And why?"
Johnson hesitates. He knows his response won't go over well. "I'm sorry sir, I believe that's in the orders. The reasons are classified."
"Classified? You mean I don't have the clearance? I'm a colonel and his commanding officer."
Johnson doesn't say a word. He swallows hard.
"That's all I'm going to get out of you isn't it, Corporal Johnson?"
"Yes, sir, that's all I know."
Banfill rises, walks to the door, and tells his adjutant to fetch Sergeant Silverman. "Tell him to bring his gear, he's being reassigned."
* * *
Fifteen minutes later a stocky dark-haired man walks briskly to the colonel's office with his duffel. He snaps to attention. "Sergeant Silverman reporting, sir."
"At ease, Nate." Tapping the envelope on his desk, Banfill says, "Corporal Johnson here has come to pick you up for a new assignment. Sorry to see you leave us, Nate, I wish you the very best."
Silverman is confused. "Sir, I didn't put in for a transfer. I'm a Ritchie boy, through and through. Ritchie boy to the end. I've been trained to do intelligence work. I intend to go over with my unit when it leaves for Europe. Rumor is we're pulling out in a few months. That's the reason I joined. The only reason. I'm going back to Europe and fight those Nazi bastards for what they did to my community and my family. That's what I've been training to do."
The colonel sadly shakes his head. "Welcome to this man's army, Nate. The orders say you are to go with Corporal Johnson. It comes from Army headquarters. He's been sent up here to get you. In a limo."
Silverman stands his ground. "Colonel Banfill, sir, I don't want to go to Army headquarters. I don't want to be reassigned. You know my story, what happened to my people back in Germany. I enlisted to go back to Europe and fight. You gotta help me, Colonel. Can't you get these orders rescinded?"
Banfill raises his eyebrows. He holds the paper for Silverman to see. "These orders come down from the office of General Leslie Groves. I don't have veto authority here, Nate. Chin up, it might be a good move for you. If General Groves wants you, it must be pretty damn important." The colonel holds out his hand for a farewell shake. The discussion is over.
Silverman sighs, picks up his bag, and walks toward the door. "Drive safely, Corporal," the colonel says, "he's a damn good soldier and smart as a whip."
Johnson nods. "Yes, sir, I will."
2REASSIGNED
Nathan cranes his neck to watch Camp Ritchie, his home for the last ten months, fade out of sight. He turns to the driver. "Do you know what this is all about?"
"No, sir, I don't. I'm nothing more than a delivery boy. Get my orders same as you."
Nathan nods and settles into the soft leather seat. Other than training maneuvers in and about the surrounding hills, he hasn't been out of the camp since he arrived from Fort Bragg. And that was on an Army bus with eight other men. His reassignment to Camp Ritchie was the first of the Army surprises. He hadn't put in for that transfer either.
He recalls the day he received his orders. He was preparing for parachute training that afternoon when he was called into Captain Lawson's office. "I'm recommending you for intelligence training, Silverman," the captain said. "The Army's put out a call for recruits familiar with Germany and fluent in the language. That would be you, right, Nate?"
"Yes, sir, but I'm quite happy where I am. I'm doing my third jump this afternoon. I'm an infantry soldier, that's what I joined up to do. I was studying at Columbia when I saw the poster that said foreign nationals who had received residency cards were eligible for the draft and could sign up. I went straight to the Army Recruiting Station, passed my interviews, passed my physical, and four weeks later I was sent down here. I want to be with my unit whenever we land in Europe. More than most, I got a score to settle. You don't know what they did to my family and others like me. Look, Captain, respectfully, sir, I don't want to be in intelligence, I don't want to sit at a desk and analyze data. I don't want to be a spy. I want to fight. I got a right. It said so right on the poster: 'Uncle Sam Needs You to Fight For Your Country!' That's why I joined up."
The captain smiled. "Hold on, Silverman. No one's telling you to sit at a desk. You're a German emigrant and you have skills that the Army can use. You should be proud. From what I understand, you're going to be transferred to an elite camp and trained with other boys that came over here from Germany to assist our ground troops once we start our invasion, whenever the hell that'll be. You know the language, you know the territory, the customs. You can be very valuable. That's something we didn't have in the last war."
"But sir, my unit…"
Captain Lawson closed his file folder. Negotiations were done. "I'm sending you to Camp Ritchie for intelligence training. It's top secret stuff. You'll thank me. Get your gear."
So, Nathan was off to Camp Ritchie, where he'd spent the next ten months learning how to interrogate German prisoners of war, how to navigate the terrain in France and Germany, and how to distinguish the difference between the German uniforms, insignias, and patches so that his commander would know the rank and function of any captured German soldier. From map coordinates and aerial photos, he had learned to recognize the churches, village squares, and principal structures of rural France and western Germany.
Now, after all those months of study, and after he has become comfortable with his new role, the Army in its infinite wisdom decides to pull him out of Camp Ritchie and send him somewhere else. And to make matters worse, rumors have it that all of his buddies in his Ritchie unit are scheduled to ship out for England in the next few months.
Nathan gazes out of the backseat window with glassy eyes. The car moves silently on. Suddenly his vision sharpens. "Excuse me, William," he says, "it doesn't take a map expert to know that Washington is southeast, and you are headed north."
"Yes, sir, that's true. We're not going to Washington. And it's Bill, sir. Just Bill."
"Well, where the hell are we going, Bill?"
"New York, sir. Manhattan. My orders say to drop you off at 270 Broadway. You are to report to the offices of the Army Corps of Engineers on the eighteenth floor."
Nathan feels his blood boil. "I'm not an engineer. I don't know anything about engineering. There must be some mistake. They got me confused with some other Nathan Silverman."
Corporal Johnson chuckles. "Wouldn't be the first time this army SNAFU'd. But these are the orders and I'm sure they'll explain it all to you when you get there. My advice is to just sit back and enjoy the ride."
"New York," Nathan says wistfully. "That's where I was living when I joined the Army."
Corporal Johnson tips his head toward the back. "If you don't mind my saying so, you sure don't sound like any New Yorker I ever knew." That brought out a laugh from the two of them.
"I was born in Germany."
"I figured you for a German," Johnson says, "that accent and all. When did you come to America?"
"Nineteen thirty-eight. Seems like a long time ago." Nathan leans back and closes his eyes. "Like a hundred years ago." There he was, looking down from the rail of the steamship, seeing his mother's aunt Gertrude wildly waving her arms back and forth. That silly straw hat of hers. She had agreed to sponsor him and guarantee his welfare with a financial affidavit, or he wouldn't have been able to come to America at all. The U.S. immigration office wouldn't have issued him a visa without Aunt Gertrude's affidavit.
"I guess you were lucky they let you out before the war started," Johnson says.
Nathan nods. "Yeah, fortunate for me, but not so lucky for the ones that I cared about and left behind."
"They wouldn't let them leave?"
"Back then, in 1938, the Nazis didn't give a damn how many Jews left Germany. They'd just as soon the whole lot of us, all five hundred thousand Jews, would have left. Hitler even said he would put all the Jews on ships tomorrow if he could. Hell, he said he'd supply the ships. But he knew that no country would take us in."
"Is that right? No country? Not even the U.S.?"
"Did you ever hear about the steamship St. Louis?"
"No, sir."
"In May 1939, four months before the war started, the MS St. Louis left Hamburg with nine hundred German-Jewish refugees, all holding Cuban visas. They were trying to escape the persecution in Germany. Two weeks later they docked in Havana, but the Cuban government changed its mind and wouldn't let them off the ship. Cuba had passed a new law revoking the visas and they turned them away flat. The St. Louis circled around Florida trying to find a place to dock, but the U.S. Coast Guard kept them away."
"Why would they do that?"
"Ask Cordell Hull."
"The secretary of state?"
"That's right, the U.S. secretary of state. The U.S. wouldn't take in the refugees or let the St. Louis even dock. The ship's captain then tried to take them all into Nova Scotia, but Canada wouldn't let him dock either."
"So, what happened to the refugees?"
"They had to take them all back to Europe."
"And?"
"Got caught up in the war, I suppose. Anyway, after that, it was too late for people to leave."
"But America let you in."
"That was 1938, a year before the war. Still, it wasn't easy for me. An immigrant had to prove he had the means to support himself before the U.S. would issue him a visa. No matter how wealthy you were, no matter how much money or property you had in Germany, you couldn't count it toward a visa, because Germany wouldn't let you take it with you. Germany passed a law they called the 'Flight Tax.' In order to leave Germany, you had to obtain a tax clearance certificate. In 1938, the tax was ninety percent of the total amount of your assets. And they would search you at the border. So, my parents couldn't give me money, the Nazis would have taken it away. I couldn't show the U.S. I had the ability to support myself unless I got a U.S. citizen to swear in an affidavit that she had the financial wherewithal and would promise to support me. That was my aunt Gertrude."
"You're lucky your aunt had money."
Nathan sadly shakes his head. "She had very little. She borrowed from friends to show a bank balance sufficient to justify an affidavit, just big enough to support one refugee. Otherwise, my mother and my sister could have come with me. I had to leave them in Germany."
"Geez, that's tough. I'm sorry."
"Yeah." The car falls silent as it motors through the Pennsylvania hills toward New York City. Nathan reflects over those last days, and sad memories wash over him. His mother had called him into the bedroom. "I've heard from Gertrude. She's put together enough for one visa. You're going to go to New York." Nathan was shocked. He shook his head. "No, Mom, you go. Or send Rachel. I'll be fine here."