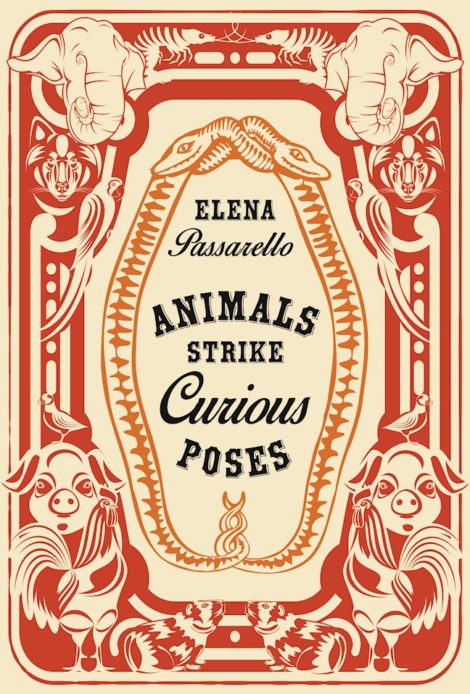 ANIMALS STRIKE CURIOUS POSES
---
A New York Times Editor's Choice 
In Animals Strike Curious Poses, Elena Passarello channels her own potent sense of natural wonder into sixteen wondrous essays about legendary animals of history, constructing a bestiary that informs, astonishes, and delights. Passarello's menagerie spans nearly 40 millennia, from Yuka, the 39,000-year-old wooly mammoth recently pulled from Siberian permafrost to Cecil, the beloved lion killed for sport in Zimbabwe in 2015. The collection celebrates the vibrancy of the human imagination as it approaches the animal other: Albrecht Durer's sixteenth century woodcut Rhinocerus; Mozart's collaborative compositions with a starling;
A New York Times Editor's Choice 
In Animals Strike Curious Poses, Elena Passarello channels her own potent sense of natural wonder into sixteen wondrous essays about legendary animals of history, constructing a bestiary that informs, astonishes, and delights. Passarello's menagerie spans nearly 40 millennia, from Yuka, the 39,000-year-old wooly mammoth recently pulled from Siberian permafrost to Cecil, the beloved lion killed for sport in Zimbabwe in 2015. The collection celebrates the vibrancy of the human imagination as it approaches the animal other: Albrecht Durer's sixteenth century woodcut Rhinocerus; Mozart's collaborative compositions with a starling; Edison's experiments with electricity in the era of the first circus elephants.
Sarabande Books
Hardcover
February 2017
200 Pages
9781941411391
Praise
"I've spent decades reading books on the roles animals play in human cultures, but none have ever made me think, and feel, as much as this one. It's a devastating meditation on our relationship to the natural world. It might be the best book on animals I've ever read. It's also the only one that's made me laugh out loud. . . . [Passarello is] a master of the essay form."—Helen Macdonald for The New York Times Book Review

"Fiercely fun."—Marie Claire
"Stunning…a feast of surprising juxtapositions and gorgeous prose."—Publishers Weekly, starred review
"This phenomenal collection documents the lives of particular animals from a wide range of species. . . . Passarello treats her subjects with dextrous care, weaving narratives together in a way that investigates, honors, and complicates her subjects. . . . A consistently original, thoroughly researched, altogether fascinating compendium."—Booklist, starred review 
Discussion Questions
1. The essays in this collection are ordered chronologically and span roughly 39,000 years. Each one describes a different human relationship with an animal (or animals). As you read the collection, do you get the sense that humans have changed in the way they interact with animals over time? If so, how? If not, why?
2. In "Harriet", Passarello incorporates the tools of fiction alongside historical research as she writes from the imagined perspective of Darwin's tortoise Harriet. Why do you think she made that choice? How does this impact the way you read the essay?
3. Passarello uses a variety of prose styles throughout the collection. Consider the effect of rhythm and sound in an essay like "Sackerson" by reading a passage aloud. How does Passarello's writing style contribute to the subjects and themes of her essays?
4. In "Jumbo II," Passarello juxtaposes the history of circus elephants with the history of electrocution. What argument might she be making through this juxtaposition?
5. All of the essays in Animals Strike Curious Poses feature animals that were named by humans. How does the act of naming alter the relationship between humans and the animals they name?
6. "Lancelot" is the only essay in the collection in which the author discusses her own life. In it, she describes a formative childhood memory: going to the circus to see the creature falsely billed as 'The Living Unicorn.' "There's a distinct possibility that every time I write about an animal, I'm only writing about him," Passarello writes, "which might also mean, horrifyingly, that I'm only writing about myself." Consider this quote in the context of the collection. Do you think Passarello is really just writing about herself, or more broadly, the human animal? If so, what is she trying to say?
7. Harambe was a 17-year-old Western lowland gorilla kept at the Cincinnati Zoo. In 2016, a three-year-old boy climbed into Harambe's enclosure. The zoo staff, fearing for the boy's life, shot and killed the gorilla. What might the Passarello essay "Harambe" look like?