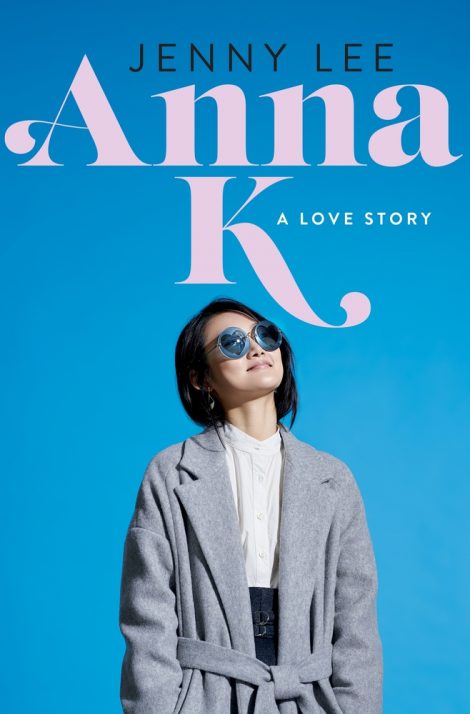 ANNA K
A Love Story
---
Meet Anna K! Every happy teenage girl is the same, while every unhappy teenage girl is miserable in her own special way…
At seventeen, Anna K is at the top of Manhattan and Greenwich society (even if she prefers the company of her horses and dogs); she has the perfect (if perfectly boring) boyfriend, Alexander W.; and she has always made her Korean-American father proud (even if he can be a little controlling). Meanwhile, Anna's brother, Steven, and his girlfriend, Lolly, are trying to weather a sexting scandal; Lolly's little sister, Kimmie, is struggling to recalibrate to normal life after an injury derails her ice dancing career;
Meet Anna K! Every happy teenage girl is the same, while every unhappy teenage girl is miserable in her own special way…
At seventeen, Anna K is at the top of Manhattan and Greenwich society (even if she prefers the company of her horses and dogs); she has the perfect (if perfectly boring) boyfriend, Alexander W.; and she has always made her Korean-American father proud (even if he can be a little controlling). Meanwhile, Anna's brother, Steven, and his girlfriend, Lolly, are trying to weather a sexting scandal; Lolly's little sister, Kimmie, is struggling to recalibrate to normal life after an injury derails her ice dancing career; and Steven's best friend, Dustin, is madly (and one-sidedly) in love with Kimmie.
As her friends struggle with the pitfalls of ordinary teenage life, Anna always seems to be able to sail gracefully above it all. That is…until the night she meets Alexia "Count" Vronsky at Grand Central. A notorious playboy who has bounced around boarding schools and who lives for his own pleasure, Alexia is everything Anna is not. But he has never been in love until he meets Anna, and maybe she hasn't, either. As Alexia and Anna are pulled irresistibly together, she has to decide how much of her life she is willing to let go for the chance to be with him. And when a shocking revelation threatens to shatter their relationship, she is forced to question if she has ever known herself at all.
Dazzlingly opulent and emotionally riveting, Anna K: A Love Story is a brilliant reimagining of Leo Tolstoy's timeless love story, Anna Karenina—but above all, it is a novel about the dizzying, glorious, heart-stopping experience of first love and first heartbreak.
Flatiron Books
Hardcover
March 2020
400 Pages
9781250236432
Praise
Named a must-read book of 2020 by Entertainment Weekly, Glamour, Bustle, BookPage, PopSugar, The Nerd Daily, and more!
"A fresh and wickedly smart take on a classic story. Anna is even more scandalously fun now, in the age of stilettos and social media, than she was in 19th century Russia. I couldn't put this one down." —Katharine McGee, New York Times bestselling author of American Royals
"Lee skillfully weaves beats of the classic Russian novel into the contemporary plot, but readers will need no previous knowledge of Tolstoy to appreciate the social stakes, heartbreak, humor and moral complexity of Anna K…makes for addictive reading." —BookPage, starred review
"A slow-burn epic tale of love in modern-day Manhattan high society…a gripping story with sympathetic characters struggling through the mire of modern relationships."—Kirkus Reviews
"A little bit Crazy Rich Asians and a little bit Gossip Girl, Anna K is a smart, crafty, and utterly engrossing story about love, addiction, mental health, and what it truly means to be a teenager." —Isabella Ogbolumani, Page 1 Books, Evanston, IL
"Tolstoy meets Gossip Girl? Xoxo to that! A clever romp that is both delicious, scandalous, prep school drama and sly commentary on wealth, relationships, upper crust society and more, Anna K is loads of fun as Jenny Lee spins Anna Karenina (and that infamous train scene) into a contemporary drama that had me madly and delightedly turning pages. You're going to love the ending, I promise! Would Tolstoy approve? Honestly, who cares?" —Joy Preble, Brazos Bookstore, Houston, TX
"Imagine Gossip Girl and Anna Karenina collided and in that split second, their collision formed a high-drama, superbly compelling story—that's what Anna K. is. Anna and company are mesmerizing and will keep your eyes glued to the pages until the very end. Fans of the CW and Freeform shows are sure to devour this one." —Rachel Strolle, Glenside Public Library District, Glenside Heights, IL
"Anna K reminded me of Gossip Girl (I was obsessed) mixed with a sharp undercurrent that makes for a smart, fresh retelling of an old classic. Anna K stays true to the melodrama and social commentary for sure, but I also love the change in the ending and what it means for Anna's character. I love too how every character seems to operate in shades of gray. They all have their pros and cons, their ups and downs. It makes them more real as opposed to caricatures when they very easily could have become the latter. I could gab for ages, but in short: I loved it." —Kalie Barnes-Young, Barnes & Noble at the Grove, Los Angeles, CA
"It's difficult to imagine a lofty tome like Anna Karenina turned into a teen drama extravaganza, but Lee manages it with aplomb, giving heart and heat to Anna K. Don't be fooled by the dizzying array of high fashion, text drama, and drug use—the commentary on race, gender, social constructs, and privilege is there, it's just buried under a layer of cotton candy vape pens and designer handbags. I can definitely see this appealing to fans of the CW and PBS alike." —Sami Thomason, Square Books, Oxford, MS
Discussion Questions
1. Discuss the novel's first line: "Every happy teenage girl is the same, while every unhappy teenage girl is miserable in her own special way." What do you think the author means? Do you agree?
2. Although the novel is called Anna K and she is arguably the main character, each chapter alternates between the perspectives of six different characters and features an even larger cast of friends and family. Did you have a favorite character in the novel? If so, why were you particularly drawn to her or him?
3. Anna K is a modern reimagining of a nineteenth-century Russian novel: Leo Tolstoy's Anna Karenina. If you were already familiar with Anna Karenina, did Anna K make you think about it in a different way? Why do you think there are so many adaptations of classics, from Shakespeare's plays to Jane Austen's novels? Do you think it's ever possible to write a truly new and original story, or is every story a kind of retelling?
4. There are three main teen love stories in these pages: Anna and Vronsky, Lolly and Steven, and Kimmie and Dustin. How are each of these relationships similar and different? What obstacles do each couple have to overcome?
5. In addition to romantic relationships, there are sibling relationships and platonic friendships at the heart of Anna K. Compare and contrast these different kinds of bonds, using examples from the novel. In your experience, can the relationships between siblings and friends be just as powerful and important as romantic relationships?
6. The novel begins with Lolly finding out that Steven cheated on her, and Anna coming in to do damage control. Later, Anna cheats on Alexander with Vronsky. How is Anna's cheating different from and similar to Steven's? Did you feel sorry for Alexander? Can cheating ever be justified?
7. When she and Kimmie are discussing Steven's cheating, Anna says, "I know it sounds like I'm making excuses for their thoughtless stupidity, but I'm not. I'm just saying boys and girls couldn't be more different in their wants and behaviors. And when you throw in raging hormones and mix it up with emotions, it's a wonder we don't all go mad." Do you agree? Is there something inherently different in the way that teenage boys and girls think about relationships? How does the novel confirm or undermine that generalization?
8. Wealth and status play a major role in the characters' lives. How are their identities shaped by their parents' money and the expectations that come along with it? How do you think their privilege influences the choices they make?
9. Discuss the role race plays in the novel. Although most of their friends are white, Anna and Steven are Korean American, and Dustin and Murph are black. Are the characters of color shaped by her or his racial identity? If so, how? Do they face any particular challenges, in terms of societal and familial expectations?
10. When Anna learns about the way Vronsky treated Kimmie, she is angry and devastated, but she ultimately forgives him. Did you forgive him? Did you believe it was possible for him to truly mend his ways and treat Anna better than all the other girls he had been with?
11. Were you surprised to learn that it was Eleanor who released the sex tape? Did you have a different theory of who did it?
12. When Anna overhears two girls disparaging her in the Lincoln Center bathroom, she is devastated: "They call me a whore. They think I deserve everything I get. They hate me. I've disgraced my family. I've disgraced myself. No one will ever love me again. I'm damaged goods, the inherent vice of high society." Why do you think she feels that way? Discuss the double standard for girls and boys, as reflected by the fallout of the sex tape for Vronsky and Anna. Do you think that double standard is prevalent across our society?
13. After the scandal, Anna's father tells her he is taking her to South Korea, so she can finish high school at a famous girls' school in Seoul. Do you think a change of scenery is a good idea for Anna? Will it give her a chance to start over, or does it feel like she is running away?
14. In the epilogue, at Track 27, Natalia tells Anna: "She now gets to live her whole life knowing some boy loved her so much that he died for her! I mean, if that's not power, then I don't know what is. She can be like a superhero with magical love powers or something, you know?" Do you think she is right? How are love and loss entwined in this novel?
15. How do the six main characters change over the course of the novel, and what triggers their most significant changes? How much do you think you changed during high school?
16. Anna K will have a sequel, set over the following summer. What do you think the future holds for each of the characters?
Excerpt
I
Every happy teenage girl is the same, while every unhappy teenage girl is miserable in her own special way.
The whole thing was a fucking disaster. Lolly found out her boyfriend Steven was cheating on her while she was getting his Apple Watch outfitted with a new wristband at the Hermès store on Madison Avenue. Steven didn't even know she had his Apple Watch. Twenty minutes ago, he decided to do back-to-back SoulCycle classes, while Lolly begged off staying for the second class with him. (Her new gluten-free diet lacked the necessary carbs for her to handle doing a double sesh without passing out.)
She was telling him the truth while also needing the time and access to his Apple Watch to take it to the store for a new wristband, his present for their eighteen-month "screw-a-versary," which happened to be the very next day. (Lolly didn't love commemorating their first official date with this crude moniker, but Steven called it that. Lolly went along because she loved him.) So while Steven was climbing an imaginary hill to the steady beat of Dua Lipa's "IDGAF" at the East 83rd Street studio, Lolly was fifteen blocks south standing at the counter of Hermès.
She was deciding between the traditional double-wrap band in iconic orange leather and the more hetero choice in matte black. She was admiring the orange band on her own delicate wrist, when Steven's Apple Watch vibrated and a tiny tit pic flashed on the screen, followed by the gray text bubble containing the letters: DTF? *eggplant emoji*
Lolly tapped the touch-screen to see the photo again. Confirming the worst, she froze until her fight-or-flight impulse kicked in. Lolly chose flight, forgetting to take off the new band as she ran out, and was stopped by the burly security guard who blocked the door. Lolly, never good at holding back tears, started to sob pitifully, staring down at her beloved Gucci sneakers (the ones with the glittering snakes) that Steven had bought for her this past Christmas. Unsure of what to do, the security guard placed his arms around the crying girl. She pressed her face into his poly-blend jacket and whispered, "It's a mistake. It must be a mistake. Please let it be a goddamn mistake."
Eventually the beautiful Japanese saleswoman decked out in head-to-toe Hermès, who had been helping Lolly before, took charge of the situation and brought her into the back room. She sat her down on a small couch and gave her a Perrier, which gave Lolly hiccups and made her start crying even harder. The whole scene was quite embarrassing for all parties involved. Kimiko, who had worked at Hermès for ten years, was no stranger to the rampant cheating of the city's wealthiest citizens, many of whom were her clients, but there was something about witnessing this seventeen-year-old girl's loss of innocence IRL that unexpectedly moved her.
Once they had gotten rid of her hiccups, Lolly asked if she should scroll through the rest of her boyfriend's messages or not. Kimiko said in a quiet voice, "Better to find out how bad it is now when you're not alone." Soon both women were mesmerized by the appallingly graphic nature of Lolly's boyfriend's relationship with the mysterious "Brad." Steven had used a fake name in his contacts, but there was no chance "Brad" was a guy judging from the plethora of female body parts being photographed and sent to Steven over the last several weeks. There was even one blurry up-the-skirt video that made both women wince and groan in unison.
Lolly purchased an Hermès Iris belt buckle and reversible strap in bleu saphir and bleu Brighton to thank Kimiko for her kindness and left the store fifteen minutes later, Uber-ing straight to Steven's parents' massive four-bedroom penthouse apartment at 15 Central Park West (his parents were currently in Aspen skiing) to wait for his cheating ass. She tipped Gustavo the doorman a Benjamin not to tell Steven she was upstairs, citing a surprise gift and waving the orange Hermès shopping bag as proof. The doorman took her money, but clearly warned Steven anyway because ten minutes later her bf showed up carrying red deli roses in his still sweaty hands.
He had managed only the words "Lolly baby, what's wrong?" before his mother's favorite Lalique Tourbillons amber vase whizzed past him and smashed into the marble foyer floor. He stared at his normally demure girlfriend in shock when she said, "Just tell me one thing Steven…!" her voice now building in ferocity, "When's your screw-a-versary with Brad?!" She was now holding up his Apple Watch as digital proof. Steven stared at it and knew he was irrefutably busted.
Steven's momentary confusion quickly turned to sheepish shame and he activated full grovel mode. He tried to approach her, but she backed away from him. "Don't come near me, you … you … disgusting pig! That's right, I saw all the vile thirst trap pics that slut Brad sent you!" she screamed. At the mention of the pictures, the latest naked pic that Steven had seen on his phone after class popped into his brain and the tiniest lascivious smile flickered across his face. He was an eighteen-year-old boy, after all.
Unfortunately, Lolly caught Steven's smirk.
The noise she emitted was more animal than human and she ran past him, almost knocking him over in the process. Having nowhere to run except the end of the hall, Lolly opened the door to the master bedroom and slammed the heavy door behind her. She locked the door and ran straight into Steven's mother's walk-in closet. She threw herself facedown on the bloodred crushed-velvet chaise at its center and began to cry harder than she had ever cried before.
Steven tried talking to Lolly through the door, but he was met only with the occasional sound of things being thrown at the door. An hour later he was in the living room watching SportsCenter highlights and eating his third pepperoni Hot Pockets when he received the following text from his buddy Kaedon: Dude, did U buy ur gf a fur coat?!!! Steven paused the TV and quickly discovered he was already unfriended and blocked across all Lolly's social media accounts. (So much for their 453-day Snap streak!) He texted Kaedon back: screenshot?
Seconds later he received a selfie of a possibly naked Lolly wearing one of his mother's fur coats. Lolly, being much tinier than his mother, looked ridiculous in the chevron-quilted Russian sable, her eyes wild and ringed with mascara. She looked like a rabid raccoon … one who just found out that her boyfriend was cheating on her and was royally pissed. He shook his head and knew the situation was now far beyond his skills to rectify. Steven fired off a string of texts to his sister Anna in Greenwich, Connecticut, telling her he was in dire need of her immediate in-person assistance. His sister was younger than he was, but much wiser, especially when it came to relationships and all the tricky emotions that came with them.
Ten minutes later he received a text from Anna announcing her arrival into Grand Central at 8:55 P.M. Before he could text back telling her to take a car, two more texts arrived explaining the latest snowfall was backing up traffic, with Google Maps showing how a train would be the fastest way into Manhattan for her. Anna's last text stated she expected him to pick her up at Grand Central in person so she could hear his side of the 911 gf emergency!! Steven replied with only the single character k, as there was no emoji to depict the grand scale of how fucked he truly was.
II
After playing Shadow of War to clear his head and sipping some of his dad's Glenmorangie Pride 1974 scotch to calm his nerves, Steven tried once again to talk to Lolly through the door. A moment later he finally received some indication of his girlfriend's state of mind, but it wasn't good. Lolly pushed the black-and-white photo strip of the two of them, which they had made together in the photo-booth at her little sister Kimmie's bat mitzvah a year and a half ago, underneath the door. This picture was at one time (like four hours ago!) Lolly's most cherished possession, which she carried around in her LV wallet.
Steven often found his girlfriend staring at the photo strip, but it had been in a different condition than the one he was looking at presently. His eyes had been poked out in each of the four pictures and she had also drawn tiny dicks on his forehead.
"Lolly, baby, it didn't mean anything. It's you I love. I swear." Saying this out loud he knew it was true. When Steven was fourteen years old, his father discovered him getting a BJ from Jenna H. while her parents were over for dinner. His father sent the humiliated girl out of the room and sat Steven down and told him two things. First, he needed to get better at hiding if he didn't want to get caught. And second, the more important lesson, Steven needed to learn the difference between loving sex with girls and loving the girl he was having sex with.
At a loss for what to say and knowing Lolly adored Anna, as every girl adored his younger sister as soon as they met her, Steven announced Anna was on her way into the city, hoping Lolly would take this as a sign he wasn't giving up easily. But again, he was met with only silence. He did however get a text from the doorman alerting him to the fact that Dustin L. was on his way up. Steven sighed, pissed at himself for forgetting to cancel his thrice-weekly homework tutoring session. He stood up in the hallway and headed toward the front door.
He considered talking to Dustin about his current dilemma, as Dustin was one of the smartest guys he knew, but Steven decided there was no way Dustin would take his side. Dustin was technically one of Steven's oldest friends, as their mothers had happened to attend the same mommy-and-me music classes, so they played together as babies every Tuesday and Thursday and were "best buds" until the age of five. But then Dustin's parents divorced, and he went to public school while Steven went to private, which meant they hadn't run in the same social circles for years and had only recently gotten back in touch when Dustin became Steven's homework tutor.
Currently Dustin was a senior graduating with honors from Stuyvesant in June, while Steven was a second-time senior at Collegiate. Steven had attended Collegiate for elementary school but was kicked out in fifth grade when he got busted pantsing a classmate during PE. Next, he was kicked out of Xavier in seventh grade for pot, then Riverdale in ninth grade for fighting. He then attended Horace Mann for a few semesters and was now back at Collegiate on a very short leash.
Steven had his mother to thank for his reinstatement. She'd had to call in a few favors to make it happen. And since one of the conditions of his academic probation was maintaining a high GPA, his mother had hired a string of overpriced homework tutors that all quit after a week or two, citing Steven's poor attitude (i.e., filthy mouth) and even worse work ethic. At her wit's end, his mother finally had the brilliant idea to call Dustin's mother to see if Dustin, whose impressive academic accomplishments were always touted on fb, would agree to work with Steven as his new homework tutor. His mother knew that while her son had little respect for the authority of adults, he coveted the approval of his peers.
Dustin had been adamantly opposed to tutoring Steven when his mother brought it up to him last October. He pointed out that he and Steven were only "friends" because of the happenstance of their two mothers meeting, and by all accounts, the two boys could not have had more different childhoods. "We have nothing in common!" Dustin moaned. "What will we talk about?"
"What you're being paid to talk about … homework," was her calm reply.
Dustin let out a deep sigh and rolled his eyes. Where Steven was a good-looking, rich party boy from Manhattan's highest social circle, Dustin was none of those things. Dustin was adopted and knew nothing about his biological parents. Well, he did know that his teenage mother had left a note saying he should be given to Tamar L., "the nice social worker lady who was smart and kind, when she was just a kid from a fucked-up home living with her messed-up mom." She wanted a better life for her own kid, which is why she knew she should give him up.
And so, one Friday night on her way to temple for her first Shabbat service in quite some time, Tamar received a call from a social worker at a hospital and was given one hour to decide if she wanted to become the mother of a two-day-old newborn. Taking it as a test of her lapsed piety, she leaned forward and gave her cab driver the address to St. Luke's on 112th Street. When she told her husband about her intentions and explained her taxicab epiphany, Dustin's soon-to-be adoptive father didn't give it a moment's hesitation (even though they already had a three-year-old) before saying, "I'm in!" And Tamar was consumed with a feeling of security that she had married the right man. Eighteen years later, Dustin's mom still told this story, but with the caveat that while she was right about adopting Dustin, she had spoken too soon about her now ex-husband.
Dustin had grown up to be a quiet, serious boy whose adoptive parents continually made jokes to their friends that their own genes could have never produced such a smart kid, and Dustin, knowing the routine, would respond that he was pretty sure his biological parents could never have raised him to be such a good Jewish boy. (Only recently with the rise of Drake's popularity was Dustin's blackness combined with his Jewish upbringing thought of by his peers as "cool" rather than "weird.") What people didn't know was that Dustin was also prone to panic attacks and had been in therapy for his anxiety since the age of ten, which was why the thought of tutoring a "crazy rich kid" like Steven tied his stomach in knots. "No way. I can't do it, Mom," Dustin said. "Steven's the epitome of the one percent, and me helping him is like going over to the dark side. I'm no Kylo Ren."
Dustin's mother, being a very practical woman, calmly explained to her son that he was making far too much of a big deal over the matter. "You're being too emotional, Dusty," she said. "This is not Star Wars. This is real life, and it's not fair of you to write Steven off just because he was born into great wealth. No one's saying you have to be best friends with him. This is a job where you're providing a needed service and getting paid well for doing it. You'll make more money in the next eight months than I make in an entire year." The going rate for homework tutors in Manhattan was easily two hundred bucks an hour, and Steven's mom was of course offering more, which meant Dustin would be clearing over two thousand dollars a week along with a bonus of ten grand if Steven ended the year with a GPA above a 3.2.
"Don't you see how insane that is?" Dustin replied. "You're a licensed professional who spends her days helping the underprivileged, people who actually need help. You're the one who's always saying social workers and public-school teachers are the two noblest professions that are grossly undervalued in today's world. How can you in good conscience suggest I do this?"
"Stop being so melodramatic! You're going to college next year and this will spare you working at some crappy part-time job for spending money. That's the way I'm looking at it, and so should you." Dustin found his mother's viewpoint to be simplistic and shortsighted but when he tried to tell her as much, she refused to debate the matter with him further and instead insisted he talk the matter over with someone else before turning it down.
Dustin decided to end the matter quickly by going to the highest authority first, the rabbi at their temple. Much to Dustin's surprise, Rabbi Kennison agreed with his mother, citing the example that she herself had worked at McDonald's in high school. "I asked every customer if they wanted to supersize their meal; does that mean I'm responsible for the obesity problem in America?" she asked. Before Dustin could answer, she added that Dustin would be performing a mitzvah by using his God-given intellectual gifts to help another. "What if Steven grows up and becomes a senator because you helped him with his studies?"
Dustin would have scoffed at the idea that the kid who once ate a June bug on a dare when they were four years old could ever become a senator, but the fact that the current president was once a reality star who cheated on his pregnant wife with a porn star gave him pause. Instead Dustin thanked her for her counsel and immediately called Dr. N. and requested an emergency therapy session. After fifty minutes of therapy, Dustin was no closer to a decision. He eventually reasoned that all teenagers, rich and poor alike, probably had the same capacity for good or evil, and the best way to combat evil was through education—that is, if no lightsaber was available. (Dr. N. casually mentioned at the end of the session that if Dustin turned down the job, perhaps he might recommend his nephew for the position, as he was a poor law school student at Fordham. Dustin found this suggestion ethically questionable.) After a week of intense hand-wringing, Dustin accepted the tutoring job, warning his mother that if he felt even a twinge of inner turmoil, he'd quit.
What Dustin found after his first month was that the nine hours a week he spent tutoring Steven was not in fact an Aristotelean battle between good and evil like he had feared (nor a biblical, Shakespearean, philosophical, or even George Lucasian one), but was instead fun. His childhood friend wasn't as entitled and insufferable as Dustin had assumed he would be. Steven had grown up to be very much the same as he was when he was a toddler, a charismatic boy with a good sense of humor who enjoyed expensive toys and was happy to share them with his friends (and who would probably still eat a bug if he was dared to do so).
By the second month, Dustin had begun to find his time spent with Steven amusing, even though he would never admit it to his mother. On more than one weekend, Dustin found himself looking forward to their Monday study session, when Steven would no doubt regale him with some outlandish story from his "lit AF" weekend. The two boys had polar opposite high school student experiences: Steven's were all drugs, nightclubs, and hot girls while Dustin's were mostly coffee shops, study groups, and smart girls who always, always "friend-zoned" him.
By the end of the fall semester Dustin had whipped Steven into fighting academic shape, witnessed Steven ace his finals (without cheating), and found himself prouder of Steven's 3.3 GPA than his own 4.0 (though with APs his GPA was actually higher). The two boys celebrated their shared victory over a massive steak dinner at Peter Luger in Brooklyn, and when Steven toasted Dustin for achieving the impossible—Steven's father told him he was proud of him for the first time ever—it dawned on Dustin that he was going to miss Steven during the monthlong winter break. The fact that he had been proven so wrong about his old friend didn't annoy Dustin, but instead filled him with joy. Feeling superior to his peers often made him lonely, and that night over a feast fit for a king, he felt a profound sense of connection to someone his own age, and he liked it very much.
This was when Steven invited him to his annual New Year's Eve party, which, though he didn't know it at the time, would forever change the course of Dustin's life. It was never Dustin's soul that was at stake upon reuniting with Steven, it was his heart. The reason for this was that Steven's girlfriend, Lolly, had a little sister, Kimmie, who was to become Dustin's newest infatuation and perhaps his greatest love.
Copyright © 2020 by Jenny Lee