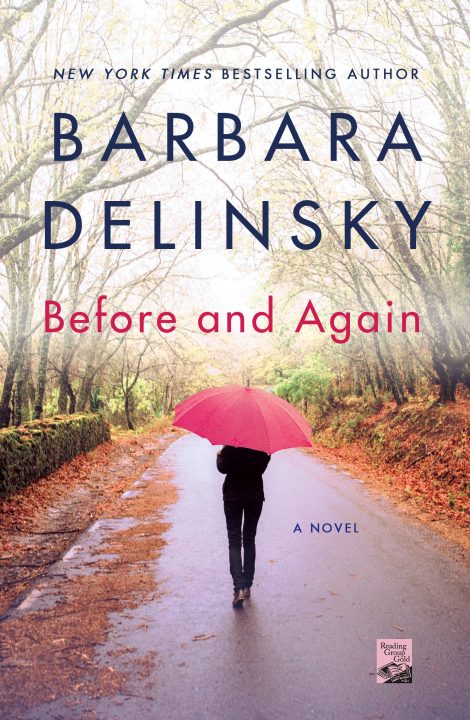 BEFORE AND AGAIN
A Novel
---
From Barbara Delinsky, the New York Times bestselling author of Blueprints and Sweet Salt Air, a brand-new novel about a woman in hiding finding the courage to face the world again.
Mackenzie Cooper took her eyes off the road for just a moment but the resulting collision was enough to rob her not only of her beloved daughter but ultimately of her marriage, family, and friends—and thanks to the nonstop media coverage, even her privacy. Now she lives in Vermont under the name Maggie Reid, in a small house with her cats and dog.
From Barbara Delinsky, the New York Times bestselling author of Blueprints and Sweet Salt Air, a brand-new novel about a woman in hiding finding the courage to face the world again.
Mackenzie Cooper took her eyes off the road for just a moment but the resulting collision was enough to rob her not only of her beloved daughter but ultimately of her marriage, family, and friends—and thanks to the nonstop media coverage, even her privacy. Now she lives in Vermont under the name Maggie Reid, in a small house with her cats and dog. She's thankful for the new friends she's made—though she can't risk telling them too much. And she takes satisfaction in working as a makeup artist at the luxurious local spa, helping clients hide the visible outward signs of their weariness, illnesses, and injuries. Covering up scars is a skill she has mastered.
Her only goal is to stay under the radar and make it through her remaining probation. But she isn't the only one in this peaceful town with secrets. When a friend's teenage son is thrust into the national spotlight, accused of hacking a powerful man's Twitter account, Maggie is torn between pulling away and protecting herself—or stepping into the glare to be at their side. As the stunning truth behind their case is slowly revealed, Maggie's own carefully constructed story begins to unravel as well. She knows all too well that what we need from each other in this difficult world is comfort. But to provide it, sometimes we need to travel far outside our comfort zones.
From a multimillion-selling master of women's fiction, Before and Again is a story of the relationships we find ourselves in—mothers and daughters, spouses and siblings, true companions and fair-weather friends—and what kind of sacrifices we are or aren't willing to make to sustain them through good times and bad.
St. Martin's Press
Paperback
June 2019
432 Pages
9781250125163
Praise
"Through a fast-paced and accessible narrative voice, Delinsky tackles many weighty issues in this complicated tale of friendship, loss, love, and redemption. A tale about surmounting life's most difficult moments and finding hope when one least expects it." – Kirkus
"This is a rewarding, emotionally intense novel." – Publishers Weekly
"With a bucolic New England setting and an emotional story that plumbs depths without feeling too heavy, Delinsky perfectly portrays the temptations of starting over." – Booklist
"It's largely about love and loss, mistakes and second chances and ultimately learning to survive life and whatever it throws your way and to go on living." – Medium
"I don't even know where to begin. This was absolutely one of the best books I've read in a long time. I always read Barbara Delinsky books but this one is over the top! Well written, engrossing, no loose ends….this book has it all. Honestly, I finished it in less than a week and now nothing seems to entice me. I just feel like all else will be a let down. This book will be a best seller for a long time!" – Linda Eisenberg, A Novel Idea, Chapter Two
Discussion Questions
1. Maggie is a master of denial. She has learned to push painful things from mind for the sake of survival. Do you agree with this tactic? How does it impact the story? How does it impact your own life?
2. Maggie values her friendships with Joyce Mann and Cornelia Conrad, both of whom are older than she is and strong mother figures. Do women crave this? Might she have handled her own mother differently if she hadn't had a substitute? But were these women truly substitutes? How does a mother figure differ from a mother?
3. Small towns like Devon are often prone to gossip. How does "news" differentiate from "gossip?" Does gossip have to be bad? Does it help or hurt Maggie?
4. Responsibility is an issue for Maggie. In what ways does she avoid it? Do you think she is aware of doing this? How much does this issue play in her decision to return to see her mother for the first time in more than four years?
5. In many ways, Maggie's mother, Margaret McGowan Reid is representative of women caught between two worlds–that of a homemaker and that of a working woman. Do you identify with this dichotomy? How have things changed in this regard, or not?
6. Much of the angst in Before and Again has to do with the characters' need for forgiveness–Maggie for the accident that killed her daughter, Edward for not being there for her, Margaret for turning away when her daughter needed her most. Is forgiveness really possible after traumas like these? Edward suggests that one can forgive but not forget. Do you agree?
7. Many of Barbara Delinsky's books focus on the importance of communication in relationships, and Before and Again is no different. When Maggie and Edward stopped talking, their marriage was doomed. Why do people stop talking? What does it take to make them start talking again?
8. As a makeup artist, Maggie teaches clients how to hide what they don't want the world to see. Do you ever do this? In what ways? Is it healthy?
9. Things aren't always what they seem. This is a recurring theme in Before and Again. To which of the characters does it apply?
10. We often hear of people seeking anonymity in the big city, and yet small towns like Devon offer their own version of it. Is it really possible to find anonymity in a small town? How does small-town anonymity differ from that in a big city?
11. Maggie has a green velvet box that belonged to her grandmother under her bed. Do you have your version of a green velvet box? If so, what's in it? What does it mean to you?
Excerpt
1
The trouble with waking up in the morning is that you look like who you are.
That's great if you like who you are, but not so great if you don't.
I don't. My face is pale and my eyes haunted. Five years have passed since the accident, but after a night with my head on the same plane as my heart, the scar on my forehead is a bright red. At least, it looks that way to me. When I touch it, I find a smooth ridge, but my fingertips remember the earlier roughness. And then there's the picture taped inside the medicine chest, where I'm sure to see it when I reach for toothpaste.
Mug shots are never pretty. Heartache is written all over mine. Size-wise, the print is small enough, but that doesn't dilute its impact. It's a reminder of what I did, a little dose of daily punishment.
Duly tweaked this Thursday morning, I closed the medicine chest and leaned into the mirror. I dabbed a long-wearing concealer over the scar and under my eyes once, twice, then a third time because last night was a bad one. After setting it with a breath of powder, I applied foundation, then a blusher. Both were creams, applied with a sponge. Moving up, I turned haunted eyes into stylishly smoky ones by skimming a gel pencil along both waterlines, smudging shadow into the corners, and separating my lashes with mascara.
Satisfied, I straightened and stood back, brushed my hair, fluffed my bangs. Then, as I did each day, I turned away from the mirror wearing my new face and tried to forget the old one. Was this honest? No. But it was the only way I could survive, and survival was key.
* * *
This day, the rising March sun was paper thin but promising. I felt no threat, no premonition, not the slightest sense of unease as I coasted down Pepin Hill over frozen ruts and cruised toward the center of town. After crossing the river, I passed the elegant Federal-style homes of the town founders and turned left where the road I was on ended and South Main began.
The usual string of cars lined the block fronting Rasher and Yolk. Some were pickups with mudstained skirts that labeled them locals. Others were clean SUVs with New York plates, but with the state line only thirty miles away, I thought nothing of it. Rasher and Yolk served the best breakfasts around. Every New Yorker who knew Devon knew that.
Warmed by omelet thoughts, I continued south for two more blocks before turning left toward the river again. The pottery studio was in a cavernous mill that had straddled it for a century. Like the Inn upstream, the mill had endured its share of Vermont blizzards and the ensuing spring floods. The fact that the old mill was built of wood, rather than the Inn's stone, made its survival all the more magical. Not even the hurricane that had washed out so much else on the river two Septembers before had harmed the mill's ancient oak.
I found this inspiring. To live through trauma and thrive? That was my goal.
The pottery studio did thrive. I was one of a dozen sculptors here today, and it was barely eight in the morning. Half were students, in town for a week of clay immersion that was offered by the studio's owner in partnership with the Inn. The rest were experienced artists, drawn to Devon for its appreciation of fine craft. Some were throwing pitchers and pots to be sold at the studio store in town. Since moving to Devon four years ago, I had sold things there myself. None were billed as Mackenzie Cooper art, and I deliberately tried not to replicate that style. Little bits slipped; I couldn't fully escape myself. But my current work was more subtle than spirited, and I never sculpted the family groups for which I had been known. Understatement was what my life in Devon was about. I was happy to fly under the radar.
Devon was a perfect place for that. A small town in south-central Vermont, it was known for upscale art galleries, VIP sightings, and the Spa's signature hot stone massage. Though the best-worn path to town was from Manhattan, more distant visitors came to rub shoulders with the rich and famous. All were welcome. Guests kept the town afloat.
How to tell a guest from a predator? Should a clean SUV outside Rasher and Yolk have caused suspicion? Or a lone tourist wandering on South Main taking pictures with his phone have raised a red flag?
Not in Devon. We were definitely used to strangers coming and going.
Buy a house in our midst, though, and we were cautious. It had been months before the wariness that met me when I first came faded—and that quickly, only because I had done repeated makeup applications for the library trustee chair, the Town Manager, and the head of the Garden Club. These people had bonded with me. The fact of my bare hands on their skin was conducive to that, but the emotional clinched it. A makeup artist was like a therapist, listening quietly to a client who arrived barefaced, with defenses down and a need to vent.
I knew about venting to a therapist, and I could certainly relate to wanting to feel better about oneself. What I loved most about my job was that I could make it happen for others, if only until bedtime, when the new face washed off.
So I listened. I didn't offer opinions beyond whether to use corrector or concealer, blusher or bronzer, matte shadow or glitter, and I never groaned, sighed, or frowned in response to what was shared with me. Hell, who was I to judge?
I also understood vanity. As far from the mainstream as Devon was, there were occasions when a woman wanted to look her best. Most of us had spent time in the city. We appreciated fine makeup, right along with craft beer, high-tech down jackets, and good cell phone reception.
The pottery studio was an exception to the last. Cell phones were useless within its wood walls. Potters knew they were leaving the world behind when they came here. For me, that was part of the appeal.
I had used the studio enough to be known by the local potting community, which knew me as Maggie Reid, not the full Margaret Mackenzie Reid, certainly not Mackenzie Cooper. Mackenzie was the artist, the wife of a venture capitalist, the mother. Maggie was just Maggie. Her hair was a deeper auburn than Mackenzie's had been and was colored at the roots to hide new wisps of gray. She used makeup to soften grief lines and bangs to hide her scar. Wearing base layers of wool under a sweater and jeans, a voluminous scarf, and fleece-lined boots, she was more concerned with warmth than style. She also weighed ten pounds more now than when she had been in the news.
She? Me. I could blame being thin on nerves, but even before the accident, I had been that way. It was the look of the elite, to which, for a time, my ex-husband and I had belonged. I had put all that behind, as well.
"Hey, Maggie," one of the regulars called in greeting as I headed for the supply bins.
I smiled and waved but didn't stop. Many of us were here before going to other jobs, which meant time was short. Besides, my need today was less for people than for clay.
Clay was in my blood, the smell of it alone a balm. Granted, March meant mud season, which lent an earthiness to the entire town. But potting clay was earthy in a different way. It didn't spatter my truck or cause ruts deep enough to make my tires spin climbing up to my cabin each night. Potting clay held promise. A world of wonder could come in a few hands-on minutes, and I had spent far more than that in my thirty-eight years. I'd been first drawn to clay when I was eight. By the time I was fifteen, it had become a passion, and by twenty-two, I was sculpting full time. By twenty-eight, I was married to a man who not only had faith in my work but a growing business network. An agent resulted, and my career took off.
If that sounds seamless, it's misleading. My personal history reads like a timeline in which each phase is separate and distinct. There were the growing-up years with my family, the eight years of college and beyond studying art, the seven years I was with Edward, the year in which I had been alone in hell, and now, the four in Devon. I had friends here, but none, save one, knew of those other lives. Clay did. For me, it was the single entity linking present to past—truly, the only one I could bear.
I deliberately chose a workbench apart from the others. The sandy burr of the potter's wheel soothed me when I worked, but not so human voices. I wanted nothing to come between my focus and the clay.
Not that focus was necessary to decide what to make. Need determined that, and today I needed a teapot. I had known it the instant I saw honey scones on my Facebook feed.
As bakeries went, The Buttered Scone was fabled in Connecticut. Its daily specials varied, but its honey scones were the best. They were simple and dense, but just flaky enough, moist enough, sweet enough to make you weep.
I had grown up on them. My mother was The Buttered Scone, and she knew I loved her honeys. I often wondered if she thought of me now when she featured them. I had posted a comment on her site this morning, then deleted it before she could.
I might not be having a honey scone today, but I could make a teapot. They're actually a challenge. There is an element of engineering in creating one that can pour without spilling. The spout has to be mounted at just the right height and angled just so, the rim wide enough to allow for washing but not so wide that water leaks out when it reaches the spout. I know these things, because I have only made, what, a gazillion teapots? Today, my inspiration is a honey scone. Last week, it was a green cupcake with a sugar leprechaun crouched on the top.
My mother was an artist, though she would never call herself that. Art was an abstract concept, and Margaret McGowan Reid saw life in absolutes. She baked sweets, she would say. She rented a commercial kitchen and employed ten people. Like the rosary beads always on her person, these were physical things.
So was a teapot.
Dipping my fingers in water, I formed a cylinder. The clay was cool under my hands, but pliable. I widened my cylinder as the wheel spun it smooth, then reached in and bowed the inside. Dipping again, I sped the wheel a tad and narrowed the top on a whim, loving the eloquent irony of a whistle-hole crown on a round little belly. Of course, no infuser would fit through what I'd made. Wetting my fingers again, I widened back the collar, then, using my forefingers, shaped the rim. The lid would sit here, larger or smaller. I couldn't decide which. First, I made it too wide, and it looked positively stocky at the top of the pot. Then it was too narrow, too spindly. In the process of adjusting it, though, something happened that I liked. My thumbs had nicked notches that undulated around the top of the pot.
Letting the wheel slow to a stop, I smiled and sat back. I often carved designs into the bellies of my pots, sometimes combing through the wet slip with my fingers, sometimes with tools. I wasn't one for precise symmetry, far preferring an irregularity that made each piece one-of-a-kind, but what intrigued me most was texture. Using any number of techniques, I could add clay or shave it off, shape it, carve it, or glaze it to create a texture with which the user identified. Teapots could be whimsical, joyful, solemn, serious, businesslike, or practical.