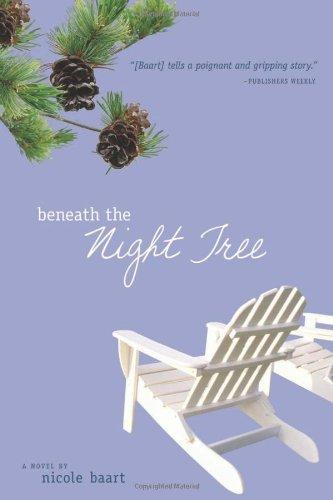 BENEATH THE NIGHT TREE
---
Do I have a child? Julia DeSmit knew she would face the question
eventually, but she didn't expect it now. At twenty-four, she is finally
content with the way her life has unfolded. A single mother to her son
and young brother, she works at the local grocery store while chipping
away at a two-year degree. All her free time is spent with her
unorthodox family—her boys, her grandmother, and her boyfriend of five
years. It's not perfect, but Julia is happier than ever.
So when she
receives the cryptic e-mail from her son's father,
Do I have a child? Julia DeSmit knew she would face the question
eventually, but she didn't expect it now. At twenty-four, she is finally
content with the way her life has unfolded. A single mother to her son
and young brother, she works at the local grocery store while chipping
away at a two-year degree. All her free time is spent with her
unorthodox family—her boys, her grandmother, and her boyfriend of five
years. It's not perfect, but Julia is happier than ever.
So when she
receives the cryptic e-mail from her son's father, Julia's world is
turned upside down. She hasn't heard from Parker since he left her in a
college parking lot nearly six years ago. But one look at her son—the
spitting image of his father—is enough to convince her that, for better
or worse, Parker is a part of their story. Faced with this new reality
and an unexpected tragedy, Julia begins a tightrope walk between what
was and what is, what she hopes for and what will be.
Tyndale House Publishers
Paperback
February 2011
400 Pages
9781414323237
Praise
Following a 2009 Christy Award nomination for Summer Snow (2008), Baart
continues the story of Julia Desmit in the third installment of the
Threads of Change. At long last, the strands of Julia's life seem to be
coming together. The message conveyed by a voice from the past, however,
and the perils of navigating delicate family dynamics threaten to
change all of that. Faced with hard decisions, Julia must balance her
own desires with the needs of her family. High on emotion and
inspiration, Beneath the Night Tree provides readers of Christian
romance with affecting surprises. Recommended for fans of the series,
the interesting characters and leisurely plot progression make this a
comfortable stand-alone novel, as well.—Elizabeth Ponder
Discussion Questions
It has been five years since we last saw Julia in Summer Snow. In what ways has she changed? How has she stayed the same?
Although she is only twenty-four years old, Julia is essentially the single mother of two young sons. Do you think she is a good mom? Why or why not?
How do you feel about Michael at the beginning of the book? Does your perception of him change as the story unfolds? Do you think he is a good match for Julia?
When Parker reenters Julia's life, it turns her world upside down. Do you think he has a right to intrude after more than five years of silence? Why or why not?
Julia's relationship with Nellie seems to be the cornerstone that holds their unorthodox family together. In what ways has that relationship changed since After the Leaves Fall and Summer Snow? In what ways has it stayed the same?
How do you feel about the scrap of paper that Julia finds in her grandmother's Bible? Do you agree with Nellie's "life list"?
I don't want Julia to be happy.
I don't expect her life to be easy.
I don't insist that it be painless.
But I do want her to be content.
I want her to love and be loved.
I want her to be holy.
On page 243, Julia says, "Our searching souls pursued happy endings. And the heart was capable of great and deceiving beauty." Do you think she's right, or is she being too pessimistic?
In what ways, subtle and obvious, is Daniel like Parker? In what ways is he like Julia?
Why do you think Julia sends Janice postcards when she knows that her estranged mother will never read them?
Were you disappointed when Julia broke up with Michael, or do you think she made the right decision?
In the final chapter Julia muses, "It all comes down to the same thing: belonging. I think that's why when God invites us into His family with arms wide open, we aren't just honorary children. We're adopted. We belong." Why do you think it was so important to Simon that he belong? Do you think things will change for him now that he is legally a part of the DeSmit family?
How do you feel about the ending of Beneath the Night Tree? Are you satisfied with how Julia's story has unfolded? Why or why not?