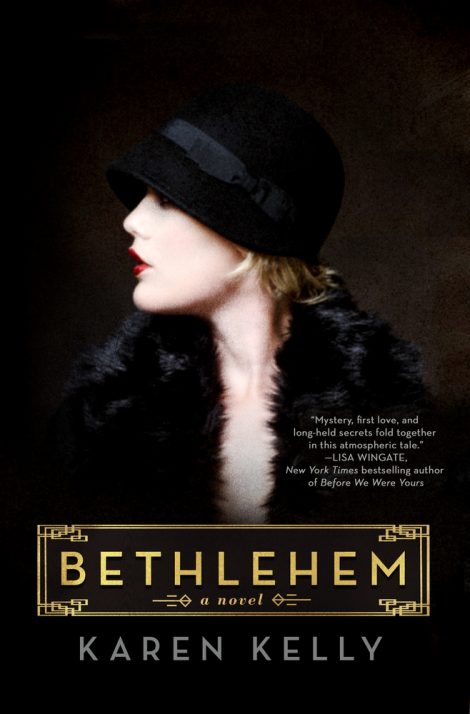 BETHLEHEM
A Novel
---
A young woman arrives at the grand ancestral home of her husband's family, hoping to fortify her cracking marriage. But what she finds is not what she expected: tragedy haunts the hallways, whispering of heartache and a past she never knew existed.
Inspired by the true titans of the steel-boom era, Bethlehem is a story of temptation and regret, a story of secrets and the cost of keeping them, a story of forgiveness. It is the story of two complex women—thrown together in the name of family—who, in coming to understand each other, come finally to understand themselves.
A young woman arrives at the grand ancestral home of her husband's family, hoping to fortify her cracking marriage. But what she finds is not what she expected: tragedy haunts the hallways, whispering of heartache and a past she never knew existed.
Inspired by the true titans of the steel-boom era, Bethlehem is a story of temptation and regret, a story of secrets and the cost of keeping them, a story of forgiveness. It is the story of two complex women—thrown together in the name of family—who, in coming to understand each other, come finally to understand themselves.
St. Martin's Press
Hardcover
July 2019
304 Pages
9781250201492
Praise
"Prying into the power and family dynamics of the dynastic American industrialist family, Kelly's evocative, startling story will appeal to readers who enjoy family sagas." —Publishers Weekly
"Bethlehem has stories to tell, and even those stories carefully hidden generations ago eventually resurface. Mystery, first love, and long-held secrets fold together in this atmospheric tale of a family coming to a long overdue reckoning… and finding a way to rise from the aftermath." —Lisa Wingate, New York Times bestselling author of Before We Were Yours
"With delicate and insightful prose, Karen Kelly sweeps us into the psyches of two deeply entwined families as their lives—and secrets—unravel. A haunting debut, Bethlehem will pull you in from start to finish, and leave you grappling with the timeless quandary of when to bury the truth, and when to confront it." —Georgia Hunter, New York Times bestselling author of We Were the Lucky Ones
"Bethlehem is an extremely deft first novel about the love that is lost and found when family secrets are kept for generations. Karen Kelly is the real deal." —Mark Sullivan, New York Times and USA Today bestselling author of Beneath a Scarlet Sky
"A stirring tale of the strength women conjure and the secrets they cling to when youthful joys fade and heartache takes hold. Set against the backdrop of the Pennsylvania steel industry in the 1920's and 1960's, Bethlehem explores how far mothers will go to protect their families, and how far wives can be pressed before they push back. With passion and insight, Kelly has crafted a deeply moving story of empathy and forgiveness." —Lynda Cohen Loigman, author of the Goodreads Choice Finalist The Two-Family House and The Wartime Sisters
"Bethlehem is a slow burn of a novel, starting out with simple tales and quiet details that build to a rich and touching and moving tale. Generations of family secrets come unburied in the course of this novel, in ways that show how large the heart can be, and how healing the truth can be. The prose is vivid, the characters crackle with life, and the story of these two families will capture you. I read the last fifty pages with a continuous lump in my throat." —Stephen P. Kiernan, author of The Baker's Secret and The Curiosity
Discussion Questions
1. The single most significant theme in the book is illustrated with one sentence: "It's a wretched thing to feel like an imposter." Is there a universal truth to that? Most people carry secrets—do those secrets "in some fundamental way" change people, as with Susannah?
2. If so, is that necessarily a bad thing? Is it better to leave history in the past; are some things better left unsaid? Or is there a sort of slow poison in keeping a secret, something that can eat away at a person until the balance is shifted and the harm that it does to the person keeping it outweighs the good of protecting someone else?
3. How do you feel about Susannah's secret, and the fact that she kept it for so long? Should she have told Wyatt (i.e., does honesty always trump any impetus to withhold the truth, even if the withholding is done with the best intentions?).
4. Helen's insistence on keeping her daughter's pregnancy a secret impacted the rest of Susannah's life. Do you believe that Susannah owed her mother her silence on the matter? Or do you see Helen as meddling and mistaken? Do you think it is typical for a mother to exert such influence over her daughter? Natural? Acceptable? Did Helen ruin her daughter's life or did she save it?
5. People have been known to give up everything for love. Falling in love with the wrong person can devastate families, friendships, and lives. A second overarching theme of the book is the terrible helplessness of those situations. We see this illustrated most powerfully in the character of Chap, who must risk losing his relationship with a brother whom he loves profoundly. Did you recognize Chap's untenable situation and the depth of the pain it caused him? Do you think he should have let Susannah go, denied their love, and put his brother first? What might the repercussions of that decision have been?
6. We also see it illustrated in the character of Joanna, who briefly considers leaving everything—her children, her husband, her entire life—for Daniel. How would you compare the relationship of Joanna and Daniel to that of Susannah and Chap? How about that of Joanna and Frank compared to Susannah and Wyatt?
7. Joanna struggles with feelings of loneliness, powerlessness, and identity that fuel her resentment for her husband. In a home occupied by two other strong women, she feels marginalized. Can you relate to Joanna's frustration, to her gravitation to Daniel in her need to be seen, to be important to someone? Do you think she was justified in her feelings, or do see her as confused, misguided, or even self-centered?
8. How did you feel about Joanna's friendship with Daniel? Is this a commonly recognizable phenomenon—the convenient cloak of friendship used to sanction a relationship which may, in reality, have a chemistry that isn't necessarily appropriate?
9. How did you feel about Frank as the book went on? Did you see him as neglectful and deserving of Joanna's resentment, or did you feel empathy and/or pity for him?
10. Susannah makes a discovery that is described by these excerpts:
11. She floated in Chap's arms like a feather in a stream, with a strange, transcendental feeling of utter fulfillment, made more bewildering by the fact that she hadn't realized it had been missing before.
12. Her feelings for Chap were so novel, so powerful, that she couldn't help but wonder: If not for him, would she ever have known?
13. Do you believe that a person may never meet the love of his or her life and not even know it? Can we be just as happy not knowing that we are missing something?
14. Wyatt's love for both Susannah and his brother, Chap, is deep and abiding—enough that he can forgive them for loving each other, and go forward without ever revealing that he knew about the relationship. Should Wyatt have told his wife what he knew, relieving her of the guilt? Or can you relate to his fear that the relationship would survive neither the enormousness nor the enormity of the truth; that revealing his knowledge might "eat us alive"?
15. The story begins quietly, constructing a careful history to establish a relationship between the reader and the characters in order to recognize those characters familiarly and to understand the deep relationships that the two families have. Did you find that the measured pace—the deliberate foundation that the author layered into the first chapters—had the effect of providing extra emotional impact for the denouement and the last chapters? How did the foreshadowing impact your response to the story? Did you find it compelling or did you feel it gave too much away?
16. The author originally intended to end the book at Chapter Fifteen, without the epilogue. Did you find the epilogue a necessary explanation for the way the final chapter ended, or could you infer the meaning?
Excerpt
One
AUGUST 1962
"It's nice to see some live children around here."
The voice came from behind Joanna—unnerving in itself—but as the ghoulish implication settled in, she shivered.
The figure seemed to have appeared out of nowhere—The Old Woman in the Wood in a frayed straw hat. There was a trace of dirt on her cheek, and when she smiled, one front tooth pushed just slightly forward, giving her a charming, imperfect appeal. "Welcome to my garden of eternal repose."
Joanna couldn't control it—her eyes ran up and down the woman in a conspicuous once-over. Thick-soled shoes layered with soil, baggy men's dungarees, a canvas apron anchored by four large pockets—all topped by a lined face with crinkled spaniel eyes. A cottony bun peeked out from under the hat. This was a grandmotherly face—not ghoulish, not unearthly. Thoroughly earthly, in fact.
Cautiously, Joanna returned the smile. "I hope it's all right. I thought we'd just stroll through, but when they saw the swing…"
Suspended on thick ropes from an enormous oak tree was a grayed slat of wood, where now perched a young girl, propelled by her brother's indulgent heave-ho.
"It certainly is." Placing her small spade and bucket of weeds on the grass, the woman lowered herself onto the bench. She smiled again at Joanna, patting the seat next to her. "Lovely to have you here. I've been waiting to meet you."
"I'm sorry?"
The woman laughed, clapping both hands on her knees. "Sounded like the grim reaper, did I?" She slipped off a work glove and held her hand out. "Doe Janssen. Proprietress. And you're Joanna Collier."
Clasping the proffered hand somewhat tentatively, Joanna sat down. If she wasn't outright rattled, she was getting there. "How did you know?"
"Wouldn't take a soothsayer to figure it out. One look at that little boy and you know he's a Collier. But I've seen you before—at your father-in-law's funeral last year. And I knew that Frank had moved his family into Brynmor."
Joanna looked over at Charlie, surprised. She hadn't thought he took after her husband whatsoever. "You know the family?"
"Oh yes. Hedy's a dear friend. We go back decades."
Joanna was beginning to wonder if she was hallucinating. Sitting in the middle of a graveyard with this rustic stranger—a little old lady in trousers who seemed to know a lot about her life—was peculiar enough. But even more bizarre was the idea that her husband's stately, refined grandmother could have somehow befriended a cemetery custodian.
"Do you live in the house?" Joanna nodded toward a hulking brick manor of indeterminate style that sat within the tall iron gates, surrounded by headstones large and small.
"Oh yes … it goes with the territory. In Grange House, we have dwelt—nigh fifty-seven years." She recited the line like poetry. "My husband moved me in as a bride, and we've never left." Pausing, she gazed around. "It may seem strange, given the circumstances, but it's turned out to be a lovely life. We've known most everyone in Bethlehem, and those who have moved in here are quite good company."
Curious about the earth-streaked little woman in the tattered hat, Charlie and Daisy had quit the swing and were now hovering at their mother's elbow. Charlie—shy at six but naturally inquisitive—ventured a question: "How many people live here?" He was looking toward the house.
Doe chuckled and gave him a weighty look. "Well … there are just three of us actually living here … but we're surrounded by very interesting neighbors, if you get my meaning."
Increasingly uncomfortable with the slant of the conversation, Joanna tilted it in a more corporeal direction, drawing a handkerchief from her pocketbook to scour at a scuff of dirt on Daisy's knee. "Charlie, Daisy, please say hello to Mrs. Janssen. This is her yard, and she has been nice enough to let you play on her swing."
One voice was muted and one rang out: "Hello, Mrs. Janssen."
"Hello, little monkeys. You can call me Doe. Everyone does."
"Do you have any children?"
Daisy (she of the bold approach) was hoping to find a friend, Joanna knew. The move to Bethlehem had been exciting at first, but school didn't start for another month, and the kids were getting tired of each other. Their only other playmate over the past weeks had been Harriet, the maid. Dear old Harriet. If she was tired of pretending to look high and low for them as she dusted and polished, she hadn't let on.
"Our little girl is all grown-up and moved away." As Doe gazed at the swing, a shadow drifted across her face. "Her daddy rigged that up, oh … I guess it must have been about fifty years ago. But our grandson Daniel replaced the ropes this year." Her expression brightened. "I think that old swing is happy to feel the weight of some real children for a change, and not just that sweet little redheaded fellow who is nothing but air."
Charlie and Daisy were speechless, staring at the woman with expressions that swung from suspicion to wonder.
A little warning signal flashed in the back of Joanna's mind: Bats in the belfry. "I'm sure Mrs. Janssen—Doe—is joking," she said evenly, hoping the woman would take the hint and stop sowing nightmares.
But Doe continued with breezy aplomb. "Oh, but I'm not. We have all sorts of souls wandering around here. There is a band of Union soldiers, for instance. And I do mean band. Drum … bugle … banjo. They can make quite a racket." She paused for a beat, looking over at a section across the way. "It's lovely, though, when the young fellow from Easton plays his harmonica. 'Oh Shenandoah … I long to hear you.…'" Her voice piped out in warbling vibrato.
Now Daisy was rapt, begging for more. "Who else do you see? Are there any more children?" The macabre implications didn't even register, so giddy was she at the prospect of meeting some new friends. Charlie, however, couldn't hide the cloud of anxiety that drifted across his face. He made a sudden scan of the surrounding headstones, and his hand snaked into his mother's as he pressed against her hip.
"What's this over here?" Joanna was on her feet in a preemptive strike, taking the children in hand to a neighboring headstone, where a small ceramic dachshund stood sentry. As distractions went it was somewhat uninspiring, but at this point Joanna was doing what she could—and was beginning to regret her earlier impulse.
St. Gregory's Cemetery sat high above the Lehigh River, overlooking the voluptuous river valley and beyond to the broad heft of South Mountain. Joanna had been there before, but only under sad circumstances and in a large procession of people. Since moving to Bethlehem, however, she had a new appreciation for its verdant beauty. Each time she walked to town, she passed the gates: despite the irony, there was a quality about the graveyard that was somehow inviting. She couldn't help being drawn to the serenity of what her aunt Martha always referred to as the "marble orchard." And so today, as she and the children were returning from a trip to the five-and-dime, she had decided it couldn't hurt to go in and let them roam. Now she wasn't so sure.
"We do find the occasional memento." Doe had followed them, shifting to a less spectral subject. "There are the usual love letters, rabbit's feet, lockets, and such. A pocket watch here and there. One time there was a plastic snowman, and once, an old musket. Not loaded." She was squinting to remember. "And there was a stethoscope. That was from poor old Doc Maxwell. He couldn't be convinced his wife had died. He'd walk around town looking high and low, until he remembered she was here. Then he'd lie on the grass and listen through his stethoscope for signs of life through the dirt." She shook her head. "His daughter didn't know what to do about it. It was a blessing when he joined Millie here." Remembering Joanna's question, she considered the dachshund for a moment. "This one's new, dear. We'll leave it for now. Every dog has his day, as they say. Which reminds me…" Leaning forward, she inveigled the children with a dramatic stage whisper: "If you want to really see something, come with me."
As they wound through canopies of elm and oak, sycamore and dogwood, Joanna trailed behind, taking it all in. The natural beauty was idyllic, and yet somehow the smooth stone of the carved monuments managed to improve upon it—no small feat. Even the plain zinc markers lent an austere, elemental grace. Many dated from before the Civil War, their inscriptions barely legible. Each one seemed to call to Joanna, a faint petition: Recognize me once more—that I should exist again. But Doe forged ahead in front of her—inured, probably, to the brief, beckoning narratives—so Joanna passed them by, apologetic at heart.
At a large trapezoidal slab, Doe stopped. On inspection, it would have been easy to pick out the carved image of a noble-looking canine just below the dated inscription. This detail, however, was overwhelmed by the blindsiding distraction of an actual dog, lying motionless across the mounded grass—a German shepherd with glassy eyes and a tattered, mangy coat.
Charlie's face was a study in shock. His eyes opened nearly as wide as his mouth, and he reflexively grabbed at his mother's skirt as he failed to suppress a strangled cry.
Doe was contrite through her laughter. "I guess I should have warned you," she cackled. "This poor soul, Macpherson, loved that dog so much, he hired a taxidermist when he died. His daughter brought Shep over the other day—she was finally cleaning out the shed and found her dad's old companion. She couldn't bear to just throw him away. I didn't have the heart to turn her down. But when Daniel mows this section, old Shep's days are numbered."
Daisy was on the ground, gently stroking the mottled fur, not bothered in the least by the animal's lifelessness. At the mention of Doe's grandson, she turned to ask, "Could Daniel come out and play with us?" Her little face was so beseeching—brows knit and eyes hoping—that Joanna reflexively took a mental snapshot, depositing the small, insignificant moment into her memory bank of images. Oh, how she loved five. Five was wondrous. Five was artless, unaware, wide-open, and heartbreakingly sweet. Five hadn't started school yet, hadn't begun the steady, inevitable journey toward self-consciousness, contrivance, comparison, and all the other encumbrances of growing up. Charlie was only six, yet already she could tell a difference.
Copyright © 2019 by Karen Kelly