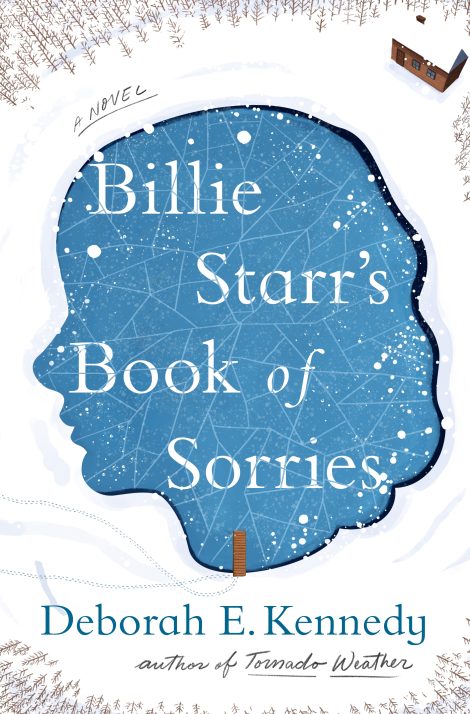 BILLIE STARR'S BOOK OF SORRIES
---
Shimmering with rage and sparkling with subtle humor, Billie Starr's Book of Sorries showcases Edgar Award-nominee Deborah E. Kennedy's singular voice as Jenny, a heroine in the vein of Olive Kitteridge in Crosby, Maine and Miles Roby in Empire Falls, shines a light on the town of Benson, Indiana, where lakes, grudges, and family rifts run deep – but so does a mother's love.
Sometimes, a woman has to rescue herself.
Jenny Newberg, Queen of Bad Decisions, is about to make another one. In a small town where everyone knows everyone's business,
Shimmering with rage and sparkling with subtle humor, Billie Starr's Book of Sorries showcases Edgar Award-nominee Deborah E. Kennedy's singular voice as Jenny, a heroine in the vein of Olive Kitteridge in Crosby, Maine and Miles Roby in Empire Falls, shines a light on the town of Benson, Indiana, where lakes, grudges, and family rifts run deep – but so does a mother's love.
Sometimes, a woman has to rescue herself.
Jenny Newberg, Queen of Bad Decisions, is about to make another one. In a small town where everyone knows everyone's business, down-on-her-luck single mother Jenny is on a first-name basis with the debt collector at the bank, who is moving toward foreclosure. She is constantly apologizing to her precocious young daughter, Billie Starr, who is filling a book with her mother's sorries, and it seems to Jenny that no apology will ever be enough.
Then a pair of strangers in black suits offers her a hefty check to seduce someone known as the Candidate. Finally, something will go her way.
But nothing ever goes as Jenny plans, and she is swept into the Candidate's orbit. Surrounded by a wide universe of new ideas, she realizes how constrained her life has been by the expectations of everyone around her, and she starts to see how much more she might be capable of. And when her world is rocked to its core and Billie Starr may be in danger, Jenny is forced to do what she once thought impossible: trust in herself and her own power to make things right.
Flatiron Books
Paperback
October 2023
320 Pages
9781250138453
Praise
"An enthralling suspense thriller…Exquisite prose matches deep characterization. Kennedy deserves to win an Edgar with this captivating sophomore effort." —Publishers Weekly, starred review
"Funny yet bitingly realistic look at small-town life, this genre-blending novel manages to be both charming and heartbreaking." —Kirkus
"Billie Starr's Book of Sorries is a book of righteous anger, a book of hard-earned hope, a book of laugh-out-loud humor, and, above all, a book of deep love." —Laurie Frankel, bestselling author of This Is How It Always Is
"Compelling, compassionate, and deliciously comic, Billie Starr's Book of Sorries is so smart and vigorous and big-souled, I loved every moment spent with these beleaguered but resilient humans who, like the best of us, somehow, exhilaratingly, muddle through." —Michelle Huneven, NBCC and LA Times Book Award finalist and author of Search and Off Course
Discussion Questions
1. Jenny says she's sorry so often that it's caught the attention of her eight-year-old daughter, Billie Starr, who has started compiling a list of all her mother's apologies. Why do you think Jenny feels the need to apologize for everything? Is this tendency a matter of nature or nurture or both? What do you think Jenny learns from reading the Book of Sorries she finds in Billie Starr's bed?
2. How would you characterize Jenny's relationship with her mother, Carla? How does that relationship contrast with her bond with her father? Do you agree with the last few lines of "Ashes," in which Jenny remembers Pete as the only person who ever really loved her? How do you think these very different relationships helped shape Jenny, and how might they have impacted Jenny's relationship with her daughter?
3. Jenny's best friend, Lyd Butz, tries to talk her out of going along with the Black Suits' plan to frame George Shepherd. In your opinion, is Lyd correct in trying to dissuade Jenny from taking part in the scheme? What are Jenny's main motivations for defying Lyd and going through with it? Were you surprised when the Black Suits failed to pay Jenny for her part in the plot?
4. While tipsy on cheap champagne at Bob Butz's family bonding dinner, Jenny considers all the reasons a woman like her might drink too much in the middle of the week, concluding that it all came down to the fact that not only had her adult life proved a disappointment, but also that she'd always been led by the people around her to expect to such an underwhelming fate. Do Jenny's drunken ruminations ring true to you here? Why or why not? How do you think Jenny's justifications for over-drinking would compare to Randall's? What might his list of reasons look like?
5. During Jenny's first day on the job with the campaign, George makes a clumsy attempt to embrace her. Quietly dodging his advance, Jenny contrasts his behavior with that of Bob Butz, clearly favoring that of the former over the latter. Do you see a significant difference between how George and Bob treat her? Did your opinion change over the course of the book? What do Jenny's experiences not just with George and Bob but also with Randall and the officers of the local police department suggest about the role gender plays in the power dynamics of Benson, Indiana, and other small towns like it?
6. Jenny's sense of self-worth is clearly based largely on her beauty. She takes comfort in her reflection, in watching men melt when she smiles at them, in being reminded that even if her life might appear to be at loose ends, she's still a very pretty woman with all the attendant privileges thereof. But one could argue that it's her looks that attract the likes of Randall, Bob Butz, and the Black Suits, not to mention George. In your opinion, is Jenny's beauty more a blessing or a curse? Do you agree with Billie Starr's teacher, Mr. Richardson, that prettiness can sometimes hide inside ugly covers and vice versa? How do you think being the relatively plain child of a beautiful woman has impacted Billie Starr's self-esteem and estimation of her own value?
7. Jenny knows next to nothing about politics when she accepts the position as receptionist for George Shepherd's campaign. What does she learn in her short time with the campaign? How does what she discovers impact her worldview? How does it affect her search for Billie Starr? Do you feel like politics play a pivotal role in your daily life? Why or why not?
8. This book is set in 1991, just prior to the election of Bill Clinton and a few months after the explosive confirmation hearings of Justice Clarence Thomas. Both men faced credible accusations of sexual misconduct, as did Gary Hart, a politician from Colorado whose presidential aspirations were torpedoed in 1987 by press reports detailing alleged extramarital affairs. How do Jenny and George's interactions compare to those high- profile scandals? How might their story have played out differently if it were set in our present day, given the rise of the #MeToo movement and prevalence of social media?
9. While this book primarily concerns itself with the tangible and often tedious trappings of real life, there are touches of magic realism in the story, including the ghost voices at the end that tell Jenny to keep running and the seemingly otherworldly properties of her purple rabbit's foot. Perhaps the most obvious element of magical realism is the Fort Wayne phone booth where Jenny may or may not have had a brief chat with her dead father. Do you think that is actually Pete reaching out to Jenny from beyond the grave? Or is it just a miscommunication? Do you think the hints of the supernatural serve to deepen the story? Why or why not?
10. Jenny, while curious about Christianity, isn't terribly knowledgeable about its practice or dogma. Carla goes so far as to declare herself not "churchy" (page 52) in advance of her barn wedding to Bob Butz. On the other side of the spectrum, the Mummies all take time to pray for Billie Starr's safe return, and Heather, Lyd Butz's girlfriend, has well-defined ideas about the afterlife and God's esoteric approach to housekeeping. Somewhere in the middle is Vi Gregor, whose kneejerk reaction to death is to tell the grieving that their loved one's suffering is finally over and that they're in a better place. What do you think the book's overall message is concerning Christianity and religion in general? Do you agree with that message?
11. One of the novel's main preoccupations seems to be with law enforcement's role in small-town life, and each character seems to have his or her own opinion about the police. Lyd thinks police departments are vehicles of state-sanctioned violence. Ted mentions over coffee with Jenny that cops kill people like him, i.e. Black men. Even Sergeant Till, a police officer himself, is clearly convinced that the Benson police department is uniquely inept. Given all this, was it a surprise to you when Jenny joins Sergeant Till as a county deputy? Do you agree with Lyd that Jenny's trademark naivete was showing when she chose that line of work? Or do you think she might succeed as a "good apple"? Did your personal experiences with law enforcement in any way color your impressions of men like the Benson police chief, Patrol Officer Chad Leffert, and Sergeant Till?
12. In the novel's final chapter, Jenny considers the legacy of women like Carla who are doomed to be forgotten shortly after they die because of just how little they leave behind. Jenny supposes that she, too, will be forgotten because her contributions to society will be relatively modest. Still, Jenny is hopeful. What do you think is next for her? And for Billie Starr and Randall and baby Pete and Judd and Ruby Pickens? What do you think the book is saying about the so-called "little people" (page 240) who live in flyover country? What is it that makes a person or a life or a place matter in the long run?
13. When you read the last paragraph of the book, how did you react to Jenny's idea that, when it comes to the forces of light and dark, light is the more stubborn of the two?
Excerpt
Ashes
Jenny remembered his arms best. Hugging her, holding her, waving, working. Forearms, lean and tan, covered in reddish-brown hair that was often speckled with dust or paint or ash. Tattoo of his mother's name on his left biceps. Doris. A scorpion on his right. Wrists strong. Fingers nimble. A triangle of moles over one elbow. Scabby crocodile skin just below. Jenny liked to play with it, mush it around in the shape of a mouth, have it say things. I love you. Who farted? Don't leave me.
His face, unforgettable. White scar between his blue eyes. Nose, a little bumpy from a bar fight. Teeth, bad. Voice, not low but not high either. Heart, big. Sometimes too big for the world he was born in. That was her father all over. Sweet-tempered and shortchanged. Small beer.
"A lot of ugly in this world, beautiful," he told her. "Got to make our own pretty."
Pete talked like that. Like a hick Hallmark card. A fan of country music, the White Sox, Marlboro Reds, and Cher, he was also superstitious. Never stepped on a crack, never walked under a ladder, threw out mirrors when he broke them, and gave Jenny an impossibly soft purple rabbit's foot for her fifth birthday.
"Luck, sweet pea. Good and bad. Sometimes it's all we've got."
For most of his life, he built cabinets and countertops and installed them in houses that his boss, Bob Butz, a local Realtor, sold to people who didn't care that men like Pete existed. Then, when Jenny was sixteen, when she needed him most, he died. She held his hand as it happened, felt it grow stiff and cold. She'd wanted to drive him to the hospital, but he refused. Didn't like how hospitals smelled. Too sad, those places, he said. Too many blue walls and white coats and code reds.
When Jenny called her mother to break the news, Carla was annoyed more than anything, irritated that her ex-husband would choose that day of all days to give up the ghost. She had tickets to a Kenny Rogers concert.
"And I'm fresh out of black dresses."
Pete had moved to Crooked Lake by then, to a little motel at the dusty end of a dead-end gravel road. The last place he'd been truly happy, he said. Jenny had been happy there, too, when, during a long-ago spring break, Pete brought her with him on a job. While her father and a small crew of men worked on a house across the water, Jenny sunned herself on the public beach and ate lunches of peanut butter and jelly in the motel room in front of game shows and soap operas and terrifying documentaries about serial killers. In the evening, she and Pete walked to a nearby tavern for fried fish dinners and Pete told her all about the fancy family who owned the house he was working on, about the fresh-squeezed orange juice they drank and actual butter they ate and the tennis rackets and skis and motorboats they owned and the pictures on their walls of places they'd traveled to—New York City, the Grand Tetons, Yellowstone. People like that saw the world up close and in person. People like Jenny and Pete saw it in magazines and on TV. It was fine, though. They weren't mad about it because, before they went back to the motel for the night, they had time to venture out onto a nearby dock to look at the stars. Arm around Jenny's shoulder, Pete pointed out constellations, told her stories about ancient men who used to steer by them, his voice full of awe.
"This is my happy place, Jenny. Right here, right now, with you. As good as it gets." Jenny, sleepy and full, agreed. A perfect week of nothing much.
But then that week was followed by months and months of Pete getting sicker and sicker. Coughing. Always coughing. Divorce in there somewhere, Jenny dividing her time between her mother's house and the motel. Pete only stopped coughing when he stopped breathing. Carla's best friend, Vi Gregor, called his death a blessing. He's at peace, she said. His suffering is finally over.
Peace? Jenny wanted to die along with him, follow him into the fire, come out the other side light as air, feeling nothing.
On a gray day in July, shivering, she scattered Pete's ashes at the end of their star-watching dock, teenagers from the city skiing by, hooting at her, slaloming right through the line of white and gray. Just like that, Pete went from being son of Doris, father of Jenny, knight in torn tee shirts, to debris. It was too fast, that transformation. And too unsung. Jenny should have brought fireworks, planted a cross or something. Instead, she went home and slept for twenty hours straight, dreaming of motorboats and mermaids, swords and stones and fish food.
She never admitted it to anyone, but she took to praying to Pete like you would a saint, begged him to protect her the way he used to. She felt stupid doing it, idiotic, but she did it anyway, and when she became a mother, she asked him to look after Billie Starr, too, to keep her safe from dangers Jenny felt unqualified or unable to counter. Bullies. Lightning strikes.
Maybe it worked or maybe it was just luck, the good kind. Either way, Jenny had come this far—twelve years—without him and it was 1991. A famous basketball player, thirty-two, had just announced that he had AIDS. A famous rock star, forty-five, had just died from it. A postal worker shot up his office, and a former KKK grand wizard just barely lost a race for governor of Louisiana.
Jenny, twenty-eight, turned off the news. She was alive somehow and so was Billie Starr, and when she remembered to, Jenny kept the velvety purple rabbit's foot with her, held it close. Sometimes she forgot all about it. But not about him. Pete. Bony-kneed. Red-necked. Starstruck. He'd loved her. The only one who did.
Book One
She woke to snow on the ground, a dripping sink, and her neighbor's cats at her door, begging for food. The dripping sink and begging cats—Jenny was used to that. Her house was old, her plumbing was shot, and her neighbor, Marcus Rye, often forgot to feed Gertrude and Yo-Yo, and so it had fallen to her to give them two cans of tuna each day—one in the morning and one at night. The snow, though, that was new. The first of the year, it turned her scrubby lawn into something pretty for once, and, standing on the back stoop, cats winding around her ankles, Jenny looked at it—the sparkle, the purity of it—and thought that maybe, just maybe, what she was about to do wasn't so terrible after all.
She gave the cats their breakfast and poured herself a cup of old coffee. She didn't bother heating it up. The microwave would wake Billie Starr and Jenny wasn't ready for that. Not yet. She still needed to shower, shave her legs, "get dolled up," as her mother put it. And she needed time to figure out what she would say when she saw him. The first words. They seemed important. Monumental, even. Life and death.
The man's picture was in an envelope on the counter next to the toaster. Jenny gave the cats a head pat and went back in, pulled the picture out, studied it. The men in black suits told her to be on the lookout for a weak chin and large, liquid eyes. Also a halting gait. The photograph obviously didn't show his gait, but the weak chin was there, and his eyes reminded Jenny of a puppy's. He had a full mouth and shiny skin and thinning brown hair. His brows were bushy and unkempt and his sideburns were out of style, but he wasn't ugly. More gentle-looking, and his sweet smile gave Jenny pause.
Still, the men in black suits told her that if she didn't take the job someone else would, and maybe that lady wouldn't be as cute as Jenny or as kind. It was her choice, the men said. They weren't there to pressure her. They were simply presenting her with an opportunity, the likes of which rarely came along for girls like her.
Girls like her. Jenny knew what that meant.
She put the photo down, drifted into the living room to the large picture window that looked out on the front yard. The snow gave the sky its light, made the early morning world glow baby blue. Four sets of paw tracks wound around the big locust tree. A rabbit had been by, and a deer. Gertrude and Yo-Yo picked their way across the drive back to Marcus's, the beige single-wide dark this time of day and missing some siding.
Jenny lived in an old brick schoolhouse at the top of a sharp S curve on a small stretch of road that, a hundred years before, had its own railroad station and post office. That was ancient history, and Acorn Street was part of Benson now. Five miles outside town, bordered by farmland and patches of woods, it was a lonely spot on the map, a nothing sort of place that everyone pretty much forgot was there. Then, the previous August, a drunk twentysomething missed the curve and drove right into Dorothy Renfrow's house, killing her and her entire collection of African violets. The Fort Wayne news carried the story. A few Indianapolis outlets, too. The twentysomething went to jail for a month. His parents were important somehow. Or anyway rich. The house, a haven for raccoons and blackbirds, had yet to be repaired or torn down. It looked like a punched-in face. And Dorothy, about as a friendly as a thistle, wasn't missed by anyone.
After the accident, the city installed a blinking yellow sign to alert drivers to the coming curves. It throbbed all day and all night, a sour signal that pulsed through Jenny's dreams and made the houses on Acorn Street look even worse than they already did. Marcus's trailer was an eyesore on its own. There was the missing siding, but also several cracked panes, a mountain of soggy mail on the front step, and a charred west wall from the night he'd left the stove on and set fire to a bunch of phone books. And the blinking made it seem like the cops were forever stationed in Dorothy Renfrow's front yard, radioing for the coroner.
Jenny's house wasn't much either but she loved it anyway, cherished its creaky wooden floors and odd nooks and crannies. Even the window above the kitchen sink that let in wind and snow and rain was just more proof of its character, its uniqueness. Most of all, she loved that it was hers. She'd used her tiny inheritance from Pete as a down payment and filled it with Goodwill furniture, cute antiques, candles. How long, though, before the bank took it all away? A collection agent named Kevin called often now, called early, and the flashing sign reminded Jenny that she was three months behind on her mortgage payments. Mortgage mortgage mortgage, its blinking seemed to say. Loser loser loser.
The sign pulsed at the same rate as the mantel clock Jenny's mother had given her for her last birthday, a hideous rococo thing Jenny hated but couldn't get rid of because Carla would call her ungrateful if she did. Carla considered rococo "high culture." Also anything that suggested "Asia at its finest." Her apartment was cluttered with porcelain figurines of white-wigged men and women at leisure, her walls dotted with prints of geisha girls and sumo wrestlers. Rooms at war with themselves.
The sign and the clock reminded Jenny that time was running out, that, like Pete, like Dorothy Renfrow and her violets, she, Jenny Newberg, would die someday and so would Carla and Billie Starr and Jenny's best friend, Lyd Butz, and Marcus. Good business for Hiram Hardacre, the town funeral director, but bad news for everyone else. Gertrude and Yo-Yo, they would die, too. And the locust tree. The bunny and the deer, wherever they were. Everything. Everything and everyone would die and then what?
Jenny finished her coffee and padded down the hall to take a shower.
* * *
"Mom?"
"Yeah, pumpkin."
"I'm not a pumpkin. I'm an airplane."
"Oh, okay. Zoom!"
"I don't zoom, Mom. I roar."
"Roar!"
"You sound like a bear. Plane roars are different."
Billie Starr had dressed herself that morning. She'd dressed herself every morning since she started school three years before and refused to take Jenny's advice on anything that had to do with clothes. Underneath her bright red coat, she wore an orange sweatshirt, a turquoise skirt, and black, sparkly kneesocks. Her white gym shoes lit up when she kicked her feet, sending little red signals against the passenger seat.
"What are you?" she asked Jenny.
"What do you mean, sweetie?"
"I'm not a sweetie. I'm an airplane."
"Of course."
"I asked you what you are."
"I'm your mom."
"But what else?"
The farms flashed by, field after field of spent cornstalks, bent and sharp in the frigid soil. White wooden foursquare houses sat off the road, surrounded by barns and pickup trucks and earthmovers. Long driveways in this part of the county. And short fuses. A few weeks ago, one of the farmers, Lorne Keck, shot at his wife for making a runny pie. No one was exactly shocked by the news. Lorne and Trish had a reputation for being "volatile," and Lorne collected antique revolvers, haunted gun shows on the weekends. Many in town were, however, surprised to find out that shooting at one's wife was an offense worthy of arrest. "Didn't it matter that he missed?"
Lorne was still in the county lockup as far as Jenny knew, and she hoped he'd be there for a long time. He was an old friend of Pete's but she never understood what her father saw in him. Once, when she was spending the weekend with Pete at the dead-end motel on Crooked Lake, Lorne dropped in on them, carrying a pizza and a twenty-four-pack of Milwaukee's Best. While Pete coughed in his bed, Lorne cued up a pay-per-view boxing match between two aging heavyweights. Then he proceeded to eat all the pizza and drink all the beer. He smoked so many cigarettes that night, one after the other, Jenny had to go outside in the freezing cold just to breathe.
"Mom?"
"Yeah, sweetie."
"I told you I'm not a sweetie. I'm not a sweetie or a pumpkin or a honey. I'm an airplane."
"I'll try to remember."
"And I asked what are you besides a mom and you never answered me."
"I'm sorry."
"You're a sorry?"
"Sure."
"That doesn't sound very interesting."
"I guess it's not really."
"Well, I'm going to Paris because I'm a plane. Mr. Richardson said we can go anywhere we want to in our imaginations."
Mr. Richardson was Billie Starr's teacher. A nice-looking man in his midthirties with sandy hair and a baseball player's body, he'd asked Jenny out once at the beginning of the school year. His wife had died of ovarian cancer the previous spring. Jenny had taken a week to think about it. In the end, she turned him down, said she didn't think it would be appropriate, since he was her daughter's teacher. Sometimes at night, though, lying alone in her bed, Jenny regretted her decision, wondered what it might be like to go on a date with a decent man.
"Mr. Richardson is right," Jenny said. "You can go anywhere you want. In your mind."
"See you when I get back."
"See you."
Billie Starr disappeared into her own world then, tracing pictures in the frost on the window with her index finger, singing as she did so—"Freray jacka, freray jacka, dormay-voo, doomay-voo"—and making airplane-taking-off-and-landing sounds. She did this almost every time Jenny drove her to school. The make-believe destination wasn't always Paris, though. Sometimes it was Disney World. Other times the Grand Canyon or Niagara Falls or the California redwoods. And she wasn't always a plane, either. For a long time, she was the Batmobile. Before that, a bullet train and before that, a stagecoach.
Jenny couldn't remember playing such games when she was Billie Starr's age. She was just herself, Jenny Newberg, going to school, Jenny Newberg at school, forgetting to listen, flubbing up on tests, and Jenny Newberg leaving school, feeling the weight of all her failures lift off her shoulders until the next day when she would have to go back and do it all over again. Finally, when she was sixteen and a half, she was Jenny Newberg not going to school, Jenny Newberg dropping out. Jenny Newberg on her own, hunting for jobs and a place to live, Jenny Newberg discovering, as Carla had warned her, that money did not grow on trees.
She passed more farms—the Johnson place, the Winkler place, the Shields place—and a trailer park where Randall Leffert, Billie Starr's father, had lived for a while after he lost his job at the feed store. Jenny heard from Lyd that Randall had moved out of the trailer park a few weeks ago, that he was seeing someone, a hairstylist from Crooked Lake who vowed to fight off any woman who showed the slightest interest in him.