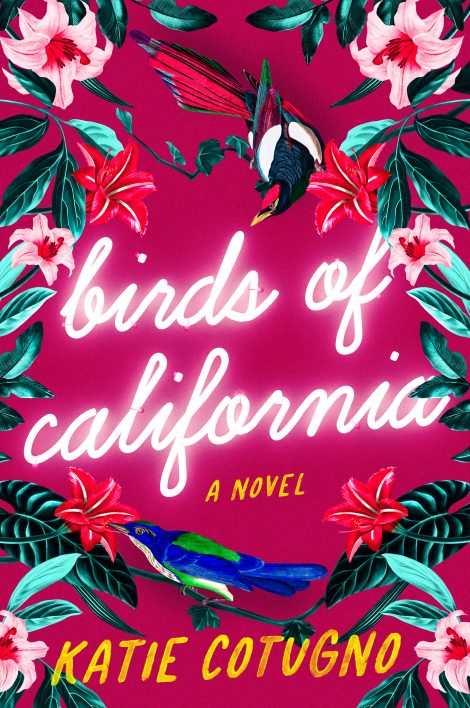 BIRDS OF CALIFORNIA
---
Sparks fly and things get real in this sharply sexy and whip-smart romantic comedy set against the backdrop of a post #metoo Hollywood from New York Times bestselling author Katie Cotugno.
Fiona St. James and Sam Fox are former child stars who starred together as siblings in the popular television series, Birds of California. Fiona, now in her late twenties, is glad to be out of the spotlight and fiercely protective over her privacy after an epic breakdown that infamously played out in the tabloids after being mercilessly hounded by the paparazzi. Sam, on the other hand,
Sparks fly and things get real in this sharply sexy and whip-smart romantic comedy set against the backdrop of a post #metoo Hollywood from New York Times bestselling author Katie Cotugno.
Fiona St. James and Sam Fox are former child stars who starred together as siblings in the popular television series, Birds of California. Fiona, now in her late twenties, is glad to be out of the spotlight and fiercely protective over her privacy after an epic breakdown that infamously played out in the tabloids after being mercilessly hounded by the paparazzi. Sam, on the other hand, lives for the attention and adoration he gets as a hot Hollywood actor—all of which is threatened when his current series is cancelled. So, when a Birds of California revival lands at his feet, he jumps at the chance. But first, he needs Fiona St. James.
Fiona reluctantly agrees to meet Sam and when she does, she's surprised to find that their chemistry is completely off the charts! But just like in the rom-coms Fiona despises, there's a twist that threatens this new relationship: Sam doesn't know the full story behind her breakdown and Fiona's afraid to find out what will happen when he does.
Harper Perennial
Paperback
April 2022
288 Pages
9780063159143
Praise
"Birds of California is exquisite and delicious, featuring Katie Cotugno's magical combination of wit and insight, with just the right amount of steam. Cotugno has made a name for herself rendering messy, honest, tangled love stories. But with Birds of California, she has outdone herself."— Taylor Jenkins Reid, author of Daisy Jones & The Six and Malibu Rising
"Funny and heartfelt."—Booklist (starred review)
Discussion Questions
1. The media turned on Fiona once she started acting erratically and "Birds of California" was canceled. What are some real-life examples of female celebrities who are reviled for their supposed bad behavior? Do you feel like those reputations are deserved? Why or why not?
2. Sam feels pressure to act like everything in his life is going well, even in front of his family and his agent, while Fiona has shut out nearly everyone in her life altogether. Why do you think they're able to open up to each other?
3. Part of the reason Fiona loves being an Angel City Player is the freedom she perceives for herself in the theater—she thinks of it as a place where nobody knows who she is. Do you have any hobbies or passions you're able to lose yourself in?
4. Thandie mentions to Fiona that the world is "less forgiving of bullshit from people who look like [her]." In what ways are celebrities of color held to different/higher standards than white celebrities?
5. Throughout the novel, both Sam and Fiona reflect on their relationships with Jamie. How were these relationships similar? How were they different? How does the way each of them feels about Jamie change over the course of the book?
6. Sam lies to Fiona, both directly and by omission, throughout the novel. Do you forgive him for this by the end of the book? Why or why not?
7. Two of Fiona's most important relationships are with Estelle and Claudia. What are the strengths of these relationships? What are the limits?
8. Fiona feels an obligation to come forward about what happened with Jamie because she suspects he has victimized other girls as well. Do you think speaking out is her responsibility? Why or why not?
Excerpt
Chapter One
Fiona
The Heidelberg jams again on Thursday, so Fiona is standing on her tiptoes with her fingers twisted deep inside its mechanical bowels when the bell above the door of the print shop chimes its echoey hello.
"Hey there," she calls, straightening up and coming out of the workshop, wiping a smudge of toner on the seat of her overalls as she takes her spot behind the counter. "Can I help you?"
The guy nods. "I'm picking up a banner." He's probably five years younger than her, twenty-two or twenty-three maybe, dressed in a short-sleeved button-down festooned with a hundred tiny Hula girls and a USC cap turned backward. There's a braided rope bracelet looped around one tan, beefy wrist. "Sigma Tau cookout?"
Ah. "Sixteenth Annual Spring Weekend Sausage Fest?" she asks.
Hula Shirt grins. "Bratwursts Never Say Die," he confirms, muscly chest puffing a bit. "That's us."
Fiona nods grimly, pulling the poster tube from a cubby on the wall behind the counter and unrolling the massive banner for his inspection. It turned out fine—better than fine, even, considering Fiona herself caught three different spelling errors in the digital version they sent over—but when she glances up for Backward Cap's approval she finds him peering back at her, eyes narrowed above the plastic frames of his sporty sunglasses. She braces herself like a boxer about to take a punch.
Sure enough: "Hey," he says, pointing with one thick finger. "Aren't you—"
"Boss!" Richie pokes his head out of the workshop, dark hair swinging. He's still screwing around with the printer, waving the manual frantically in her direction. "Sorry. Can you give me a hand back here?"
"Sure thing." Fiona shoots him a grateful look. It's their tacit agreement: he rescues her from conversations like the one that is about to occur with Fratty Matty here, and she doesn't give him a hard time about coming into work baked out of his gourd four out of five days a week. "Sorry," she tells Sausage Fest, rolling up the colorful banner and tucking it safely back inside its cardboard tube. "My colleague will take over."
The guy ignores her. "You are," he says. He's still pointing, smiling the self-satisfied smile of a contestant on Jeopardy! who won with the wrong answer by only betting a dollar. "Riley Bird, right?"
And there it is. Fiona sighs. She's come up with a lot of creative answers to this question over the last five years, but lately she finds she's too tired to muster anything but the truth. "Yup," she admits. "I used to be."
"I knew it." The guy grins, pulling his cell phone out of his pocket.
Fiona cringes. "Oh, can you not—" she starts, but he's already snapping the picture, thumbs flying as he sends it off, presumably, to all of his fellow Sigma Tau Bratwursts with a caption she would be willing to bet is not Look at this private citizen minding her own business at her place of employment.
"I can't believe you work here now," he says. "My roommate had a poster of you up on our wall last year. The one with the lizard," he adds helpfully, as if it would be any other poster besides the one with the lizard. It's amazing how many people still tell her that, honestly; it's probably the second most common thing they say, after I saw on Twitter that you died.
By now Richie has stepped in to ring him up, swiping his credit card and handing him the banner, sending him on his merry way. Fiona is about to go another round with the Heidelberg—her dad is the only one who really knows how to fix it properly, but since he's basically stopped coming into work, she and Richie have been holding it together with spit and tape—but instead of leaving, the guy reaches out and grabs her wrist across the counter.
"Listen," he says—completely oblivious to the way she flinches at the contact, her whole body coiling like a cat knocked off a sill. "Sausage Fest is usually a pretty good time, if you're around this weekend. I know my roommate would love to meet you." He winks. "Although, who knows, maybe I won't even tell him. Might want to keep you all to myself."
Fiona manages not to laugh in his face, but barely. "That is . . . quite the offer," she says, extricating her arm from his damp, sweaty grip, "but I've got plans."
Sigma Tau fixes her with a deeply skeptical look, gesturing around at the empty shop. "What," he asks with a smirk, "too busy working here?"
Fiona's spine straightens. She hangs on to her temper with claws and teeth these days, but she can feel it starting to rise in her chest and her shoulders, Bruce Banner popping a button or two. Her parents started this business before she was born. "Electroconvulsive therapy," she whispers sadly. "Shock treatments."
One benefit of having been exhaustively captured on film doing all kinds of extremely questionable shit is that for a moment she can tell he has no idea if she's serious or not. Then he shakes his head. "You know what?" he says. "Forget it."
"Don't worry," Fiona assures him, "I definitely will."
Sausage Fest's mouth twists meanly. "Crazy bitch," he mutters, then shoves the poster tube under his arm and stomps out of the store, the chimes above the door ringing cheerfully one more time.
"Sorry," Richie says once he's gone.
Fiona shrugs. "It's fine," she assures him. It's not, really, but that isn't Richie's fault. They go through some iteration of this one-act play at least once every few days, with bicycle couriers and equipment repair technicians and brides-to-be selecting fonts for their letterpress wedding invitations. Once there was a stretch of nearly a month where no one recognized her; another time, when Darcy Sinclair's gossip blog posted a blind item—Which notoriously wild Bird has returned to the family nest with her feathers tucked between her legs?—they had to close for a full week until people got bored and stopped hanging around outside hoping for a lookie-loo. It occurs to Fiona that they should print up a sign like they keep in warehouses to track how long it's been since anyone lost an arm in a baler: No one has asked Fiona about the lizard poster in ____ days.
It's not like she doesn't get why people are curious. She was a child actress, the squeaky-clean teen darling of the UBC Family Network—starring in their flagship critically acclaimed dramedy Birds of California as the plucky daughter of a widower ornithologist who lived in a wildlife sanctuary—for four wildly lucrative blockbuster seasons.
And then, to hear everyone tell it, she lost her fucking mind.
Eventually she and Richie get the Heidelberg working again and print off a batch of alumni newsletters for a fancy prep school, plus an order of pamphlets about gingivitis for a local periodontist's office. Fiona spends an hour sitting at the worktable with the folding tool to get the creases straight, securing the tidy stacks of brochures with rubber bands and packing them neatly into a box for shipping. When she was a kid she always thought she'd die of boredom if she had to work here, but now she finds she actually kind of likes the anesthetic repetition of it, the numbing tactility of the paper in her hands. Sometimes it's nice, being able to forget.
For lunch she runs around the corner for a burrito bowl and eats it standing up in the workshop, scrolling idly through the anonymous social media accounts she maintains for the sole purpose of looking at rambling old houses in New England and rescue dogs living safe and happy lives. She hardly ever bothers checking her email anymore—there is literally never anything that requires her immediate attention—but today mixed in with the junk and the occasional unsolicited dick pic is one message that catches her eye.
     Sender: LaSalle, Caroline
     Subject: Checking In
Fiona gasps before she can quell the impulse. Caroline hasn't been her agent in seven years. She hasn't had an agent at all in seven years, but still the sight of Caroline's name has her swallowing down an instinctive flicker of dread, the humiliation of having disappointed someone deeply, even though she hasn't, as far as she knows, done anything wrong today. Ghost shame.
     Hi Fiona,
     Gosh, it's been a while! I hope this email finds you healthy and well. You might have seen that I left LGP and started my
     own agency last year—or maybe not! Not sure how much you keep up with that kind of inside baseball anymore. In any
     event,  I've got an opportunity I'd love to chat with you about. Can you do a call sometime this week?
Fiona winces as if someone has slapped her. Can you do a call? is what Caroline used to say when Fiona had screwed up in some public and embarrassing way: Can you do a call because you flipped off a photographer; can you do a call because you were visibly inebriated on a beloved morning talk show at the age of nineteen. Can you do a call so that I can tell you that your show is canceled, your career is over, you've ruined your entire life and cost who knows how many hardworking people their jobs all because you couldn't bother to keep it together for a little while longer?
No, Fiona thinks, shoving her phone back into her pocket without bothering to read Caroline's two follow-up messages and tossing the rest of her burrito bowl in the trash. She can't do a call, actually.
"You good?" Richie asks. He's eyeing her warily from the counter, where he's folding scrap from the recycling bin into an intricate origami fox. He's got an entire menagerie of three-dimensional paper animals tacked to the bulletin board in the workshop, next to the mandatory OSHA posters and a flyer he put up for a gig his ska band is doing at a dive bar downtown.
"Totally fine," Fiona manages, watching as he flips the paper between his nimble fingers. She's thought about asking him to show her how he does it, but Richie is, like, the one guy in the universe who's never assumed he could sleep with her and she doesn't want to give him any ideas. "Never better."
"Okay," Richie says, heading up to the counter at the sound of the phone ringing. He hands her the tiny paper sculpture before he goes. Her dad is sitting in the yard in a lawn chair when she gets home, which is an improvement—yesterday he was sitting in front of the TV in the darkened living room, the blinds drawn against the Sherman Oaks sunshine and a slightly unwashed funk permeating the air. "Hey," Fiona says brightly. "I picked up some stuff for dinner." Then, when he doesn't answer: "Dad?"
"What?" Her dad blinks and comes back to himself, smiling vaguely. "That's perfect. Thanks, honey."
She waits for him to get up, but he doesn't, so after a moment she goes inside and sets the bag of groceries on the kitchen counter, then opens the slider to the backyard, crossing the dry, prickly grass and letting herself into Estelle's house next door. "Hey," she calls. "Anybody home?"
"In here!" her sister Claudia calls back.
She finds them sitting in Estelle's den watching TV and wearing identical Korean sheet masks, highball glasses of ginger ale sweating on malachite coasters on the coffee table. Brando, Estelle's dozy pit bull, snores happily on the sofa between them. "Hi, sweetheart," Estelle greets her—at least, Fiona thinks that's what she says. With the mask on her face it's hard to tell. Estelle has lived next door for as long as Fiona can remember; she isn't the casserole-making kind of neighbor, but she left Lean Cuisines on their doorstep for a full month after their mom took off.
"How was school?" Fiona asks Claudia now, perching on the boxy arm of the midcentury sofa. Fiona dropped out when she was fourteen, and she loves to hear the details of what it's like for her sister, the more mundane the better: the menu options in the cafeteria and who got in trouble for talking in study hall, which of her teachers is the best dresser. Part of it is just that Fiona loves Claudia desperately, but more than that is the mysterious allure of actual high school, which feels like either a disaster she narrowly avoided or a glamorous vacation she missed due to illness. Maybe both.
Claudia peels off her sheet mask, revealing the same high cheekbones as Fiona and a spray of freckles scattered across the bridge of her seventeen-year-old nose. "Stultifying as usual." She's still looking at the TV, where a busty nurse in oddly low-cut scrubs is yanking a shaggy-haired doctor into an empty exam room while a soulful acoustic cover of an eighties pop hit plays in the background. "Although a kid in my AP Chem class got suspended for lighting a Pop-Tart on fire inside his desk."
Fiona blinks, both at the anecdote and at the television. "Wait," she says after a moment, registering for the first time the broad slope of Sexy Doc's shoulders, the familiar quirk of his mouth. Right away, and very stupidly, she feels her cheeks get warm. "Is this—?"
"'A genius in the operating room,'" Estelle intones, echoing the tagline on the dramatically lit billboards plastered all over LA. "'A fool in love.'"
"Oh my god." Fiona laughs, but only to avoid some other reaction. She steals another quick glance at the TV. "This show is an abomination," she says, though she hasn't actually let herself watch it. The entire conceit of The Heart Surgeon, as far as she can tell, is that the title character—a handsome and charismatic savant with an international reputation for greatness—cannot keep his dick in his pants.
"Don't be mean!" Claudia chides, bumping Fiona's knee with her shoulder. "It's good. I mean, it's bad-good, but it's still good."
"Uh-huh," Fiona says, leaning forward to take a sip of Claudia's ginger ale. "See, now that's what they should put on the billboards."
"I'll grant you it's not exactly Masterpiece Theatre," Estelle concedes. "Still"—she points at the doctor, who's pulled his own shirt off to expose a six-pack you could use to scrub grass stains out of your dirty laundry—"one might argue the aesthetics are equally pleasing, in their way."
"Fiona dated him," Claudia reports, reaching over to rub Brando on his smooth pink belly.
That gets Estelle's attention. "Did she, now?"
"False," Fiona corrects. Sam Fox—the eponymous Heart Surgeon—played Fiona's cool older brother on Birds of California; he starred in a couple of teary YA adaptations for Netflix after that, then turned up as a three-episode love interest on virtually every network drama before finally landing what is, according to People magazine, his big leading-man break. Not that Fiona reads People magazine. Or Sam's IMDb page. Because she doesn't. "I definitely did not date him."
Claudia looks unconvinced. "But you kissed."
"One time," Fiona reminds her. "And I don't actually think it counts if it happens in between getting kicked out of a Wendy's for flashing the assistant manager and falling off the stage at the MTV Movie Awards."
Estelle tuts. "You should have worn different shoes that night," she muses.
"Oh, for sure," Fiona agrees, nodding seriously. "It was the shoes that were the problem."
"Well, my darling, I think it's fair to say they didn't improve the situation." Estelle peels off her own mask, chunky bangle bracelets jangling on her delicate wrists. Estelle was a costume designer for MGM in the seventies and eighties and still dresses like it, all scarves and patterns and designer separates in bright, jazzy jewel tones. Two of the three bedrooms in her house are full of rolling racks crammed with immaculately preserved vintage gowns, which she's promised to Claudia after she dies and not one second sooner. "And if you didn't date him, you should have. He's delicious."
"He's symmetrical," Fiona counters. "And freshly waxed."
Estelle fixes her with a look that suggests she isn't entirely buying it. "There are worse things to be."
Fiona glances down at her own scruffy Converse and the baggy denim jacket she stole from her dad and supposes she doesn't have much to say in rebuttal. On TV, Sam and the bosomy nurse are still going at it, his bare back tan and muscular, his big hands cupping her face. Fiona ignores the weird, involuntary thing her stomach does at the split-second flash of his tongue, then stands up and nudges her sister gently in the side. "Homework in half an hour," is all she says.
After dinner Fiona does the dishes and wipes the counters, then flips through a pile of mail. She's got a postcard from Thandie, who's filming on location in Paris: just four quick lines about a violinist she heard on the street in Montmartre and the pigeons that roost on the wrought iron balcony of her flat. Leave it to Thandie to make even city vermin sound glamorous. Thandie is probably the closest thing Fiona has to a best friend, though they've communicated almost exclusively by mail for the last few years. If you asked Thandie, she'd probably say it's because she likes the old-fashioned quality of a handwritten letter, but Fiona knows the real reason, which is that she herself is easier for Thandie to deal with if they don't have to talk or text.
Now she tucks the postcard into her back pocket and heads down the hall to her bedroom, clicking on the true crime channel for company. Wives with Knives isn't on for another hour, so she listens with half an ear to Hometown Homicides while she changes into a pair of boxers and a tank top, scooping her mass of curly hair into a knot on top of her head. She feels itchy and out of sorts tonight, her skin and clothes and life all half a size too small.
She uses the antiaging cream Estelle got her for her twenty-eighth birthday. She stares out the window for a while. Finally she plucks her phone off the nightstand, the screen spiderwebbed with cracks from where she dropped it on the patio a couple of months ago filming Claudia doing an impression of Benedict Cumberbatch reciting the lyrics to Rihanna's "Desperado," and opens up a new browser window.
S-a-m, she types into the search bar. F-
That's when the thing starts to vibrate in her hand.
Fiona drops it on the mattress, blushing furiously. She feels like she just got caught doing something weird and a little perverted, like masturbating in church or peeing into an empty bottle of Arizona iced tea at a red light.
She's so startled, in fact, that it takes her a moment to register the name on the screen.
Shit.
She fully intends to send the call to voice mail, but her finger jerks or her brain shorts out or maybe she just really is as crazy and self-destructive as everyone thinks she is, because all at once she's hitting the button to answer, lifting the phone to her ear. "Caroline," she says, then immediately, deeply regrets it. Back when she was in the hospital her therapist used to tell her to count backward from ten before she made any rash decisions. Her impulse control is . . . not great. "Hi."
"Fiona!" Caroline says warmly. "It's so good to hear your voice."
Fiona smiles at that; she can't help it. Muscle memory. "Yours too," she says, and for a moment she truly means it. Back when she was a teenager she used to worship Caroline—tall and blond and coolly beautiful, the kind of person who never seemed to have a blemish or a bad day. Fiona remembers thinking that she was the one who should have been on television.
"I'm sorry to be calling you out of the blue like this, and so late," Caroline says now, though of course it isn't out of the blue, not really, and both of them know it. "I did reach out by email, but then it occurred to me that maybe your address had changed, or . . ." She waits a moment, presumably for Fiona to explain herself, then presses on. "Anyway. I got a call from Bob Arkin last week. I guess he wasn't sure how to get in touch with you other than going through me."
"He could have ordered a Sausage Fest banner," Fiona offers reflexively.
Caroline's frown is audible. "What?"
"Nothing." She's stalling, that's all. "What did he want?"
"Well, Bob and Jamie Hartley," Caroline clarifies. "They're interested in rebooting Birds of California."
An earthquake shakes the house just then, knocking the books from her bookshelves and the pictures from her walls. At least, that's what it feels like, so when Fiona looks around dizzily she's surprised to find everything just where it was a moment ago. "Seriously?" is the best she can manage.
Caroline laughs, though it doesn't sound like she's finding any of this particularly hilarious. "Fiona," she says, "do you think I would be calling you if they weren't serious?"
Well. Fiona can't argue there. Bob is the head of the Family Network; Jamie played her dad, but he was also the creator and EP, the whole show a love letter to his childhood as a zookeeper's kid on some island off the coast of British Columbia. Last she heard, he had a massive fantasy project in development at HBO. "Why?"
"I—" Caroline sounds as baffled as Fiona feels. "Nostalgia?" she guesses. "Money? They seem to think it's a good idea, I don't know. I get the impression Jamie's in the position to be doing pretty much anything he wants right now."
"Not this," Fiona says.
Caroline sighs. "Okay," she says, "before we go any further. Can I make a suggestion? As an old friend?"
The house shakes again; Fiona can feel it. Back when everything was really bad—the year or two after the show got canceled, her blotchy face on Darcy Sinclair's website every day—the only time she ever cried was when Caroline dropped her as a client. "Please," Fiona begged, "I can do better." That was before Caroline stopped taking her calls.
"We're not friends," Fiona manages now, wanting to crawl out of her body at the memory of it. For a moment she's not entirely sure which one of them she's trying to remind.
Caroline pauses before she answers. Fiona can imagine her on the other end of the phone, her painted red mouth just slightly pinched. "Okay," she says finally. "That's fine. As your former agent, then. I don't know what your situation is these days. Maybe you're happy being out of the game forever. I can respect that, after everything you've been through. But if you have any interest in ever acting again—in ever having any kind of career on the screen—then I would think long and hard before I turned my nose up at this offer. This kind of second chance doesn't come along that often, especially—" She breaks off.
"Especially for people like me," Fiona finishes. "Noted. Thanks for the tip."
Caroline sighs again. "Fiona—"
"You can tell Bob Arkin I'm not interested," she says. "And you can tell Jamie Hartley to go fuck himself."
Fiona hangs up before Caroline can answer. She drops her phone on the bed, then gets up and bolts through the still-quaking house, past the living room where her dad is staring blankly at Guy Fieri and the kitchen where Claudia is hand-washing her bras in the sink.
"Whoa," Claudia says, poking her head out into the hallway. "Where are you going?"
"Out," Fiona snaps, then immediately feels like a piece of shit, but it's too late for her to do anything about it, because her legs are already carrying her down the front walk, her fingers already fishing around for her car keys, her lower lip already trembling in a very dangerous way. She sets her jaw and peels out of the driveway, opening all the windows to the hot, dry air.
She drives for close to an hour—palm trees silhouetted darkly against the last blue dregs of daylight, neon blurring by on either side. She doesn't stop until she runs out of road. She leaves the car running in the parking lot at the beach and heads for the shoreline, the driver's side door gaping open behind her; it's not until she feels the heavy grit of the sand between her toes that she realizes she forgot to put on her shoes.
Fiona wades in up to her knees, gasping at the shock of it: the water cold and endless all around her, the wide black canvas of the sky. She stands as still as she can, for as long as she can manage. Then she gets back in her car and goes home.