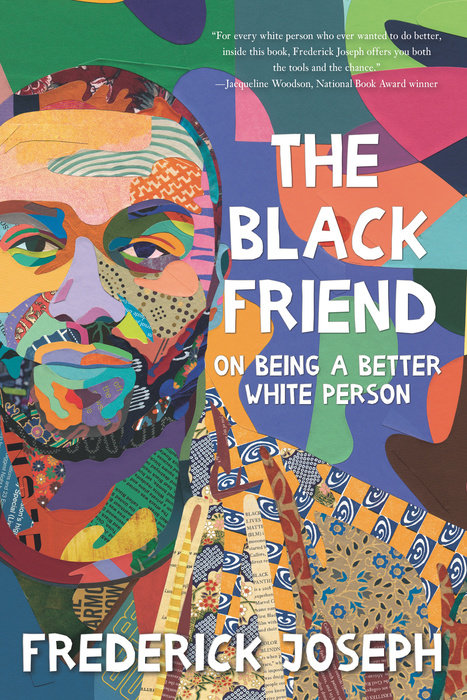 THE BLACK FRIEND
On Being a Better White Person
---
Writing from the perspective of a friend, Frederick Joseph offers candid reflections on his own experiences with racism and conversations with prominent artists and activists about theirs—creating an essential read for white people who are committed anti-racists and those newly come to the cause of racial justice.
"We don't see color." "I didn't know Black people liked Star Wars!" "What hood are you from?" For Frederick Joseph, life as a transfer student in a largely white high school was full of wince-worthy moments that he often simply let go. As he grew older,
Writing from the perspective of a friend, Frederick Joseph offers candid reflections on his own experiences with racism and conversations with prominent artists and activists about theirs—creating an essential read for white people who are committed anti-racists and those newly come to the cause of racial justice.
"We don't see color." "I didn't know Black people liked Star Wars!" "What hood are you from?" For Frederick Joseph, life as a transfer student in a largely white high school was full of wince-worthy moments that he often simply let go. As he grew older, however, he saw these as missed opportunities not only to stand up for himself, but to spread awareness to those white people who didn't see the negative impact they were having.
Speaking directly to the reader, The Black Friend calls up race-related anecdotes from the author's past, weaving in his thoughts on why they were hurtful and how he might handle things differently now. Each chapter features the voice of at least one artist or activist, including Angie Thomas, author of The Hate U Give; April Reign, creator of #OscarsSoWhite; Jemele Hill, sports journalist and podcast host; and eleven others. Touching on everything from cultural appropriation to power dynamics, "reverse racism" to white privilege, microaggressions to the tragic results of overt racism, this book serves as conversation starter, tool kit, and invaluable window into the life of a former "token Black kid" who now presents himself as the friend many readers need. Backmatter includes an encyclopedia of racism, providing details on relevant historical events, terminology, and more.
Candlewick
Hardcover
December 2020
272 Pages
9781536217018
Praise
"With clear, powerful prose and a gentle dose of humor, The Black Friend is essential reading for anyone wishing to be part of a better world. I absolutely loved this book." —Julie Klam, New York Times best-selling author
"The Black Friend is THE book everyone needs to read right now. Frederick Joseph has written an essential window into the movement toward anti-racism. Read it, absorb it, and be changed because of it." —Angie Thomas, author of The Hate U Give
"For every white person who ever wanted to do better, inside this book, Frederick Joseph offers you both the tools and the chance." —Jacqueline Woodson, Winner of the Hans Christian Andersen Award
"For young white people who want to be better, who want to be anti-racist, who want to be people who are striving to recognize and even take down the structures of racism."  —Ibram X. Kendi, author of Stamped from the Beginning
"Toward the end of The Black Friend, Frederick Joseph writes that his book is 'a gift, not an obligation.' I respectfully disagree. This book should be an obligation for white people, especially white parents, because we must raise anti-racist kids who will never be perpetrators of or bystanders to white supremacy and who will never mistake tolerance or appropriation for respect. Don't skip the painful parts—read every word." —Chelsea Clinton, author, advocate, and vice chair of the Clinton Foundation
"Typically, books on being an antiracist methodically walk readers through systemic racism and its related terminology, but Joseph takes a more personal, and perhaps more effective, approach, sharing stories from his time in school and college to provide cultural history and opportunities for reflection…To reinforce many of his points, Joseph includes interviews with writers, activists, and other influencers from multiple intersections. Finally, he calls on white people to become active accomplices, rather than passive allies, in the fight. Readers can find more explanations of terms and movements in the concluding 'Encyclopedia of Racism,' as well as a 'The Black Friend Playlist' and 'People and Things to Know' roster. A hard-hitting resource for action and change." —Booklist (starred review)
"Gearing this volume toward white people 'who want to be better,' Joseph offers anecdotes about his experiences with racism and white supremacy…Interviews with author Angie Thomas, journalist Jemele Hill, and others contribute discussions on the problem with 'color blindness' and the importance of personal growth, among various topics. In a genial, assured tone, Joseph invites and encourages readers to reflect on their own behavior, move toward anti-racism, and implement change." —Publishers Weekly Online (starred review)
"Part memoir, part guidebook, this title explores scenarios of interpersonal and institutional struggle to introduce the next generation of White youth to anti-racism…The language strikes a congenial yet firm tone, recognizing that those who have made it this far are to be met with genuine intention; his message is that it's about becoming better and understanding how your own behavior and knowledge are critical to leveraging the change needed to overhaul oppressive systems. Joseph navigates the sensitivity of such a project and poses a sincere question that challenges the long-held promise of reading amid widespread injustice: 'If I show people how they're hurting others, will some of them be willing to change?' Here's to many readers digging in to find out. A smartly researched, well-intentioned provocation to inspire change." —Kirkus Reviews
Discussion Questions
1. Who benefits and how from distorted narratives taught about topics such as the first Thanksgiving and Christopher Columbus as well as the silencing and erasure of BIPOC? How does this play a role in conditioning and socializing young people into racism?
2. In what ways have you noticed a color-blind approach taken toward race? Who benefits from color blindness and in what ways? How are BIPOC harmed when white people suggest it's better to be color-blind?
3. How do movements that leverage social media to promote activism, such as #OscarsSoWhite, #RepresentationMatters, #BlackLivesMatter, and #weneeddiversebooks work to disrupt racism and bring awareness to the importance of inclusivity?
4. What distinctions can you make between cultural exchange, cultural appreciation, and cultural appropriation? What does it mean for white people to engage with stories that are not their own and to understand that they are not for them?
5. Joseph writes, "Some people think they can be an ally while also letting the people close to them continue to be comfortable in their racism" (p. 120). Do you think it's truly possible to be an anti-racist and associate with racist people? Why or why not?
6. There has been a legacy of whiteness being used as a weapon against Black people in the United States. Amy Cooper's false accusation of Black birdwatcher Christian Cooper is one example of this. In what ways have Black people had to navigate and work to safeguard themselves from white privilege and the power white people hold within the justice system?
7. When BIPOC speak about racism they've experienced, there can be a tendency for some white listeners to become defensive and conflate their own experiences. "All Lives Matter" is one example of this that Joseph shares. Consider why this is offensive. What does it mean to truly listen and learn during discussions about race and racism?
8. How do you define and differentiate between ally and accomplice? Where might you locate yourself on this continuum? Why is allyship insufficient in the work of anti-racism?
Excerpt
INTRODUCTION
One of the most important lessons I learned when I was younger was that being a Black person in this world usually means that at some point, you're going to have to do things you don't enjoy. Even more important was learning that many of those things are going to include white people.
For me, that has meant spending a lot of my time as an adult discussing white supremacy, white privilege, and the negative aspects of whiteness in general.
If you don't know what a bolded word or term means, don't worry: I've defined it at the back of the book. Yes, friends: it's your very own Encyclopedia of Racism.
Anyone who truly knows me would tell you I'd much rather spend my time tweeting about the Lakers, watching rom-coms, or sleeping. But, as I learned a long time ago, there aren't enough people addressing societal issues, so here I am.
Because of how publicly critical I am of the impact white people have, and have had, on people of color and on the general world around them, some people have gone so far as to say I hate white people.
Honestly, this deeply offends me, as I've been to over ten John Mayer concerts and at least two hockey games; there's no way a person who hates white people willingly attends the two whitest events on earth multiple times.
That said, my one actual problem with white people is that many just don't have any sense of accountability when it comes to people of color. Accountability not only for the things white people do that often make interacting with them the most frustrating and tumultuous part of our days. But also, accountability for the historic and current inequities and disparities plaguing Black people and people of color as a whole.
Which is why I've written this book. Not because of the fame, fortune, and chance to meet Oprah—though those would be pretty dope. But, as a Black person, I speak on behalf of people of color (except those of us on Fox News) when I say: WE HAVE A WHITE PEOPLE PROBLEM.
My aim is to help you go from being a person who is learning and unlearning things about these problems created and perpetuated by white people to someone who actively works to solve them. This is called being an antiracist.
I define antiracists as people who understand that white supremacy isn't something to empathize with Black and brown people over. It's a destructive system and existence that white people created, and antiracists are actively trying to end it.
While many believe there is no way to change the problem, because they believe there is no way to change white people, I disagree. Because after sitting with and talking to many white people throughout my life, I've come to realize that there are white people who do care and who I believe want to make change. But these same white people often don't understand the negative impact they are having or how to be better, because many of them have never had the conversations necessary to know this stuff, either in the classroom or outside of it.
Let's face it: Black people and people of color are taught in school, in the media, and in everyday interactions to be empathetic and understanding of white people and their history. But most white people never have to do the same for us.
You'll notice I don't capitalize the w in white when referring to white people, though I capitalize the B when referring to Black people. This is a personal preference, because white people are simply defined by the color of their skin, while Black people are a cultural and ethnic group.
For example, I've never met a white person who doesn't know who Christopher Columbus was (even though he didn't discover anything). But most white people can't have an informed conversation about the indigenous people who were already in America and the lingering impact on indigenous people today of so many of their ancestors having been slaughtered by people like Christopher Columbus. Nor do most white people know anything about the white supremacist massacre of Black people in Tulsa, Oklahoma—though most white people can tell you that Kevin Durant and Russell Westbrook played together on the Oklahoma City Thunder.
To put it plainly, we have to learn a lot of white crap, including white history, much of which is not even true. Meanwhile, white people never have to learn about us, because doing so would force white people to be held accountable for the many ways they've mistreated—and continue to mistreat—people of color.
This book is an opportunity to change that. To provide some of the context and history that is so often lacking for white people.
Heck, we even added the Encyclopedia of Racism because my white editor pointed out that many of you reading this might not understand some of the terms that I'll be using, some of the events I refer to, or why certain things are racist. I hope you already looked up white privilege, from page 00. Here's another opportunity to use the encyclopedia: if you aren't familiar with the 1921 Tulsa Race Massacre, go to the back of the book and learn about it.
But to the point about people who think white people can't change: I understand, and have met those white people, too. These are the types of white people who will say things like "Black people need to get over slavery" or "We had a Black president; there is no more racism." These are people who want white supremacy to continue because it benefits them. They are the same people who will say this book sucks, never having read it.
But this book isn't for those white people. It's for the ones who want to do better, who want to be better. But where do white people start? How does someone learn empathy? Is it by watching a specific movie? Listening to an album?
I think it starts with understanding.
Excerpted from The Black Friend: On Being a Better White Person by Frederick Joseph. Copyright © 2021 by Frederick Joseph.