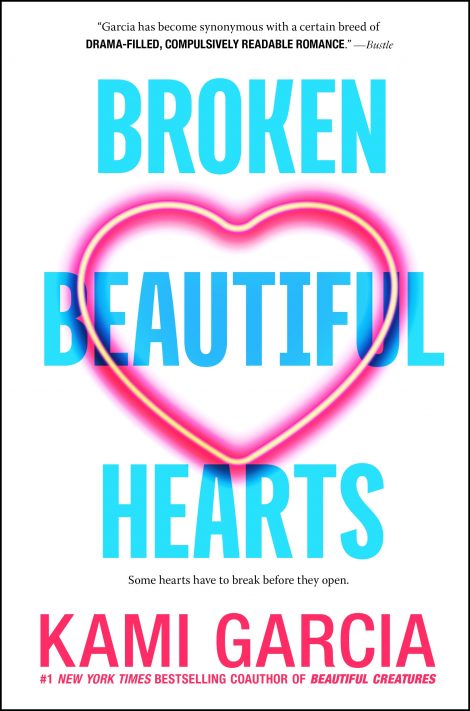 BROKEN BEAUTIFUL HEARTS
---
From #1 New York Times–bestselling author Kami Garcia comes a red-hot romance that will break your heart and put it back together again.
Her heart has to break before it can open.
When star soccer player Peyton Rios receives an offer from her first-choice college, senior year starts off exactly as planned. But when Peyton uncovers her boyfriend's dark secret, she confronts him—and finds herself falling down a flight of stairs. Peyton's knee—and maybe her dream of going pro—is shattered. Everyone is talking: Was she pushed, or did she fall? Peyton knows the truth,
From #1 New York Times–bestselling author Kami Garcia comes a red-hot romance that will break your heart and put it back together again.
Her heart has to break before it can open.
When star soccer player Peyton Rios receives an offer from her first-choice college, senior year starts off exactly as planned. But when Peyton uncovers her boyfriend's dark secret, she confronts him—and finds herself falling down a flight of stairs. Peyton's knee—and maybe her dream of going pro—is shattered. Everyone is talking: Was she pushed, or did she fall? Peyton knows the truth, even if no one believes her.
He has to let someone in before it's too late.
With her future on the line, Peyton goes to stay with her uncle in a small Tennessee town to focus on her recovery. Dating is the last thing on her mind—until she meets sweet, sexy Owen Law.
But Peyton doesn't trust her heart, especially when she senses that Owen is hiding something. When their secrets are finally exposed, Peyton has to decide if love is worth fighting for.
Square Fish
Paperback
February 2019
416 Pages
9781250294531
Praise
"Garcia's suspenseful romance will keep readers turning pages, eager to find out if Peyton is vindicated and ends up with the right guy. Amid steamy moments and swoony descriptions of falling in love, Garcia (The Lovely Reckless) tackles a serious issue head-on." —Publishers Weekly
"Something wonderful happened to me as I read this—I fell in love. Genuine, shattering, deep, heart-pounding love. Thank you, Kami Garcia, for Peyton and Owen. We need their story." —Jennifer Niven, New York Times bestselling author of All the Bright Places and Holding Up the Universe
"A slow burn that squeezes your heart so tightly you can't breathe . . . until it explodes, and you're left with a beautiful story that will draw you back again and again." —Abbi Glines, #1 New York Times bestselling author of The Field Party series and the Rosemary Beach novels
"Kami Garcia knows the anatomy of the teenage heart—what makes it race, what makes it break, and what makes it mend. Sexy, gritty, and romantic—Broken Beautiful Hearts is a must-read for anyone whose heart has been broken and dared to love again." —Danielle Paige, New York Times bestselling author of the Dorothy Must Die and Stealing Snow series
"A heartbreaking novel of shattered dreams, broken hearts, and finding new paths forward. Broken Beautiful Hearts is deliciously sexy, dangerous, and heartfelt. You'll root for Peyton to open her heart, despite the risk, and try to get all the things she wants. Kami Garcia has weaved a story that lingers in your heart long after it's done." —Dhonielle Clayton, coauthor of the Tiny Pretty Things series and author of The Belles
"Kami Garcia never fails to impress with her amazing characters and captivating romance!" —Cora Carmack, New York Times bestselling author of Losing It
Praise for The Lovely Reckless:
"Meet your next book boyfriend Marco Leone. You'll fall in love with him just like I did!" —Abbi Glines, New York Times bestselling author of The Field Party series and the Rosemary Beach novels
"A perfect blend of electrifying romance, pulse-pounding street racing, and page-turning suspense." —Jennifer L. Armentrout, #1 New York Times–bestselling author of The Problem With Forever
"Want an adrenaline rush with your swoon? Kami Garcia delivers an action-packed and addicting romance with complex characters, high stakes, and enough angst to keep you turning page after page. Once I started, it was impossible to stop!" —Cora Carmack, New York Times–bestselling author of Losing It
"Kami Garcia turns up the heat with The Lovely Reckless! The Fast and the Furious meets Romeo and Juliet, with a romance guaranteed to get your pulse racing." —Carrie Ryan, New York Times–bestselling author of The Forest of Hands and Teeth
"Sexy, fast-paced, and action-packed—this is Kami Garcia like you've never seen her before." —Tahereh Mafi, New York Times–bestselling author of Shatter Me
"The Lovely Reckless has everything I hope for in a book. Packed with the perfect blend of suspense, drama, romance, and heart, Kami Garcia has truly topped herself." —Colleen Hoover, #1 New York Times–bestselling author of Hopeless
"Edge-of-your-seat suspense, love, and heartbreak." —Jamie McGuire, #1 New York Times–bestselling author of Beautiful Disaster
"With a feisty heroine, an irresistible bad boy, and an attraction so sizzling the words practically burn up the page, The Lovely Reckless is an insanely addictive, sexy, rush of a read you'll return to again and again!" —Alyson Noël, #1 New York Times–bestselling author of The Immortals series
"Rip-roaring and hyper-real, Kami outdoes herself." —Holly Black, New York Times–bestselling author of The Darkest Part of the Forest
"The Lovely Reckless is a thrilling ride full of twists and turns and a love story that will melt your heart!" —Katie McGarry, award-winning author of Nowhere but Here
"A pitch-perfect story of surviving loss, finding love, and saving oneself—all set in a world of fast cars and smooth criminals. The Lovely Reckless thrills from beginning to end." —Marie Lu, #1 New York Times–bestselling author of Legend and The Young Elites
"The Lovely Reckless is Garcia's superb, roaring entrance into the world of young adult contemporary fiction—full of first love jitters and heart-stopping action." —Christina Lauren, New York Times–bestselling author of Sublime
"As exciting as a high-stakes drag race with a hero hotter than a red-lined engine, The Lovely Reckless is a thrill ride without compare! You'll fall in love with sexy bad-boy Marco and root for the daring heroine Frankie as they fight to be together against all odds. The Lovely Reckless is a bold and original love story sure to delight readers everywhere." —Kresley Cole, #1 New York Times–bestselling author of The Arcana Chronicles
"The Lovely Reckless is a fast-paced, fresh read that you'll want to devour in one sitting. I'm obsessed!" —Anna Todd, Internet Sensation and Bestselling Author of the After Series
"Kami Garcia has moved into bold, new territory, and the results are spectacular. I was hooked from the first chapter!" —Richelle Mead, #1 International Bestselling Author of Vampire Academy series
"Give this to teens who like suspense, sexy romance, and urban fiction."—VOYA
"The romantic scenes sizzle. A wild and enjoyable ride." —Kirkus Reviews
"This high-stakes, suspenseful romance novel… will keep [teens] turning pages." —School Library Journal
Discussion Questions
1. Starting over is a recurring theme for Peyton in Broken Beautiful Hearts. She is starting over physically by moving to a new town, enrolling in a new school, and participating in a rigorous physical therapy schedule to rehab her knee. But she is also starting over emotionally, because she might have to give up her dream of playing professional soccer. What are some of the pros and cons of new beginnings? How would you feel if your dream or goal was in jeopardy because of circumstances beyond your control?
2. After Peyton tells people that Reed physically assaulted her, most of them doubt her story. They think Peyton is lying or confused. Why don't people believe her—especially her friends? Have you ever been in a situation where you were telling the truth about something, but people didn't believe you? How did you handle the situation?
3. Reed and Owen present an interesting contrast in Broken Beautiful Hearts. Owen has a bit of a bad-boy reputation while Reed is seen as a golden boy, but in reality these boys are quite the opposite. Why do you think Reed and Owen have reputations that are so different from reality? How do people's perceptions of them affect the way they are treated in the story?
4. People often make generalizations and snap judgments about each other based on the way a person looks. Why are these kinds of generalizations misguided and, at times, dangerous? How do other people's perceptions and assumptions about your life and your behavior affect you?
5. Peyton suffers from Post Traumatic Stress Disorder (PTSD) as a result of her father's death in Iraq. Her PTSD triggers extreme physical reactions in certain situations. How do these phobias and physical reactions affect her and her relationships with other people? Why do you think she finally asks her uncle to tell her exactly how her father died?
6. Fear plays a significant role in the novel. Peyton is afraid to trust another guy after Reed hurts her and Owen is afraid to face his health issue. How do their fears affect their interactions with their friends, families, and each other? How do they finally overcome them?
7. Peyton's best friend, Tess, didn't see what happened before Peyton fell. But Tess believes her brother's version of the events. Did she make the right choice? Have you ever had to choose between family and friends? How do you decide who to choose?
8. When Peyton first arrives in Black Water, Cameron and Christian are overprotective. Hawk thinks they are behaving like gentleman, but Peyton disagrees. Why is she offended by their behavior? Would you react the same way or would you handle the situation differently?
9. Owen and Peyton are instantly attracted to each other, but they both keep secrets at the beginning of the relationship. How do they learn to trust each other? Why are trust and honesty so important in a relationship?
10. Before Peyton's English class starts reading the novel The Things They Carried, her teacher asks the students to bring in items that hold special significance to them. Why does she give them that assignment? How do the assignment and the novel relate to Peyton's father?
Excerpt
CHAPTER 1
When the Stars Align
I BELIEVE EVERYTHING happens for a reason and usually the reason sucks. I also believe the laces from my eighth-grade soccer cleats are good luck, Adele is the most talented singer to ever walk the earth, and popcorn without butter is just corn.
But more than any of those things, I believe that if you're lucky—at least once in your life—you might have a perfect day. A day when all the stars in your personal universe align and your dreams seem possible.
The crazy part?
I think today might be mine.
Except Dad isn't here.
The thought bears down on me, but I push back against it.
Today might be the only perfect day I'll ever get. Dad wouldn't want me to waste it.
I pick up the letter on my desk and reread it for the tenth time since it arrived yesterday.
Dear Miss Rios,
After careful consideration, the women's soccer staff at the University of North Carolina at Chapel Hill believes that you have the qualities we are looking for in a student-athlete. As the head women's soccer coach at this university, I want to formally offer you early acceptance and an opportunity to play soccer for the team that has won 21 out of 35 NCAA national championships.
Please understand that this acceptance is contingent upon you:
• maintaining the recommendation of your high school coach
• remaining in good academic standing
• continuing to demonstrate strong leadership and soccer skills
• playing in your current position, center forward, next fall.
I've wanted this for as long as I can remember, but now that it's actually happening, it doesn't feel real.
"Peyton?" Mom calls from downstairs.
"Coming." I fold the letter and tuck it in my bag.
I gather my dark, wavy hair into a ponytail, pull it through an elastic, and take a quick look in the mirror. My wardrobe consists of a steady rotation of skinny jeans and cargos that show off my long legs, layered tanks and fitted henleys, and ankle boots. Today is no exception.
I do my standard two-minute make-up application—concealer under my eyes and berry-tinted lip balm that doubles as blush.
Now I just have to find my black boots.
"You're going to be late," Mom yells.
"Coming!" I bend down and check under the bed—a pair of balled-up soccer socks; my elementary school yearbooks; a bottle of nail polish; old issues of Soccer 360; a Luna Bar that's hard enough to use as a hammer; and … my boots. I drag them out by the laces and put them on.
Dad's dog tags slide back and forth on the silver chain hanging around my neck. I never take them off. When I insisted on wearing them to the Spring Fling with my strapless dress, Mom figured out how to pin the tags inside the dress so they wouldn't be as noticeable. I would've worn them either way.
On the way out, I grab the black leather jacket draped over the chair next to my door, under a poster of my soccer idol, Alex Morgan. The jacket belonged to my dad. I slip it on. The sleeves hang past my fingertips and the leather is cracked, but I love it anyway.
I jog down the steps and walk into the kitchen.
Mom holds up a brown muffin. "Do you want one to take with you?"
"Not if it has oats, nuts, dried fruit, or seeds in it."
She breaks the muffin in half, which takes some effort because it's as dense as a hunk of fruitcake. Dad used to do all the cooking. He was Cuban and every morning started with café con leché—strong Cuban coffee with steamed milk—and thick toast with butter. After he died I took over the cooking, but I couldn't bring myself to keep eating the same breakfast Dad used to make me. Now Mom is determined to learn to cook, too. Muffins are her latest experiment.
I rummage through the pantry. "Do we have any doughnuts?"
"Doughnuts are pure sugar. They don't qualify as breakfast." She pours a cup of coffee and hands it to me.
I add milk and sugar. "Then why do doughnut shops open at five o'clock in the morning?"
"It's one of life's great mysteries." Mom takes a bite of the muffin and scrunches up her nose when she thinks I'm not looking. "Have you told Tess yet?"
"Nope."
"I'm surprised you held out this long."
"I want to see the look on her face when I tell her."
"What about Reed?" she asks.
I haven't heard from my boyfriend yet this morning. "He worked late. He's probably still asleep. And it will be more fun to tell people in person."
I down the rest of my coffee and put the cup in the sink. "I'm taking off."
"Drive carefully," Mom says as I walk out the door.
I toss my bag in the back seat of my red Honda HR-V and slide behind the wheel. The road is carpeted with colorful fall leaves from the oaks and maples on my street. My neighborhood is only twenty minutes from downtown Washington, DC, and ten minutes from the outdated mid-rise apartment buildings in Tess' complex. But you'd never know it.
My street looks like it belongs in a small town—the huge trees arching over the road, the Cape Cod–style homes, and the "tiny library" on the corner that reminds me of a pink dollhouse.
On the drive to Tess', I try to come up with a cool way to tell her about UNC. But I've got nothing. We both know that colleges mailed out early admission and athletic scholarship letters this week. If I show up at her door holding a folded piece of paper, it's too obvious. Not that it matters. Even if I don't manage to surprise Tess, she'll still make a big deal about my news. That's what best friends do when something amazing happens to you.
I park next to Tess' building and I start to get out with the letter in my hand. But at the last minute, I drop it onto the passenger seat for her to find when she gets in. I jog up the concrete steps, avoiding the crumbling stair the city was supposed to repair two years ago. I punch in the security code for the front door.
I'm dying to tell Reed my news. A benefit of dating my best friend's brother is that when I come over to hang out with one of them, I get to see them both.
Seven months ago, Reed was just Tess' hot older brother—until a party, four games of beer pong, and a car ride changed everything. Tess and I weren't the only juniors who showed up at the epic spring break party at Chicken Johnson's house. But we were the only juniors stupid enough to play beer pong with Chicken and the wrestling team. The guys were all seniors like Reed, and they outweighed and outdrank us.
After I spent an hour in the bathroom holding Tess' hair while she puked, Reed carried her out to his car. He looked hotter than usual, in a pair of jeans that hung low on his hips and a gray 18TH STREET MIXED MARTIAL ARTS T-shirt that outlined his muscular chest. He wasn't over-the-top gorgeous. The combination of Reed's blue eyes, crooked nose, buzzed black hair, and brooding expression was more gladiator than pretty-boy.
But he had sexy nailed.
Tess passed out in the back seat, and I ended up riding shotgun. It was a first. Tess always sat in the front, and I preferred it that way. I'd harbored a monster crush on Reed for years, but I didn't really know him—or do things like sit next to him in the car … or talk to him.
I didn't say a word until we got back to the apartment, except for the occasional "uh-huh" to make it seem as if I was participating in the conversation. Reed carried Tess to her room and deposited her on the bed as I stood in the doorway.
"Make sure she takes Advil when she wakes up," he said as he walked toward the door—and me.
I froze and Reed had to squeeze by me to get through the door. He moved to his left and I moved to my right, and I ended up with my back against the doorjamb and my face inches from his collarbone.
He wrapped his arm around my waist and looked down at me. "You have really pretty eyes. They're sort of gold."
People had complimented the color of my eyes before. From certain angles, the contrast between my light brown skin and dark hair made the hazel flecks in my brown eyes look gold. But this was the first time a hot guy was saying it.
"They're just brown."
"Golden brown." Reed brushed my hair over my shoulder and his fingers grazed the back of my neck. I bit my bottom lip and held my breath.
His eyes lingered on my mouth. "Do you know how sexy that is?"
At that moment, with my heart racing and Reed touching me and staring at my mouth, the only thing I knew was that I wanted him to kiss me. He ran his thumb across my bottom lip, and I gasped.
Reed tightened his hold on my waist and backed me out of Tess' room, pulling the door closed behind him. His hand slid down to my ass and he leaned into me. "I should've done this a long time ago."
I had to remind myself to breathe.
When Reed finally kissed me his lips were rough from years of fighting. But I didn't care. His mouth kept finding mine—over and over.
"I want to kiss you again," Reed whispered. "Tomorrow. And the next day. And the day after that. How does that sound?" He kissed me again.
Then he pulled back and flashed a cocky smile. "You want to get something to eat tomorrow night? I have a fight, but that won't take long."
It took a moment for me to realize he was asking me out. With his battered good looks and scraped knuckles, Reed wasn't homecoming-king material, but that didn't have a negative effect on his social life. He had a reputation for being protective, wild, cocky, and fun—something that had been seriously lacking in my life.
Girls stopped Tess in the halls at school to dig for information. Did her brother have a girlfriend? Where did he hang out? Would Tess put in a good word for them?
Reed Michaels—the object of their affection—had spent the last ten minutes kissing me, and now he was asking me out on a real date? How could I say no?
Why would I?
"Yes."
It's hard to believe that night was seven months ago.
I was stumbling through my life back then, trying to figure out how to keep going without my dad, and Reed helped me through some of the low points.
On the other side of the apartment door, something heavy hits the floor with a thud.
I knock and Tess yells, "Just a sec."
She opens the door, holding her braids together behind her head with one hand. "I'm almost ready."
"That's what you say every day." I follow her inside, dodging the binders and textbooks spilling out of her backpack onto the floor.
"I dropped it." She kicks the bag and another book slides out. Tess huffs and finishes braiding her pale blond hair. It reaches past her shoulder blades, but she never wears it down. Right now she's in a braiding phase. She secures the braids behind her head and rolls the rest of her hair around them to form what looks like a crown. I have no idea how she does it. I can barely make a neat ponytail.
I gesture at her hair. "This is new."
"What do you think?" She tucks a few uncooperative strands behind her ears. "It's kind of warrior-princess. Right?"
"I have no idea what that means, but it looks cool." I glance down the hallway behind her. "Is Reed sleeping?"
"Yep."
Reed knows how much I wanted to get into UNC. Maybe I should wake him up and tell him? Then he could go right back to sleep.
Or he could end up in an awful mood for the rest of the day.
I'll let him sleep.
A few months ago I wouldn't have thought twice about waking him, and I probably would've jumped on his bed to do it.
"Did he get home late last night?" I ask.
"Super late. And he looked like crap." Tess looks away with a hint of guilt in her eyes. She bends down and collects the mountain of crumpled paper, pens, and textbooks. She tries to shove it all back into her bag, but it won't fit the way she's jamming it in there.
"Was he at an underground fight?" I ask.
"He didn't say. But his hands were banged up when he came home, and he was walking around holding a bag of frozen peas against his jaw."
Reed got involved in the underground fight scene two months ago. He figured out that he could make more money in one night's worth of street fights than he could earn in two weeks training other fighters at the gym.
He dragged me along one night to watch him battle it out in a parking structure while people placed bets. Bloody and brutal, with no rules or referees, the fights barely resembled MMA—or any sport. And Reed loved every minute of it.
"I'm worried about him, Tess. He could get hurt." She's never seen an underground fight firsthand. "Whenever I try to talk to him about it, we end up arguing."
She tugs on the zipper of her backpack, but it still won't close. "Please don't be mad at him. I don't want him in those fights any more than you do. But my mom can't cover the bills on her own."
I take the bag from her and reorganize it so everything fits. "I'm not mad. Just worried. If he gets caught, he'll get kicked out of the league." And that will be the end of his dream of competing in the UFC.
When we first started dating, Reed and I used to talk on the phone at night, dreaming out loud. He would climb the MMA ranks until a sponsor, or a high profile trainer, recognized his potential. I'd play soccer for a Division I college and get recruited to play professionally after I graduated.
"He's doing it for me," Tess says softly.
"You can't blame yourself." I work the zipper of her backpack until it closes. "Reed makes his own choices. No one tells him what to do."
She smiles a little. "Like someone else I know."
"I'll take that as a compliment."
Tess laughs and her blue eyes light up. She and Reed look nothing alike, but they have the same amazing blue eyes. Ocean blue—like the water in the photos of my grandparents on the beach in Cuba, before they immigrated to the US. I've never seen water that blue in real life.
On our way out, I notice a hole in the drywall behind the front door. "What happened? It looks like someone punched a hole in it."
Her eyes dart to the damage. "Close. Reed and TJ were messing around in the hallway when Reed was opening the door. TJ slammed into him, and they hit the door so hard that it swung around and the knob went through the wall. My mom wasn't happy. She's making Reed fix it."
There's something weird about the hole, but I can't figure it out.
Tess opens the door, and her mom is standing in the hallway, fumbling with her house keys.
Mrs. Michaels gasps. "I didn't hear you coming out."
The shadows around her eyes are darker than usual. She's probably coming off a double shift at the café. Tess holds the door open for her mother.
"Thanks, sweetheart." Her mom wanders inside like she's sleepwalking. She tries to hang her keys on the wall hook, but she misses and they drop on the floor.
I rush to pick them up.
"I'm sorry. I don't know what's wrong with me." Mrs. Michaels yawns.
"You worked eighteen hours straight and you're exhausted," Tess says, rushing to the kitchen.
Her mom smiles at me. "How's everything going with you, Peyton?"
"Good." Better than good. And suddenly, I feel guilty about it.
Tess returns with a coffee mug and hands it her mom.
"Thank you." Mrs. Michaels eases herself onto the sofa, takes a few sips of her coffee, and sets the mug on the end table.
"Do you need anything before I leave?" Tess asks.
"No, I'm fine." Tess' mom unties her apron and tosses it on the chair. "Go ahead to school." She rests her head on the arm of the sofa and closes her eyes.
We tiptoe out of the apartment and Tess locks the door behind us. On the way to my car, she walks along the edge of the curb putting one scuffed brown boot directly in front of the other as if she's on a tightrope. It's obvious she hasn't heard from any colleges yet.
Now I wish I hadn't left the letter on the passenger seat.
When we get to my car, I try to hop in first and grab it, but Tess is faster. She picks up the letter and flips it open.
"Wait—" I reach for it, but she's already reading.
"Holy shit." She looks over at me. "You got in! Why didn't you say anything?"
"I wanted to tell you in person, but it didn't seem like the right time."
She closes the letter and places it on the dashboard. "Why? Because I'm feeling sorry for myself?"
"Tess…"
"Stop. This is the biggest thing ever." She grabs me by the shoulders and shakes me. "You got into UNC! You're going to be the next Alex Morgan!"
I break into a huge smile. "Doubtful, but don't jinx it."
"You can't jinx the inevitable." She looks away. "Before you ask, nothing came for me and I'm fine."
"It's okay to be worried."
Tess leans her head against her window. "What if I don't get a scholarship anywhere?"
"Letters only went out two days ago. Lots of people are still waiting," I remind her. "And this is only the first round of academic scholarships. With your GPA and test scores, you'll get one." We both know a soccer scholarship is a long shot for her. Tess is a great player, but she doesn't stand out on the field the way she does in the classroom.
She starts to say something, but I add, "And I'm not saying that just because you're my best friend."
"Grades and test scores might not be enough."
"You're also a member of chorus and the yearbook committee, which is impressive considering you're a total lyrics slayer and the only decent photos you take are selfies." The corner of her mouth turns up, so I keep talking. "Plus, you have twice as many community service hours as the rest of us."
"Appearing well-rounded is more work than an actual job." Tess hugs her legs and rests her chin on her knee. She's not snapping out of it.
Time to shift into best-friend overdrive. "Didn't you tell me that five percent of students who are offered scholarships turn them down?" I intentionally quote the wrong percentage.
"Nine percent. The article said most people pass because they get accepted to a school they like better or another college offers them a bigger scholarship."
"And then…?"
She realizes what I'm doing and rolls her eyes. "And then the scholarship committee moves to the next person on the list. You made your point."
"My work here is done." I cut through the gas station that shares a parking lot with 7-Eleven, throw my Honda into reverse, and execute the smoothest parallel parking job of my life.
"That was impressive for a girl who failed her driver's test twice." Tess tries to keep a straight face.
"I only jumped the curb once." When I hit the curb, the test administrator's clipboard slipped out of his hands. He tried to grab it and whacked his forehead on the dashboard. Then he failed me on the spot. I picture his puffy cheeks and pinched red face and I burst out laughing—which makes Tess crack up, too.
We dissolve into hysterics until she gets the hiccups and I yell, "Side cramp."
"Thanks for cheering me up," Tess says between hiccups. "What would I do without you?"
I tilt my head toward a woman walking out of 7-Eleven holding a glazed doughnut. "You'd probably starve."
On the way to school, we binge on sticky doughnuts and extra-rich hot chocolate. We manage to arrive on time, along with the second wave of students that skate in just before the bell everyday.
"Does Reed know about UNC?" Tess asks as we walk through the huge double doors. "I mean, did you text him or anything last night?"
I give her some serious side-eye. "And violate the code? I'm offended."
We both smile and say it at the same time: "Best friends before boyfriends."
Copyright © 2018 by Kami Garcia, LLC