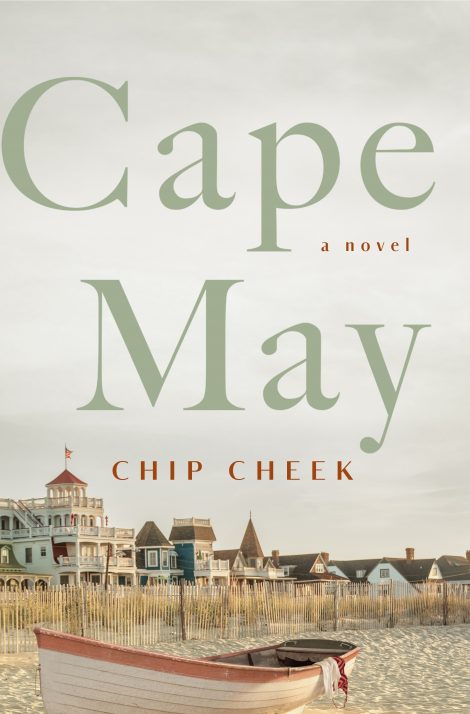 CAPE MAY
A Novel
---
A mesmerizing debut novel by Chip Cheek, Cape May explores the social and sexual mores of 1950s America through the eyes of a newly married couple from the genteel south corrupted by sophisticated New England urbanites.
Late September 1957. Henry and Effie, very young newlyweds from Georgia, arrive in Cape May, New Jersey, for their honeymoon only to find the town is deserted. Feeling shy of each other and isolated, they decide to cut the trip short. But before they leave, they meet a glamorous set of people who sweep them up into their drama. Clara,
A mesmerizing debut novel by Chip Cheek, Cape May explores the social and sexual mores of 1950s America through the eyes of a newly married couple from the genteel south corrupted by sophisticated New England urbanites.
Late September 1957. Henry and Effie, very young newlyweds from Georgia, arrive in Cape May, New Jersey, for their honeymoon only to find the town is deserted. Feeling shy of each other and isolated, they decide to cut the trip short. But before they leave, they meet a glamorous set of people who sweep them up into their drama. Clara, a beautiful socialite who feels her youth slipping away; Max, a wealthy playboy and Clara's lover; and Alma, Max's aloof and mysterious half-sister, to whom Henry is irresistibly drawn.
The empty beach town becomes their playground, and as they sneak into abandoned summer homes, go sailing, walk naked under the stars, make love, and drink a great deal of gin, Henry and Effie slip from innocence into betrayal, with irrevocable consequences.
Erotic and moving, this is a novel about marriage, love and sexuality, and the lifelong repercussions that meeting a group of debauched cosmopolitans has on a new marriage.
Celadon Books
Hardcover
April 2019
256 Pages
9781250297150
Praise
An Indie Next pick for May and Indies Introduce
"What a treat. Glamorous and nostalgic and very sexy, Cape May is a novel about marriage, lust, shabby seaside towns and lots of gin. Brilliantly unsettling―one of those books that stays with you." ―Paula Hawkins, #1 New York Times bestselling author of The Girl on the Train and Into the Water
"Deceptively relaxed and simple at first, the novel seems to be an easygoing trip down Memory Lane. It soon reveals itself as a swirling vortex of psychological suspense with insights about marriage that recall writers like Margot Livesey and Alice Munro. The 1950s setting, the pellucid prose, and the propulsive plot make this very steamy debut novel about morality and desire feel like a classic." ―Kirkus, starred review
"This remarkable debut novel offers a sobering reminder of how the possibilities of life, when first encountered, often carry their own riptide." ―Booklist, starred review
"This erotic debut novel will draw in readers and stay with them. The author's perceptive exploration of innocence and experience, corruption and betrayal, makes for compelling reading." ―Library Journal
"Cheek's strong debut is a psychodrama that shows just how easily people can be manipulated. Cheek does a good job with his cast; Henry and Effie are finely drawn and their slide from innocence starkly depicted. The novel's ending is particularly startling―a memorable final note in this cogent examination of marital infidelity and betrayal." ―Publishers Weekly
"If you can't get enough of women's fiction novels with a twist, Cape May will be your perfect book club read." ―Parade
"In Cape May, Cheek shows that every couple encounters such a moment of their own–whether physical, emotional or some combination of both–and it holds the power to change a relationship forever." ―Shelf Awareness
"Earthy and sensual, raw and real, Cape May is an exquisitely crafted exploration of young love, the power of desire, and the lifelong ramifications of choices made in an instant. Cheek's virtuosic prose reads like a modern classic, piercing through the veneer of male sexual fantasies of the 1950s and rendering a heartbreaking portrait of a man―and a marriage―undone by betrayal." ―Whitney Scharer, author of The Age of Light
"Cape May is a perfectly mixed cocktail of beauty, desire, and heady desperation. In his gorgeous debut novel, Chip Cheek offers his readers a portrait of mid-century America and the timeless allure of love on the rocks." ―Bret Anthony Johnston, author of Corpus Christi and internationally bestselling Remember Me Like This
"Cheek's glamorous and nostalgic first novel is an atmospheric tale of sexual longing and loss in 1950s America that nods to classics like The Great Gatsby and Revolutionary Road."
―The Independent
"Cheek's smoldering debut novel focuses on naïve newlyweds from rural Georgia on their honeymoon in the chilly off-season of historic Cape May, New Jersey in the 1950s, at a moment of fading postwar innocence. When a trio of hedonistic socialites appear on the scene, the gin-infused dynamic of this ensemble drama subverts the couple's romance and fidelity. In propulsive prose, Cheek provides an eerie, suspenseful thrill, and the callow narrator reflects the world on the brink of change." ―The National Book Review
Discussion Questions
1. How does the anonymity provided by a mostly-empty seaside town contribute to the story?
2. How does the time period inform the characters' interactions and decisions throughout the book?
3. Henry is only 20 years old, and Effie just 18. Do their ages change how you feel about them? Why or why not?
4. What role do wealth and status play in the characters' perspectives on life and on each other?
5. Discuss how you feel about Alma.
6. Marriage involves both give and take. What does Henry give? Take? How about Effie? What can this tell us about their relationship from beginning to end?
7. Is it possible to define a "breaking point" for a marriage? What factors have to be considered? Do you think it is possible to truly forgive?
8. Would Henry and Effie's marriage have been different if they hadn't gone to Cape May for their honeymoon?
9. Discuss how you feel about the epilogue.
Excerpt
Two
"Come in, come in—Jesus!" the woman demanded, as if to scold them for not arriving sooner, and led them across a wide foyer into a bright living area that looked out through a bank of windows onto a lush patio and swimming pool. The shadowy look of the house from the outside was a disguise for the brightness inside. It seemed to Henry like an enchantment.
"We can only stay a minute," Effie said. "We were just on our way to dinner."
"I can't believe it's you," Clara said, stopping to appraise her. "How long has it been? Five, six years? A lifetime? Who is this?" She placed her hand at the small of Henry's back. When Effie told her he was her husband, the woman gasped—she had never heard of anything so marvelous—and gripped his hand firmly, painfully. "My God, how do you do? I'm Clara—Clara!"
"I'm Henry!"
"Yes!"
Effie explained that Clara had been her older cousin Holly's friend back in the day. On occasion Effie would have to go along with them to the beach or into town, if there wasn't anyone else to watch her.
"Holly's friend." Clara put her hands on her hips. "What a cold bitch you are. I adored this creature," she said to Henry, and to Effie: "Don't you remember how much fun we had? But you were so young and impressionable then. And look at you now: a beauty! Married to William Holden, no less!" She laughed, and took hold of Henry's forearm, and Henry smiled back at her like a fool. "Oh, my belle," she said, and in a voice like Scarlett O'Hara: "My Effie Mae. That's what I called you, do you remember?"
"Yes," Effie said evenly.
"Those were good times, weren't they? But the years do pass. Sit, sit!"
She directed them to a sofa that faced the back windows and a large fireplace made of slate and what appeared to be loose rocks. It didn't look stable. The ceiling was open rafters,very high, and two frosted windows in the roof let in more light, and over the foyer, behind them now, an upstairs balcony ran the length of the living area. It was a much larger house than Aunt Lizzie's, but it felt scattered and haphazard—and at the moment, empty of people.
"What can I get you to drink?" Clara said.
"Oh, we're fine," Effie said. "Really, we can't stay for long."
"Nonsense. It is cocktail o'clock. You have to stay for a little while. I haven't seen you in so long, and here you are, like magic, back in this godforsaken place." She looked at Henry. "What will you have?"
He waited for a cue from Effie, but she only stared at him helplessly. For his part, he was content to stay. "I'll take anything," he said.
"Gin and tonic it is!" she cried. "The only suitable drink before dinner." She swept over to the minibar, and Effie closed her eyes and laid her head back on the sofa. "My God! Effie Moore, right here in Cape May, after all these years."
"Effie Tarleton," Effie said.
"That's right! Oh, it's all coming back to me now."
She was a whirlwind, this woman. Henry had never met anyone like her. She was in her early thirties, he guessed, and big, not just physically big but aura big, the way Jayne Mansfield would be big if she could step out of the screen at the drive-in. She was at least as tall as he was, with a strong jaw and broad shoulders, and her breasts seemed always on the verge of falling out of her top. It was an effort not to stare at them.
"But what are you doing here this time of year?" she asked, taking two tall glasses down from a shelf behind the minibar.
Effie lifted her head and reported, as if with regret, that they were on their honeymoon.
"No!" Clara slammed the glasses down, and for a moment Henry thought she was actually angry at them. "You mean you're newlyweds? You mean you're on your honeymoon right now?" She turned away from them and shouted, "Mrs. Pavich!"
From an archway that led off the den a voice came back to them, thickly accented and dripping with ennui: "Yes, Mrs. Kirschbaum."
"I have changed my mind. We will have the carrot cake." She turned back to Henry and Effie. "But of course you're newlyweds. You're glowing—I can see it now."
Henry smiled at Effie, but Effie kept her eyes fixed on Clara, a taut, neutral expression on her face.
"Well, that settles it: you're staying for dinner. I can't imagine where you were thinking of going; it can't be better than what old Mrs. Pavich is cooking up. Everyone's down at the beach right now—well, not Richard, of course—but we're having a party, and you two are going to stay and celebrate with us."
In his confusion Henry said, "You're throwing us a party?" and Effie looked at him like he was an idiot indeed.
"Oh, I love him!" Clara said.
"I wish we could stay," Effie said. "But we're not here much longer, and we really wanted to see a little more of the town, you know—have dinner, see a movie . . ."
But Clara was rummaging behind the bar. "I hope Mrs. Pavich hasn't forgotten the ice. We will need a lot of ice." She stood up straight. "You two just sit there and look perfect and I'll be back in thirty seconds. I can't wait to catch up." She dashed off toward the archway, shouting "Mrs. Pavich!" again.
"Wow," Henry said. "She's something else, isn't she?"
"We're leaving," Effie said.
She stood up from the sofa, but Henry took hold of her wrist. "Why? What's wrong?"
"The one person we run into, and it's got to be Clara Strauss. Or whatever her name is. She must have snagged a husband."
"What's wrong with her?"
She brushed his hand away and looked toward the archway, from which they could hear Clara gleefully lecturing Mrs. Pavich: "This one is for the hollandaise, dear, and this one is for the pepper sauce. Do you see the difference in the spouts?"
"She's a snot-nosed bully and a harlot," Effie said. "She's not a good person."
Henry laughed. "Come on. Sit down. We're not just going to walk out on her, I don't care who she is."
Effie sat down. "Of all the people— I mean, really. It never occurred to me. She wasn't here the past couple of times, not since Holly married." Clara was her cousin Holly's friend, she explained again. Holly was Uncle George's eldest daughter from a previous marriage. She was more than a dozen years older than Effie and never took to Aunt Lizzie or to the rest of her new family from Georgia, who were nothing but rubes, as far as she was concerned. The two of them, Holly and Clara, teased and tormented Effie, made fun of her accent, asked where her mammy was, made references to things she couldn't possibly have understood—she was, what, eight years old?—and laughed at her ignorance. . . .
"What kinds of things?" Henry asked.
She seemed to struggle to find the words. "Like—I don't know. Like they'd always be drinking and smoking around me, or they'd take boys under the promenade and leave me there on the beach to play with myself."
"It sounds fun."
"I was a child, for heaven's sake."
Henry smiled. "Well, you're grown-up and married now. And so is Clara. She seems like she worships you."
Effie cocked her head and felt the tiny mole behind her ear, a reflex when she was piqued in a certain way. "People don't change so much."
Interviews
Set in the fall of 1957, Chip Cheek's mesmerizing debut novel Cape May is the story of Henry and Effie, two young newlyweds from Georgia who arrive in Cape May, New Jersey, for their honeymoon only to find the beach town deserted. They're ready to cut the trip short when a chance encounter with Clara, a beautiful socialite, and Max, her lover, opens the door to an intoxicating world of drama and desire.
Here the author discusses his family, his habit of getting sidetracked by the love stories, and the thrill of finding his true subject.
When did you start writing?
I've always been writing. My mother was a voracious reader of romances and horror stories–Stephen King and Dean Koontz and Danielle Steele–and I was always drawn to books in that way. I was always a sit- around-and-daydream kind of kid. It was a short step from reading to wanting to write books for myself. In my files somewhere I have my first "novel" that I wrote when I was eight years old. I know the date because I made up a title page for it.
When did you decide that you wanted to do it for a living?
After college I moved to New York and decided Okay, I'm going to get my crappy day job and I'm going to try to write books. I had this big novel that I'd been working on, this science fiction novel. It was complete shit. As much as I wanted to write fiction, I was very ignorant about the publishing industry and about literature in general. So I picked up a Norton Anthology of American Literature, Volume Two and began reading it cover to cover. Every author that spoke to me, I'd go out and buy the books. It was probably about one or two years of that before I began really writing and taking my first workshops at the New School. Then I went up to Emerson College in Boston for my MFA, and my life was pretty much dedicated to it after that.
Was it at Emerson that you made the switch from science fiction to literary realism?
That switch happened long before. It was in New York when I began to get exposed to writers like Flannery O'Connor. I'm from Georgia, I was born about 30 minutes from the town where [she] lived most of her life and died. When I first read Flannery O'Connor I was like, "I didn't know you could write like this." At Emerson is where I really got to know and love Alice Munro. She's the first writer who, on a purely craft level, on the level of structuring a narrative, blew my mind. That's when I began to find a style that was more true to my impulses and inclinations.
How did you get the idea for Cape May?
I'll give you a little bit of backstory. I come from a family of people who've worked on the railroad in Georgia going back to the beginning of the 20th century, and I was always interested in that. After my MFA, I began working on a novel steeped in the Jim Crow era in Georgia and drawing on stories from my family's history. I was dealing with murder and race, all this compelling stuff, but I kept getting sidetracked by the love stories. For reasons that are lost in time now, I decided to marry two of my characters to each other and send them on a honeymoon. I was immediately transported; I wanted to stay in that world forever. But I was supposed to be writing this other novel about the railroad and Jim Crow. So I shelved it.
A couple years later, on probably my third novel attempt, the same exact thing happened again–I married two of my characters, sent them on a honeymoon. This was in the summer of 2014, after I got married. This time, I decided that the "important" novel I'd been working on was not the novel–it was this novel, the one set in Cape May. When I let go of how seriously I was taking myself, I was utterly obsessed. I would stay up all night writing, sleep one or two hours, get up, and keep writing. I finished the first draft in two months.
And that was different than your previous experiences?
Much different. This was it; this was my subject. And it made sense. Love and sexuality, those have been the subjects of the most urgent dramas in my own life. The stuff with my family history and the history of the South–I'm deeply intellectually interested in that, but I wasn't on a personal level obsessively transported by it.
I was struck by the fact that Clara and Max, the glamorous couple who have such a lasting impact on Henry and Effie's marriage, are both writers.
I think that's an element from my own life. There's a big gulf between who I am now and where I came from and who my family is. And part of that has to do with my relationship with books and literature. So when I imagined Henry and Effie meeting people who are part of the bigger world, who are from another place and another class, it felt natural to me that those people–if they could be anything–would be writers. Because in a way that echoes what I grew through and up into.
Where did you go on your own honeymoon? I assume it wasn't Cape May in the fall.
[Laughs] Yeah, no. We got married here in the L.A. area, and because of our jobs did a mini-moon of just a couple nights in Venice Beach. But a year later we went on our for-real honeymoon in Hawaii. We didn't meet any people who upended our marriage. It was actually totally awesome.