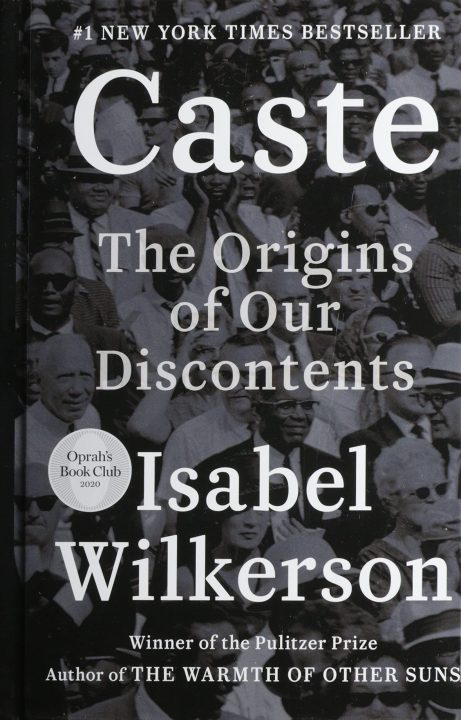 CASTE
The Origins of Our Discontents
---
The Pulitzer Prize–winning, bestselling author of The Warmth of Other Suns examines the unspoken caste system that has shaped America and shows how our lives today are still defined by a hierarchy of human divisions.
"As we go about our daily lives, caste is the wordless usher in a darkened theater, flashlight cast down in the aisles, guiding us to our assigned seats for a performance. The hierarchy of caste is not about feelings or morality. It is about power—which groups have it and which do not."
In this brilliant book, Isabel Wilkerson gives us a masterful portrait of an unseen phenomenon in America as she explores,
The Pulitzer Prize–winning, bestselling author of The Warmth of Other Suns examines the unspoken caste system that has shaped America and shows how our lives today are still defined by a hierarchy of human divisions.
"As we go about our daily lives, caste is the wordless usher in a darkened theater, flashlight cast down in the aisles, guiding us to our assigned seats for a performance. The hierarchy of caste is not about feelings or morality. It is about power—which groups have it and which do not."
In this brilliant book, Isabel Wilkerson gives us a masterful portrait of an unseen phenomenon in America as she explores, through an immersive, deeply researched narrative and stories about real people, how America today and throughout its history has been shaped by a hidden caste system, a rigid hierarchy of human rankings.
Beyond race, class, or other factors, there is a powerful caste system that influences people's lives and behavior and the nation's fate. Linking the caste systems of America, India, and Nazi Germany, Wilkerson explores eight pillars that underlie caste systems across civilizations, including divine will, bloodlines, stigma, and more. Using riveting stories about people—including Martin Luther King, Jr., baseball's Satchel Paige, a single father and his toddler son, Wilkerson herself, and many others—she shows the ways that the insidious undertow of caste is experienced every day. She documents how the Nazis studied the racial systems in America to plan their outcasting of the Jews; she discusses why the cruel logic of caste requires that there be a bottom rung for those in the middle to measure themselves against; she writes about the surprising health costs of caste, in depression and life expectancy, and the effects of this hierarchy on our culture and politics. Finally, she points forward to ways America can move beyond the artificial and destructive separations of human divisions, toward hope in our common humanity.
Beautifully written, original, and revealing, Caste: The Origins of Our Discontents is an eye-opening story of people and history, and a reexamination of what lies under the surface of ordinary lives and of American life today.
Random House
Hardcover
August 2020
496 Pages
9780593230251
Praise
#1 NEW YORK TIMES BESTSELLER
OPRAH'S BOOK CLUB PICK 
NAMED THE #1 NONFICTION BOOK OF THE YEAR BY TIME 
ONE OF THE TEN BEST BOOKS OF THE YEAR BY People, The Washington Post, Publishers Weekly 
Winner of the Los Angeles Times Book Prize
National Book Critics Circle Award Finalist
Dayton Literary Peace Prize Finalist
PEN/John Kenneth Galbraith Award for Nonfiction Finalist
PEN/Jean Stein Book Award Longlist
"Magnificent . . . a trailblazing work on the birth of inequality . . . Caste offers a forward-facing vision. Bursting with insight and love, this book may well help save us."—O: The Oprah Magazine
"This book has the reverberating and patriotic slap of the best American prose writing. . . . Wilkerson has written a closely argued book that largely avoids the word 'racism,' yet stares it down with more humanity and rigor than nearly all but a few books in our literature. . . . It's a book that changes the weather inside a reader."—Dwight Garner, The New York Times
"A surprising and arresting wide-angle reframing . . . Her epilogue feels like a prayer for a country in pain, offering new directions through prophetic language."—Bilal Qureshi, The Washington Post
"A transformative new framework through which to understand identity and injustice in America."—Justin Worland, Time
Discussion Questions
1. At the beginning of Caste, author Isabel Wilkerson compares American racial hierarchy to a dormant Siberian virus. What are the strengths of this metaphor? How does this comparison help combat the pervasive myth that racism has been eradicated in America?
2. Wilkerson begins the book with an image of one lone dissenter amidst a crowd of Germans giving the Nazi salute. What would it mean—and what would it take—to be this man today?
3. What are some of the elements required for a caste system to succeed?
4. Wilkerson uses many different metaphors to explain and help us visualize the concept of the American caste system: the bones inside a body, the beams inside a house, even the computer program in the 1999 film The Matrix. Which of these metaphors helped the concept click for you?Why was it successful?
5. Caste and race are not the same thing. What is the difference between the two? How do casteism and racism support each other?
6. Discuss how class is also different from caste.
7. Who does a caste system benefit? Who does it harm?
8.  "Before there was a United States of America," Wilkerson writes, "there was a caste system, born in colonial Virginia." How can Americans reckon with this fact? What does it mean to you to live in a country whose system of discrimination was cemented before the country itself?
9. Did learning about the lens and language of caste change the way you look at U.S. history and society? How?
10. Wilkerson discusses three major caste systems throughout the book: India, Nazi Germany, and America. What are some of the differences that stood out to you among these three systems? What are the similarities? How did learning about one help you understand the others? For instance, did the fact that the Nazis actually studied America's segregation practices and Jim Crow laws help underscore the breadth of our own system?
11. Harold Hale, an African-American man, helped his daughter defy the "rules" of their caste in 1970s Texas by naming her Miss. As Wilkerson illustrates throughout the book, the dangers of being seen as defying one's caste can range from humiliation to death. What do you think of the lengths Mr. Hale felt he needed to go to assure dignity for his daughter? What are the risks he took by doing so? Should Miss have had a say in her father's quietly revolutionary act? Explain your thinking.
12. Discuss the differences and similarities between how Miss was treated in the South, where racism and casteism have historically been more overt, and in the North, where they still exist, but can be more subtle. Do you think these various forms of racism and casteism must be fought in different ways?
13. Wilkerson quotes the orator Frederick Douglass, who described the gestures that could incite white rage and violence: "in the tone of an answer; in answering at all; in not answering . . ." These contradict each other: One could incite rage by answering and by not answering. Discuss the bind that this contradiction put (and still puts) African-American people in.
14. Wilkerson frequently uses her own experience as an African-American woman to illustrate her points regarding caste—including the experience involving the confusion when someone "rises above" his or her presumed station. What do readers gain from hearing about Wilkerson's personal experiences in addition to her deep historical research?
15. "Indians will ask one's surname, the occupation of one's father, the village one is from, the section of the village that one is from, to suss out the caste of whoever is standing in front of them," Wilkerson writes. "They will not rest until they have uncovered the person's rank in the social order." How is this similar to and different from the process of determining caste in America? Have you ever, for instance, asked someone what they did for work or where they lived or went to school, and been surprised? Did you treat them differently upon hearing their answer?
16. Analyze the process of dehumanization and how it can lead to people justifying great acts of cruelty.
17. "Evil asks little of the dominant caste other than to sit back and do nothing," Wilkerson writes. Whether in the dominant caste or not, what are some of the ways that each of us, personally, can stand up to the caste system?
18. Wilkerson gives examples that range from the horrifying (lynching) to the absurd (the Indian woman who walked across an office to ask a Dalit to pour her water from the jug next to her desk) to illustrate caste's influence on behavior. How do both of these types of examples—and everything in between—help cement her points? Why do we need to see this range to clearly understand caste?
19. Discuss how overt racism subtly transforms into unconscious bias. What are the ways that we can work to compensate for the unconscious biases inherent in a caste system?
20. Wilkerson writes about the "construction of whiteness," describing the way immigrants went from being Czech or Hungarian or Polish to "white"—a political designation that only has meaning when set against something "not white." Irish and Italian people weren't "white" until they came to America. What does this "construction of whiteness" tell us about the validity of racial designations and the structure of caste?
21. It is a widely held convention that working-class white Americans may often "act against their own interests" by opposing policies designed to help the working class. Discuss how the logic of caste disproves this concept and redefines that same choice from the perspective of maintaining group dominance.
22. How does the caste system take people who would otherwise be allies and turn them against one other?
23. Wilkerson describes dinner with a white acquaintance who was incensed over the treatment they received from the waitstaff. Why did the acquaintance respond the way that she did, and how did it hurt or help the situation?
24. What do we learn from Albert Einstein's response to the American caste system upon arrival from Germany?
25. What are some of the steps that society, and each of us, can take toward dismantling the caste system?
Excerpt
Chapter 2
An Old House and an Infrared Light
The inspector trained his infrared lens onto a misshapen bow in the ceiling, an invisible beam of light searching the layers of lath to test what the eye could not see. This house had been built generations ago, and I had noticed the slightest welt in a corner of plaster in a spare bedroom and had chalked it up to idiosyncrasy. Over time, the welt in the ceiling became a wave that widened and bulged despite the new roof. It had been building beyond perception for years. An old house is its own kind of devotional, a dowager aunt with a story to be coaxed out of her, a mystery, a series of interlocking puzzles awaiting solution. Why is this soffit tucked into the southeast corner of an eave? What is behind this discolored patch of brick? With an old house, the work is never done, and you don't expect it to be.
America is an old house. We can never declare the work over. Wind, flood, drought, and human upheavals batter a structure that is already fighting whatever flaws were left unattended in the original foundation. When you live in an old house, you may not want to go into the basement after a storm to see what the rains have wrought. Choose not to look, however, at your own peril. The owner of an old house knows that whatever you are ignoring will never go away. Whatever is lurking will fester whether you choose to look or not. Ignorance is no protection from the consequences of inaction. Whatever you are wishing away will gnaw at you until you gather the courage to face what you would rather not see.
We in the developed world are like homeowners who inherited a house on a piece of land that is beautiful on the outside, but whose soil is unstable loam and rock, heaving and contracting over generations, cracks patched but the deeper ruptures waved away for decades, centuries even. Many people may rightly say, "I had nothing to do with how this all started. I have nothing to do with the sins of the past. My ancestors never attacked indigenous people, never owned slaves." And, yes. Not one of us was here when this house was built. Our immediate ancestors may have had nothing to do with it, but here we are, the current occupants of a property with stress cracks and bowed walls and fissures built into the foundation. We are the heirs to whatever is right or wrong with it. We did not erect the uneven pillars or joists, but they are ours to deal with now.
And any further deterioration is, in fact, on our hands.
Unaddressed, the ruptures and diagonal cracks will not fix themselves. The toxins will not go away but, rather, will spread, leach, and mutate, as they already have. When people live in an old house, they come to adjust to the idiosyncrasies and outright dangers skulking in an old structure. They put buckets under a wet ceiling, prop up groaning floors, learn to step over that rotting wood tread in the staircase. The awkward becomes acceptable, and the unacceptable becomes merely inconvenient. Live with it long enough, and the unthinkable becomes normal. Exposed over the generations, we learn to believe that the incomprehensible is the way that life is supposed to be.
The inspector was facing the mystery of the misshapen ceiling, and so he first held a sensor to the surface to detect if it was damp. The reading inconclusive, he then pulled out the infrared camera to take a kind of X-ray of whatever was going on, the idea being that you cannot fix a problem until and unless you can see it. He could now see past the plaster, beyond what had been wallpapered or painted over, as we now are called upon to do in the house we all live in, to examine a structure built long ago.
Like other old houses, America has an unseen skeleton, a caste system that is as central to its operation as are the studs and joists that we cannot see in the physical buildings we call home. Caste is the infrastructure of our divisions. It is the architecture of human hierarchy, the subconscious code of instructions for maintaining, in our case, a four-hundred-year-old social order. Looking at caste is like holding the country's X-ray up to the light.
A caste system is an artificial construction, a fixed and embedded ranking of human value that sets the presumed supremacy of one group against the presumed inferiority of other groups on the basis of ancestry and often immutable traits, traits that would be neutral in the abstract but are ascribed life-and-death meaning in a hierarchy favoring the dominant caste whose forebears designed it. A caste system uses rigid, often arbitrary boundaries to keep the ranked groupings apart, distinct from one another and in their assigned places.
Throughout human history, three caste systems have stood out. The tragically accelerated, chilling, and officially vanquished caste system of Nazi Germany. The lingering, millennia-long caste system of India. And the shape-shifting, unspoken, race-based caste pyramid in the United States. Each version relied on stigmatizing those deemed inferior to justify the dehumanization necessary to keep the lowest-ranked people at the bottom and to rationalize the protocols of enforcement. A caste system endures because it is often justified as divine will, originating from sacred text or the presumed laws of nature, reinforced throughout the culture and passed down through the generations.
As we go about our daily lives, caste is the wordless usher in a darkened theater, flashlight cast down in the aisles, guiding us to our assigned seats for a performance. The hierarchy of caste is not about feelings or morality. It is about power—which groups have it and which do not. It is about resources—which caste is seen as worthy of them and which are not, who gets to acquire and control them and who does not. It is about respect, authority, and assumptions of competence—who is accorded these and who is not.
As a means of assigning value to entire swaths of humankind, caste guides each of us often beyond the reaches of our awareness. It embeds into our bones an unconscious ranking of human characteristics and sets forth the rules, expectations, and stereotypes that have been used to justify brutalities against entire groups within our species. In the American caste system, the signal of rank is what we call race, the division of humans on the basis of their appearance. In America, race is the primary tool and the visible decoy, the front man, for caste.