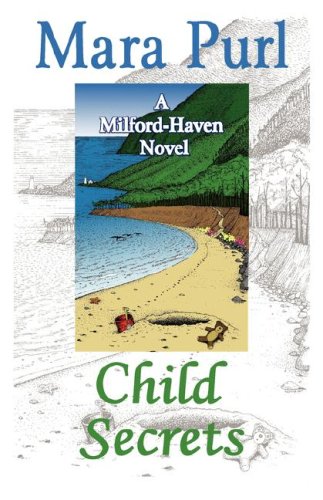 CHILD SECRETS
A Milford-Haven Novel (Book Three)
---
Artist Miranda Jones loves her new life in the picturesque coastal town of Milford-Haven. But her own childhood issues begin to haunt her, even as the secrets of Milford-Haven, buried deep in the sands of the past, begin to surface. Probing the Central Coast for missing reporter Chris Christian, Deputy Delmar Johnson finds a significant clue. The Cove seems to hold a memory for Zack Calvin, but just hours after his romance with Miranda Jones ignites, his life is endangered by a powerful underwater explosion off the Santa Barbara coastline. Meanwhile Sally O'Mally flees Milford-Haven to decide the fate of her unborn child;
Artist Miranda Jones loves her new life in the picturesque coastal town of Milford-Haven. But her own childhood issues begin to haunt her, even as the secrets of Milford-Haven, buried deep in the sands of the past, begin to surface. Probing the Central Coast for missing reporter Chris Christian, Deputy Delmar Johnson finds a significant clue. The Cove seems to hold a memory for Zack Calvin, but just hours after his romance with Miranda Jones ignites, his life is endangered by a powerful underwater explosion off the Santa Barbara coastline. Meanwhile Sally O'Mally flees Milford-Haven to decide the fate of her unborn child; Jack Sawyer reacts to the revelation of a life-long secret; and Susan Winslow considers breaking and entering to discover secrets locked away in Samantha Hugo's journal…
Haven Books
Paperback
May 2007
422 Pages
9781584360032
Praise
"The writing flows easily and the characters are compelling. . . . Purl has expertly interwoven her characters' lives into a colorful, fascinating tapestry of mystery, romance, and suspense. Readers will find it fun to pass the time with the inhabitants of Milford-Haven, and will want to know more about their fates." — Four-Star Review, ForeWord Magazine
Discussion Questions
Do childhood experiences permanently imprint all of us? Can adult behavior be understood in terms of early life events? How does discovering the characters' early experiences explain their responses to their present circumstances?
Do children respond more to nature or to nurture? Will Zack, Susan, or Miranda be able to overcome the secrets of their childhoods, or will they always be limited to some degree by what happened when they were children?
Can abuse in childhood be overcome? Can it be healed? What does Miranda have to heal about her childhood? What does Susan have to overcome?
What are the key issues a young Native American woman must deal with? How does racial prejudice and genocide in one's ancestry affect one's sense of place and identity?
What makes a woman stay in an abusive relationship? Why doesn't Stacey leave Wilhelm? Does she expect him to change? Does she blame herself for his abusive behavior? Is abuse in our society more or less prevalent today? Do you know what to do if someone you know is being abused?
Are secrets an important and necessary part of life? When are secrets good? When are they bad? Which characters have destructive secrets? Which have constructive secrets? What kind of secrets to you have?
What is the basic nature of the relationship between women and their mothers? Is it essentially competitive or supportive? How does Glenda support her daughter Sally? How does Very interfere with her daughter Miranda?
In addition to her work as an author, Mara Purl co-produced the audio book "The Hidden Legacy" about child abuse, and serves on the advisory board for Haven House, a shelter for victims of domestic violence. How does her awareness of these issues come into play in her novels?
Why is this book called Child Secrets? How many of the characters have secrets relating to their own childhoods, or to the childhoods of their children? How did you react to secrets as a child? Have you discovered things as an adult that surprised you about your own childhood?