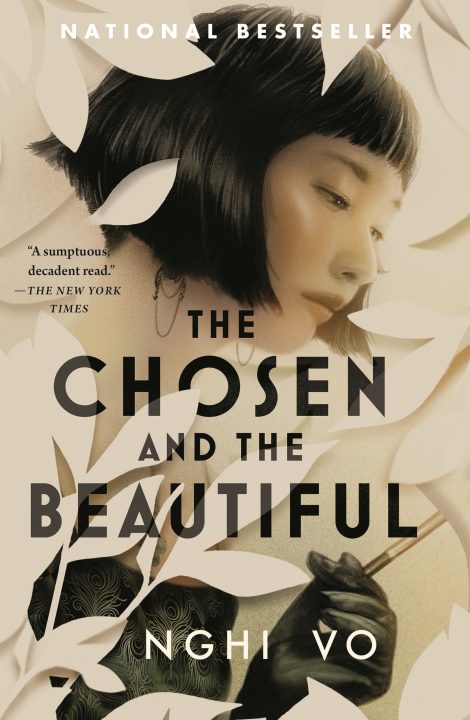 THE CHOSEN AND THE BEAUTIFUL
---
Immigrant. Socialite. Magician.
Jordan Baker grows up in the most rarefied circles of 1920s American society—she has money, education, a killer golf handicap, and invitations to some of the most exclusive parties of the Jazz Age. She's also queer and Asian, a Vietnamese adoptee treated as an exotic attraction by her peers, while the most important doors remain closed to her.
But the world is full of wonders: infernal pacts and dazzling illusions, lost ghosts and elemental mysteries. In all paper is fire, and Jordan can burn the cut paper heart out of a man. She just has to learn how.
Immigrant. Socialite. Magician.
Jordan Baker grows up in the most rarefied circles of 1920s American society—she has money, education, a killer golf handicap, and invitations to some of the most exclusive parties of the Jazz Age. She's also queer and Asian, a Vietnamese adoptee treated as an exotic attraction by her peers, while the most important doors remain closed to her.
But the world is full of wonders: infernal pacts and dazzling illusions, lost ghosts and elemental mysteries. In all paper is fire, and Jordan can burn the cut paper heart out of a man. She just has to learn how.
Nghi Vo's debut novel, The Chosen and the Beautiful, reinvents this classic of the American canon as a coming-of-age story full of magic, mystery, and glittering excess, and introduces a major new literary voice.
Tordotcom
Paperback
March 2022
288 Pages
9781250820129
Praise
National Bestseller
Indie Next Pick
Best of 2021 Pick for NPR
A Most Anticipated in 2021 Pick for Oprah Magazine | USA Today | Buzzfeed | Greatist | BookPage | PopSugar | Bustle | The Nerd Daily | Goodreads | Literary Hub | Ms. Magazine | Library Journal | Culturess | Book Riot | Parade Magazine | Kirkus | The Week | Book Bub | OverDrive | The Portalist | Publishers Weekly
A Best of Summer Pick for TIME Magazine | CNN | Book Riot | The Daily Beast | Lambda Literary | The Milwaukee Journal Sentinel | Goodreads | Bustle | Veranda Magazine | The Week | Bookish | St. Louis Post-Dispatch | Den of Geek | LGBTQ Reads | Pittsburgh City Paper | Bookstr | Tatler HK
"A vibrant and queer reinvention of F. Scott Fitzgerald's jazz age classic. . . . I was captivated from the first sentence."—NPR
"A sumptuous, decadent read."—The New York Times
"Vo has crafted a retelling that, in many ways, surpasses the original."—Kirkus Reviews, starred review
"Extraordinary. . . Vo's immersive prose never ceases to captivate. The Gatsby-related details and hints of magic will keep readers spellbound from start to finish." —Publishers Weekly, starred review
"An utterly captivating series of speakeasies, back-seat trysts, parties both grand and intimate and romances both magical and mundane. . . . Vo is a remarkable writer whose talent for reviving Fitzgerald's style of prose is reminiscent of Susanna Clarke channeling Jane Austen in Jonathan Strange & Mr. Norrell. But it is Vo's additions to Gatsby's original plot that truly shine. . . . [She] has transformed The Great Gatsby utterly."—BookPage, starred review
"The Chosen and the Beautiful finds Jordan fighting for her place in this Gatsby-adjacent world as an outsider, a plight that Vo illuminates in heartbreaking specificity."—TIME Magazine
"A luminous shift in perspective for a classic, this retelling will never let you look at Gatsby the same way."—TIME Magazine
"I love it with the passion of a thousand burning hearts… Vo's audacious amendments shift the register of  The Great Gatsby, creating a story that galvanizes Fitzgerald's classic and leaves a new one vibrating alongside… from the old bones of an American classic, Vo has conjured up something magically alive."—The Washington Post
"What if The Great Gatsby except sexy star golfer Jordan Baker is a queer Vietnamese adoptee? And there's magic? You have our attention."—USA Today
"Enter Nghi Vo's lyrical, fever-dream spin, in which golf-playing heartbreaker Jordan Baker is a queer Vietnamese adoptee with a penchant for magic."—Oprah Daily
Discussion Questions
1. The novel opens with a wind that blows Jordan and Daisy around "like a pair of young women in white dresses who had no cares to weigh them down." Are they truly a pair of young women with no cares? Is that how they think of themselves? Does Jordan have a reason to want to be seen like that?
2. While The Great Gatsby is written from Nick Carraway's perspective, The Chosen and the Beautiful is written from Jordan Baker's point of view. Why do you think the author chose Jordan over Nick, or even Daisy? How is the world that Jordan sees different from that of the other characters?
3. Jordan very much considers herself a modern girl, but easily half of the book is taken up with the past, especially her and Daisy's shared years in Louisville. How does knowing Jordan and Daisy's past contribute to how you understand them in the present?
4. Th ere are many stories told about Jay Gatsby during the course of the novel. How do these stories work for Gatsby and against him? How do they influence his relationships with the people around him? Which ones do you believe, and why?
5. Despite appearing to be a heterosexual relationship on the surface, Jordan's relationship with Nick is a relationship between a queer woman and a queer man. What do you think makes this relationship different from one where both people are straight? How does their sexuality play into how they relate to each other, and how does it force them to interact with the world they live in?
6. Jordan's relationship with Daisy is one of the most important in the book, if not the most important. How would you define Jordan's relationship with Daisy Buchanan? How do you think Jordan defines it? How does Jordan's changing relationship with Daisy affect the course of her life?
7. At the end of Jordan's romance with Nick, she realizes a surprising truth about who he is. Does this alter how you viewed Nick's actions during the novel?
8. While Daisy Buchanan's marriage is obviously abusive, the abuse is passed off as a normalized thing, hardly worthy of comment. How does Tom Buchanan's abuse of his wife impact your reading of Daisy's affair with Gatsby and then her choice to stay with Tom? Does Jordan's lack of engagement with said abuse affect how you see her character?
9. The paper-cutting troupe represent a world where Jordan both belongs and yet is still a foreigner. How do Jordan's interactions with the group reveal her feelings about her race and her sexuality? What steps is Jordan going to have to take to be as fluent in that space as she is at Gatsby's parties?
10. One reason we continue to read The Great Gatsby is because so many of the themes it explores are universal and continue to be relevant in our world today. While both Fitzgerald and Vo write about issues like money, class, ambition, identity, and how the past inescapably informs the present, what aspects of these issues does Vo address in her version of the story that Fitzgerald leaves comparatively unexamined in his?
11. Even in a world drowned in magic, nothing compares with Gatsby's parties. If you found yourself on the grounds of Gatsby's mansion in the summer of 1922, what would you want to see, and what would you be doing? What's the most magical party you've ever been to?
12. The novel covers one eventful summer in the lives of the characters. For those who survive the end of it, where do you think they go from there? What is Jordan going to be like in her thirties, during the Depression, or her forties, during the Second World War?
13. Almost a hundred years separates us from Fitzgerald's time—and Gatsby's—but sometimes it feels as if very little has changed. What similarities do you see between the 1920s and the 2020s? Do you relate to the struggles and challenges faced by Jordan and the people she cares about? How does Gatsby's American dream persist in our current society?
Essay
ASIAN AMERICANS IN THE JAZZ AGE
While Jordan Baker's position as a glamorous outsider shapes her life in The Chosen and the Beautiful, Asian Americans have been a part of America's history for hundreds of years. However, most of the other Asian Americans in the book would have had a lot more in common with the Toy sisters in Louisville or the papercutt ing troupe Jordan encounters at Gatsby's mansion than with Jordan's own privileged existence, and it's their experience that parallels that of Asian Americans living in our own reality.
Following World War I, American nationalism and anti-Asian sentiment was on the rise. The Chinese Exclusion Act of 1882 saw the end of the United States' free immigration policy, and the Asian Exclusion Act, included as part of the Immigration Act of 1924, essentially ended Chinese immigration to the United States and put severe limits on the number of other Asian immigrants allowed into the country. These laws indicated the public acceptance of racism against Asians. In The Chosen and the Beautiful, the passing of the fictional Manchester Act is based on those real pieces of legislation and their heartbreaking and terrifying effect on the Asian American community at the time.
At the same time that Asians were the subject of exclusion and persecution both in the courts and in the streets, the United States was developing a fascination with the "Orient," an exoticized picture of Asia. Mahjong entered the United States during the twenties and gained immense popularity, while chop suey restaurants developed a new cachet as trendy places to see and be seen. But while Asian goods and cultural exports were welcome, the presence of Asian people was still always questioned.
The 1920s also saw the flourishing of Asian Americans in entertainment, such as the vaudevillian and actor Lee Tung Foo, also known as Frank Lee, and the glamorous Anna May Wong, born Wong Liu Tsong, who rose to stardom in 1924 with a supporting role in The Thief of Baghdad. Both Lee and Wong built careers out of playing Asian stereotypes, the only roles that were available to them, but they simultaneously paved the way for the vibrant and widely recognized Asian American performing arts community that would come after them.
Other Asian American artists made careers out of subverting expectations, as in the case of the Chung Hwa Four, a barbershop quartet comprising four Chinese American singers. Organized in San Francisco, Lee Tung Li, Leong Hui Kim, Don Tin Yaw, and Chan Suey Ting, also known as Henry Lee, Hugh Liang, Edgar Don Sang, and Chan Shu Yin, became one of the most notable acts of the decade. They were known for their trick of inviting an audience to sing along in Chinese before joking, "Gee, maybe you don't like Chinese songs. We'll sing something American." Th e Chung Hwa Four lasted fourteen years on the vaudeville circuit, no mean feat considering the fact they were considered a novelty act in a cutthroat business.
Khai, Bai, and the rest of the papercutting troupe draw their genesis from the work of performers like Lee, Wong, and the Chung Hwa Four, who were starting what would come to be known as the chop suey circuit. During the Roaring Twenties, the nightclub scene—where performers could earn the most money and acclaim—was starkly segregated. While Black and Asian artists might be allowed to perform, they could not mingle, and the first truly desegregated nightclub didn't open its doors until 1938. The efforts of marginalized performers in the 1920s would bear fruit in the decades to come, fruit that some of them would live to see and to eat.
Like Khai, Bai, and some of the other performers in their troupe, Jordan is Vietnamese; she states that she was born in Tonkin, which refers to the French protectorate of northern Vietnam. While there were fewer Vietnamese in the United States in the twenties than there were Asians from other regions, there were still some! The presence of the Vietnamese in the United States is widely believed to have begun with the waves of refugees in the late 1970s, but the truth is rarely so simple. During the period between the first and second World Wars, Vietnamese people did enter the country, and the ones who did so were usually either very wealthy tourists or poor workers. Due to French colonialism, wealthy Vietnamese were oft en educated in Paris and then proceeded to tour the Western world with New York, San Francisco, and New Orleans being frequent ports of call.
Less fortunate were the Vietnamese workers who found employment on French steamships, which would take them to Paris and from there on to any number of foreign ports. Some of those workers, occasionally incorrectly assumed to be Chinese or Japanese, found their way to the United States. The welcome they received ranged from warm to ice-cold, but their stories form part of the rich tapestry that is part and parcel of the Asian experience in the United States.
Much like Anna May Wong, who left the United States to find acclaim abroad, Jordan ends The Chosen and the Beautiful by leaving an America that has proved hostile to her. At the same time, however, she claims her place in a deeply American narrative and as a deeply American young woman.