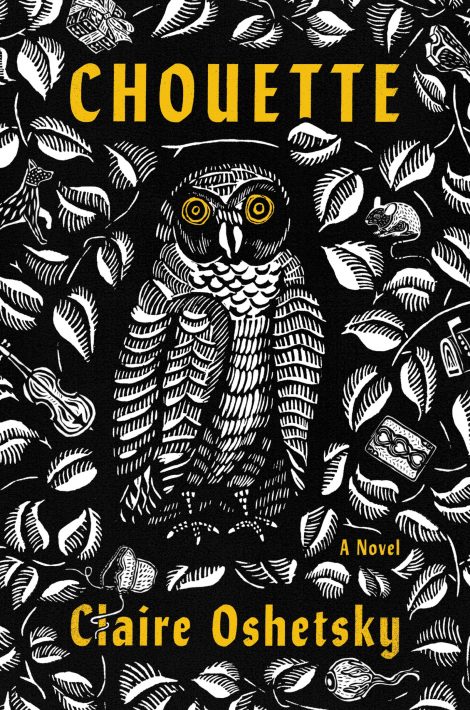 CHOUETTE
---
An exhilarating, provocative novel of motherhood in extremis
Tiny is pregnant. Her husband is delighted. "You think this baby is going to be like you, but it's not like you at all," she warns him. "This baby is an owl-baby."
When Chouette is born small and broken-winged, Tiny works around the clock to meet her daughter's needs. Left on her own to care for a child who seems more predatory bird than baby, Tiny vows to raise Chouette to be her authentic self. Even in those times when Chouette's behaviors grow violent and strange,
An exhilarating, provocative novel of motherhood in extremis
Tiny is pregnant. Her husband is delighted. "You think this baby is going to be like you, but it's not like you at all," she warns him. "This baby is an owl-baby."
When Chouette is born small and broken-winged, Tiny works around the clock to meet her daughter's needs. Left on her own to care for a child who seems more predatory bird than baby, Tiny vows to raise Chouette to be her authentic self. Even in those times when Chouette's behaviors grow violent and strange, Tiny's loving commitment to her daughter is unwavering. When she discovers that her husband is on an obsessive and increasingly dangerous quest to find a "cure" for their daughter, Tiny must decide whether Chouette should be raised to fit in or to be herself—and learn what it truly means to be a mother.
Arresting, darkly funny, and unsettling, Chouette is a brilliant exploration of ambition, sacrifice, perceptions of ability, and the ferocity of motherly love.
Ecco
Hardcover
November 2021
256 Pages
9780063066670
Praise
"Claire Oshetsky's novel is a marvel: its language a joy, its imagination dizzying." —Rumaan Alam, New York Times bestselling author of Leave the World Behind
"Searing and ethereal…. [Chouette focuses] squarely on Tiny's fierce love as she battles her husband and nature to allow Chouette to be wild and exact, stakes that feel frightening and true to life…. A harrowing and magnificent fable."—New York Times Book Review
"Oshetsky's book is surrealism at its best…. "Chouette," which abounds with humor and lush imagery, forces parents to consider their relationship with their children…. The book has deep and universal resonance."—San Francisco Chronicle
"Weirdly funny and bold, this novel will make you look at maternal sacrifice in a new way."—Real Simple
"By turns poetic, gory, heartbreaking and strange…. An engrossing, surreal portrayal of motherhood."—NPR
"Dark wit, tenderness, music, enchantment – they're all part of a story that remains oddly relatable despite its dazzling strangeness."—The Guardian
Excerpt
I dream I'm making tender love with an owl. The next morning I see talon marks across my chest that trace the path of my owl-lover's embrace. Two weeks later I learn that I'm pregnant.
You may wonder: How could such a thing come to pass between woman and owl?
I, too, am astounded, because my owl-lover was a woman.
* * *
As for you, owl-baby, let's lay out the facts. Your owlness is with you from the very beginning. It's there when a first cell becomes two, four, eight. It's there when you sleep too much, and crawl too late, and when you bite when you aren't supposed to bite, and shriek when you aren't supposed to shriek; and on the day that you are born—on the day when I first look down on your pinched-red, tiny-clawed, outraged little body lying naked and intubated in a box—I won't have the slightest idea about who you are, or what I will become.
But there you will be, and you will be of me.
* * *
We're in the kitchen in our Sacramento home when I tell my husband I'm pregnant. I don't even mean to say the words. My stew is simmering on the stove and its vapors tint the air the color of dog-skin and I can barely see the truth of things. My husband is leaning on the counter with a beer in hand, and he's been telling me about his day, in his usual upbeat tone, while punctuating his words with dazzling flashes of rational thinking.
"I'm pregnant," I say.
I'm afraid to look him in the eye. I look at the floor instead. I notice the floor could use a good mopping. I start to think about mops and the way they never get anything truly clean. Next I think about the way housekeeping is nothing more than a losing encounter with entropy. Did my husband hear what I said? Is it even true? Can I take it back?
And then my husband is hugging me, not gently but commandingly, and you could even say triumphantly. He is eleven inches taller and outweighs me by ninety-seven pounds. My feet come right up off the floor as he spins me around. When he sets me back down, I hear Arvo Pärt's plaintive duet for violin and piano, Spiegel im Spiegel, playing in my head, with all of its steady inevitability and sadness, and my life flows forward.
My husband says: "Hell. Wow. Oh. Hell. We've been waiting for this baby for so long!"
"Wait a minute," I say. "I have not been waiting for this baby for so long. That is false. I'm not sure I want this baby at all."
My husband isn't listening. He spins me around some more until I get carried along by his mood, and the next thing I know the two of us are cavorting with joy in our somewhat grimy kitchen while we let the stew burn. Once the spinning is over and my feet are back on the ground, I'm left with a dizzying sense of loss. It happens like clockwork, they say. An owl-baby is born. This baby will never learn to speak, or love, or look after itself. It will never learn to read or toss a football. The father can see no single thing in this child that reminds him of himself. He thinks: "This isn't fair to me." And then he leaves. The mother stays.
"Come back, come back from wherever you are," my husband says.
I can tell time has passed because the dishes are dirty and my stomach is full and my husband is scooping the leftover stew into a plastic container. He is chattering away about becoming a father, a topic that leads him straight into telling me stories about his boyhood, and how his boyhood years shaped the man he is today. And then he tells me all about the future, and about what a good father he is going to be; and after that he swoops me up and carries me to our bedroom, where he makes love to me until I feel cherished and protected, and as precious as a glass figurine in need of constant dusting.
* * *
After our lovemaking my husband goes straight to sleep, leaving me alone and wide awake in the dark. I'm in mourning for my uncomplicated past, before I became pregnant with an owl-baby. I'm thinking about my music. I'm thinking about my owl-lover. I'm thinking about my life. I try to imagine adding an owl-baby to the mix. I'm a professional musician, a cellist, and I love my work. My pregnancy hasn't changed that yet. Maybe I can take the owl-baby along when I tour. Maybe I can give cello lessons while the owl-baby is gently napping. The owl-baby isn't buying it. My mind is flooded with broody owl-baby objections to my plans. It's trying to replace my selfish doubts with its own, yearning wonder about the life to come, outside the womb, if only I agree to be its mother. By morning I'm exhausted by the owl-baby's pleas. When my husband finally opens his eyes, I'm looking straight into them. All night long I've been waiting for him to wake up and take my side. All night long the whip-poor-wills and chuck-will's-widows have been screaming out their cold judgments of me from their tiny, brittle mouths, complaining about my lack of commitment so hatefully that I can't believe my husband slept through their rancor.
"Help me," I try to say, now that my husband's eyes are finally open.
But the owl-baby bites my tongue.
Just before my husband opened his eyes, I could still imagine that he had all the answers. Now that he is awake he looks stupefied. He yawns broadly and then he chews on his inner cheek. Soon his face breaks into a thousand smiles because he just remembered my delicate condition. He kisses me on the lips, eyelids, hair; and then he leaps up and volunteers to make us breakfast. He makes the coffee strong. He is doing his best to make me feel honored, and I do feel honored, like a sacrificial goat feels honored. Now we're munching toast together in the kitchen. My husband is an intellectual property lawyer in the patented-seed field, and he is already dressed for the job, in a starched-white shirt and trousers that he pressed himself. I'm still in my bathrobe. Our kitchen is one of those retro, rose-colored kitchens. The refrigerator is pink. The floor is black-and-white squares. The walls are the color of cleaned-up blood. The window looks out on a jaundice-yellow yard because I always forget to water the plants. The dishes from the night before are still in the sink. Soon there will be breakfast dishes to add to the pile. My kitchen and my world are spinning in all the wrong directions and I feel sick. My husband has just stopped reading the news on his phone because just now I got the words out past my lips that I've been wanting to say to him all morning, which are: "Help me."
There, it's done. I've said it.
The world rights itself.
He reaches across the table and grabs my hands.
"What is it?" he says. "What's on your mind? I love you. I'm here to help."
"You think this baby is going to be like you, but it's not like you at all," I say. "This baby is an owl-baby."
"Oh, honey, honey, honey," my husband says. "That's the jitters talking. Don't listen. I'm here for you. I love you."
Time passes and passes until finally we both cry a little.
"Maybe you're right. Maybe it's just the jitters," I say.
"Maybe it's just the hormones," he says. "We're in this together. I love you. You're having a feeling, that's all. We can talk more later."
He kisses the top of my head. He's already thinking about his workday. He kisses me again, this time on the lips, and then he goes out of the room briskly.
I hear a toilet flush.
I hear him whistling down the hall as if everything is settled.
I hear the front door open and close.
His car starts and I hear him drive away.
* * *
Now that my husband has left for the day, the owl-baby begins in earnest to attach itself and burrow in. I do my best to resist its insistent excavations. I'm determined to follow my usual routine. I teach three cello lessons in my home studio before noon. In the afternoon I work diligently on my transposition of Tom Johnson's Failing: A Very Difficult Piece for String Bass. I manage to focus so deeply on the work that I stop thinking about my pregnancy altogether, until my husband comes home an hour early, carrying a dozen roses. He observes aloud that I've neglected to make dinner, and then he says, in a jolly tone: "Never mind, honey, let's order takeout."
He phones in the order himself. Food arrives in tiny cartons.
We eat without talking.
After we're done, we pile the remains in the sink on top of the dishes already there, and my husband suggests we play a few rounds of gin rummy.
And now he is deliberately losing, making clumsy mistakes.
He pretends to enjoy the game. He congratulates me after each play.
He's shuffling the cards for the next deal.
"It's an owl-baby," I say.
"Honey," my husband says. "Don't do this to yourself. Don't revisit the past. You're stronger than you know."
* * *
Lately my husband and I have fallen into the gentle habit of playing gin rummy together just after dinner. I love to watch him shuffle the cards. I love the way he can fit himself into the world so rightly. He's like a card in the deck that he has just squared up. I'm more like a card that somebody left out in the rain. I try to imagine that my husband's viewpoint may be completely right when it comes to this owl-baby. I try, at least, to nod my head and smile when he tells me how much he is going to love this baby, and what a good father he'll be. No good. I hear my own voice say: "You think it's a dog-baby, but you're mistaken."
"Don't indulge in those feelings, honey," he says. "It's not good for you. It's not good for the baby. It's been years since you've talked this way. You know it's all a fairy tale. Don't you?"
"This baby is an owl-baby. If I have this baby, it's going to kill me."
"Stop being so dramatic," my husband says. His voice is tight. He's getting impatient with me. "We're going to love this baby," he says. "I love this baby already."
"If I don't get rid of this baby, I'll die."
"Owl-baby! Dog-baby! Killer-baby! Baby-killer!" my husband shouts, and slams his fist down on the table.
Right away he apologizes.
"I'm sorry, I'm sorry," he says. "Oh, God, I'm sorry."
He gathers the cards together and begins to shuffle them in a performatively casual manner, and then he decides it would be best to apologize to me a few more times.
"I'm sorry. I really am. Oh, gosh. Of course, you're afraid. Of course, you're full of doubt. There's a new little person growing inside you. We've taken the leap. We've never been parents before and we don't know what to expect. Who wouldn't be afraid?"
"Listen to me," I say.
"Life can be scary sometimes. I get it. I do. I'm listening. I love you."
"It's a mistake. It's not even yours. Its other-mother is an owl."
My husband, who hates everything that he can't solve in an instant, and who just moments ago had been shuffling the cards on our kitchen table in a contemplative manner, hurls the entire deck of cards across the room. The cards thump on the wall and scatter explosively, landing on the counters, and the floor, and in the sink where the dishes are soaking in bilious water.
My husband walks away.
That's the end of the game.