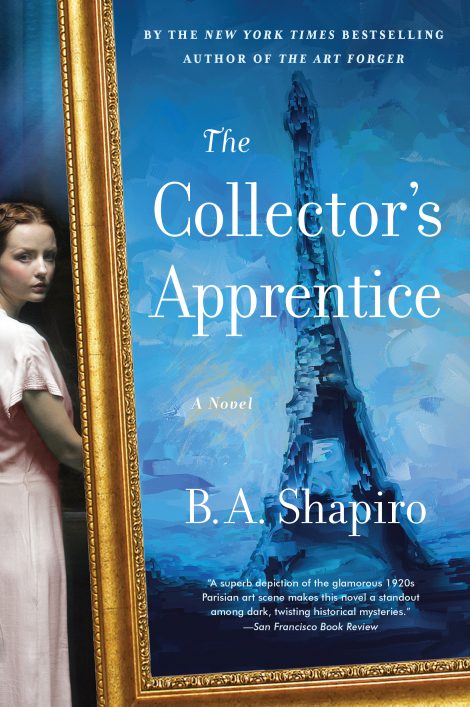 THE COLLECTOR'S APPRENTICE
---
From the Bestselling Author of The Art Forger and The Muralist.
It's the summer of 1922, and nineteen-year-old Paulien Mertens finds herself in Paris—broke, disowned, and completely alone. Everyone in Belgium, including her own family, believes she stole millions in a sophisticated con game perpetrated by her then-fiancé, George Everard. To protect herself from the law and the wrath of those who lost everything, she creates a new identity, a Frenchwoman named Vivienne Gregsby, and sets out to recover her father's art collection, prove her innocence—and exact revenge on George.
When the eccentric and wealthy American art collector Edwin Bradley offers Vivienne the perfect job,
From the Bestselling Author of The Art Forger and The Muralist.
It's the summer of 1922, and nineteen-year-old Paulien Mertens finds herself in Paris—broke, disowned, and completely alone. Everyone in Belgium, including her own family, believes she stole millions in a sophisticated con game perpetrated by her then-fiancé, George Everard. To protect herself from the law and the wrath of those who lost everything, she creates a new identity, a Frenchwoman named Vivienne Gregsby, and sets out to recover her father's art collection, prove her innocence—and exact revenge on George.
When the eccentric and wealthy American art collector Edwin Bradley offers Vivienne the perfect job, she is soon caught up in the Parisian world of post-Impressionists and expatriates—including Gertrude Stein and Henri Matisse, with whom Vivienne becomes romantically entwined. As she travels between Paris and Philadelphia, where Bradley is building an art museum, her life becomes even more complicated: George returns with unclear motives . . . and then Vivienne is arrested for Bradley's murder.
B. A. Shapiro has made the historical art thriller her own. In The Collector's Apprentice, she gives us an unforgettable tale about the lengths to which people will go for their obsession, whether it be art, money, love, or vengeance.
Algonquin Books
Paperback
June 2019
352 Pages
9781616209803
Praise
"Shapiro delivers a clever and complex tale of art fraud, theft, scandal, murder, and revenge. [Her] portrayal of the 1920s art scene in Paris and Philadelphia is vibrant, and is populated by figures like Alice B. Toklas and Thornton Wilder; readers will be swept away by this thoroughly rewarding novel."—Publishers Weekly
"B.A. Shapiro is back with a platinum potion of art, love, and scandal, set against the big backdrop of Paris between the wars. If you can put The Collector's Apprentice down, you're made of stronger stuff than I am. I read it in one sumptuous sitting. This is a big story, from a big talent."—Jacquelyn Mitchard, author of The Deep End of the Ocean
"Dazzling and seductive, The Collector's Apprentice is a tour de force—an exhilarating tale of shifting identities, desire, and intrigue set between 1920s Paris and Philadelphia. Shapiro is a master at melding historical and fictional characters to bring the past alive on the page, and in The Collector's Apprentice she has forged an exquisite, multilayered story that maps the cogent and singular fire of a young woman's ambition and the risks she will take for the sake of art."—Dawn Tripp, bestselling author of Georgia
"I was engrossed in every twist and turn in this compulsively captivating page-turner, all the way until its astonishing denouement. Shapiro has done it again!" —Thrity Umrigar, bestselling author of The Space Between Us
"A seamless blend of art history set against a wider historical backdrop." —Detroit Jewish News
"In prose lush with post-Impressionist art history, Shapiro's intriguing novel presents a heroine either evil or sympathetic—until the very end." —Shelf Awareness
"Shapiro packs her novel with intrigues and mysteries . . . Readers will . . . be charmed."—Chapter16.org
"B. A. Shapiro delivers another dose of art history, wrapped tightly in a thriller." —New York Journal of Books
"Shapiro creates a complex, detailed, and historically-accurate world, and the lack of any straightforwardly heroic characters, along with a superb depiction of the glamorous 1920s Parisian art scene, makes this novel a standout among dark, twisting historical mysteries." —San Francisco Book Review
Discussion Questions
1. One of the themes of the book is that we see only what we want to see, and that we're easily swayed by outward appearances. Do you think this is true? How does Shapiro develop this theme throughout the novel? Have you had any experiences in which you were fooled by someone pretending to be someone or something they weren't?
2. The majority of The Collector's Apprentice takes place in the 1920s and is told from Vivienne's point of view. However, there are also portions narrated by Paulien that take place before the main storyline, and portions narrated by an older Vivienne that take place after the main storyline. How did this structure affect your reading experience?
3. There are also intermittent chapters from George's point of view. How different would the story have been without the antagonist's take? What do we learn about Vivienne/Paulien from seeing her through George's eyes?
4. The post-Impressionists pushed beyond the work of the Impressionists by shifting focus from what a subject actually looks like to how the artist perceives it. Why do you think Shapiro chose this particular artistic backdrop for her novel? Why was the public so shocked by the post-Impressionists at first, and how do you think their work came to be appreciated over time?
5. As in many of her books, in The Collector's Apprentice, Shapiro explores the question of what her characters are willing to do to get what they want. Does Paulien cross an ethical line to get what she wants? Does Vivienne? George? Edwin? Do you think any of their morally ambiguous decisions are justified?
6. Another question that arises from the story is: Who owns art? If you purchase a piece of art, does it belong to you forever, and are you free to destroy it or keep other people from enjoying it? Can anyone "own" great art, or is there a cultural obligation to share it with the world? Was Bradley right to control who could see his artwork? Was his real-life counterpart, Albert Barnes?
7. Do you think that either Paulien or George would be able to successfully accomplish their disguises and changes of identity today? Would the internet and social media make it more or less difficult?
8. Do you believe Paulien was in any way responsible for what George did to her family? Why or why not?
9. There are a number of love stories in The Collector's Apprentice. Do you believe that any of these relationships were "true love"? Did Paulien love George? Did Vivienne? Did Bradley love Vivienne? Did Vivienne love Matisse and did he love her? Did George love either Paulien or Vivienne? Is a man like George capable of love?
10. Shapiro based George on her study of sociopaths, imbuing him with many of the characteristics of this kind of personality disorder, particularly his lack of empathy. Does his inability to put himself in someone else's shoes hurt him or help him? Have you ever encountered anyone with these traits in your own life?
11. In The Collector's Apprentice, Shapiro imagines interactions between persons who actually existed and characters she has created. Does this enhance or detract from the believability of the story?
12. Shapiro included an author's note that explains some of the discrepancies between the story and historical events. Was this helpful? What are some of the questions you would ask her if you could?
Excerpt
From The Collector's Apprentice
by B.A. Shapiro
Paulien is aware that being banished to Paris with 200 francs in her pocket isn't the worst of circumstances. But the city is vast and crowded and lonely despite all the noise and hubbub, not at all the way she remembers it. She wishes she were back in Brussels, filled with hope for the future, standing with her arms held wide as the seamstress made the final adjustments to her wedding gown. She looks down at the diamond on her ring finger. There is still hope. It's a crazy mistake, which George will straighten out.
His telegram read: NOT AS IT SEEMS. STOP. GOING AFTER SWISS BANKER WHO STOLE ALL THE MONEY. STOP. WILL COME FOR YOU WHEN SUCCEED. STOP. LOVE ALWAYS.
It pours the day she takes a bateau along the Seine, and she's unaffected by either the Eiffel Tower or her walk down the Champs-Élysées. Even a visit to the Louvre, a place of worship to her, leaves her as cold as the classical sculptures there. She worries about her parents and her brothers, wonders how they're holding up, what they're doing. She's edgy and skittish, startles at every sound, searches every face for a sign of George or her father.
Clearly she needs something more absorbing than sightseeing. She decides she'll look for a position in a gallery like the one she had in London after she graduated from college, gain a little more experience before she goes out on her own. George spoke about starting a new company. Why not here? It doesn't matter to her if she opens her gallery in London or in Paris or in Brussels for that matter. She smiles as she imagines asking her father's advice on which artists she should choose for her first show.
True, Papa and Maman were the ones who cast her out. He has destroyed everything we have been building for generations—and you brought him here, allowed him to do this to us, helped him! She can still hear her mother's words. It is all gone. What we had, what you and your brothers and your children would have had. Everything that we are. Our name. Our proud name . . .
The memory almost doubles Paulien over. But Maman will soon discover that she's worrying herself for no good reason. George will find the corrupt banker who cheated him and stole everyone's money. Then her parents will see they were mistaken to believe that there never was a banker or that George is a crook and a con man of the worst sort. George would never swindle them, never swindle her, of this she is certain. Paulien dons the one stylish suit she managed to shove into her valise before she left, tilts her hat at a rakish angle, and sets out to find herself a gallery.
It's a breezy late summer day in the most enchanting city in the world, and her spirits rise. She steps onto the teeming streets. Fashionable women with strappy shoes and short dresses drink coffee and smoke cigarettes, heads pressed together inside the red-fronted Le Pure Café. Tiny tables and wicker chairs pack the sidewalks, shops dazzle with the latest button-up boots and brimmed hats. The boulangeries, the marble facades, the cascading flowers, the promenades.
From under the bright green awning of Les Deux Magots in Saint Germain-des-Prés, a handsome young man with a thin mustache calls out for her to join him. She flashes him a smile and walks on. Between the carriages and carts, Paulien catches sight of a Studebaker Roadster dexterously dodging the bicyclists and pedestrians. It's the same model as George's, although in bright yellow rather than navy blue, and her eyes follow the car's path until it turns at the corner. Perhaps he will come today.
She strolls into a gallery called Arnold et Tripp at 8, rue Saint-Georges. The street name is a good sign. The proprietor is at least fifty, with a heavy beard and what sounds like a Polish accent. She introduces herself and tells him about her experience at the Whitechapel Gallery, her studies at the Académie Royale des Beaux-Arts in Brussels and the Slade School of Fine Art in London, her childhood in a house with an extensive art collection.
He's happy to listen to her, but in the end he says, "I am so sorry, mademoiselle. As much as I would enjoy the company of a young woman as knowledgeable and beautiful as you, I have neither the resources nor the need." French men are such flirts. Even the old ones.
She moves on to Brame et Lorenceau, a gallery with connections to the Manet family. But there's no job there either. She speaks with Marcel Bernheim at Bernheim-Jeune and Henry Bing at Galerie Nunes et Fiquet with the same outcome. She stops by a gallery specializing in old masters—painters she appreciates but isn't drawn to—and then moves on to Boussod, Valadon et Cie, which sells only prints of the popular Salon artists. No luck.
The shadows lengthen, and Paulien starts back to her hotel. She passes the Durand-Ruel Gallery and almost doesn't go in, but then she recognizes a Cézanne on the far wall: the luscious brushstrokes; the turbulent, uncontrollable energy; the bevy of rare juxtapositions and color combinations. Home.
She steps into the hushed, musty-smelling gallery and approaches Léda au cygne. Cézanne. Her father's collection includes Cézanne's Five Bathers, which she fell in love with as a child: the vivid blues, greens, and yellows; the roughness of the tree bark; the soft, fleshy women frolicking in the sifting sunlight. There was something magical about the diminutive painting, just over two feet square, which soothed and touched her in a way she was too young to understand.
Paulien appraises the canvas in front of her, guessing Cézanne painted it sometime in the early 1880s. She isn't familiar with this particular picture, and although she prefers his more mature work, her heart slips. Those succulent blues against the yellow-orange of both the swan's beak and Leda's ringlets, the sexuality in every twist of their bodies, in every swirl of the fabric, the desire in the swan's grasp of Leda's wrist. She catches her breath. She misses George, wants him.
"I see you are admiring our Léda, mademoiselle." A deep voice interrupts her musings.
She turns to the stocky man with wide shoulders standing next to her. Although he's broadly balding, his unwrinkled skin hints that he can't be much more than ten years her senior. "I am."
"You are a devotee of Monsieur Cézanne?"
"Yes, but I prefer the work he did in the last decade of his life." She figures she might as well be honest, as there surely are no jobs to be had in this tiny gallery. "When he began to construct objects with color instead of line."
He bows slightly and then extends his hand. "Alexandre Busler," he says. "And I most heartily agree with you."
"I'm Paulien Mertens, and I suppose I'm a little surprised to hear you say that."
"Not every art dealer is so entrenched in the past that he cannot see what is the future."
She returns his bow. "I'm sorry if I mistook you for one of those."
"Apology accepted." M. Busler turns toward the Cézanne. "But this painting is not without merit, no?"
"No. Not at all. It's moving, provocative. All these curves—her hip, her arm, the swan's neck, even her hair and the back of her chair—flow so, so . . ." She wants to say erotically but substitutes, "Beautifully."
His eyes crinkle with amusement. "Yes, they do. As you say, so beautifully."
Heat rises along her neck, and Paulien curses her pale skin, which constantly undermines her. "What I really like is how you can see his ideas evolving. Like here." She points to the face. "Her skin isn't classically smooth and pearly—it's blotchy. Made with thick brushstrokes. And with colors you wouldn't think of as skin tones: greens, purples, oranges."
M. Busler leans back and crosses his arms over his chest. "Would you like a cup of tea? Or perhaps something stronger?"
"Tea would be delightful, thank you." Paulien unpins her hat. Perhaps there is a job here.
He ushers her into a small alcove at the side of the gallery and prepares tea while they talk about Cézanne, Van Gogh, Seurat, Picasso, and her favorite, Henri Matisse. About when post-Impressionism began and who began it. After half an hour, they're Paulien and Alexandre.
"Listening to you," Alexandre says, "I would guess you are an artist. But your fingernails are too clean."
She smiles fleetingly. "Right now I'm looking for a position."
He appears confused.
"As an assistant. In an art gallery."
"But you are only a visitor to Paris, no? I hear from your accent that you are not French."
"Belgian. From Brussels. But then I was in London for school and stayed after I completed my studies. And . . . and now I'm living in Paris. Or will be soon."
"You would like to work here? At my gallery?"
"I would. Very much." Then she plunges into a recitation of her qualifications.
"Why did you leave London?" he asks.
She can't tell him the truth, so she says, "I didn't like it there. All that rain. And the English . . ." Her mother once told her that no specifics were necessary to convince a Frenchman of anyone's antipathy toward the British.
"Well, you know how they are."
"Indeed I do." Alexandre stands and retrieves a pen and notebook from his desk. He gives them to her. "Please write down all your particulars, how I can reach you, the exact years you were at the Slade, worked at Whitechapel, anything else you think I should know."
When Paulien finishes, she hands the notebook back and asks, "So you have a position?"
"I would not have said so before you walked in, but perhaps there is something we can do. Although it will not be full time and will pay next to nothing. At least not at the start."
"That's fine," Paulien tells him. "It will be fine."
Alexandre squints at what she's written. "You are staying at Le Meurice?" he asks. "Why would you want a small position here if you can afford to stay there?"
"I, ah, I . . ." She's unprepared for the question, looks down at her ring. "Well, you see, it's that I'm going to be married. Soon. And my fiancé is, well, he's quite well off. So . . ."
Alexandre glances at her quizzically and then down at the notebook in his hand.
"Mertens, Mertens . . . ," he mutters. "Belgium." Then he straightens up. "Aldric Mertens? Are you related to Aldric Mertens?"
Paulien is silenced by his harsh tone, by the cold glint of his eyes.
"You are the daughter," Alexandre declares, disgust creeping into his voice. "The one who was involved with that maggot Everard." He glowers at her. "It is no surprise then that you are so knowledgeable about art."
"Please, Alexandre, please let me explain. It's not what you—"
"My brother is dead because of . . . because of . . ." He chokes on the words, and his face reddens. "Your father, a supposed friend, persuaded him to invest, and he lost everything. Josèphe could not bear the embarrassment, the failure. He . . . he left his wife a widow and three little boys . . . without a centime."
Paulien jumps from her chair and takes a step toward him. "Oh no. No. I'm so sorry. So very sorry. That's—"
Alexandre holds up his hands, and she stops. "You need to leave." His voice is raspy; he's close to tears. "And if you are smart, you will also get out of that hotel. Out of Paris. This city is smaller than it seems."
Essay
Art, Literature, Storytelling, and Mrs. Whatsit
by B.A. Shapiro
When I was a little girl, I wanted to be an artist. My parents were accommodating, buying me paints and canvases, setting up a "studio" for me in a corner of our basement, and enrolling me in art classes at the Wadsworth Atheneum in Hartford, Connecticut. Unfortunately, it became clear early on that this was not where my talents lay.
So I moved on to other things: the Beatles, the Flintstones, and reading every novel I could get my hands on. I read A Wrinkle in Time and decided I wanted to be Mrs. Whatsit, an extraterrestrial being who could bend time and space to her whim. When my mother gently explained that this wasn't possible, I told her I wanted to write novels like Madeleine L'Engle. This, she assured me, was doable, but instead I became a sociologist.
Although I chose a more standard career path than that of artist or writer or centaur-like creature from the planet Ariel, my passion for art, literature, and storytelling never dimmed, and I've been a voracious reader, journal scribbler, and museumgoer my entire adult life. I was in my twenties the first time I visited the Barnes Foundation, a private museum in a magnificent beaux arts mansion outside of Philadelphia with arguably the best collection of post-Impressionist art in the world. As I stood in the main gallery, turning in a circle, taking in paintings by Matisse and Picasso and Cézanne, my first thought was that I could never be too rich. Why? Because nothing would make me happier than to be surrounded by great art. Particularly post-Impressionist art, vibrantly colored and emotionally charged, so brilliant and bold and free-spirited.
Although I was then in graduate school pursuing a degree in a completely unrelated field, I had an inkling that someday I would write a novel about these artists and the man, Albert Barnes, who created this heaven on earth. Thirty-five years later, I finally have. The Collector's Apprentice is that novel.
When I returned to the City of Brotherly Love to begin researching the book, I was shocked to discover that the Barnes Foundation was no longer in its stunning suburban manse in Merion. It had been moved in its entirety to a harsh modern building on Benjamin Franklin Parkway in Philadelphia. While I was pleased that the collection was now located in a more accessible place and open to the public, I was also taken aback. Albert Barnes's will stated that no piece of artwork could be removed from the wall on which he'd hung it, that each piece must remain in the same configuration within which he'd placed it—in Merion. And here it all was, in the center of the city.
Barnes chose his artwork with both genius and prescience in the first half of the twentieth century, when just about everyone in America believed Matisse and Cézanne to be madmen and their paintings to be rubbish. He planned to build a stately home for his derided masterworks and meticulously position them on the walls in unlikely groupings. His was a unique curatorial style that displayed art in a way it had never been displayed before—a way he hoped would allow visitors to see art as they had never seen it before.
But when he exhibited some of his post-Impressionist paintings in 1923—before his building was complete—disdain was heaped upon him by Philadelphia's high-society patrons and art critics, all of whom claimed the artworks to be "nonsensical clumps of nonsensical color" and "most unpleasant to contemplate." Vindictive and stubborn, Barnes declared that his foundation would never be a museum where churlish and unsympathetic gawkers roamed. So instead, he opened a school. The entire building was his classroom and the entire collection his subject matter. But only a few Barnes approved students were allowed to enroll—and only a few Barnes-approved individuals were allowed to visit.
How had this happened? How had a man's personal property been moved despite his clear intentions and written will? Who owns art? The person who buys it, or the worldwide community of art lovers who deserve to see some of the most masterful paintings ever created? Can you keep for yourself what belongs to posterity?
Now I was even more driven to write this novel, to dig into these questions and all the others I had. I immersed myself in the brilliance and eccentricity of Barnes and his fascinating assistant, Violette de Mazia. De Mazia was a mysterious, passionate woman, and the tangles and intrigues of her relationship with Barnes were riveting, as were the multiple trials and legal proceedings that ultimately wrenched Barnes's beloved collection from his grasp. Even better, I lost myself in the study of post-Impressionist art. I visited museums and libraries, interviewed curators and art teachers and historians. I began to write.
It was all mesmerizing, to me at least, but unfortunately my initial pages were not. Too much legal jargon. Too many years covered. Too much repetition. Not enough action. Flat characters. I had a lot of details, but too little plot. Dispirited, I read historical novels and mooned around art museums, hoping to find the threads of my story and the depth within my characters. During this time, a friend was conned by a man similar to Bernie Madoff, and then another was left at the altar. I wondered how my friends—both smart, educated women—could have been so hoodwinked. How had they missed the signs that were right in front of them? And who were these men, so clever and charming and despicable, who had fooled them so easily?
As I wandered the galleries of the Museum of Fine Arts in Boston one day, it struck me that this type of blindness happens frequently to many people, that seeing only what you want to see is an all-too-human failing. But more important, I realized that this notion underlay the story I was trying to tell: that despite an artist's intention, viewers see what they want to see in a work; that love is truly in the eye of the beholder; that passion, whether it be for a person or money or revenge or for art, can render the best of us blind. And then the most marvelous and villainous character came to me: George Everard, con man extraordinaire, who would wile his way into my heroine's heart and refuse to let go. When I read The Autobiography of Alice B. Toklas and envisioned 1920s Paris stretched out in front of me, suddenly it was all there.
Well, not really all there. It took another three years and dozens of rewrites to finish the damn thing. I fictionalized Barnes and de Mazia, collapsed time, added love triangles—one with Henri Matisse—and created a possible murder. Finally, the manuscript clicked into place. Although Mrs. Whatsit is nowhere to be seen, my love of art, literature, and storytelling certainly are. And like Mrs. Whatsit, doesn't every novelist bend time and space to her whim?