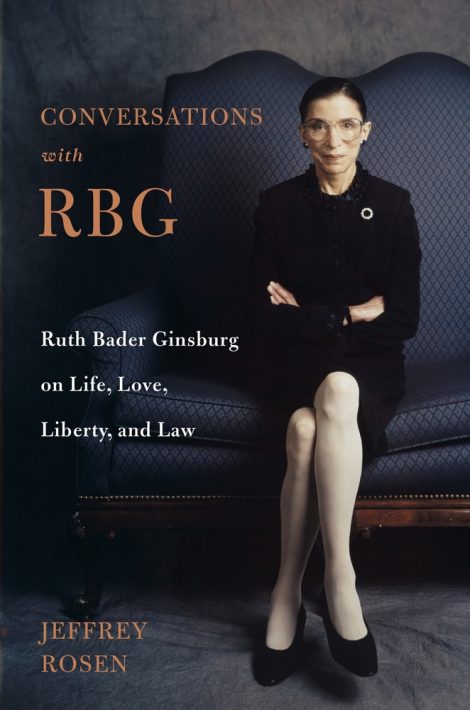 CONVERSATIONS WITH RBG
Ruth Bader Ginsburg on Life, Love, Liberty, and Law
---
In her own words, Ruth Bader Ginsburg offers an intimate look at her life and career, through an extraordinary series of conversations with the head of the National Constitution Center.
This remarkable book presents a unique portrait of Justice Ruth Bader Ginsburg, drawing on more than twenty years of conversations with Jeffrey Rosen, starting in the 1990s and continuing through the Trump era. Rosen, a veteran legal journalist, scholar, and president of the National Constitution Center, shares with us the justice's observations on a variety of topics, and her intellect, compassion, sense of humor, and humanity shine through.
In her own words, Ruth Bader Ginsburg offers an intimate look at her life and career, through an extraordinary series of conversations with the head of the National Constitution Center.
This remarkable book presents a unique portrait of Justice Ruth Bader Ginsburg, drawing on more than twenty years of conversations with Jeffrey Rosen, starting in the 1990s and continuing through the Trump era. Rosen, a veteran legal journalist, scholar, and president of the National Constitution Center, shares with us the justice's observations on a variety of topics, and her intellect, compassion, sense of humor, and humanity shine through. The affection they have for each other as friends is apparent in their banter and in their shared love for the Constitution—and for opera.
In Conversations with RBG, Justice Ginsburg discusses the future of Roe v. Wade, her favorite dissents, the cases she would most like to see overruled, the #MeToo movement, how to be a good listener, how to lead a productive and compassionate life, and of course the future of the Supreme Court itself. These frank exchanges illuminate the steely determination, self-mastery, and wit that have inspired Americans of all ages to embrace the woman known to all as "Notorious RBG."
Whatever the topic, Justice Ginsburg always has something interesting—and often surprising—to say. And while few of us will ever have the opportunity to chat with her face-to-face, Jeffrey Rosen brings us by her side as never before. Conversations with RBG is a deeply felt portrait of an American hero.
Henry Holt and Co.
Paperback
November 2019
272 Pages
9781250235169
Praise
"Imagine having a cup of coffee with Justice Ruth Bader Ginsburg and chatting about law, the Supreme Court, marriage, family, music, wins and losses. If that seems unlikely to happen, Jeffrey Rosen's Conversations with RBG is the best possible substitute." —Linda Greenhouse, Pulitzer Prize-winning former Supreme Court correspondent of The New York Times and author of Becoming Justice Blackmun
"Ruth Bader Ginsburg's vantage on American law and politics is without equal. This collection of interviews, conducted over decades, covers her distinguished career as a lawyer, judge, and Supreme Court justice, and gets to the very heart of her understanding of the Constitution, and what's at stake in its interpretation." —Jill Lepore, author of These Truths: A History of the United States
"Ruth Bader Ginsburg is a pivotal figure in American history—a pathbreaking litigator and Supreme Court justice. Conversations with RBG is a fascinating look at the person behind the cases and opinions. Justice Ginsburg's humor, deep intellect, and warmth shine through in this captivating book." —Annette Gordon-Reed, Pulitzer Prize-winning author of The Hemingses of Monticello and Charles Warren Professor of American Legal History, Harvard Law School
"In this discerning work . . . Rosen's helpful notes and straightforward interview style allow Ginsburg's exceptional legal mind to take center stage. The justice's many admirers, as well as readers interested in constitutional law, will find this book to be full of valuable insights." —Publishers Weekly
Excerpt
1
Her Landmark Cases
As co-founder of the American Civil Liberties Union's Women's Rights Project, Ruth Bader Ginsburg sought from 1972 to 1980 to persuade the Supreme Court that legislation apparently designed to benefit or protect women could often have the opposite effect. For this reason, she chose to represent a series of male plaintiffs who had been denied legal benefits designated for women. This visionary strategy forced the Court to articulate a standard of scrutiny for gender discrimination that could be applied neutrally to either sex. Her model was Thurgood Marshall, the pathbreaking advocate who successfully argued Brown v. Board of Education, the 1954 Supreme Court case that struck down school segregation. As the founder and first director-counsel of the NAACP Legal Defense Fund, Marshall pursued an incremental strategy, at first representing African Americans who had been denied access to segregated law schools before taking on segregation in other public educational institutions that affected more people. Ginsburg, inspired by Marshall's example, also decided to move incrementally. She represented plaintiffs with whom the male judges of the 1970s were most likely to identify.Ginsburg often discussed with me the cases from what she called the "bad old days," when the Court repeatedly upheld distinctions on the basis of sex. These were the cases she set out to overturn. In one of them, Hoyt v. Florida (1961), Gwendolyn Hoyt was convicted of murder by an all-male jury. In an unsuccessful challenge to the gender-based exclusion of women from the jury pool, Hoyt was represented by one of Ginsburg's heroes, the feminist lawyer Dorothy Kenyon. Later, when Ginsburg briefed her first Supreme Court case, Reed v. Reed, she put the names of Kenyon and another pioneering lawyer and civil rights activist, Pauli Murray, on the brief.
Reed v. Reed involved a divorced couple, Sally and Cecil Reed, who had shared custody of their adopted son, Richard, known as Skip. One weekend, when Skip asked his mother if he could come home early from his father's house, Sally told him that the law required the boy to stay, and in despair he fatally shot himself.1 Overcome with grief, Sally applied to be the administrator of her son's estate, but an Idaho court rejected her request, citing a state law providing that "of several persons claiming and equally entitled to administer, males must be preferred to females." In her appeal of Sally Reed's case, Ginsburg was principal author of a brief comparing sex discrimination to race discrimination and arguing that the Idaho law should be subject to the same "strict scrutiny" standard as race discrimination, because sex and race were both "congenital, unalterable" traits "with no necessary relationship to talent or ability to perform." Ginsburg also argued that because Cecil and Sally Reed were "similarly situated," either could administer the estate equally well. On November 22, 1971, a unanimous Supreme Court, in an opinion by Chief Justice Warren Burger, struck down the Idaho law, for the first time invoking the Equal Protection Clause of the Fourteenth Amendment to the Constitution to invalidate discrimination on the basis of sex. But the victory was not complete. The Court had invalidated the statute because it imposed an "arbitrary legislative choice," choosing not to apply the "strict scrutiny" standard of gender-based discrimination that Ginsburg thought the Constitution required.
In another case, Frontiero v. Richardson, Ginsburg argued that the husbands of servicewomen deserved the same benefits as the wives of servicemen. When Sharon Frontiero, a physical therapist at an air force hospital in Montgomery, Alabama, got married, she was surprised to find that, unlike her male colleagues in the air force, who could claim their wives as "dependents" regardless of whether they actually depended on their husbands for support, she had not received the increased housing allowance that the men received when they married. Under the law, servicewomen could receive the increased housing allowance only if they proved they were contributing more than half the living expenses of their husbands.
Ginsburg argued that instead of cutting off the benefit for men who got married, the allowance should be extended to both sexes, following Justice Harlan's reasoning in Welsh v. United States that extension is just as valid a remedy as invalidation. She also made clear that the current policy penalized male spouses of female service members. Her oral argument was so powerful that the justices did not once interrupt her with questions, and in May 1973 the Court struck down the gender distinction, with a plurality of the justices indicating that they were willing to subject sex-based classifications to strict judicial scrutiny. The fifth vote for "strict scrutiny" never materialized, however, and in Craig v. Boren (1976), Ginsburg persuaded the Court to compromise on a standard known as "intermediate scrutiny" and to treat gender-based discrimination only slightly less skeptically than race-based discrimination.
One of Ginsburg's favorite cases as an advocate was Weinberger v. Wiesenfeld (1975), in which she represented a young widower who had been denied the Social Security survivor's benefits for which he would have qualified if he had been female, and which would have enabled him to remain at home to care for his infant son. The law appeared to discriminate against men alone, but Ginsburg argued successfully that the discrimination was, in fact, "double-edged": it relied on "archaic stereotypes" of men as breadwinners and women as caregivers; while the law required women to pay the same Social Security taxes as men, it gave fewer benefits to their families. The Supreme Court unanimously agreed.
Ginsburg and I spoke frequently over the years about the human stories behind her landmark cases during her time at the ACLU. She viewed her advocacy not as a crusade for abstract principles but as a fight for justice for individual men and women disadvantaged by laws that discriminated on the basis of sex. In describing the cases, she always combined remarkable precision about the technicalities of the law and the details of the facts with concern for the human beings involved.
* * *
JR: When you were an ACLU litigator in the seventies, you were called the Thurgood Marshall of the women's movement.
RBG: He was my model as a lawyer. You mentioned that I took a step-by-step, incremental approach. Well, that's what he did. He didn't come to the Court on day one and say, "End apartheid in America." He started with law schools and universities, and until he had those building blocks, he didn't ask the Court to end separate but equal. Of course, there was a huge difference between the litigation for gender equality in the seventies and the civil rights struggles in the fifties and sixties. The difference between Thurgood Marshall and me, most notably, is that my life was never in danger. His was. He would go to a southern town to defend people, some of them falsely accused, and he literally didn't know whether he would be alive at the end of the day. I never faced that kind of problem.
JR: How much did your experience with the ACLU influence the kind of justice you became?
RBG: When I was writing briefs for the ACLU Women's Rights Project, I tried to write them so that a justice who agreed with me could write his opinion from the brief. I conceived of myself in large part as a teacher. There wasn't a great understanding of gender discrimination. People knew that race discrimination was an odious thing, but there were many who thought that all the gender-based differentials in the law operated benignly in women's favor. So, my objective was to take the Court step by step to the realization, in Justice Brennan's words, that the pedestal on which some thought women were standing all too often turned out to be a cage.
JR: And you're taking a similar approach in your dissenting opinions today?
RBG: My dissenting opinions, like my briefs, are intended to persuade. And sometimes one must be forceful about saying how wrong the Court's decision is.
JR: Let's talk about the laws you were able to chip away at during your time at the ACLU. Can you walk me through some of the most important victories?
RBG: Every one of these cases involved a law based on the premise that men earned the family's bread and women tended to the home and children. Wiesenfeld is probably the best illustration. The plaintiff, Stephen Wiesenfeld, was a man whose wife died in childbirth. He wanted to care personally for his infant, so he sought the child-in-care Social Security benefits that would enable him to do so. But those benefits were available only for widows, not widowers. Wiesenfeld's wage-earning wife had paid the same Social Security taxes that a man paid. But they netted less protection for her family. The male spouse was disadvantaged as a parent. We were trying to get rid of all laws modeled on that stereotypical view of the world, that men earn the bread and women take care of the home and children.
Stephen Wiesenfeld's wife was a teacher. She had a very healthy pregnancy. She was in the classroom until the ninth month. She went to the hospital to give birth, and the doctor tells Stephen, "You have a healthy baby boy, but your wife died of an embolism." And Stephen Wiesenfeld vowed that he would work only part-time until his son was in school full-time. So he applied for the Social Security benefits that he thought were available when a wage earner dies and leaves a child in the care of the surviving parent. He went to his Social Security office and was told, "Sorry, Mr. Wiesenfeld, that benefit is a mother's benefit, and you are not a mother." The point was: the woman paid her Social Security taxes; the government did not extend to her family the same protection it would extend to a man's family. The man doesn't have the choice to be a caregiving parent. He doesn't get any help when his life partner has died. We were attacking the notion that men don't take care of children, and women are not real wage earners; they are, at most, pin money earners.
JR: How did the Court rule?
RBG: The Court's judgment was unanimous, although the justices divided three ways on the reasons. Some said it's obviously discrimination against the woman as wage earner. She pays the same Social Security taxes as men pay, but the law doesn't give her family the same protection. Some thought it was discrimination against the man as parent. And one, Justice Rehnquist, said this is totally arbitrary from the point of view of the baby. Why should the baby have the opportunity for the care of a sole surviving parent when the parent is female, but not when the parent is male? We were confronting the justices with real-life situations so they could understand that what they once thought was a system operating benignly in women's favor in fact disadvantaged them. Even in Stephen Wiesenfeld's case—why was the law that way? Because women were thought to be the caregivers, the caregivers of the child. The aim was to break down the stereotypical view of men's roles and women's roles.
JR: You're not a fan of paternalistic stereotypes.
RBG: No.
JR: And when you litigated those cases, you faced male judges who had many of those stereotypical views, and you decided, therefore, to represent male plaintiffs, because you thought that they could better empathize with guys like them.
RBG: Well, I had at least as many—more women plaintiffs than men plaintiffs. We were trying to educate the Court that pigeonholing people because they are a woman or because they are a man, to say, "Men can be a doctor, lawyer, Indian chief, but girls can keep the house clean and take care of the children"—there's something wrong with that view of the world, a man's world with small space in it for woman, relegated to her own confined corner. Our argument: don't stereotype people because they are male or because they are female. Recognizing that the stereotype might well be true for the vast majority of people, but there are people who don't fit the mold, and they should be allowed to make choices, to live their lives without being pigeonholed because of their sex.
JR: What was the world like when you started litigating your cases in the 1960s?
RBG: Young people today have no idea what the world was like then. Women were either not called at all for jury duty, or given an automatic excuse. Under the law, "any woman" could be excused from jury duty. Dorothy Kenyon's mission was to end the differential treatment of men and women for jury service purposes, and she had the perfect case, Hoyt v. Florida.
Gwendolyn Hoyt, a woman from Hillsborough County, Florida, had a bitter dispute with her philandering, abusive husband and was humiliated to the breaking point. She spied her young son's baseball bat in the corner of the room, seized it, and with all her might hit her husband over the head. He fell against the hard floor. End of the altercation, beginning of the murder prosecution.
She was tried in Hillsborough County, Florida, where they didn't put women on the jury roll. Women could come to the clerk's office and volunteer. Hoyt's idea was: if I have women on this jury, maybe they're not going to acquit me, but maybe they will better understand my state of mind and convict me of the lesser crime of manslaughter instead of murder. Well, she was convicted of murder by an all-male jury, and her case came to the Supreme Court in 1961. We are now in the years of the "liberal Warren Court." They didn't get it.
JR: What happened to Gwendolyn Hoyt at the Supreme Court?
RBG: The argument in the Supreme Court was that she didn't have the opportunity for a jury drawn from a cross section of the population because half the population was left out. The Supreme Court said that law was simply reflecting women's place at the center of home and family life.
The Court's response was: "We don't understand this complaint. Women have the best of all possible worlds. They can serve if they want to, they don't have to serve if they don't want to." You can imagine Gwendolyn Hoyt: "What about me, you know, and my right to have a jury of my peers?" That case, lost in 1961, was an easy win in the seventies, before the not-so-liberal Burger Court. Why? Because society had changed. Because women had woken up. Because there was a worldwide movement, the UN had declared 1975 International Women's Year. It was that societal change that the Court's decisions reflected in the gender discrimination cases of the seventies.
JR: Tell me more about the state of gender discrimination law in the 1960s.
RBG: Rights were alive across the land in the sixties as a result of the civil rights movement, but the United States Supreme Court had never, in its entire history, held any classification based on gender unconstitutional.
Copyright © 2019 by Jeffrey Rosen