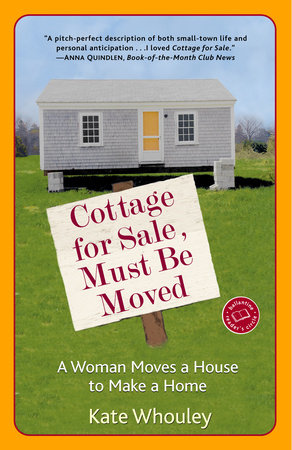 COTTAGE FOR SALE, MUST BE MOVED
A Woman Moves a House to Make a Home
---
After a classified ad for an abandoned vacation cottage sparks Kate Whouley's imagination, she becomes determined to attach the tiny building to her three-room house. Town politics and construction mishaps test her resolve, but Kate and her bossy gray cat exercise willful persistence in their single-minded pursuit of a place called home. Sometimes hilarious, often moving, this story of her year-long adventure is a also a meditation on friendship, family, commitment, creativity, and the possibility of making our dreams come true. <264783>
After a classified ad for an abandoned vacation cottage sparks Kate Whouley's imagination, she becomes determined to attach the tiny building to her three-room house. Town politics and construction mishaps test her resolve, but Kate and her bossy gray cat exercise willful persistence in their single-minded pursuit of a place called home. Sometimes hilarious, often moving, this story of her year-long adventure is a also a meditation on friendship, family, commitment, creativity, and the possibility of making our dreams come true. <264783>
Ballantine
Paperback
2005
318 Pages
9780345480187
Praise
"There is so much here you will want to read it twice… a cast of characters that range from interesting to eccentric, a series of misadventures that might have come from a comic novel, and a narrative style that makes you keep turning the pages." —Booklist
"Whouley's gentle memoir… deftly explores the themes of independence, pride of place and loss." —The New York Times
#5 of the Top Ten Book Sense Reading Group Picks, 2006-2007
Discussion Questions
The book opens with Kate admitting she is "a compulsive reader of the classifieds." She describes classified ads "as the skeletons of stories, waiting for me to invent their skin." How did this admission affect your perception of Kate? Was your initial impression confirmed, or did it change as the story unfolded?
"It takes a village to move a cottage," Kate writes. What roles do Kate's family and friends play during her house-moving year? How does her sense of community expand during the course of the project?
Town Hall put Kate through her paces with paperwork, hearings and challenges. She bought the cottage before she had permission to undertake the project. Did you see this as a calculated risk or an act of faith? How do faith and risk-taking contribute to our lives?
Kate developed a series of individual relationships with the workmen on her project. Discuss the evolution, differences or similarities in her relationships with Ed, John, Mr. Hayden and Vito. Whom among the workmen would you most like to meet?
There are many moments in the story when Kate grapples with being female. Did you identify with her struggle? Have you ever felt limited or empowered by your gender?
"Aren't there a million different kinds of imagination?" Kate asks, as she contemplates "how much creativity it takes just to get through an average day." How does Kate's imagination influence the outcome of the project and the story? What kinds of imagination do you use in your own life?
"The man will arrive when I have room for him." Kate hopes her expanded home will help her love life. Do you believe there is some truth in this, or do you see it as just wishful thinking?
Readers and reviewers have mentioned they were "surprised" by this book; some have confessed they never thought a book about moving a house could be so compelling. What aspects of Cottage for Sale were most compelling for you? Aside from the house-moving plot, what do you think this book is about?