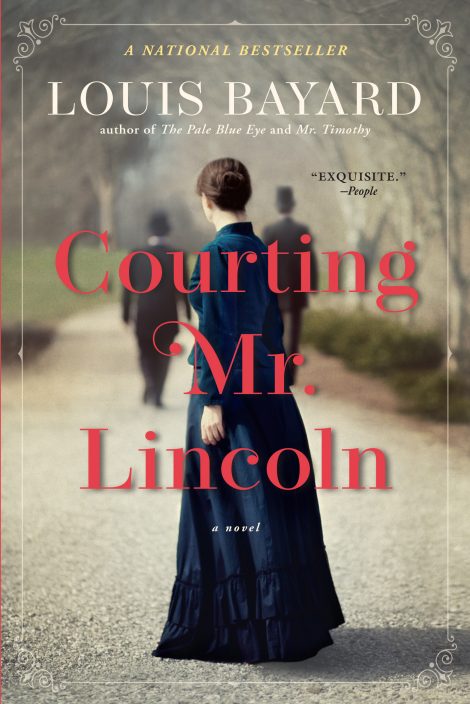 COURTING MR. LINCOLN
A Novel
---
A page-turning novel about the brilliant, melancholic future president and the two people who knew him best: his handsome and charming confidant (and roommate), Joshua Speed, and the spirited young debutante Mary Todd.
When Mary Todd meets Abraham Lincoln in Springfield in the winter of 1840, he is on no one's short list to be president. A country lawyer living above a dry goods shop, he is lacking both money and manners, and his gift for oratory surprises those who meet him. Mary, a quick, self-possessed debutante with an interest in debates and elections, at first finds him an enigma.
A page-turning novel about the brilliant, melancholic future president and the two people who knew him best: his handsome and charming confidant (and roommate), Joshua Speed, and the spirited young debutante Mary Todd.
When Mary Todd meets Abraham Lincoln in Springfield in the winter of 1840, he is on no one's short list to be president. A country lawyer living above a dry goods shop, he is lacking both money and manners, and his gift for oratory surprises those who meet him. Mary, a quick, self-possessed debutante with an interest in debates and elections, at first finds him an enigma. "I can only hope," she tells his roommate, the handsome, charming Joshua Speed, "that his waters being so very still, they also run deep."
It's not long, though, before she sees the Lincoln that Speed knows: an amiable, profound man who, despite his awkwardness, has a gentle wit to match his genius, and who respects her keen political mind. But as her relationship with Lincoln deepens, she must confront his inseparable friendship with Speed, who has taught his roommate how to dance, dress, and navigate the polite society of Springfield.
Told in the alternating voices of Mary Todd and Joshua Speed, and inspired by historical events, Courting Mr. Lincoln creates a sympathetic and complex portrait of Mary unlike any that has come before; a moving portrayal of the deep and very real connection between the two men; and most of all, an evocation of the unformed man who would grow into one of the nation's most beloved presidents. Louis Bayard, a master storyteller, delivers here a page-turning tale of love, longing, and forbidden possibilities.
Algonquin Books
Paperback
February 2020
416 Pages
9781643750446
Praise
An Amazon Best of the Month for April
A May Indie Next Pick
"An exquisite historical reimagining of a love acknowledged—and a longing denied." —People (Book of the Week)

"Bayard has written eight other novels, and he's extraordinarily gifted at blending provocative fiction with history. The details of [Mary Todd and Lincoln's] courtship are lovely to read, but Lincoln's time with Speed is much more riveting. At book's end, who's courting Lincoln remains an enticing mystery." —Washington Post

"Courting Mr. Lincoln is a fascinating (and partly fictional) exploration of not only the 16th president, but those enamored by him." —Advocate.com
"A rich, fascinating and romantic union of fact and imagination about young Lincoln, the woman he would marry and his beloved best friend. Bayard's compelling take on this question is not academic, nor is it a polemic; Courting Mr. Lincoln is intimate, warm and, above all, compassionate. Bayard is concerned with the possibilities of the human heart, and he presents an enigmatic Lincoln seen—and loved—from two other points of a romantic triangle . . . the greatest triumph of Courting Mr. Lincoln is how effectively Bayard creates suspense, even when we know how the story ends. Love is love is love, after all, and he invests us deeply in the moving journey of three extraordinary people." —Newsday
"Bayard's masterful command of language enchants and thrills; his meticulous, almost otherworldly, understanding of his historical subject awes and inspires . . . Courting Mr. Lincoln is Bayard at his absolute best. He offers more reasons to love one of the most admired presidents in U.S. history and proves yet again why he himself is one of the nation's greatest literary gems." —Shelf Awareness
"Thoroughly researched and thrillingly plotted . . . Filled with rich historical detail and compulsively readable, Courting Mr. Lincoln is a story of a best friend, a future wife, and the political legend that they came together to create, each leaving an indelible mark on the man that would one day become president. Fans of historical fiction will be up late into the night to uncover the next chapter of this fascinating time in history." —New York Journal of Books
"Bayard does an exceptional job of keeping readers engrossed as he weaves fact and fiction in this intriguing tale of intimacy between Lincoln and his two closest confidantes." —BookPage
"A wildly clever imagining of Honest Abe's complicated personal life. In Courting Mr. Lincoln, Louis Bayard, an accomplished historical novelist, breathes life into the massive cultural icon whom we know so well, but really don't have much of a clue about. Read the book. You'll thank me." —Washington Independent Review of Books
"A miracle; an exquisite story exquisitely told. This glorious novel, big-hearted and clear-eyed, features the most uncanny incarnation of our sixteenth president since Daniel Day-Lewis strode onscreen in Lincoln. If you love Jane Austen, or Hamilton, or fiction—of any era—that transports and transforms in equal measure, look no further. 'Whatever you are, be a good one,' Lincoln urged. Courting Mr. Lincoln is a good one—as good as storytelling gets."
—A.J. Finn, bestselling author of The Woman in the Window
"Delightful . . . Readers will delight in Joshua and Mary, who provide unique reflections on a man who is deeply troubled about the path his country is on . . .This charming love story delicately reveals the emotional roller coaster of two inexperienced adults traversing the unknown realm of love while trying to meet the demands and expectations of society." —Publishers Weekly
"[An] acute and passionate portrait . . . in Bayard's skilled hands, three complicated people groping toward a new phase in their lives is all the plot you need." —Kirkus Reviews, starred review
"With a richly imagined setting and complex characters . . . this [is] a worthy addition to the fiction-about-Lincoln bookshelf." —Booklist
Discussion Questions
1. In the first chapter, Mary Todd is described by a fellow stagecoach passenger as "going to her future." What kind of future could a young woman of Mary's time and circumstances have expected?
2. What effect does the frontier setting of Springfield, Illinois have on the story?
3. In one scene, Mary makes an impulsive decision to hop into a dray. Why was such an act considered newsworthy enough to mention in the local paper? What does it say about Mary's character?
4. Mary compares herself and Mercy to "soldiers," seeking to "vanquish" and "subdue." What does this metaphor say about mid-19th century relations between men and woman?
5. How are Mary and Lincoln able to overcome the awkwardness of their first meeting? What commonalities do they find in each other?
6. How does Lincoln regain Mary's affections after the disastrous picnic? Does that reveal anything about the nature of their relationship?
7. Do you think Lincoln is being sincere when he says that meeting Joshua was "the greatest fortune that ever befell me"? Does that declaration change their feelings for each other?
8. This book has the structure of a love triangle, with Lincoln at the center. Who do you think he truly loves, and how? What do you think lies at the heart of Mary's feelings for Lincoln? Of Joshua's?
9. In her conversation with Joshua, Mrs. Francis declares that Lincoln "must marry somebody." Do you agree? How would Lincoln's political career have been different if he'd remained a bachelor?
10. "You should have just killed me," whispers Joshua after his wrestling match with Lincoln. What is the source of this despair? How does it color his actions?
11. What does Joshua take away from his encounter with Billy Greene? Does it change his feelings about Lincoln? About himself?
12. Matilda Edwards takes it upon herself to advise Mary in her romantic dealings with Lincoln. Why does she take such an interest? Why does Mary heed her counsel? What effect does that counsel have?
13. Mary is haunted throughout the novel by the sound of flapping wings. Why does she find it so alarming? What does the sound symbolize for her?
14. The epilogue gives us glimpses of both Joshua and Mary in their later lives. How are these episodes colored by what we've already read?
15. "How could anyone be known," wonders Mary on her wedding night, "here on God's green earth?" Do you agree that people are fundamentally unknowable? Can fiction make people more knowable?
Essay
An Essay by Louis Bayard: Inside an Enigma
According to the Library of Congress catalog, 9,100 books have been published on the subject of Abraham Lincoln. Or if you like: on at least 9,100 occasions, some poor fool has tried to get the measure of him. Which raises the question of whether, at this advanced date, any other book or any other measuring is required.
And if I venture to say "yes"—even an emphatic "yes"—it's not so much because of Lincoln's undeniable historical importance. It's because of Lincoln himself and his refusal to be pinned down.
Was he the compulsive joke teller or the suicidal depressive? The honest storekeeper who traveled miles to return change to his customers or the sharp-elbowed pol who freely slandered his enemies? The defender of constitutional democracy or the dictator who imprisoned thousands without trial? The Great Emancipator or the canny strategist who saw emancipation as a tool for winning a war?
He must, perforce, be some combination of those things and of many more things, and nobody, as a result, can be surprised that after 9,100 books we still don't have a handle on him.
Even the people who knew Lincoln while he was alive never felt as though they knew him. He was, according to one advisor, "the most reticent, secretive man I ever saw or expect to see." In the words of his longtime law partner William Herndon, Lincoln was "an enigma—a sphinx—a riddle . . . incommunicative—silent."
Of all the mysteries that enveloped the man, perhaps the most profound was his choice of life mate. It certainly puzzled contemporaries like Herndon, who referred to Mary Todd Lincoln variously as a "she wolf," a "tigress," and "the female wild cat of the age." Even scholars more sympathetically inclined to her have wondered what drew Lincoln to such a complicated creature. What, for that matter, drew her to him? How did two such disparate people find each other and embark on this fraught and troubled and, at the same time, loving and enduring alliance?
As I began working on Courting Mr. Lincoln, these were the questions that sent me back in the time machine to Springfield, Illinois, circa 1841.
I didn't recognize the Mary Todd I found there. This was not the madwoman or spendthrift or shrew of popular imagination. This was an attractive and vivacious and intelligent young woman, unusually well educated for her era, with an abiding love for politics.
It was a passion she came by honestly. The Todd dynasty numbered governors, Scots Covenanters, Revolutionary War heroes—not to mention Mary's own father, who worked his way up from owner of a dry-goods store to legislative clerk, councilman, city magistrate, sheriff, assemblyman, and finally, Kentucky state senator.
Small wonder, then, that Mary imbibed politics from earliest infancy. If she had come up in a more modern era, she might well have staked her own claim to office, but in those pre-suffrage days, her only outlet was to find a promising candidate to marry.
And herein another mystery: why did she settle on Abraham Lincoln?
To be sure, he was a lawyer and orator of natural gifts. But he was also raw, uncouth, uneducated, still deep in debt, and on nobody's short list to become president of the United States. Somehow or other, Mary Todd divined his potential and never once, so far as we know, questioned her choice.
At this point, then, I had all the makings of a classic Pride and Prejudice–style courtship scenario, relocated to old Springfield. But it was while roaming those streets that I found another figure lurking in the shadows. His name was Joshua Speed.
Like Mary, he was a child of Kentucky aristocracy. Like Mary's father, he was the owner of a dry-goods store. And it was over this store that Lincoln lived, and it was Joshua Speed's bed that Lincoln shared for more than four years.
The customary caveat rushes in: bedding in those days was expensive, and bachelors were often obliged to share sleeping quarters. What made these two bachelors different was the degree of their intimacy.
"No two men were ever closer"—that was how Speed himself would later describe their friendship. Carl Sandburg, writing in the early twentieth century, went a little farther, suggesting that Lincoln and Speed had "streaks of lavender" about them. And in recent decades, scholars like C. A. Tripp and Charles Strozier have begun to investigate the nature of this relationship. Why did such an attractive man as Speed wait so long to marry? Why did Lincoln himself hold off on marrying until Speed had gone to the altar? Why did he demand that Speed write him the day after his wedding to tell him how the wedding night had gone?
These questions have generated robust differences of opinion, and I can't hope to resolve them with a single book, nor would I want to. I can only say that when I first read Lincoln's letters to Speed (one of which is reproduced in Courting Mr. Lincoln), I found two men actually trying to coax and coach each other into normative heterosexual lifestyles. And with that, this courtship story became a love triangle—with Lincoln himself at the center—and with Mary Todd and Joshua Speed as dual narrators, sometime rivals and also sometime allies.
The result, I hope, is a novel that honors all three parties—including the enigmatic Mr. Lincoln, who walks and talks and bleeds on these pages. At the same time, I hope it reaffirms and reanimates the essential riddle of why people come to love each other.
At one point in the story, Mary Todd asks: "How could anyone be known—anyone at all—here on God's green earth?" To me, it's the premise of fiction that we can, at some level, know, and at the same time never know. So as the author of roughly the 9,101st book about Abraham Lincoln, I freely embrace the speculative over the definitive, with the goal, finally, of transmitting some of Lincoln's mystery—and finding, on the other side, open hearts and minds.