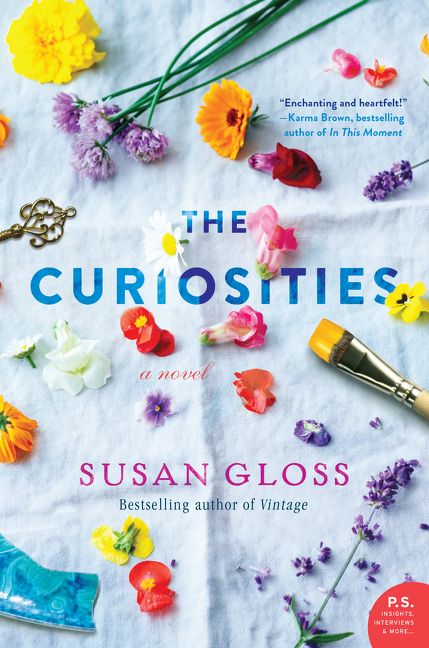 THE CURIOSITIES
A Novel
---
The follow-up to Susan Gloss's successful debut, Vintage, is a charming mid-western story of artists, inspiration, and how to reinvent your life with purpose and flair.
Nell Parker has a PhD in Art History, a loving husband named Josh, and a Craftsman bungalow in Madison, WI. But her last pregnancy ended later in the second trimester, and rather than pausing to grieve, she pushes harder for testing and fertility treatments. Urging Nell to apply for jobs, Josh believes his wife needs something else to focus on other than a baby that may never be.
Finding a job turns out to be difficult for an art historian .
The follow-up to Susan Gloss's successful debut, Vintage, is a charming mid-western story of artists, inspiration, and how to reinvent your life with purpose and flair.
Nell Parker has a PhD in Art History, a loving husband named Josh, and a Craftsman bungalow in Madison, WI. But her last pregnancy ended later in the second trimester, and rather than pausing to grieve, she pushes harder for testing and fertility treatments. Urging Nell to apply for jobs, Josh believes his wife needs something else to focus on other than a baby that may never be.
Finding a job turns out to be difficult for an art historian . . . until Nell sees the ad seeking a director for a new nonprofit called the Mansion Hill Artists' Colony. The colony is the brainchild of the late, unconventional society dame Betsy Barrett, who left behind her vast fortune and a killer collection of modern art to establish an artist-in-residency program to be run out of her lakeside mansion. The executor of Betsy's estate simply hands Nell a set of house keys and wishes her luck, leaving her to manage the mansion and the eccentric personalities of the artists who live there on her own.
Soon one of the artists, a young metal sculptor named Odin, is keeping the other residents awake with his late-night welding projects. Nell is pretty sure that Annie, a dreadlocked granny known for her avant garde performance pieces, is dealing drugs out of the basement "studio." Meanwhile Paige, an art student from the university, takes up residence in the third-floor turret, experimenting with new printing and design techniques, as well as leading a string of bad boyfriends upstairs when she stumbles home late at night.
Despite all the drama, Nell finds something akin to a family among the members of the creative community that she's brought together. And when her attraction to Odin begins to heat up, Nell is forced to decide what will bring her greater joy—the creative, inspired world she's created, or the familiar but increasingly fragile one of her marriage.
William Morrow
Hardcover
February 2019
368 Pages
9780062933768
Praise
"Featuring a cast of characters as varied as the art they create, Susan Gloss's The Curiosities is about chasing dreams, second chances, and the gift of redemption. Enchanting and heartfelt!" – Karma Brown, Bestselling author of In This Moment
"A richly layered tale of the intersection of five very different lives, The Curiosities uniquely depicts how each step in the journey leads us where we're ultimately meant to be. Page by page, Gloss proves that the beauty of life—like art—is often revealed to us a little at a time. The Curiosities is an absolute must read!" – Kristy Woodson Harvey, national bestselling author of Slightly South of Simple
"Driven by an eclectric mix mix of characters navigating dreams, disappointments, and second chances, The Curiosities is, at its heart, a celebration of creativity, self, and finding your own way. Thoroughly satisfying, from the first page to the last." – Jessica Strawser, author of Not That I Could Tell
"The Curiosities is a stained glass window of a novel: lovely, glowing and precise. Set in a community of artists who are outwardly coming together and inwardly coming apart, Susan Gloss's writing brims with insight into grief and joy, love and regret." – Greer Macallister, bestselling author of The Magician's Lie and Girl in Disguise
Excerpt
Chapter One
Nell
PIECE: Edwin Blashfield, Pioneers, circa 1917. Oil painting. Currently on long-term loan from the Elizabeth Barrett Trust for the Fine Arts to the University of Wisconsin.
Outside the windows of the dean's residence, white lights left over from the holidays twinkled on bare tree branches, lending a festive glow to the otherwise quiet neighborhood. But inside the walls of the stately brick home, Nell Parker wasn't feeling particularly festive, despite the cocktails being passed and the red dress she'd bought for the occasion.
She hadn't wanted to come. Not today, when she was expecting news. But Josh had insisted. Rumors had already begun to circulate among the law faculty that in the wake of his recent award, the young professor might leave Madison for one of the East Coast schools that kept courting him. He and Nell both needed to be at the reception, Josh had said, to show people that they planned to put down roots here.
"To be honest, I don't really want to go, either," he'd said earlier that evening. "I'd much rather just put a movie on and stay in tonight. But showing up at stuff like this is important for tenure. And maybe the party will help get our minds off waiting."
Nell had zipped up her dress and said, "I don't think there's much chance of that. But I'll go." She'd walked over to where he stood in front of the mirror and kissed him just below his earlobe, her lips brushing against his short-clipped beard.
Now, she set her still-full wineglass on the windowsill and dug in her purse for her cell phone. She stole a glimpse at the screen to check the time. 4:47. The clinic would be closing in thirteen minutes.
What could possibly be taking so long? she wondered. She curbed the impulse to call the clinic yet again. She'd already called three times since she went in for blood work that morning. Each time, the receptionist had told her, "Your lab results aren't in yet. A nurse will call you as soon as they are available." The woman's tone was calm and even, which only served to highlight how frantic Nell felt, how light-headed and desperate. The receptionist talked about how the wait time so far wasn't outside the "usual time frame" it took "the lab" to process samples. It all sounded so neutral, so medical. Nothing about any of this felt neutral to Nell.
She stared at her phone and watched the digital display turn from 4:47 to 4:48. She'd give the clinic five more minutes and, if she still hadn't heard anything, she'd call again. The last thing her nerves needed was to be in limbo all weekend, waiting for the clinic to open Monday.
Across the wood-paneled room, Josh looked to be deep in conversation with an older, taller version of himself, right down to the square glasses and sweating glass of Scotch. Nell recognized the other man as a member of the law faculty, but couldn't remember his name. She and Josh had lived in Madison for a year and a half now, but Nell still couldn't keep Josh's colleagues and all their disciplines straight, even with mnemonic devices. Square glasses and Scotch go with Stanley Something Something, she remembered. But did he teach Constitutional Law or Contracts?
Josh caught her eye and made a beckoning motion, as if to invite her into the conversation. She took a few steps toward them, enough to hear the older professor discussing an exhibit he'd seen at the art museum on campus, of paintings by Edwin Blashfield, the same artist who'd done the ceiling mural inside the dome of the State Capitol building.
"My wife has a PhD in art history," she heard Josh say. "I'm sure she'd love to check it out." He nodded in her direction. "Nell, you remember Stan . . ."
But her phone buzzed in her hand just then. Nell held it up to show him and said, "Excuse me, I've got to take this."
She hurried out to the foyer. More partygoers flowed into the house, checking their coats with a young hostess in a sparkly green dress, probably a student. Nell envied her. Not just for the way she wore the flimsy garment without even a suggestion of self-consciousness—no tug at the short hemline, no pulling up of the thin straps—but also for her station in life. Nell thought back to when she'd been around the same age, early twenties, maybe. She'd been living in Chicago and just starting grad school. Back then, her cares never extended beyond considering which jeans best flattered her backside when she went out with friends or which seminar to take (Poststructuralism or Postminimalism?). How things had changed.
Nell answered the phone. "Hello?" Her eyes darted around for a private place to talk. She tried the door to a powder room she'd spotted earlier, but it was locked.
"Hello," said a familiar male voice. "Is this Nell?"
"Yes," she managed to say. "Dr. Lynch?" She could feel her heart thumping inside her rib cage. She had been expecting one of the nurses to call.
"Are you able to talk?" he asked.
"Of course. Just give me a moment to get somewhere quieter." Nell eyed the white-shirted servers flitting into and out of the kitchen. She followed one of them and crouched in the corner of a walk-in pantry, where she pulled the pocket door shut behind her.
The voice on the other end cut in and out. "Can . . . oooo . . . hear—?"
Of course her reception would decide to fail at this very moment. She silently cursed both her cell phone provider for having such crappy coverage and the walls of the old house for being so thick.
"Hang on a second." Nell got up and went back through the foyer, pushing open the heavy front door.
The hostess called after her. "Wait! Do you want your coat?"
Nell ignored the hostess and shut the door as a wall of frigid air hit her face.
"Okay," she said, exhaling.
"Nell, I want you to know how sorry I am that it took us so long to get back to you today. There was a huge backup at the lab," the doctor said.
The results are bad, Nell thought. He wouldn't apologize first if he were going to give me good news.
"I'm not pregnant," she said. Maybe if she said it first, tested out the words herself instead of hearing them from Dr. Lynch, their meaning would hurt less.
"I'm afraid not," he said. "Your blood test was negative."
So much for her theory about the words hurting less if she braced herself for them. The January wind against her bare legs stung much less than the harsh finality of what the doctor said. Nell wavered in her high heels, feeling light-headed again. She leaned against the wrought iron railing of the front porch, pulling gasps of icy air into her lungs.
"Those were our last frozen embryos. And you put two of them in there." Nell clutched her midsection with one hand, reeling with anger at her body. "I can't believe neither of them took."
"I don't understand it, either," Dr. Lynch said. "I thought we'd gotten your meds just right this time. You seemed to be responding well to the hormones. I truly hoped this would be it."
"You and me both."
The doctor went on to talk about options and next steps. Something about a new IVF protocol that had been published for women of "advanced maternal age"—the medical terminology for women who, like Nell, were over thirty-five.
She barely heard him, staring instead at the trees lining the sidewalk. The twinkle of lights strung up among them did little to hide their spindly, barren branches. Nell wondered how she'd possibly get through another winter without a baby—or at least the hope of a baby—to fill the hole left by the one she'd lost.
When she hung up, she realized she'd been holding her breath. She let it out, and a puff of water vapor rose toward the sky like so much hope, then dispersed and disappeared.
When Nell stepped back inside, shaking, she spotted Josh in the foyer, already waiting for her. He pulled on his gray wool jacket, his face creased with concern. He dangled his keys in one hand and Nell's coat in the other.
As soon as they made eye contact, Nell's throat constricted and her eyes filled with tears, but she blinked them back. Josh closed the distance between them and put a hand on her shoulder. Stunned, Nell let him help her into her black dress coat and guide her to the door.
As they walked down the porch steps, another couple was coming up. Josh gave them a polite nod, but Nell turned her face away, not wanting these strangers to see the tears that now fell freely down her cheeks.
When they got to the car, Josh started the engine, but didn't drive. Instead, he leaned his head back against the seat. "Shit," he said. He leaned over to the passenger seat and wrapped his arms around Nell. "I'm so sorry. I was really hoping it would work this time. I mean, we doubled our odds, right? By transferring two."
Nell wiped her cheeks on his coat, then pulled back. "Apparently, increasing really crappy odds still gives you crappy odds."
Josh sighed and put the car into drive. He pulled away from the curb. "I just can't believe we're in the same place we started, after all the shots and surgeries . . ."
And all the money I've spent, Nell thought. But Josh didn't know about the cost, at least not the full extent of it. She pushed that thought aside and instead said, "Don't forget no caffeine. And no vigorous exercise."
"No dairy, no gluten."
"And no alcohol," Nell said. "I think I need a drink."
"Do we even have anything at home you like to drink? It's been so long. We could stop somewhere if you want."
"Like a bar?" Nell shook her head. "I don't really feel like dealing with humanity right now."
"I was thinking more like a liquor store. I could just run in."
"Sure," Nell said. What she really wanted was to crawl into bed and sleep for days.
They drove through the campus area, past high-rise apartment buildings and dormitories. The sidewalks were crowded with kids walking and texting, smoking, or standing in line outside of bars. Friday night, Nell remembered.
"I thought it was winter break," Nell said. "Shouldn't all the students be gone?"
"A lot of students come back early for jobs and stuff. And some of them probably just come back early because they can't stand living with their parents for a whole month," Josh said.
As he stopped the car at a red light, a group of girls in miniskirts darted through the crosswalk. Nell put her palm on the fogged passenger window and said, "You're probably not thinking about babies right now, girls, but if you had any idea that some of you might struggle to have them later, you'd be freezing your eggs instead of freezing your asses off in those skirts."