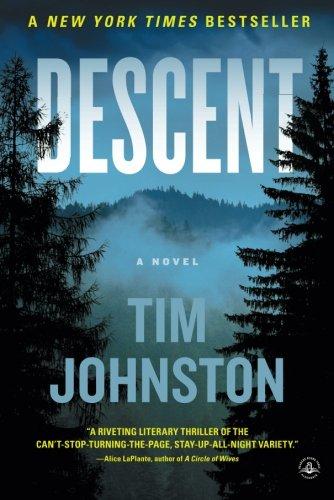 DESCENT
---
A New York Times Bestseller
"A riveting literary thriller of the can't-stop-turning-the-page, stay-up-all-night variety." —Alice LaPlante, author of A Circle of Wives
"Outstanding . . . The days when you had to choose between a great story and a great piece of writing? Gone." —Esquire
"Tim Johnston's high-wire literary thriller . . . will leave you gasping." —Vanity Fair
The Rocky Mountains have cast their spell over the Courtlands, a family from the plains taking a last summer vacation before their daughter begins college.
A New York Times Bestseller
"A riveting literary thriller of the can't-stop-turning-the-page, stay-up-all-night variety." —Alice LaPlante, author of A Circle of Wives
"Outstanding . . . The days when you had to choose between a great story and a great piece of writing? Gone." —Esquire
"Tim Johnston's high-wire literary thriller . . . will leave you gasping." —Vanity Fair
The Rocky Mountains have cast their spell over the Courtlands, a family from the plains taking a last summer vacation before their daughter begins college. For eighteen-year-old Caitlin, the mountains loom as the ultimate test of her runner's heart, while her parents hope that so much beauty, so much grandeur, will somehow repair a damaged marriage. But when Caitlin and her younger brother, Sean, go out for an early morning run and only Sean returns, the mountains become as terrifying as they are majestic, as suddenly this family find themselves living the kind of nightmare they've only read about in headlines or seen on TV.
Algonquin Books
Paperback
December 2015
384 Pages
9781616204778
Algonquin Books
Hardcover
January 2015
384 Pages
9781616203047
Praise
"This is much more than your typical thriller. Tim Johnston has written a book that makes Gone Girl seem gimmicky . . . Johnston is an excellent writer. You want to set this one down so you can take a breath, and keep reading–all at the same time." —Alan Cheuse, NPR's All Things Considered
"Johnston's descriptive prose attains a level of visceral brio . . . [An] engulfing thriller-cum-western." —The New York Times Book Review
"[A] twisty thriller about a family grappling with loss." —O: The Oprah Magazine
"Descent is the best novel I've read in a long time. Unlike most books that fall into the category of Page Turner, this one also falls in the category of Writing So Good You Can't Even Believe It. Johnston has a superhuman gift for watching and listening to the world and rendering, on the page, its beauty and savagery with such detail and power that the story feels almost more like memory than something read. I was so absorbed in the final incredible fifty pages that I missed my flight to La Guardia." —Mary Roach, author of Gulp
Discussion Questions
How does the setting—the Rocky Mountains of Colorado—influence the mood of the novel? How does it affect each of the main characters, both directly and indirectly?
At the beginning of Descent, Grant and Angela Courtland are trying to repair a rift in their marriage. If their daughter had not disappeared, do you think they would have been able to work out their differences?
Following Sean's accident, when his bike is hit by the "jeep-thing," do you think Caitlin makes a logical decision in agreeing to ride with the driver? What would you have done?
How does the death of her twin sister, Faith, affect how Angela responds to her daughter's disappearance on that first day, and how does it affect her in the months that follow?
After Caitlin's disappearance, the other three members of her family begin to drift away from one another, each going in his or her own direction. It is Sean, however, who seems to tie them all together. What is the nature of his relationship with his parents at the beginning of the story? How does it change by the end?
One of the novel's themes is the wrong turns people make in their lives. Do you feel that wrong turns have led to necessary learning experiences for these characters? If so, how, and for which characters?
Despite her abductor's efforts to engage with her on an emotional level, Caitlin never succumbs. Given the phenomenon of Stockholm syndrome, in which the prisoner begins to identify and sympathize with his or her captor, do you feel that Caitlin's resistance is realistic? How much longer do you think she could have continued to hold out emotionally?
Redemption is another strong theme in Descent, especially for the character Billy. Do you feel that his transformation plays out in a believable way? Why or why not?
Towards the end of the novel, in response to a question, Billy says, "'Cause he's dumb and reckless." Through the actions of Billy, Caitlin, Sean, and Grant, the novel explores the fine line between recklessness and bravery. Do you think their actions are reckless, brave, or both?
Caitlin often imagines another girl speaking to her—an older, stronger girl. Why do you think she imagines this? Does this aspect of her character connect her to anyone else in the novel?
By the end of Descent, what does the future look like for the Courtlands, both individually and as a unit?