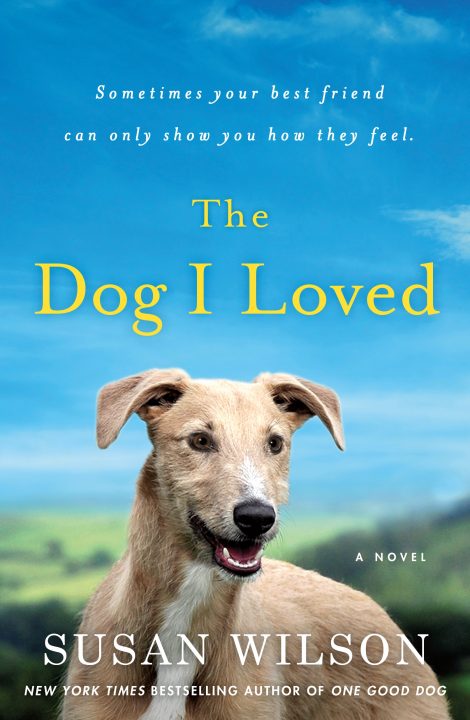 THE DOG I LOVED
A Novel
---
New York Times bestselling author Susan Wilson is back with another signature heartwarming novel—one that begs the question: Can a dog lead the way to finding one's humanity?
After spending years in prison for a crime she didn't intend to commit, Rose Collins is suddenly free. Someone who knows about the good work she has done—training therapy dogs while serving time—has arranged for her early release. This mysterious benefactor has even set her up with a job in the coastal Massachusetts community of Gloucester, on the edge of Dogtown, a place of legend and,
New York Times bestselling author Susan Wilson is back with another signature heartwarming novel—one that begs the question: Can a dog lead the way to finding one's humanity?
After spending years in prison for a crime she didn't intend to commit, Rose Collins is suddenly free. Someone who knows about the good work she has done—training therapy dogs while serving time—has arranged for her early release. This mysterious benefactor has even set her up with a job in the coastal Massachusetts community of Gloucester, on the edge of Dogtown, a place of legend and, for the first time since Rosie's whole world came crashing down, hope. There she works to rebuild her life with the help of Shadow, a stray dog who appears one rainy night and refuses to leave Rose's side.
Meghan Custer is a wheelchair-bound war veteran who used to be hopeless, too. Living at home with her devoted but stifling parents felt a lot like being in prison, in fact. But ever since she was matched with a service dog named Shark, who was trained in a puppy-to-prisoner rehabilitation program, Meghan has a brand new outlook. Finally, she can live on her own. Go to work. And maybe, with Shark by her side, even find love again.
Two strong women on a journey toward independence whose paths collide in extraordinary ways. Two dogs who somehow manage to save them both. A tale of survival and a testament to the human spirit, The Dog I Loved is an emotional and inspiring novel that no reader will soon forget.
St. Martin's Griffin
Paperback
December 2020
368 Pages
9781250078155
Praise
"With a deft hand and keen eye, Susan Wilson brilliantly illuminates the emotional power of dogs to lighten our hearts and transform our lives." —Nick Trout, New York Times bestselling author of The Wonder of Lost Causes
"Broken souls are made whole in this beautiful story about the power of connecting. Susan Wilson does a gorgeous job of inhabiting her characters – both human and canine – in a book that captivates on every page. The Dog I Loved is tender, warm, insightful, and ultimately, very human." —Ellen Meister, author of The Other Life
"The Dog I Loved is gorgeous and wrenching, psychologically astute and compassionate. I have always wanted to know what dogs think, and now I do. Susan Wilson gets into the hearts and minds of her complicated, brilliantly drawn characters, both human and canine. She has always been a writer of tremendous heart and insight; this is her best book yet." —Luann Rice, bestselling author of The Secret Language of Sisters
Discussion Questions
1. What did you think about the Dogtown settlement when you first read about it? How did you picture what living in a place like that would be like during that earlier time, particularly as a woman?
2. How did the beginning of the novel set the tone for the rest of the story?
3. Did you enjoy the passages that were from Shark's and Shadow's perspectives? Why or why not?
4. What did you make of Rosie and Charles's relationship and the role that Rosie played in his death? Do you believe Rosie would have eventually ended her relationship with him if he hadn't died?
5. How did the movement of the narrative between the present day and Rosie's past affect your reading experience and your understanding of her story?
6. What are the similarities and differences between Rose's and Meghan's story lines? What were some of the challenges that both women faced and overcame?
7. Discuss the different dogs that have been in Rosie's life and the different roles they have played. Which dog do you think impacted her life the most, and why?
8. Reflect on the narrative structure of the novel. How do the different points of view shape our understanding of and reaction to different events in the novel? How would the story have been different if it had been told from only one point of view? Was there a specific character or story line that you were especially drawn to as you read?
9. Compare and contrast the bonds that Shark has with Rosie as his initial trainer, and then with Meghan. How does he respond to living with both of them? What is his role in each of their lives?
10. Examine Cecily's role in Rosie's life and the trajectory of their relationship over the course of the story. What did you think about the last interaction they have in the novel?
11. Despite being alive in a completely different time period, Susannah Day's life holds many parallels to Rosie's. What are some of the similarities the two women share?
12. What do you imagine the future holds for each of the characters in the novel?
Excerpt
Rosie
The judge gaveled her verdict and gray flooded my vision, as if a Technicolor world had reversed itself into black and white. The gray shrouded me as I was led from the courtroom into a holding cell. I don't remember anything beyond being in that cell until the van that took me to Mid-State Women's Correctional Facility drove through the high gates that would be my perimeter for however many years I would be incarcerated. I had been sentenced to twenty years. At my age, having then just turned twenty-five, it might as well have been life. The grayness that encompassed my vision was abetted by the gray scale of my environment, walls, floors, bars, even the stainless-steel tables and chairs in the dining hall; the bland food. The high windows, crosshatched with wire, showed only the hazy dirty white of sky. The only dash of color that broke through my clouded vision that first day was the bright red tie that Warden Hinckley wore against a dingy white shirt.
I was marched, hands and feet shackled—as if I were a danger to anyone—into the building, processed in every way as humiliatingly as possible, and then I meekly followed my inmate guide to the cinder-block-and-steel space that would be my new home. A set of bunk beds, a seatless toilet/sink combination. Two tiny three-drawer bureaus. My cellmate—sorry, roommate, as in some arcane nod to civility our cells were always referred to as our rooms—wasn't there, but evidence of her presence was dense in that tiny space. Crayon drawings taped to the walls, a single photograph of a curly-haired child. A pervasive odor. I sat on the edge of the lower bunk and waited.
If my vision had become monochromatic, my hearing had gone dull. The silence of submersion. That's what it felt like, being underwater. This time, my submersion might have been giving in to drowning.
The gray cloud that enveloped me darkened perceptibly. My roommate had arrived. Treena Bellaqua was a big woman, tattooed like a Fiji fisherman, and fifteen years my senior. "Don't talk to me, don't look at me, and don't put your stuff anywhere near mine and we'll get along." I'd had bad roommates before, and I should have tried to muster some spine in order to claim what should have been mine, but that might have proved to be futile and, frankly, dangerous. Instinctively, I didn't look her in the eyes. I presented no challenge. The fact was, I wasn't up to any sort of challenge, I could hardly breathe, much less go toe-to-toe with Treena. All I wanted was the quiet oblivion of elusive sleep.
"Get offa my bed. You got the top."
"I'm sorry. I didn't know."
"That's your one—and I repeat, one—pass. Next time, I won't be so nice."
Self-preservation is involuntary, even in one so distraught by circumstances that the only imaginable release is self-destruction. I meekly climbed up onto what would be my only oasis in a metal and cement jungle.
* * *
It wasn't a predestined trajectory. I was the good girl, the smart one, the hope of my parents, the only girl and the youngest of six. I had the exquisite Communion dress, the tap-dance lessons, the pink, pink, pink of my tiny bedroom, my bike, my dresses. My mother indulged herself in creating out of my rough clay the girl child beloved of big Irish families. Innocent. Devoted. Loyal.
No, I wasn't the Collins destined for a life of crime. Bobby was the one in our family voted most likely to end up in Walpole. He, too, bucked our expectations and thumbed his nose at his past. Instead of ending up behind bars, he ended up with an MBA. I started off with a Seven Sisters education, and found myself on this very gray day being escorted into Mid-State Women's Correctional Facility, convicted of murdering my fiancé—well, technically I was convicted of voluntary manslaughter, but when you're sentenced to twenty years, why quibble about legal nomenclature? I was behind bars.
Charles Montgomery Foster came into my life in a somewhat old-fashioned way, given the ubiquitous online dating scene that most of my friends liked. I was a recent college graduate marking time before my first "real" job with a minimum-wage gig as a barista. Charles was one of the Hugo Boss–suited people who descended from the glass towers of their downtown Boston office buildings to grab a macchiato—no froth, soy milk, caramel drizzle. He looked like he might have been in finance, or a lawyer; there is no distinction in the uniform of suit jackets and slightly loosened Vineyard Vines ties. What Charles looked like to me was the kind of man who might be interested in hiring a very well educated, unskilled but enthusiastic-to-learn young woman desirous of a high-income career path. He looked, in other words, like someone with a high income. My Bunker Hill slice of Charlestown might not have been considered a sophisticated neighborhood, more Dennis Lehane's mean streets than Charlestown Navy Yard penthouses overlooking Boston Harbor, but I knew good threads when I saw them, and good manners. And a really nice haircut. Charles was in real estate development, which I soon learned meant being among those whose main interest in the poor side of town was to gentrify it through urban renewal until the locals were forced out.
I never intended to fall in love with Charles. I only wanted a job, a good one. One that would help me keep up with the student loans that sucked my barista paycheck dry and left me living back with my parents and my paraplegic brother, Teddy. Teddy was thirteen years old when he got in the way of a bullet meant for someone else. I was eleven and suffered a quick demotion from highly favored child to appendix. The rest of his brothers treated him like he was not just handicapped but also emotionally fragile. While they would beat on one another and say truly horrible things, with Teddy they were reserved. Not so much me. And Teddy loved me for it. For treating him like he was just like the others, rude, smelly, dirty-mouthed, and bossy. Teddy hated Charles on sight.
Charles—never Charlie, or Chuck, or Chick, as anyone named Charles would have been called in my neighborhood—hadn't actually become a Hugo Boss–wearing corporate type through hard work and an upward trajectory. He was a lifelong rich kid. When they speak of being born with a silver spoon in your mouth, Charles was just such a one. It's a pretty common story. The inherited wealth coming down through generations of really smart money-manager types, the original wad having been earned on the exploitation of workers. In Charles's case, his family wealth came from oil. Not crude, but whale oil. His whale ship–owning ancestor was smart enough to get out of the business before it became last century's technology, moving right along to textiles, and then, when that industry began to fail, the early-twentieth-century version of Charles Montgomery Foster turned to armaments. Given the never-ending need for the materiel of war, the family has been capitalizing on the world's propensity for conflict ever since. Of course, Charles never spoke of it, preferring to let most people believe his money came from the more pacific growth industry of real estate development.
Throughout that summer, I began to anticipate Charles's daily arrival, to notice that he was beginning to flirt back, our banter becoming a well-practiced foreplay to a better acquaintance. I started keeping a second white shirt just in case the first became stained. Even early on, I recognized a fastidiousness in Charles, who always accepted his frothy drink with a napkin in his hand. Coming from a big, messy family, I thought him ever so sophisticated. Refined. That was the word.
* * *
If I thought that being in prison was going to be a little bit like being in a women's college, I wasn't entirely wrong. Estrogen-stoked drama. The sameness was a cadre of women all vying for sink time. Getting our periods simultaneously. Mooning over the pretty boy—or girl—celebrity of the moment.
In college, there were LUGs—lesbians until graduation. I quickly discovered that in prison there are LURs—lesbians until release. There were some real love affairs going on, and if one partner was released, there was real heartbreak. The divide between the incarcerated and the free is of Grand Canyon proportions. The released did not come back to visit the left behind; they were not allowed to come back—even if they had wanted to.
Another key difference was the range of ages among the incarcerated. Where college had at best a prodigy of fifteen and a thirty-year-old mom attending on a special returned-to-college scholarship, here my peers ranged from nineteen to seventy-five. Pubescence to senility, and every life stage in between.
The differences showed in other ways. Where my classmates in college demonstrated their superiority to my origins in fashion and in high culture–referenced witticisms, my fellow inmates at Mid-State flaunted their badassness in demonstrations of power. Influence. Intimidation. I thought I was as unlike them as I had been unlike my classmates. But in college, all I wanted was to be like my classmates, to blend in.
In college, I was Target to their Bergdorf. In prison, I was Target to their St. Vincent de Paul charity shops. In college, I was a quick study, and by my second year no one would ever have known that I hadn't actually skied in Aspen. I presented myself as just as sophisticated as they were by wearing thrift store chic. I started a trend. In prison, we all wore cheap jeans and Keds.
I thought that as I had acquired the right table manners and used impeccable grammar, I would easily fit into Charles's world. I had moved beyond my respectable, if rough-around-the-edges, upbringing. If my neutral accent slipped now and again into East Boston, Charles would let me know. I thought I was passing. Except that Charles's mother, Cecily Foster, sniffed out my humble beginnings like a bloodhound sniffs out a fugitive. More than a misplaced r, it was my name. Mary Rose Collins. Rosie. The Mary is after my maternal grandmother, herself named in honor of the Virgin. The Rose is after my dad's eccentric aunt Rosalie, who left home to pursue stardom and ended up portraying an Irish maid on a radio soap opera before she tragically died. Mrs. Foster, née Burgess, was one generation from English aristocracy, or so she would have you believe, and we all know how the mid-century English viewed the Irish. Good for servants, not so much for family.
In prison, I was once again the odd one out. I hadn't been raped by an "uncle" or been a drug mule for a boyfriend. Or impregnated at fourteen. I wasn't there because of strict mandatory sentencing for possessing a few too many ounces of pot. My blue-collar origins stood me in no good stead in this mix of rural poor, urban poor, underserved, undereducated, and overwhelmed women. And my venture into the upper-class world, however horribly it had turned out, only made me less adaptable. Besides, I was only one of maybe seven white women in the prison. I stood out. If you were white, you had to have done something truly heinous to get put in this maximum-security penitentiary; white women with slightly lesser crimes were sent elsewhere to serve out their terms. The fact that I had killed my fiancé didn't even give me enough cred to get a little bit of respect among women who had tortured rivals, shot or stabbed boyfriends. Women whose craving for drugs was ceaseless and their moods volatile.
Oh yes. Cecily Foster had made damned sure that I was thoroughly punished. I was never offered a plea bargain, which at worst might have put me in a minimum-security correctional facility; at Mid-State there were no white-collar criminals, no accidental felons.
Money and influence. Cecily Foster wielded them as if they were tools of some craft known only to the upper reaches of society. Charles was her only child. Even before the accident, Cecily hated me, the cheap harpy who'd dragged her boy down into associating with the common.
I, of course, had neither money nor influence. The valuables I might have hocked to afford a real attorney—including my massive engagement ring—were declared not my property at all; the heirloom ring and everything else of Charles's estate went to his only living relative, his mother. Every avenue toward relief was blocked to me by Cecily's seemingly limitless reach into the bastions of law and society.
I picture her still, sitting in her Long Island living room overlooking the sea while I sat in a cheap motel room and stared at a cheesy seascape. Her manicured fingers working the phone, making a call or two, a plaintive injured tone; a promise of support for a judge's favorite charity—anonymous, of course.
I was poorly defended, and that failure led to the worst of the charges that might have been brought against me, voluntary manslaughter, a crime of passion. In all of this, I have never denied that I caused the fatal accident, but I have never said that I wanted it to happen. It was an involuntary act. An accident. I should never have stood trial. I should never have been defended by a public defender stooped under a case overload exacerbated by her screwed-up personal life. But my almost mother-in-law was the one who really managed my conviction. What public defender, even one without the challenges Wendy Delorusso had, could stand up under the assault of one of Connecticut's best prosecuting attorneys? Cecily Foster made damned sure that I was punished for the death of her only child, her son, Charles. As if having caused his death wasn't punishment enough. As much as I truly hated him, truly felt so aggrieved at what he had done, I was sorry about what had happened. Even if I had been exonerated instead of incarcerated, I would still have had to live with the knowledge that I had killed someone.
* * *
One Saturday afternoon in the late fall, Charles Foster arrived at my coffee bar dressed down—no suit, just a pair of Diesel jeans and a North Face jacket zipped up. He was wearing boots, those good heavy Timberlands. Without a tie, and with a woolen cap pulled on over his expensive haircut, Charles looked years younger, less unobtainable.
For years now, I have looked back at that day, playing the game where you say to yourself, If only … If only I hadn't agreed to fill in for a coworker—this wasn't my regular shift; I was never at the coffee bar on Saturdays. If only I hadn't taken that not-quite-earned break. If only I hadn't worked up the nerve to stand beside Charles, intent on his BlackBerry, and set the last chocolate chip cookie in the case down in front of him. "On the house."
Given the months of banter, the flirtation, even at this point a few inside jokes, I was emboldened to push past the barista/customer definition of our association. I sat down opposite him. "Would you ever want to go get a drink?"
Charles pulled his attention away from his BlackBerry. His eyes were an oceanic gray, surrounded by spiky dark lashes. He paused long enough for me to worry I'd overstepped myself. Then he said, "Yeah. I would."
If only Charles Montgomery Foster hadn't decided to grab a hot drink before driving to New Hampshire to ski, he might still be alive.
* * *
When you are in prison, all you want is for time to pass quickly. You want the hours to fly by, the days, weeks, and months to slip away. Every day passing is a day closer to release. Of course, they don't fly by. Boredom lengthens the days; you live with a routine that seems designed to slow time down. When you are a child, days are elongated. School lasts forever; Christmas will never come. Everyone knows that as you grow up, those days shorten. Weeks are fleeting; one season falls into the next with astounding rapidity. Try living in a prison. If you want to slow time down, that's your place. I had my jobs, six months in the prison laundry, a stint as a janitor, another in the kitchen, serving up heavy, starchy meals. I had a place at the white women's table three meals a day. I stood in lines. I circled the exercise yard, working off those meals. I flattened myself to the ground during lockdown. In the outside world, you know what day of the week it is by your "To Do" list or your agenda or your favorite television programs. In prison, it didn't really matter what day of the week it was. Or month. Or year.
Time was measured out in paroles and release dates. My first cellmate, Treena, fulfilled her sentence and vanished. A new inmate replaced her, and I claimed the lower bunk and warned her off trespassing into my territory. A week later, she managed to hang herself in the shower room. The next inmate to bunk with me was a repeat offender, and I was scared back onto the top bunk.
The one day that had some variation in it for me was Sunday. Out of a deep-seated need to feel normal, I attended the nondenominational service in the chapel. And then I stood in line for a turn at the rank of phones. Even though I knew that it was no longer true, I pictured my mother, still in her church dress, apron tied over it, getting Sunday dinner into the oven. I pictured her in our kitchen, an imagined summer sun warming the pale yellow linoleum, even if it was actually snowing outside, the wet snow against the windows further obscuring any natural light where I stood in my fluorescent world. I just wanted to hear her voice, to ask after everyone. And, every Sunday, the phone went unanswered.
Meghan
In the service they had called her—ostensibly behind her back—"Captain Buster." Meaning ballbuster. Meaning she was as hard on them as she was on herself. It was a sweet play on her actual name, Custer, and far better than the comparison to her unrelated namesake, George, of Little Bighorn fame. Capt. Meghan Custer had no particular ambition to become a general, and certainly not to annihilate Native Americans. Her main desire was to keep her soldiers out of harm's way, conduct whatever mission they had been assigned, and get them all back home safely. Home being an FOB, forward operating base, nestled in some godforsaken chunk of Iraq or Afghanistan. Three tours, and she was only thirty-five. No boyfriend back home, certainly not children. She bled for those women in her unit who kept up brave faces as they Skyped with their children, blew kisses to their babies. She understood the keen desire to have family back home praying for you every day, someone whose image you kept in mind as you "fought for freedom," but in some ways she saw it as indulgent selfishness.
Besides her parents, she had left no one behind except a couple of cousins and a jingoistic uncle whose pickup truck sported a pair of snapping flags, Old Glory and the black MIA/POW flag. He was her father's older brother, and his war, like her dad's, had been Vietnam. Where her dad's experience had led to a fifteen-year career in the army after the war's end, an honorable discharge, and putting it all behind him, her uncle's war had ended in alcoholism and a constant need to keep that war's failure front and center in his politics. When Meghan sat with him in his double-wide trailer, he told her that he was proud of her. And, especially, that her dad was proud that she was picking up his sword; the tacit suggestion that it was her late brother, Mark, who had been expected to carry on the military tradition in the Custer family, but she would do. Meghan didn't quite agree. She knew that neither one of her parents was particularly pleased with her having chosen to follow in her father's footsteps.
Now she leaves only tread marks in the dirt. No footsteps ever again.
Copyright © 2019 by Susan Wilson