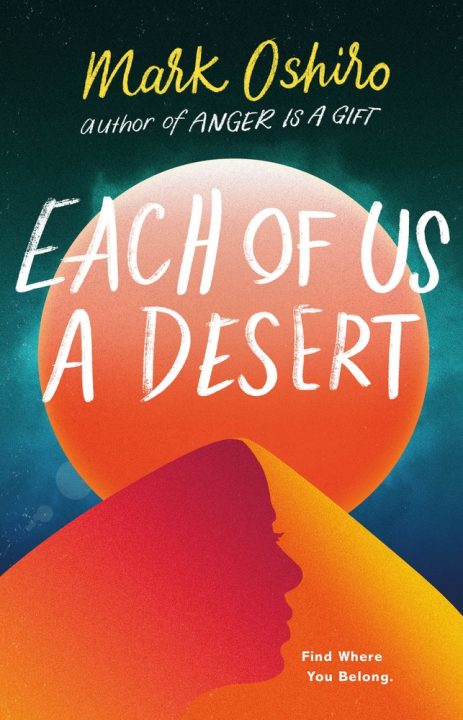 EACH OF US A DESERT
---
From award-winning author Mark Oshiro comes a powerful Latinx, queer coming-of-age fantasy novel about finding home and falling in love amidst the dangers of a desert where stories come to life.
Xochitl is destined to wander the desert alone, speaking her troubled village's stories into its arid winds. Her only companions are the blessed stars above and enigmatic lines of poetry magically strewn across dusty dunes.
Her one desire: to share her heart with a kindred spirit.
One night, Xo's wish is granted—in the form of Emilia, the cold and beautiful daughter of the town's murderous conqueror.
From award-winning author Mark Oshiro comes a powerful Latinx, queer coming-of-age fantasy novel about finding home and falling in love amidst the dangers of a desert where stories come to life.
Xochitl is destined to wander the desert alone, speaking her troubled village's stories into its arid winds. Her only companions are the blessed stars above and enigmatic lines of poetry magically strewn across dusty dunes.
Her one desire: to share her heart with a kindred spirit.
One night, Xo's wish is granted—in the form of Emilia, the cold and beautiful daughter of the town's murderous conqueror. But when the two set out on a magical journey across the desert, they find their hearts could be a match…if only they can survive the nightmare-like terrors that arise when the sun goes down.
Fresh off of Anger Is a Gift's smashing success, Oshiro branches out into a fantastical direction with their new YA novel, Each of Us a Desert.
Tor Teen
Hardcover
September 2020
432 Pages
9781250169211
Praise
BuzzFeed's "29 YA Fantasy Books We Can't Wait to Read In 2020"
"A sincere journey through nuanced struggles: the weight of pain, how hope and complicity feed immigrant exploitation, and breaking flawed social cycles. This ambitious, organically Spanish-studded examination of trauma stays adventurous and accessible, resulting in a grace-filled, loving declaration of human value and worth." —Publishers Weekly, starred review
"A cross between Lois Lowry's The Giver and Tehlor Kay Mejia's We Set the Dark on Fire, this haunting story will stay with readers just like the stories Xochitl has kept." —School Library Journal, starred review 
"A meditation and adventure quest offering solace to anyone bearing an unfair burden." —Kirkus Reviews
"Oshiro leaves mouths parched with their second novel, wherein water is prized and mystical magic and creatures loom ever closer. . .. Contemplative teens will appreciate this meaningful story about human existence." —Booklist
Praise for Anger Is a Gift
"A passionate and promising debut." —Entertainment Weekly
"Anger Is a Gift is an explosion of fury and revolution. Mark Oshiro's beautiful and brutal debut proves that not only can anyone be a hero, but great change comes when the heroes work together." —Adam Silvera, New York Times bestselling author of They Both Die at the End
"Raw, unflinching, and full of heart. Anger Is a Gift is a masterpiece." —Marieke Nijkamp, #1 New York Times bestselling author of Before I Let Go
"Anger Is a Gift should be required reading in high schools everywhere." —Charlie Jane Anders, author of All the Birds in the Sky and The City in the Middle of the Night
Excerpt
Rogelio called my name.
It drifted in our home like a wind, like a lost calf bleating for its mother, and I bolted upright from the floor. He called it out again, and I cast a glance down at Raúl, who slept soundlessly on the ground. As he always did. Nothing ever seemed to wake him, and I sent up a silent prayer to You, thankful that he would not have to hear this.
Mamá and Papá were asleep, too, not far from us, and Papá's soft snoring filled the room. Mamá rustled in her sleeping roll, and I sneaked out while I could. She was the lightest sleeper of them all, but that night, I was thankful she did not wake. I pushed aside the burlap curtain that crossed over our doorway, and he swayed there, his arms drooping at his side, and my name slipped off his tongue again, jumbled together.
"Xochitl."
I stepped out to Rogelio and reached forward, intending to direct him away from our door, but the smell hit me. I choked. Tesgüino, his favorite.
Despite how drunk he was, he still saw me shrink away from him. "Lo siento, Xochitl," he said. "Pero te necesito. He hecho algo terrible."
He slurred all of it, the words coated in alcohol and regret. It was always the same with Rogelio: the sadness. The numbness he sought in drink. The begging. Even if I hadn't been a cuentista, I would still know his secrets. He wore them on his clothing, on his breath, on his face.
I shook my head. "Now, Rogelio? Do I have to now? It's the middle of the night."
"I won't make it to morning," he said, and then his eyes focused on me. They were glassy in the bright starlight, and dust clung to the tracks of his tears, roadmaps of misery and loss.
He knew. Everyone did. Your body told you when your lies, your secrets, the terrible things you had done, were about to take form in our world. Las pesadillas, we called them. Night terrors made real.
I glanced behind him, and there they were. Five men shrouded in the shadows, each of them with their arms outstretched. They were not in solid form, as if the darkness itself had conjured up these beings. At the ends of their arms, blood dripped to the ground from stumps. Someone had taken their hands.
They moved closer.
I stepped back again, shuddered.
It was time.
I was taught that, too. That if a cuentista did not take a story, las pesadillas would gain power, would lash out, would harm others.
So I couldn't wait any longer.
I reached down and grabbed one of Rogelio's sweaty hands. "Ven conmigo," I said, and I directed him behind our home. He shuffled along, and if I had not held his hand, I am certain he would have gotten lost walking those few feet. I guided him toward the firepit in the back, still warm from the tortillas we had made, and had Rogelio sit on a rough cobija placed next to it. He didn't sit so much as collapse on the spot, and then he started humming. I didn't recognize the melody, and then he lifted his hands up as if he held his guitar, and he started playing, and it was one of the saddest things I'd ever seen.
I pitied him. So I sat across from Rogelio, and I took his hands, and I asked him to tell me his story.
As I did, they surrounded around our home.
Shuffled toward me, their feet dragging on the ground.
Closer, closer.
I started because I had to. They were almost upon me—and these pesadillas looked furious.
This is what I think happened. I don't actually know. I gave it back to You, as I had always done, so I like to imagine what happened as I performed my duty.
He put his hands out, palm down.
I put mine out, palm up.
I placed mine underneath his. I took in a deep breath, and I closed my eyes, opened my heart and my stomach.
He stared at me, and then he opened, too. His story was a deluge from his mouth, and as he spoke, they entered my chest. I gasped at first; that first rush was always the hardest to deal with. Even if I gave You these stories back, I had a sort of memory within my bones of that surge, the passage of truth from one body to another. I had learned long ago how to adjust and settle into the wave of the story, and I guided Rogelio, pulling it out, weaving it into my own body.
"Tell me why you are sad, Rogelio," I said.
"I miss them," he said, and despite that he towered over me even as we sat there, he shrank. He became tinier, a shriveled man drained by his resentment and longing. "They never should have left me."
I bristled. We did this every time. "Why did they leave you?"
There. The story flowed out; Rogelio told me everything. He shared the jealousy, the quiet terror, and the violence. He told me about how he had regretted the money he spent, the gamble he took, the look on the faces of his friends once they realized what he had done with their wages. They simply left one day, and he had begged Marisol to tell him where they'd gone, and she rejected him every time.
So he went to Manolito's. Bought his favorite bottle. Again. It washed over his memories and shame, eroded the sharp edges.
"I shouldn't do this," he said. "Solís expects better of me. Of all of us."
I had it now. With one last tug, I devoured Rogelio's honesty, and the story became mine. It swam within me: regret struggling to surface in a sea of self-hatred.
"Gracias," I told him, and when I opened my eyes, the ritual complete, he was standing above me. He wiped at his mouth, then walked away, leaving me with his regret and guilt.
I had done my duty. What other need did he have for me?
As Rogelio's story filled my body, it jostled for space. It stretched between bones and organs, and I pushed the pain and discomfort down, down, farther away from my heart. I stood and wobbled, trying to separate my own sadness and loneliness from Rogelio's. They were so similar, and it haunted me every time. You let me keep that part of the memory; the ritual left me confused, bewildered, uncertain where I ended and where the story began.
I peeked in on Raúl one more time. Still asleep. Same with my parents. If any of them had heard us, they gave no indication.
So I walked. I turned to the north, guided by the glowing estrella that hung over the distant montañas, and I let You take me where I needed to go. I opened myself to the earth. I climbed up the other side of a gully, and the earth spoke to me. So I let it pull me to the ground, the dirt biting into my knees and my palms, brief reminders that I was a guest in this body, that at any moment, You could take me away.
His story came out of me in great big heaves, and the refuse poured out of my mouth, sharp and thick on my tongue, and it spilled onto the waiting earth, filling the cracks and seeping deep within. I expunged it all, spat it out at the end, tasted its bitterness. I always remembered that flavor; it lingered beyond the ritual every time. On its way back home, back to You, the truth reached out and tried to take me with it, the shame needling my body, Rogelio's terror my own. I had to fight it; the stories were so desperate to find something to cling to, someone to bond with.
I gave You his story, and You took it back. When the last drop of it fell to the dust, I stood up and it dissipated. Washed away. There was a feeling that remained as the memory floated off. A sadness. Regret. They were fleeting, like something that had happened to me so long ago that I could not recall the fuzzy details.
Then they were gone.
It was the same each time. I wiped the bitterness from my lips, then turned back toward home, the starlight casting me in a glow of purpose. I made the sign to complete the ritual. See the truth; believe the truth. But I could not remember Rogelio's story no matter how hard I tried. It was what I was supposed to do, and it provided safety to Your gente. They could trust me with their secrets because I could not share them. They were always returned to you, and I was left aimless, purposeless as my mind struggled to remember who I was.
I collapsed alongside Raúl, much as Rogelio had behind our home, and I curled up on my sleeping roll. The ritual drained me of my energy and of my memory of the story. It would take hours for me to recover, and then . . .
Well, I would do it all over again. Inevitably, it would be only a day or two until someone else needed me, and then I would consume their truth, expel the bitterness into the desert, and forget.
I was Your cuentista, Solís.
I did my best.
I promise.
***
This is the story that I was told, Solís. Long before Tía Inez gave me her power when I was eight years old, I learned what You had done and what You had asked of us.
You punished us, Solís. Long ago, You became furious with what we had done to Your world. Greed. War. Terror. Jealousy. Strife. You punished us with fire—La Quema, as we came to call it—and You scorched it all. You burned every bit of it, determined to wipe us away. My ancestors buried themselves in the dirt, though, and when fire and devastation rained down on the land that would become Empalme, they felt the heat itching to rip the skin and meat from their bones.
But they survived.
They came aboveground, out from their homes beneath the ash and the destruction, to discover that the earth was blackened, that everything they'd known was gone.
Never again, You told them, Your voice booming over the flattened landscapes, the arid remains. You must never disrespect my creation.
This is the story I was told of how las cuentistas were born; You gave some of us the ability to devour the truth of others, and You warned us. We would all know if someone had harmed another, if they had kept their truth from You. The longer one of us went without a cuentista, the worse our pesadillas became. And so we were cast out into the world to ingest what others had done wrong, then return it to You, to the eternal desert. We were spread far and wide, forcing las aldeas to form, each of them around a cuentista. When that cuentista died, a new one would be granted the same power, just as I had been when Tía Inez died and chose me.
We cuentistas were exempt, too. No one took our stories. We did not manifest pesadillas.
We were alone.
I never questioned any of it, Solís. And why should I have? I had never met another cuentista besides Tía Inez; I had never truly ventured beyond Empalme; I had no reason to question anything.
I am telling You this, Solís, because maybe You'll understand. Maybe You will have mercy on me. Because even before all of this happened, before I had to flee Empalme, I knew something was wrong. Why did I not have to tell You the truth? Why were my secrets my own, and why had they never become one of those terrible pesadillas? Why did You not punish Julio and his men, who stole our water from us every day?
I would say that I am sorry, Solís, but I had to.
I had to leave.
Used with permission from Tor Teen, an imprint of Tom Doherty Associates; a trade division of Macmillan Publishers. Copyright (c) Mark Oshiro, 2020.