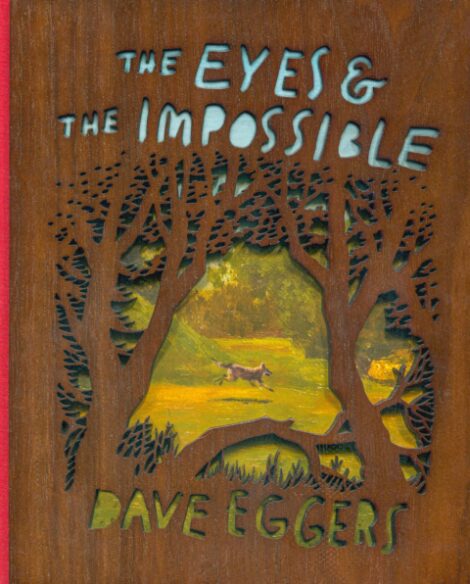 THE EYES AND THE IMPOSSIBLE
---
The Eyes and the Impossible is the story of a dog named Johannes. Johannes is a free dog, a fast dog—such a fast dog! He lives in an urban park by the sea, and every day, he runs through the park, seeing all, missing nothing, and reporting what he sees to the park's three ancient Bison, the Keepers of the Equilibrium. But the Equilibrium has been disrupted.
Mysterious rectangles are hypnotizing Johannes, humans are erecting a strange new building, and an entirely new kind of animal has arrived in the park—and there are hundreds of them.
The Eyes and the Impossible is the story of a dog named Johannes. Johannes is a free dog, a fast dog—such a fast dog! He lives in an urban park by the sea, and every day, he runs through the park, seeing all, missing nothing, and reporting what he sees to the park's three ancient Bison, the Keepers of the Equilibrium. But the Equilibrium has been disrupted.
Mysterious rectangles are hypnotizing Johannes, humans are erecting a strange new building, and an entirely new kind of animal has arrived in the park—and there are hundreds of them. Johannes must run faster, see better, and ultimately do more than run and see—he must liberate those he loves.
Gorgeously illustrated throughout by Shawn Harris (author of Have You Ever Seen a Flower? and illustrator of Her Right Foot by Dave Eggers, among many others), Dave Eggers's The Eyes and the Impossible is a lyrical, soulful book full of wit and passion—a timeless story for readers of all ages.
McSweeney's
Hardcover
May 2023
250 Pages
9781952119453
Praise
"A warm, comedic tale of interspecies friendship. Johannes is a highly engaging narrator whose exuberance and good nature run like a bright thread through the novel's pages. It is in the way Johannes speaks about his greatest passion that Eggers shows he has done the imaginative work required to bring us closer to an animal perspective. There is a deeper story here, too, about being yourself and finding freedom. It is hinted at in the natural beauty of the deluxe version of the book, with its solid-wood front and back covers, and in Shawn Harris's sublime illustrations. Harris places Johannes in classical landscape paintings, running free, demonstrating an appeal that is wilder and more profound than mere canine charm. We need brave, big stories like these, stories that help children (and adults) find their place in a sometimes frightening world." —Nicola Davies, New York Times Book Review
"[An] exuberant illustrated novel. Eggers crafts a marvelous, fully fleshed protagonist in Johannes, who is at once an ebullient braggart, a faithful and intrepid operative, and a drolly humorous reporter whose compassionate narration delivers a rousing tale of community, joyful self-reliance, and the pleasures of running very, very fast." —Publishers Weekly, starred review
"A work of dazzling ingenuity, powered not only by Eggers' impressive knack for inhabiting the minds of other species, but also by the physical form of McSweeney's deluxe, all-ages edition." —San Francisco Chronicle
"An exhilarating, funny, frightening, mind-warping, heart-squeezing tale. Told at the speed of light. A must read. For all humans."  —Jon Scieszka, New York Times–bestselling author and First Inaugural National Ambassador for Young People's Literature
"So clever and engrossing and sweet. I loved it." —Roddy Doyle, Man Booker Prize and Irish PEN Award winner
"The Eyes and the Impossible is Exhibit A in the argument for children's books being great literature. What a hero! What a story! What a read! Honestly, it's one of the best novels I've read in years. Honestly, I wish I'd written it." —Annie Barrows, New York Times–bestselling author of the Ivy + Bean series
Interviews
Dave Eggers about his new book, The Eyes and the Impossible
A Conversation with editor, Taylor Norman
Taylor Norman: You have a history of disrupting traditional publishing patterns—shaking the endless publishing trolley out of its well-worn ruts. Why is it so important to question reflexive publishing "rules"?
Dave Eggers: The main goal with any cultural endeavor should be to do new stuff — to surprise and delight people. To make beautiful things, to do things differently.
TN: Now, you're publishing this new book simultaneously in one edition for adults and another for children, and calling both "all ages." Why specifically is it important that this book be read by readers of all ages?
DE: I see both editions as all-ages, for everyone. I miss the term "all-ages." I love the idea that anyone can feel welcome to read a certain book, without feeling they're too old or too young. Books like Charlotte's Web, and Hatchet, and Holes, and anything by Kate DiCamillo or Shel Silverstein — these are the books that come to mind. I remember reading Mr. Popper's Penguins to my kids and feeling that it was completely fulfilling for all of us — maybe me more than them. Slate's Laura Miller has often written about how some books, usually read by younger readers, are just as enriching for any age. They move quickly, there's excitement and joy on every page — there's a pure reading pleasure there that might be unique. So that was my goal with The Eyes and the Impossible, to allow it to be readable by any age, to be totally agnostic to the readership. I didn't make any choices to make it appropriate for this or that age group. I didn't edit a word or change a phrase with a certain audience in mind. It really just came out the way it was meant to be, and I think it would please any age.
TN: Can you tell us about an important dog in your life?
DE: I never really had a dog. Oddly enough, my households have only had cats (we have two Covid cats right now, Dwayne and Clyde). But I love dogs, and have drawn a hundred or so dogs over the years, and I feel weirdly connected to them. Something about their need to run and see.
TN: In 2023, I've vowed to try and follow my own dog's tendencies: instead of dreading everything that isn't reading a book, look forward to every next thing. (He's a very enthusiastic, optimistic dog.) What makes a dog a uniquely interesting perspective on the world?
DE: That's just it. Generally speaking, dogs are optimists. They always want to leave the house, believing there's going to be something out there fascinating and delightful. And they're easy to please: that fascinating and delightful thing can be a skunk carcass, or a moldy piece of havarti.
TN: Were there any moments while writing as a dog that you either found human knowledge hard to discard? Or, when you were finished writing for the day, a particularly dog-like observation that you found hard to shake? A revelation that arrived thanks to Johannes?
DE: I don't really see much difference between the way Johannes sees the world and the way I do — most days at least.
TN: There are very few books written about friendship. At its core, one of the things The Eyes and the Impossible is most interested in is the value of true friendship in one's life—loyalty to one's friends, of course, but also sacrifices for friends. Sacrifices of one's own certainty, sacrifices of time and energy, sure, but even sometimes sacrifices of the friendship for the sake of the friend. Johannes and his friends have complicated, variable, changing relationships, but their commitment to each other is so deep that it can sustain disagreement, difficulty, and ducks. These friendships are the most important relationships in each animal's life—far more than family relationships. Can you talk about why you decided to create a cast of characters who are devoted friends rather than a sprawling family? Why is the love of a friend more powerful than the love of a family member?
DE: I don't know if the love of a friend is more powerful than that of a family member, but it's less talked about. That's why, in art, true depictions of committed friendships hit us so hard. Johannes and his friends are invariably there for each other. They show up, and don't ever question whether any of their group will show up. It's a given, like rain or the cycles of the moon. A lot of it is just a matter of presence over time. Showing up each time they should show up — that is the essence of friendship. Moreso than fleeting moments. And in times of trouble, they revel in being given opportunities to battle evil to save each other.
TN: Johannes is shaken out of his own well-worn ruts when he experiences art for the first time. Can you remember the first time you felt moved by a piece of art? Were you conscious at the time of how important it was, to be so moved? As much as it's possible to generalize about such things, when are you apt to find yourself swept aside by art? Can you create these conditions, or is emotion in relation to art necessarily a visceral, unpredictable thing?
DE: When I was young, pictures were always the thing for me. I didn't enjoy reading until a much later date. I pored over oversized illustrated books about giants, gnomes, space colonies and dragons. And then, when I started painting, it was books of artwork by Manet, Rembrandt, Zurbarán. Rembrandt's "The Night Watch" was probably the first picture that I remember studying for hours, seeing how it worked and why it affected me. But this happens to me once a week — when someone puts colors together in a new way, my brain goes numb.
TN: There are a few stances Johannes takes, and skills he has, which he writes about so passionately it's hard not to imagine you, the author, share his perspective to some extent—for example: running, ducks, and cars beeping when they back up. Are any of these passionate stances ones you share? If not, what did you see or think of that conjured them on Johannes's behalf?
DE: I do want to say that I have the utmost respect for ducks. I don't know why Johannes feels the way he does, but I believe that despite their marked unreliability, they should be given a chance.
TN: One of the quietly terrifying imminent disasters in these animals' lives is the constant, and ever-greater, intrusion of humans into animals' lives. From what we know of the park where they live, their land is an idyll surrounded by human detritus—an urban park the likes of which many city-dwellers will recognize. "Rewilding," "green spaces," "restorative ecosystems"—these are all very common buzzwords these days. But how do we extend this current focus on such areas beyond the trend? What is the value of nestling such a park within a city, for example; why situate this book here rather than in a forest? Johannes himself has two paws in two places—wild and domestic. The book, too, exists in two ways at once—a format-busting wooden adult edition, a traditional hardcover for young readers. Did you find any interesting resonance in creating a character whose demi-domestication mirrored the place he lived, a contained wilderness rather than a fully wild place?
DE: I love that some urban parks here in northern California are still very wild — very often they border the ocean or larger state parks, and they have a vast array of wildlife within. But of course the interactions with humans are going to be fraught. There are the oblivious humans in their cars, the animal-control people with their vans and nets, and the park visitors with their litter and wayward small children. No matter the interaction, it's likely to be weird — and weird is where narratives involving dogs begin.
TN: Which of these characters do you still find yourself thinking about, a year after leaving them behind?
DE: Johannes, of course, but of the other characters, Bertrand. There's nothing better than writing a noble character. You get to think, What would be the very best thing someone could do here?
TN: We are all familiar with the current emphasis on "issue books." Sometimes it feels like every book being published is about something serious—that in order to be an important book, it must be serious. I would make the case, though, that the most important thing we can do in the books we make is to write good stories—that investing a reader with a narrative is the most important duty of an author. The intended effects that "serious" books purportedly have on their readers—an increase in empathy; a richer interest in others' lives and experiences; a deepening of critical thinking; a more profound engagement with a broader swath of the world—are effects thatany piece of great fiction necessarily has on its reader. And so to be an important book, it need only tell a truly great, original story. Where do you see this book fitting into the current discourse on the contemporary canon? What makes this book important, in your . . . wait for it . . . eyes?
DE: I know a lot — a lot — of young readers who really want books that focus on contemporary issues — who will not read fantasy or anything that's not very close to actual recent events. But there are lots of kids who like books about elves, and animals, and adventures that have not actually happened. I think it's key that we make room for both kinds — for all kinds — of books.