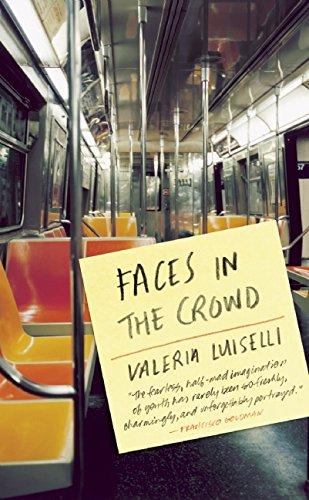 FACES IN THE CROWD
---
A Spring 2014 Indies Introduce Pick
"Luiselli's haunting debut novel, about a young mother living in Mexico City who writes a novel looking back on her time spent working as a translator of obscure works at a small independent press in Harlem, erodes the concrete borders of everyday life with a beautiful, melancholy contemplation of disappearance. . . . Luiselli plays with the idea of time and identity with grace and intuition."—Publishers Weekly, boxed and starred review
A young mother in Mexico City,
A Spring 2014 Indies Introduce Pick
"Luiselli's haunting debut novel, about a young mother living in Mexico City who writes a novel looking back on her time spent working as a translator of obscure works at a small independent press in Harlem, erodes the concrete borders of everyday life with a beautiful, melancholy contemplation of disappearance. . . . Luiselli plays with the idea of time and identity with grace and intuition."—Publishers Weekly, boxed and starred review
A young mother in Mexico City, captive to a past that both overwhelms and liberates her, and a house she cannot abandon nor fully occupy, writes a novel of her days as a translator living in New York. A young translator, adrift in Harlem, is desperate to translate and publish the works of Gilberto Owen, an obscure Mexican poet who lived in Harlem during the 1920s, and whose ghostly presence haunts her in the city's subways. And Gilberto Owen, dying in Philadelphia in the 1950s, convinced he is slowly disappearing, recalls his heyday decades before, his friendships with Nella Larsen, Louis Zukofsky, and Federico Garcia Lorca, and the young woman in a red coat he saw in the windows of passing trains. As the voices of the narrators overlap and merge, they drift into one single stream, an elegiac evocation of love and loss.
Coffee House Press
Paperback
May 2014
154 Pages
9781566893541
Praise
"Valeria Luiselli's lovely and eccentric first novel is . . . peppered with arresting imagery." —The New York Times, "Newly Released Books"
"[A] lovely and mysterious first novel. . . the multilayered book she has devised brings freshness and excitement to such complex inquiries."
—The Wall Street Journal
"Throughout Faces in the Crowd, Luiselli crafts beautiful sentences, while gleefully thumbing her nose at novelistic conventions. All that makes her an exciting and essential voice on the Latin American literary landscape, as further evidenced by the nonfiction collection her U.S. publisher, Coffee House Press, is simultaneously releasing with her novel. . . Together with Faces in the Crowd, her essays in Sidewalks are a wonderful contribution to the long tradition by which authors re-imagine their cities as dream-like spaces created for them to wander around, daydream and discover."
—Los Angeles Times
"Faces in the Crowd presents itself as a remarkably confident novel from two first- timers. Confident in its handling, by a debut novelist of the ambitious ideas that crackle through its voices, in its complex structure and the daring intimacy of its field of vi- sion. And confident in its debut translator Christina McSweeney's mastery of lan- guage: sometimes sharp-edged, sometimes playful and consistently effective." —Independent