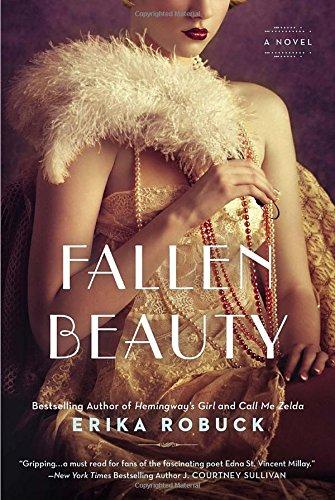 FALLEN BEAUTY
---
"Without sin, can we know beauty? Can we fully appreciate the summer without the winter? No, I am glad to suffer so I can feel the fullness of our time in the light."
Upstate New York, 1928. Laura Kelley and the man she loves sneak away from their judgmental town to attend a performance of the scandalous Ziegfeld Follies. But the dark consequences of their night of daring and delight reach far into the future.…
That same evening, Bohemian poet Edna St. Vincent Millay and her indulgent husband hold a wild party in their remote mountain estate,
"Without sin, can we know beauty? Can we fully appreciate the summer without the winter? No, I am glad to suffer so I can feel the fullness of our time in the light."
Upstate New York, 1928. Laura Kelley and the man she loves sneak away from their judgmental town to attend a performance of the scandalous Ziegfeld Follies. But the dark consequences of their night of daring and delight reach far into the future.…
That same evening, Bohemian poet Edna St. Vincent Millay and her indulgent husband hold a wild party in their remote mountain estate, hoping to inspire her muse. Millay declares her wish for a new lover who will take her to unparalleled heights of passion and poetry, but for the first time, the man who responds will not bend completely to her will.…
Two years later, Laura, an unwed seamstress struggling to support her daughter, and Millay, a woman fighting the passage of time, work together secretly to create costumes for Millay's next grand tour. As their complex, often uneasy friendship develops amid growing local condemnation, each woman is forced to confront what it means to be a fallen woman…and to decide for herself what price she is willing to pay to live a full life.
NAL
Paperback
March 2014
384 Pages
9780451418906
Praise
"Lovers of the Jazz Age, literary enthusiasts, and general historic fiction readers will find much to love about Call Me Zelda. Highly recommended."—Historical Novel Society, Editors' Choice
Discussion Questions
What was your overall reaction to reading Fallen Beauty?
How are both Edna St. Vincent Millay and Laura Kelley "fallen women"? How does each rebuild her life after her fall?
Discuss the changing dynamics between Laura and Edna over the course of the novel. How do they hurt and help each other? By the end, how would you define their relationship?
Discuss the many kinds of isolation in the novel. How much of it is self-imposed, and why do some characters choose isolation? How does community act to reinforce or counteract that isolation?
Laura is keeping her lover's identity secret. Discuss the secrets that other people in town are keeping. Do Edna and Eugen keep any secrets?
Compare Laura's relationship with her unidentified lover and Edna's relationship with George Dillon.
What role does the statue of the Virgin play in the novel? Why do you think Erika Robuck included it?
Erika Robuck has said that Fallen Beauty is based on themes from Nathanial Hawthorne's The Scarlet Letter. What do you think she means?
Talk about the various mothers in the book, and what we know about the choices they made. What kind of mother might Edna have made? What direction might Laura's life have taken if she wasn't a mother? Based on what the novel reveals about Cora, how do you think she helped shape Edna's life?
Do you think, like Edna, that artists should seek to live fully in order to have profound experiences to inspire their art? What price might an artist pay in doing so? What price does Millay pay? What about Laura?
Attitudes about out-of-wedlock births have changed dramatically since the 1930s when this novel takes place. Do you have stories to share, perhaps from your own family, about women whose lives were affected by a pregnancy outside of marriage? How different is your own attitude to those held in the thirties?
At the end of the novel, Edna calls Laura a "cruel beauty." What do you think she means? How is Edna herself a cruel beauty?
What do you think you'll remember about this novel long after you finish reading it?