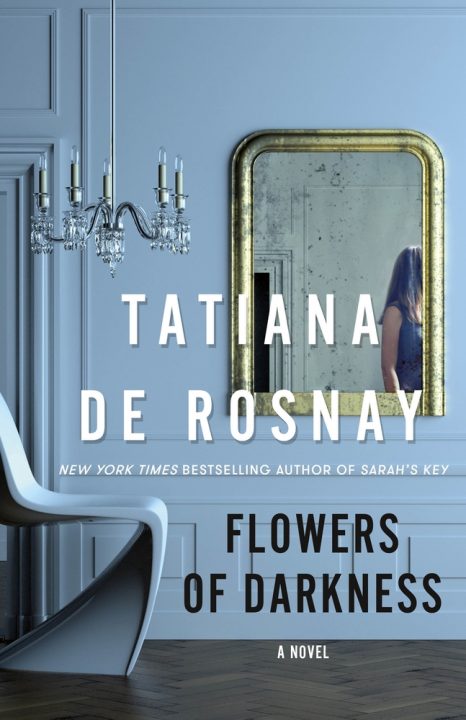 FLOWERS OF DARKNESS
A Novel
---
From the internationally bestselling author of Sarah's Key comes Tatiana de Rosnay's Flowers of Darkness, a riveting and emotionally intense novel, set in a near future Paris, where a woman confronts past betrayal and present mystery.
Author Clarissa Katsef is struggling to write her next book. She's just snagged a brand new artist residency in an ultra-modern apartment, with a view of all of Paris, a dream for any novelist in search of tranquility. But since moving in, she has had the feeling of being watched. Is there reason to be paranoid?
From the internationally bestselling author of Sarah's Key comes Tatiana de Rosnay's Flowers of Darkness, a riveting and emotionally intense novel, set in a near future Paris, where a woman confronts past betrayal and present mystery.
Author Clarissa Katsef is struggling to write her next book. She's just snagged a brand new artist residency in an ultra-modern apartment, with a view of all of Paris, a dream for any novelist in search of tranquility. But since moving in, she has had the feeling of being watched. Is there reason to be paranoid? Or is her distraction and discomfort the result of her husband's recent shocking betrayal? Or is that her beloved Paris lies altered outside her windows? A city that will never be quite the same, a city with a scar at its center?
Stuck inside, in the midst of a sweltering heat wave, Clarissa enlists her beloved granddaughter in her investigation of the mysterious, high tech building even as she finds herself drawn back into the orbit of her first husband who is still the one who knows her most intimately, who shares the past grief that she has never quite let go.
Staying true to her favorite themes—the imprint of the place, the weight of secrets—de Rosnay weaves an intrigue of thrilling suspense and emotional power.
St. Martin's Press
Hardcover
February 2021
256 Pages
9781250272553
Praise
"A woman wrestling with writer's block turns to a Parisian residency to get her creative juices flowing, with grim consequences, in Tatiana de Rosnay's Flowers of Darkness. Alone in her swanky, if temporary, apartment, Clarissa can't escape the feeling that she's under surveillance. She pulls her granddaughter in to help her, but soon comes face to face with the secrets of her own past, in this tense thriller." —Bustle
"All the alluring ingredients of de Rosnay's work come together in her new novel." —Elle (France)
"A fine novel, a thriller that sensitively explores paranoia, grief, and personal redemption. The writing is lush and visually evocative… she has such a compelling voice." —Booklist
"I love how Tatiana de Rosnay's novels are always both page-turners and explorations of important issues…The questions the story raises about creativity, loss, and the rich messiness of being fully human are crucial and compelling. The near-future in which Flowers of Darkness takes place is such a logical extension of our own environmentally-challenged and AI-enhanced present that as I read I kept wanting to check to make sure the Eiffel tower was still standing." —Jean Hegland, author of Windfalls and Into the Forest
"Lively, engaging and captivating." —Madame Figaro
"By exploring the effects of modern technology and the upheavals of contemporary life, de Rosnay continues to thrill us with this hypnotizing intrigue." —Tele 7 Jours
Discussion Questions
1. De Rosnay sets the scene in a dystopian Paris: What adjectives, imagery, and themes does she use? Describe how this is a very different Paris, nothing to do with the postcard image for tourists. Did you find these descriptions scary? Or realistic?
2. How does de Rosnay depict Clarissa's new apartment in the state-of-the-art C.A.S.A. residence? How does her virtual assistant, Mrs. Dalloway, slowly encroach upon her privacy? Do you think Chablis, the cat, really sees or feels something?
3. This book takes us into the minds and homes of two writers: Virginia Woolf and Romain Gary. Discuss how both of them differently affect Clarissa and leave their imprints upon her. Discuss the themes and images used in Gary's Parisian apartment, then in Woolf's country home and garden. What did you learn?
4. Through her notebook, we see how Clarissa discovers her husband's infidelity and that it's not what she expected. Were you shocked by this outcome and why? What did you think of François's letter to her? Describe why you think Clarissa's plight is worse or better than a more typical situation.
5. Family is essential to Clarissa, especially her daughter, Jordan, her granddaughter, Andy, and her centenarian dad. Discuss how these family ties evolve and change during the story and how siblings can become estranged over inheritance issues. Who is your favorite character and why?
6. According to Virginia Woolf, the term "flowers of darkness" suggests our own paranoia and how we deal with it. Would you have trusted C.A.S.A. and Dr. Dewinter's principles? How would you have reacted to what Clarissa undergoes in the residence? How do you view the future and its threats? Do you ever feel "invaded" by the encroachment of technology into our everyday lives? Discuss whether you think Clarissa is correct in her assumptions or whether she might be overreacting.
7. Clarissa is fluent in English and in French and writes in both languages simultaneously. After her discoveries concerning C.A.S.A., she is convinced that artificial intelligence is scavenging what she calls "hybrid brains," such as hers. Do you think she has a point or is she being paranoid yet again?
8. Clarissa's dreams play an important part in the story, as does hypnosis. Describe the themes and patterns of the images coming back to haunt Clarissa and how they coalesce with her present.
9. During her interview for C.A.S.A. residency, Clarissa states that she does not write books to give answers, but to make her readers think. How did you handle the open ending of this novel? What do you believe de Rosnay's true intent was?
10. Toby, Clarissa's ex-husband, is an essential part of her life. Why is this? Discuss the final scene with Toby and its repercussions. Has Clarissa really reached safe harbor? What do you think is in store for her?
11. What was your impression of Clarissa at the beginning of the book? What about at the end? Over the course of the novel, how does she change and what does she learn about herself? If this book became a movie, which actress would you cast as Clarissa?
12. If you have read The Rain Watcher, A Secret Kept, Sarah's Key, The Other Story, or The House I Loved—also by de Rosnay—can you point to any common themes that are found in her books?
Excerpt
1
KEY
So I am doing what seems the best thing to do.
– Virginia Woolf, March 28, 1941
This can obviously be held accountable to a nervous breakdown.
– Romain Gary, December 2, 1980
SHE VISITED TWENTY APARTMENTS before finding the right one. Nobody could imagine what an ordeal it had been, especially for a writer obsessed with houses, with what walls remembered. The building had been completed last year. It wasn't far from the Tower, or what was left of the Tower. After the attack, the neighborhood had suffered. For years, the place remained a dusty and wrecked no-man's-land ignored by all. Little by little, the vicinity was able to rise from its ashes. Architects had thought out harmonious neoclassical structures, as well as a vast green garden including the memorial and the space where the identical Tower was yet to be rebuilt. With the passing of time, this part of town had been able to recover its serenity. Tourists came flocking back.
Mrs. Dalloway's soft voice was heard.
"Clarissa, you have incoming emails. One is from Mia White, not in your contact list, and one is from your father. Do you wish to read them now?"
Her father! She checked her watch. One A.M. in Paris, midnight in London, and the old chap was still awake. Getting on for ninety-eight and full of beans.
"I'll read them later, Mrs. Dalloway. Please turn the computer off. And the lights in the living room."
In the beginning, she had felt guilty, bossing Mrs. Dalloway around. But she had gotten used to it. It was quite pleasurable, in fact. Mrs. Dalloway never appeared. She was merely a voice. But Clarissa knew Mrs. Dalloway had eyes and ears in every room. Clarissa often wondered what she would have looked like, had she existed. It was believed Virginia Woolf modeled Mrs. Dalloway's character after a woman named Kitty Maxse, a frivolous party giver who had been a close friend, and who had met a tragic end, tumbling over her own banisters. Clarissa had looked up Kitty Maxse, and discovered photographs of a perfectly groomed lady with an hourglass figure and a dainty parasol.
She stood in the dark living room, facing the window, clasping the cat close to her. The computer no longer glowed into the deepening darkness. Would she ever get used to this flat? It wasn't so much the smell of new paint. There was something else. She couldn't quite place it. She loved the view, though. High up above the ground level, away from the action, she felt safe, tucked into her own private shelter. Was she really safe? she wondered as the cat purred against her and the black night seemed to hem her in. Safe from what, safe from whom? Living alone was proving to be more difficult than she'd thought. She wondered what François was doing now. He was still in their old apartment. She imagined him in their living room, binge-watching a TV show, feet up on the table. What was the point of thinking of François? No point at all.
Clarissa's shortsighted eyes gazed down to the street, far below, where tipsy vacationers staggered, their laughter wafting up to her in a muffled roar. This new area of the city was never empty. Hordes of tourists materialized ceaselessly on sidewalks, in a dusty synchronicity that befuddled her. She had learned to avoid certain boulevards, where swarms of sightseers stood, vacuously, brandishing cell phones at what remained of the Tower, and the construction site of the new one. She had to wade through their compact mass, sometimes even had to elbow through them in order to get past.
Watching the building across the street and all those beings behind each window would never tire her. Within the past weeks, since she'd been living here, she'd learned to pick out each occupant's routine. She already knew who was sleepless, like she was, who worked late in front of a screen, who enjoyed a snack in the middle of the night. She couldn't be seen; she was too high up, tucked away behind the stone cornices. Sometimes, she used her field glasses. She never felt guilty, although she would hate it if anyone spied on her that way. She always checked to see if someone was looking back at her. And even if no one was, why did she still feel an eye upon her?
Other people's lives unfolded in front of her, enticing alveoli forming a giant hive in which she could forage at her will, fueling her imagination boundlessly. Each opening was like a Hopper painting, lush with detail. The second-floor woman did her yoga every morning on a mat she rolled out with care. The third-floor family never stopped bickering. The slamming of those doors! The person on the sixth spent hours in the bathroom (yes, she could see through panes that weren't opaque enough). The lady of her age on the fifth floor daydreamed on her sofa. She didn't know their names, but she knew nearly everything about their daily existence. And it fascinated her.
When she started to look for her new abode, she hadn't realized to what extent she was going to trespass into unknown people's intimacy. Each room told a story by the disposition of its furniture, objects, through odors, scents, and colors. She had only to walk into a living room to extricate a prescient vision of the person who lived there. She could picture the inhabitant's life entirely in one dizzying and addictive flash. She saw it all, as if she had been provided with special internal sensors.
She'd never forget the duplex flat situated on boulevard Saint-Germain, near Odéon. The description fit her needs perfectly. She liked the neighborhood, and already visualized herself trotting up the polished stairs daily. But once she was inside, the ceiling was so low, she practically had to hunch her back. The real estate agent had asked, jokingly, how tall she was. What an idiot! She was able to tell right away the owner worked in publishing, because of all the manuscripts piled up on the black lacquered desk. Some editors still revised texts on paper, but they were exceedingly rare. The bookshelves were full of hardcovers and paperbacks, a vision of joy for a writer. She tilted her head to read the titles. Yes, there were two of hers there, Topography of Intimacy and The Sleep Thief. It hadn't been the first time she'd seen her own books while visiting a flat, but it invariably brought her pleasure.
The duplex was lovely, but miniature. She couldn't stand properly in any of the rooms; her body ate up all the space, like Alice in Wonderland becoming larger than the house. It was a shame, because the premises were sunny, quiet, giving on to a pretty interior courtyard. She hadn't been able to stop herself from looking at the beauty products in the bathroom, perfume and makeup, and when the agent had opened the wardrobe, she had taken in the clothes and high-heeled pumps. Swiftly, the portrait of a woman had arisen: small, dainty, spick-and-span, young still, but alone. No love in her life. Something dry and barren permeated the place, shadowed the walls, upholstered the air. In the glossy brown bedchamber, the mattress had the funereal aspect of a tombstone, where all she could perceive was a recumbent effigy, petrified by a century-long torpor. No one ever had orgasms within these walls, either alone or in company. A profound gloom oozed from the immaculate and silent rooms. She had fled.
She began to see a flat a day. One time, she had felt sure she'd found the right home, at last. A cheerful fifth-floor flat with a balcony, near the Madeleine. It was sunny, one of her priorities. It had recently been renovated and the décor suited her. The owner was moving back to Switzerland. Since the attacks, his wife didn't wish to go on living in the city. Clarissa had just been about to sign the lease, when she noticed, to her dismay, the existence of a rugby pub on the ground floor. She had always come in the morning, and hadn't paid attention, as the bar was closed. She had returned later in the evening just to get a feel of the area at nighttime and had made the discovery. The pub opened every evening and operated until two o'clock in the morning. Jordan, her daughter, had made fun of her. So what? She could use earplugs, couldn't she? But Clarissa hated those. She decided to test the noise level by spending the night in a small hotel across from the pub.
"We have nice quiet rooms in the back," said the receptionist when she checked in.
"No, no", she replied, "I want to be in front of the pub."
He had stared at her.
Copyright © 2021 by Tatiana de Rosnay