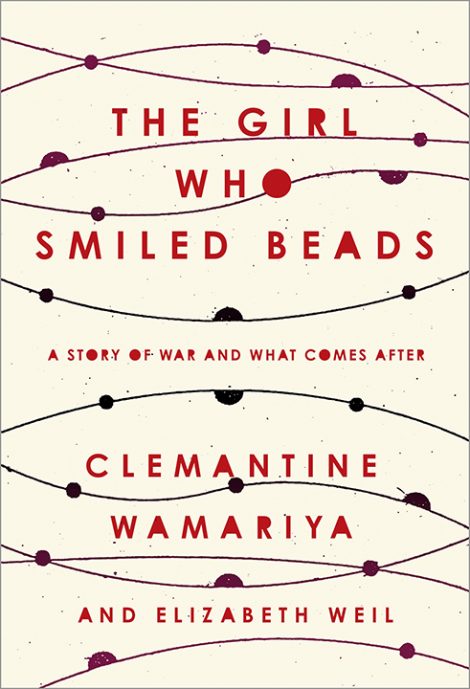 THE GIRL WHO SMILED BEADS
A Story of War and What Comes After
---
"The plot provided by the universe was filled with starvation, war and rape. I would not—could not—live in that tale."
Clemantine Wamariya was six years old when her mother and father began to speak in whispers, when neighbors began to disappear, and when she heard the loud, ugly sounds her brother said were thunder. In 1994, she and her fifteen-year-old sister, Claire, fled the Rwandan massacre and spent the next six years migrating through seven African countries, searching for safety—perpetually hungry, imprisoned and abused, enduring and escaping refugee camps, finding unexpected kindness, witnessing inhuman cruelty. They did not know whether their parents were dead or alive.
"The plot provided by the universe was filled with starvation, war and rape. I would not—could not—live in that tale."
Clemantine Wamariya was six years old when her mother and father began to speak in whispers, when neighbors began to disappear, and when she heard the loud, ugly sounds her brother said were thunder. In 1994, she and her fifteen-year-old sister, Claire, fled the Rwandan massacre and spent the next six years migrating through seven African countries, searching for safety—perpetually hungry, imprisoned and abused, enduring and escaping refugee camps, finding unexpected kindness, witnessing inhuman cruelty. They did not know whether their parents were dead or alive.
When Clemantine was twelve, she and her sister were granted refugee status in the United States; there, in Chicago, their lives diverged. Though their bond remained unbreakable, Claire, who had for so long protected and provided for Clemantine, was a single mother struggling to make ends meet, while Clemantine was taken in by a family who raised her as their own. She seemed to live the American dream: attending private school, taking up cheerleading, and, ultimately, graduating from Yale. Yet the years of being treated as less than human, of going hungry and seeing death, could not be erased. She felt at the same time six years old and one hundred years old.
In The Girl Who Smiled Beads, Clemantine provokes us to look beyond the label of "victim" and recognize the power of the imagination to transcend even the most profound injuries and aftershocks. Devastating yet beautiful, and bracingly original, it is a powerful testament to her commitment to constructing a life on her own terms.
Crown Publishing Group
Hardcover
April 2018
288 Pages
9780451495327
Praise
"Extraordinary and heart-rending. Wamariya is as fiercely talented as she is courageous."—Junot Díaz, author of The Brief Wondrous Life of Oscar Wao
"In the aftermath of the Holocaust, witnesses and survivors shared reflections that changed our moral understanding of good and evil and all that lies between. In The Girl Who Smiled Beads, Clemantine Wamariya has written a defining, luminescent memoir that shines a sharp light on the dark forces that roil our age. If you read this book—and once you read the first page, you will not put it down—you will never think about political violence, displacement, or the privileges and responsibilities of citizenship the same way again. Wamariya tells the story of her discombobulating resettlement in the United States as a teenager, following her harrowing experiences in the Rwandan genocide and as a refugee roaming the African continent in search of a home. Wamariya is unsparing in her criticisms of Western indifference and moral presumptuousness, and she subjects her own judgments and values to the same withering scrutiny, revealing a young woman that figures out how to survive but struggles to learn how to live. Her gripping and brutally honest reflections inspire us to count our blessings and summon us to follow her fierce and unrelenting example to try to help build the world we wish to see."—Samantha Power, author of A Problem from Hell": America and the Age of Genocide and Anna Lindh Professor of the Practice of Global Leadership and Public Policy, Harvard Kennedy School
"A powerful record of the refugee experience… [with] moments of potent self-reckoning."—Kirkus Reviews
Discussion Questions
1. The title of the book is taken from a story Clemantine's nanny, Mukamana, tells her as a child. How is the story connected to the themes of the book?
2. After fleeing Rwanda, Clemantine fears losing her sense of self in refugee camps. In what ways does her longing to preserve her individuality express itself?
3. In the first chapter of the book, Clemantine tells us: "I have never been Claire. I have never been inviolable." As the story unfolds, she and her sister react to trauma in very different ways, and rely on different survival strategies. How would you characterize their differences? Which events best illustrate those differences?
4. Clemantine's experience as a "stateless" person is harrowing, yet there are times when she and her sister experience great kindness and generosity. Describe some of the kindnesses that stood out to you.
5. Why do Clemantine's sister and mother instruct her not to accept gifts? And why does Clemantine come to see acts of charity as a negative thing? Do you agree with her view of charity?
6. Clemantine sets forth an alternative to charity, an ethic of sharing. What are the origins of this practice in her life?
7. The authors write: "In Rwanda, if you're female, you are born with great value—not because of who you are as an individual or your mind, but because of your body." What do they mean by that? How has that mind-set affected Clemantine's life, both during the time she was seeking refuge and in the United States? Do you see any parallels to this attitude about the female body in your own culture?
8. After she arrives in the United States, there are times when Clemantine feels alienated by American culture. What is most surprising to her about American culture? What are some of the things that make her uncomfortable or anger her?
9. Clemantine takes issue with the word genocide, which she describes as "clinical, overly general, bloodless, and dehumanizing." In her view, that one word cannot adequately capture the atrocities of racialization and war in Rwanda. Do you agree that words and abstract concepts can distort or overwrite people's experience? Are there words about which you feel similarly?
10. Clemantine sometimes speaks at events about being a survivor of genocide. In some ways she finds it rewarding but more often she finds it unsatisfying. What is it that she finds objectionable and why?
11. Clemantine writes about how important her katundu, or stuff, is to her. What do you think the objects she collects represent to her? What cherished objects have you saved, and what do they mean to you?
12. Clemantine talks about how meaningful the works of Eli Wiesel, Toni Morrison, Maya Angelou, James Baldwin, Walter Benjamin, and W. G. Sebald have been for her. In what ways did these writers equip her to grapple with her past, her pain, and her feelings of loneliness and isolation? In what ways did they expand her worldview? Who are the writers whose work has been most valuable to you in making sense of difficult events of your own past?
13. Clemantine goes on a trip to Kenya with fellow students when she is at Yale, but she ends up returning early. What does she find difficult about the trip?
14. Clemantine describes returning to Rwanda for Remembrance Day, where the government has an official historical narrative, seen in the Kigali Genocide Memorial and President Kagame's speech. Describe the Rwandan government's version of the country's history. In what ways does this narrative give Rwandan people "a way to tolerate an intolerable truth"?
15. Claire tells Clemantine: "Everything is yours, everything is not yours. The world owes you nothing; nobody deserves more or less than the next person." What does she mean by that? If those values were universally practiced, how might our society and the global community look different?
16. Why do Clemantine and Claire feel so differently about the adage "Forgive and forget"? Do you believe in forgiving and forgetting wrongs that have been done to you?
17. At age twenty-eight, Clemantine invites her mother on a trip to Europe. What does she hope to achieve with the trip? In what ways is she disappointed?
18. Why do you think the authors chose to structure the book so that it oscillates between Clemantine's time in Africa and her life after emigrating to the United States, rather than as a linear story?
Interviews
Clemantine Wamariya: The Author of Her Own Life
Clemantine Wamariya is a storyteller and human rights advocate. Born in Kigali, Rwanda, and displaced by conflict, Wamariya migrated throughout seven African countries as a child. At age 12, she was granted refugee status in the United States and went on to receive a BA in Comparative Literature from Yale University. She lives in San Francisco. The Girl Who Smiled Beads (Crown, April 2018) chronicles her amazing life story and is her first book.
The title of your book comes from a story your nanny told you as a young girl. Why, of all the stories she told you, do you think that particular one stayed so clear in your mind through the years?
That story was magic! When my nanny, Mukamana, told me about the girl who smiled beads, she did not just lay out the plot. She invited me to shape the tale. She set out this character, this miraculous, beautiful girl who smiled beads. Then she set that girl in the world—first in her mother's house, then walking the earth—and each step of the way Mukamana asked, "And what do you think happened next?" Whatever I said, Mukamana told me I was right. The story allowed me to believe I controlled my own destiny. It allowed to me to try and make sense of a universe I could not understand. By the time I was six, the universe had turned upside down. I understood so little. What were borders? Why did people hate us? Why did we need papers to flee war and seek peace? Almost everything external told me that I was nothing, that I had no authorship over my life, no control. The Girl Who Smiled Beads was the antidote to all that.
I love this quote from your book, "When I'm angry, I think in Swahili because that's the language in which I learned to fully express my emotions." What Swahili words describe your emotions about publishing this book?
Haraka haraka haina baraka. It's a bit hard to translate. Literally it means, Fast fast, there is no luck. The point is, if you're in a hurry, you'll miss out on the good stuff. Writing this book and releasing it into the world is thrilling, but there's a panic to it. I feel like I've been in pieces for months! I worked so slowly for years, on my survival, on my education, on reading and writing. And now, my goodness, it feels like such a rush. Haraka haraka haina baraka. That's my reminder to myself to try to slow down. I want to take a moment and enjoy it. This book is about so many people and the result of so many people sharing with me. If I rush, I fear I'll miss out on all I have to learn from the experience of sharing the book with the world.
You had to take on the identity of the people in each of the many places you traveled and lived. Now that you've been in the United States for almost two decades, have you unearthed the real Clemantine?
Describing myself is not one of my strengths! I used to feel so frustrated that I couldn't produce a simple description of who I am or even what I do. But I recently made peace with this. Who I am and what I'm doing depends on who I am with. As a child, I learned to adapt. I had to. And even now, I place a lot of value on place and circumstance and interpersonal exchanges. For example, I have a friend who spends most of day cleaning Chestnut Street, a very busy commercial strip near the bay in San Francisco. Every time we see each other, we stop, talk, and find something to smile about. To Calvin, I am the girl on Chestnut Street with a yoga mat who pauses to laugh and chat. I don't need to be a Yale grad or a humanitarian or a former refugee to him. It's better to just connect as two people sharing a street. Refusing to be frozen as a particular character is now a practice to me. It allows me to try to be intimate and equal with everybody.
You've invited some of your audiences to think about questions such as "How are you aware of your privilege?" What has been the response?
This question is really hard for audiences, but I do expect a straight answer, even when it causes discomfort. How do you see yourself in the context of your life? What are you about? What do you have that others don't and what happened in your past, or your family's past, that allowed you to have those things? People are often so ashamed of their privilege. We really need to think about all the reasons why. Some ways of coming into privilege are, indeed, shameful; many have built fortunes on others' suffering. Yet people do gain privilege honestly, through talent and work.I also often ask people to repeat the phrase I am… I am… I am…, and fill in the blanks: I am a son. I am British. I am a person with a passport. I am the granddaughter of a woman who fled her country so that her family could survive. I want to give audiences a way to go inside themselves and their identities. Our lives are cluttered with so many labels. I want to peel those back and help people see what's underneath.
In another very powerful part of your book you explain your dislike of the word "genocide," pointing out that every experience is unique: "There's no catchall term that proves you understand." For those who want to work toward a better understanding of others, what do you recommend they do after finishing The Girl Who Smiled Beads?
Ah, this is my favorite question! There is so much amazing literature and art and music and film and there is so much we can learn from it. I'd love for readers to put down this book and pick up John Berger's Ways of Seeing, or go to YouTube to watch the BBC series on which that book is based. It's an amazing education in how we take in the world, what we see and what we miss, and what that teaches us about ourselves. Or read Audre Lorde's "Poetry Is Not a Luxury." Or listen to Nina Simone's "22nd Century." Or watch Get Out and then read Zadie Smith's glorious essay on the film. As readers of my book will know, I've had life-transforming experiences with literature—early on with Eli Wiesel's Night and later with W.G. Sebald's Austerlitz. Sebald gave me the tools to see and understand myself and the world. I hope my book is just a start for readers—to take apart the word genocide, yes, but also take apart all the small, dark boxes we've put one another in.
If your readers could take away only one lesson or message from The Girl Who Smiled Beads, what would you want that to be?
My hope is that readers will come away remembering that we all have equal humanity. We are all equally valuable, and nothing anybody can do or say can alter that. Our story—I think of the book as our story, not just my story—is deeply personal and specific, but it's also the story of the world. It's about family and all the things that get in the way of family. It's about love and all the things that get in the way of loving ourselves and others. It's about the labels we put on each other and how those labels breed fear by blocking our views of one another's hearts. I sincerely hope each reader has a unique experience with the book. But if there's one message, that's it: we are all equally human. We all need to learn and relearn that basic lesson, every day.
Interview courtesy of Shelf Awareness