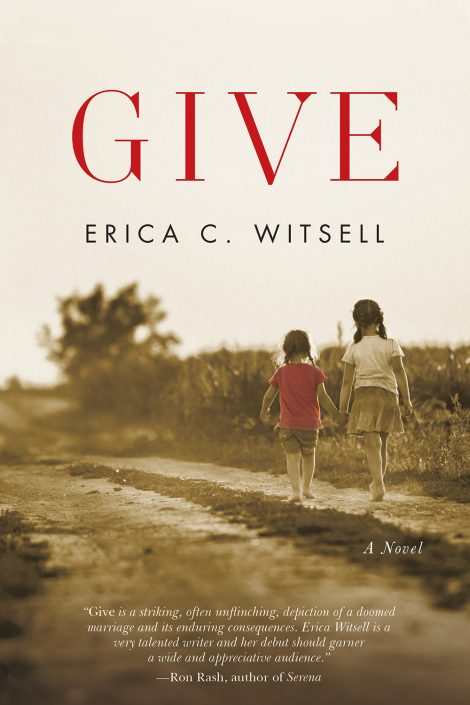 GIVE
A Novel
---
A fractured family leaves two sisters struggling for belonging. One gift could change everything.
Every summer, Jessie and Emma leave their suburban home and fly north, to Baymont. Nestled among Mendocino's golden hills, with ponies to love and endless acres to explore, Baymont should be a child's paradise. But Baymont belongs to Laurel, the girls' birth mother, whose heedless parenting and tainted judgement cast a long shadow over the sisters' summers—and their lives.
Caught in a web of allegiances, the girls learn again and again that every loyalty has its price, and that even forgiveness can take unexpected turns.
A fractured family leaves two sisters struggling for belonging. One gift could change everything.
Every summer, Jessie and Emma leave their suburban home and fly north, to Baymont. Nestled among Mendocino's golden hills, with ponies to love and endless acres to explore, Baymont should be a child's paradise. But Baymont belongs to Laurel, the girls' birth mother, whose heedless parenting and tainted judgement cast a long shadow over the sisters' summers—and their lives.
Caught in a web of allegiances, the girls learn again and again that every loyalty has its price, and that even forgiveness can take unexpected turns. Years later, when her mother asks her older daughter for the ultimate gift, Jessie must decide just how much to give in the name of love.
Lyrical and poignant, Give is the story of one family's troubled quest to redeem the mistakes of the past, and a testament to the bonds of sisterhood.
BQB Publishing
Paperback
June 2019
430 Pages
9781945448348
Praise
"Give is a striking, often unflinching, depiction of a doomed marriage and its enduring consequences. Erica Witsell is a very talented writer and her debut should garner a wide and appreciative audience." – Ron Rash, bestselling author of Serena and Behind the Waterfall
"A very unusual family saga written with unusual intelligence and compassion. Erica Witsell has a gift for depicting complex relationships." – Phyllis Rose, author of Parallel Lives, Jazz Cleopatra, and The Shelf
" . . . [a] striking debut novel . . . The plot rolls toward a climax that is both incredible and fascinating. Witsell has crafted a story of relationships, love and guilt that, while dramatically complex, underscores the challenges of humans linked by family ties." – Shelf Awareness

"I was mesmerized by this gutsy debut novel. Witsell's characters are richly drawn, showing us their grit, pain, softness, and most of all, their glorious complexity. This novel reveals a family that defies expectations and flirts with disaster, and Witsell expertly showcases how alliances between family members are constantly shifting. I found myself deeply invested in the characters and rooting for them to find their way through the beautiful chaos of life, as Witsell bravely portrays it. This novel is a must read." – Andrea Bobotis, author of The Last List of Miss Judith Kratt
"This is a gripping narrative about family, identity, and loyalty. The themes are both uniquely modern and timeless. I fell in love with the characters as they struggled to understand themselves and reconcile with one another. Beautifully written!" – Kate Rademacher, author of Following the Red Bird
Discussion Questions
1. Give begins with Laurel's perspective, although it eventually becomes clear to the reader that she is not the protagonist of the story. Why do you think the author chose to begin the novel with her perspective? Do you think this was an effective choice? As a reader, when did your perception of Laurel's character begin to shift?
2. Ron Rash has described Give as a "striking, often unflinching, depiction of a doomed marriage and its enduring consequences." Do you agree that the marriage between Laurel and Len is "doomed?" What events or circumstances eventually lead to its disintegration? Do you agree with Emma that Len and Laurel's divorce is the "best thing that could have happened?" Why or why not? How would the characters' lives have been different if Len had stayed with Laurel?
3. When Len decides to pursue his relationship with Sarah, he knows this will mean that his daughters will lose Sarah as a caregiver. He is, in effect, putting his own happiness before that of his daughters. What did you think of his choice? How much of their own happiness should parents be willing to sacrifice for their children's well-being? Is it fair for parents to take chances when they risk hurting their children?
4. In the early scenes in the novel, Laurel really struggles with new motherhood. Discuss how Laurel's isolation compounds the challenges she faces as a new mom. Do you think moms today face similar challenges? If so, what could help alleviate them?
5. Near the end of Part One, Sarah reflects that Len always said that she "just smelled right" to him. Do you agree that this kind of visceral feeling about a partner is important as a basis for a romantic relationship? Sarah also implies that her own choice was more reasoned. What role, if any, should rational thought play in decisions about long-term relationships?
6. Although Emma loves Baymont in some ways, she never feels secure there. Discuss the incidents at Baymont that contribute to this insecurity. For which of these events do you think Laurel is responsible? Do you think that she is unfairly blamed for things that were beyond her control?
7. How do Emma and Jessie experience their summers at Baymont and their relationship with Laurel differently? Are there any ways in which their experiences are similar? Have you ever shared an experience with someone only to find that the way they experienced it was very different from your own? How is your relationship with your parents different from that of your siblings?
8. Do you agree with the judge's decision in the custody battle between Laurel and Len? Why or why not?
9. After Laurel takes her father to court, Emma seems to cut off all ties to her birth mother until the very end of the novel. What do you think of her choice to do this?
10. In Part Three, Emma struggles with what her attraction for other women means for her sense of self. Is she a lesbian? A dyke? Bisexual? In what ways does a person's sexual orientation impact their identity? Does the idea of a continuum of sexuality, rather than fixed categories of gay and straight, make this question of identity any easier?
11. Laurel eventually enters into a polyamorous relationship with Jim and his long-term partner, Sue. What role does this relationship ultimately play in the novel's plot?
12. At one point in the novel, Jessie says that no one has a right to decide "who or how many consenting adults choose to love." Do you agree with this statement? Why or why not? What additional challenges might polyamory pose in a relationship? Are there any advantages polyamory might have over monogamy?
13. What do you think are Laurel's primary motivations in asking Jessie to donate her eggs? What do you think of this request? Why do you think Jessie agrees to Laurel's plan? Do you think she made the right choice?
14. Discuss Jessie's decision to have an abortion while she is a graduate student. How, if at all, does this decision impact the course of her life and the plot of the novel?
15. Why do you think Jessie keeps her gift to Laurel's family a secret from her parents? Is she right to do so? What are the consequences of this choice?
16. Why does Sue eventually leave Jim and Laurel? What is your opinion of this choice?
17. Describe Emma's grief after Katherine leaves her. Can you relate to her experience? Why or why not?
18. When Katherine ultimately apologizes for leaving Emma, she justifies her actions by saying, "I wasn't in love with you anymore." Emma responds by saying that love is a choice. Which view of romantic love do you believe is the most accurate? Why?
19. Describe the role of forgiveness in Give. Who is forgiven, and why? How has forgiveness been important in your own life?
20. Sarah Viren, author of Mine, has written that Give shows us that ". . . sacrifice and selfishness both play a role in how we parent and love." Do you agree? Discuss how sacrifice and selfishness play out in the novel and in your own parenting or relationships.
21. Is Give a good title for this novel? Why or why not?
Interviews
Q&A with Erica Witsell
Q: You've said that Give actually started as a memoir and then became a novel later. What shifted the direction for you? Do you still feel the desire to write a memoir?
A: I spent every summer of my childhood visiting my biological mother, a very complicated woman who had granted my father full custody when I was a baby, and I had long felt compelled to write about that time in my life. However, as I began to move beyond my own memories to the lives of my parents before I was born, I knew I was treading on very sensitive ground. It seemed impossible to tell the whole story without betraying the trust and the privacy of the people who had confided in me.
As I began to trim those sensitive areas from my writing, it soon became clear that to leave things out was to change the truth of what had really happened. And once I began to do that, it was thrilling to realize that I wasn't bound to the actual events of the past. I could make stuff up! Settings changed, new characters introduced themselves, the plot took unexpected turns. I had set out to tell a true story, but then I allowed that story to flower into a work of fiction.
Although Give is undoubtedly a novel, it contains enough autobiographical elements that I don't think I will ever need to revisit that territory in a memoir. However, I'm not ruling out the possibility of writing about some other area of my life. I wrote the early scenes in Give, in which Laurel struggles with new motherhood, in tears, and I suspect I may have more to write about that stage in my own life.
Q: What began the story for you? Was it an image, a conversation, a memory? What was the leaping off point?
A: Really, there were two. One was the memory of my mother selling my pony when I was very young. The despair I felt over losing that pony was very tied up in my complicated relationship with my mother. The pony became a symbol of how out of touch my mother was with my true feelings. As a mother, I now understand that
sometimes we have to disappoint our children, no matter how painful that is for us. Little girls always outgrow ponies; I imagine that for many, saying good-bye to them might even be a right of passage. But for me, it wasn't like that, because I didn't have a secure relationship with my mother to begin with.
The other memory that became a jumping off point for the story was when my birth mother showed me, when I was about five or six years old, that she still had the breast milk from when I was an infant. I don't want to give too much away from this scene in the novel, but for me, it was a very powerful and troubling moment. By that time, my allegiance to my stepmother was already very strong— for me, she was my mother— and so it was very difficult to see this physical evidence of my biological connection to my birth mother.
Q: How did you imagine the trajectory of story going when you started getting into the fictional aspect? What shifted or changed as you wrote?
A: I think that when I started writing Give as fiction, I intended to stay as close to the truth as possible without violating my family's privacy. However, I was surprised by how quickly the plot took on a life of its own. In fact, for me, writing a novel felt a lot like reading one, except much, much slower! I often couldn't wait to write, because I couldn't wait to find out what was going to happen.
Q: Are there specific books or writers that inspired you to become a writer? Did you read specific writers during the process of writing Give?
A: When I was a young, my favorite books were the ones in which the main characters long for a home of their own—Goodnight, Mr. Tom, Mandy, My Side of the Mountain—although at the time I never really considered why it was that those particular stories resonated with me so powerfully. Looking back, I am not at all surprised that the book I wrote three decades later is about many of those same themes of home and belonging.
Although Give is my debut novel, it's actually not my first; I wrote a novel in college as my senior thesis. I remember well how my advisor, after reading a few very mediocre chapters, asked me rather bluntly how I could expect to write fiction without reading it. I took his words to heart, and they have proved to be the best advice about writing that I have ever received. While I was writing Give, I read Cheryl Strayed, Jeannette Walls, and Sarah Waters, to name a few of my favorites. I also feel particularly indebted to Sarah Viren's remarkable memoir, Mine; her evocative prose helped me through a particularly rough chapter in Give.
Q: The landscapes of California are so richly written. When and where did you fall in love with the state? What made you choose this as the setting of Give?
A: Thank you. I went to California for the first time when I was eighteen, to work at a summer camp on an old homestead near Hayfork, a very small town in northern California. I had spent most of my life until then in suburban Florida, but I'd never really felt that I belonged there. California was a totally new world, a place where I could be my true self, much the way Jessie in Give feels that she is more fully herself in Baymont. I think that because California hosted, if you will, my coming of age, it will always be an emotionally resonant place for me.
I chose California as the setting for Give because of that emotional connection, but also because it has the variety of place that I needed for the story: the suburban dullness of Bakersfield, the gray fogginess of Arcata, the anything-goes atmosphere of the Bay Area, the rural wildness of Mendocino.
Q: You deal with a number of difficult issues here—belonging, home, polyamory, infertility, and desire to name a few. Was there anything that was particularly difficult for you to write about?
A: It was definitely difficult to write about polyamory, because in general I consider myself to be a very open-minded person and I don't think that I, or anyone, has the right to make judgements about who another person loves or how they might choose to structure their lives. However, I suspect that there may be people within the polyamorous community who will take issue with how polyamory is portrayed in Give, and I was very sensitive to those imagined criticisms as I wrote. Ultimately, though, I knew that the theme was essential to the story I was telling, so I couldn't just leave that part out. I try to remind myself that this is only one fictionalized relationship in one novel; it should not be held up as representative of an entire community.
Q: You also explore motherhood from a number of different perspectives. Laurel is a biological mother, Sara an adoptive one, then there are the incidents later in the book that blur the lines of motherhood even further. What prompted you to take so many different views of what is considered a very natural state?
A: Because of my strong relationship with my stepmother, I have often felt hounded by the question, "But who's your real mother?" As you suggest, this seems like it should be a very simple question, but it's really not. In this age of modern fertility and many different kinds of families, it is a question that is growing even more multifaceted. Give is just one exploration of a very complex question.
Q: What, if anything, surprised you as you wrote Give?
A: For a long time I thought that Give might go no further than my Google drive. Even after I made the decision to fictionalize, I didn't want to risk endangering my relationships with the people I love. However, I have been bowled over by my family's support for the book, and in many ways, I think that Give has brought us even closer. That was definitely a surprise, and it has been the book's true gift to me.
Q: As a writer, what did you learn by writing this story?
A: I read somewhere that the true challenge of being a writer is not coming up with the story—there are stories everywhere—but rather having the discipline to actually sit down and write them. Although I do think that there's a lot of truth to that, one thing I learned from writing Give is that unless you have a story that you feel deeply compelled to write, it is very difficult to make yourself sit down at the computer, when there are so many other important things to do. When you do have such a story, it is painful not to.
Q: What's next?
A: My in-laws have said that the sequel to Give—which they have not read—should be called Take, and that has become a kind of running joke in our family. However, my daughter said to me recently, as I was spending way too much time on something book-related, "Momma, please don't write Take." So I think I'm going to take a break from any big projects for a while and give my children more of my undivided attention. That said, there is a new document on my Google drive titled "new novel" and it's very exciting for me to know that I've got that journey ahead of me.