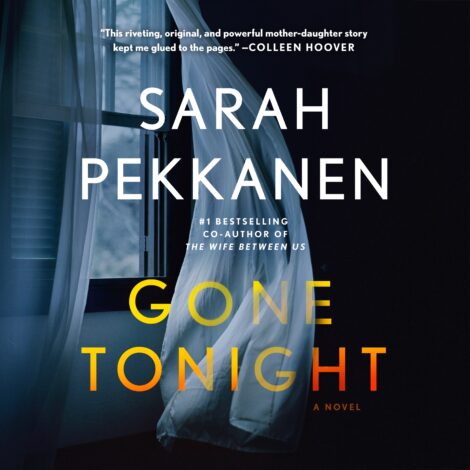 GONE TONIGHT
---
This audiobook is read by actress Kate Mara
Nothing is as it seems in New York Times bestselling author Sarah Pekkanen's Gone Tonight, a novel about a mother's secrets to protect her daughter and what happens when they begin to unravel…
This audiobook is read by actress Kate Mara
Nothing is as it seems in New York Times bestselling author Sarah Pekkanen's Gone Tonight, a novel about a mother's secrets to protect her daughter and what happens when they begin to unravel…
Macmillan Audio
Audio
August 2023
10 hours 8 minutes
9781250894595
Praise
"I'm a huge fan of Sarah Pekkanen's books, and Gone Tonight is her best yet." —Colleen Hoover
"Kate Mara gives a quiet powerhouse of a performance of this taut and original thriller."—AudioFile Magazine
Discussion Questions
1. How did the dual perspectives of Ruth and Catherine affect your reading of this story? How would the book be different if it were told from only one perspective?
2. How did the narrator's voice change for each character? Did the narration add an element of intrigue to the plot?
3. Do you support Ruth's decision to keep the truth from Catherine, even if it meant perpetuating a horrible deception? Why or why not?
4. In chapter 2, Ruth says, "I'm good at disappearing. We women do it all the time." What do you think this statement means? Explain how this statement is expressed throughout the novel.
5. The book explores the theme of keeping secrets from someone to protect them. Was there a time in your life when you held a secret for someone else's own good? Why did you feel like you had to keep that secret? Do you still feel the same way?
6. Explore the concept of family as portrayed in this novel, and the ways family members can hurt us and love us at the same time. What defines family? How did Ruth's reunion with her father and brother make you feel? How does it contribute to this novel's definition of family?