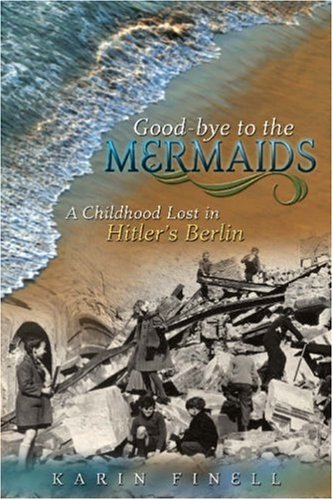 GOODBYE TO THE MERMAIDS
A Childhood Lost in Hitler's Berlin
---
Good-bye to the Mermaids conveys the horrors of war as seen through the innocent eyes of a child. It is the story of World War II as it affected three generations of middle-class German women: Karin, six years old when the war began, who was taken in by Hitler's lies; her mother, Astrid, a rebellious artist who occasionally spoke out against the Nazis; and her grandmother Oma, a generous and strong-willed woman who, having spent her own childhood in America, brought a different perspective to the events of the time. Finell depicts the lives of people tainted by Hitler's influence: her half-Jewish relatives who gave in to the strain of trying to remain unnoticed;
Good-bye to the Mermaids conveys the horrors of war as seen through the innocent eyes of a child. It is the story of World War II as it affected three generations of middle-class German women: Karin, six years old when the war began, who was taken in by Hitler's lies; her mother, Astrid, a rebellious artist who occasionally spoke out against the Nazis; and her grandmother Oma, a generous and strong-willed woman who, having spent her own childhood in America, brought a different perspective to the events of the time. Finell depicts the lives of people tainted by Hitler's influence: her half-Jewish relatives who gave in to the strain of trying to remain unnoticed; a favorite aunt who was gassed because she was old and had broken her hip; and a friend of the family who was involved in the abortive putsch against Hitler and hanged as a traitor. This eloquent and touching story tells how a decent people were perverted by Hitler and how a young girl ultimately came to recognize the father figure Hitler for the monster he was.
University of Missouri Press
Hardcover
October 2006
360 Pages
9780826216908
Praise
"Good-bye to the Mermaids is eloquent, candid, penetrating; it is sad, very often funny; it is valiant, poetic, horrifying; it is reality in all its forms, evoked with sureness, brilliance, and depth. It is one of those rare works that remains with you long after you have put it down."
—Ella Leffland, author of Rumors of Peace
Discussion Questions
How does Karin and Oma's close relationship affect Karin and Astrid's relationship? And does Karin and Oma's relationship affect Astrid's relationship with Oma?
What effect does Karin's parents' divorce have on her sense of self? What kind of relationship does Karin have with her father?
How does the war impact Karin's view of the world and of the adults around her?
What informs Oma's, Karin's, and Astrid's views of Hitler and of the war?
Is this a story of tragedy or of hope?
There are many strong women characters in the book, but how are the male characters portrayed?
What techniques does the author use to portray important events through the consciousness of a child? Did you find this portrayal convincing?
The image of the mermaid recurs at several points in the story. What is its initial significance for Karin? Does the image have a different meaning for her by the end of the book?
In one memorable scene, Karin's raised arm turns numb as she and her classmates maintain a salute while waiting for Hitler to appear. How does this scene encapsulate Karin's situation? Can you think of other scenes in the book that share this quality?