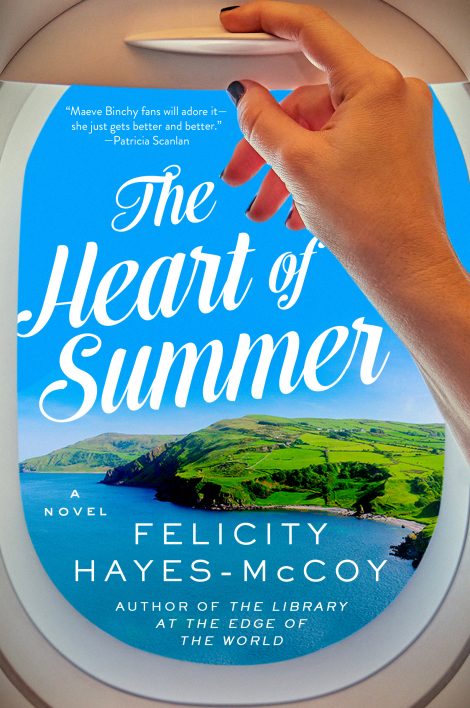 THE HEART OF SUMMER
Finfarran Peninsula: Volume Number 6
---
On Ireland's Finfarran Peninsula, summer means glorious weather and a life-changing choice for local librarian Hanna Casey in this delightful installment in the USA Today bestselling series, a captivating tale filled with all the beauty, charm, and warmth of Ireland that is perfect for fans of Jenny Colgan, Nina George, and Nancy Thayer.
Summer has finally arrived on Ireland's west coast. On the Finfarran Peninsula, Hanna Casey is looking forward to al fresco lunches with friends and balmy evenings with her boyfriend Brian in their stunning new home in beautiful Hag's Glen. With a painful divorce behind her and family drama finally settled,
On Ireland's Finfarran Peninsula, summer means glorious weather and a life-changing choice for local librarian Hanna Casey in this delightful installment in the USA Today bestselling series, a captivating tale filled with all the beauty, charm, and warmth of Ireland that is perfect for fans of Jenny Colgan, Nina George, and Nancy Thayer.
Summer has finally arrived on Ireland's west coast. On the Finfarran Peninsula, Hanna Casey is looking forward to al fresco lunches with friends and balmy evenings with her boyfriend Brian in their stunning new home in beautiful Hag's Glen. With a painful divorce behind her and family drama finally settled, Hanna begins to plan a romantic holiday getaway for the two of them.
But life takes a turn when Brian's adult son suddenly moves in and Hanna unexpectedly runs into Amy, a former flatmate from Hanna's twenties in London. Reminded of her youth—and all the dreams and hopes she once had—Hanna begins to wonder if everything she now has is enough. When Amy suggests a reunion in London with old friends, Hanna accepts.
While it's only short hop to England, Hanna feels like she's leaving Brian far behind. And when she's offered a new opportunity—the chance to be more than a local librarian in the little rural community where she grew up—Hanna is faced with a difficult choice: to decide what her heart truly wants.
Harper Perennial
Paperback
July 2022
368 Pages
9780062889546
Praise
'"Maeve Binchy fans will adore it—she just gets better and better." — Patricia Scanlan, author of The Liberation of Brigid Dunne
"Such a glorious read!! It's magical and transporting and I adore it." — Claudia Carroll, author of The Women of Primrose Square, on The Heart of Summer
Discussion Questions
1. The central character in The Heart of Summer is middle-aged, rural librarian Hanna Casey. Having recovered from a bad divorce, Hanna is living in a new home with her new man, Brian. Though they're totally happy, she's beginning to realize that they've also taken on each other's families. Do you understand her sense of unease?
2. "Hanna Casey looked up from her computer and was briefly enchanted by dust motes dancing in sunlight." What do you think of the book's opening sentence? Have you ever found yourself enchanted by something you notice just by chance?
3. The Carrick Psalter in Lissbeg library is Hanna's pride and joy. What do you think of the author's descriptions of it? Have you ever seen a medieval manuscript, or reproductions of pictures from one?
4. In The Heart of Summer, the author describes two houses Hanna loves – the new home built for her by Brian, and the little clifftop house she inherited from her great-aunt Maggie. Which house would you prefer to live in? Have you ever needed to think about passing a home to the next generation? What kind of decisions might that involve?
5. "…if she hadn't been fool enough to fall in love with Malcolm Turner, she wouldn't have walked away from her dream before it had even begun." The reappearance of Amy, Hanna's former roommate, makes Hanna think about all the plans she'd had that never happened. Do you think this reassessment of the past often happens to divorced people? Do women who marry and have children tend to feel they've given up more of their independent lives than men are required to? Is this changing? If so – or if not – why?
6. Are there contrasts and similarities between Hanna's life and that of newly-weds Aideen and Conor? How does the author show us how Aideen feels about starting married life in Conor's parents' home?
7. What do you think of Aideen's relationship with Conor's parents? If you were born in a town, how do you think you'd feel about moving to live on a working farm?
8. Fans of the Finfarran novels have called Mary Casey "the mom we love to hate". Do you think that description fits her? How does the author show Hanna's difficult relationship with Mary? What do you think of Brian's attitude towards Mary? Do you think he deals well or badly with Hanna's complex reactions to her?
9. Can you think of three words to describe Amy? How would you feel if a close friend from your own college or high school days walked back into your life?
10. Is there a public library near you, and do you use it? What do you think of the author's depiction of a librarian's work? Do you think groups like Hanna's Monday Memories Club are useful for seniors? Are there other library-based groups or facilities that can/could help families and communities? Have you ever volunteered to help in one?
11. Get one person in your reading group to write down a single word to describe Jazz's relationship with Mary, fold the paper, so the word can't be seen, and pass it to the person on her/his left. Keep going till each person in the group has added a word, folded the paper and passed it on. When everyone has contributed, open the paper and read out the list. You may find the same word appears frequently, or that each of you has chosen a different one. Discuss!
12. Hanna is beginning to worry that Mary is starting to lose her memory. How does the author introduce, and then build, this part of the plot? When do we know that Mary herself is worried? What do you think of Jazz's response to the problem?
13. Aideen hates "being cast in the role of go-between" in her cousin Bríd's relationship with Dan. Do you understand this? Were you ever in that position yourself and, if so, how did it make you feel? How well or badly do you think Aideen deals with the problem?
14. Though Hanna thinks Brian should spend time with the adult son he's hardly known, it takes a conversation with Fury O'Shea to make her recognize her own feelings – "… it's Brian's son in Brian's house, and you're wondering where you ought to put yourself …". What do you think of Fury's intervention?
15. What do you think of Fury O'Shea as a character? Is he a lonely man or do you see him as self-sufficient? What do you think of his relationship with The Divil? How do you think the author "uses" him in the book?
16. Can you describe Fury's relationship with Brian? Do you think that sharing a physical task makes it easier for people to talk to each other – gardening, for example, or quilting, or working on a building together, as Brian and Fury do?
17. Brian wants Hanna to marry him, and she doesn't want to re-marry. Why do you think their attitudes are different? How much have they both learned about this by the end of the book?
18. If Fury were working for you, would you find his idiosyncrasies attractive or annoying? How is his bossiness different to Bríd's or Mary's? Are there well-respected tradespeople with a similar role to Fury's in your community? Do you empathize with his respect for craftsmanship from the past?
19. Have you ever been to Ireland or to London? How different might Hanna's life be if she'd stayed in London and not married Malcolm? Do you think Amy is right to say that Hanna has "stagnated" in Lissbeg?
20. When Hanna comes home to Amy's with a new haircut and a new dress, Amy calls her "Cinderella". There's a second echo of the Cinderella story in Hanna's choice of Miss Pettigrew Lives for a Day as a parting gift for Amy. Did you find other fairy-tale references in The Heart of Summer? Why do you think the author included them?
21. "… places seem to hold the memory of past generations. Everyone who's ever lived and died there." At the end of The Heart of Summer, Hanna thinks about memories – lost, recovered, reassessed, and passed on. Have you ever felt that places retain memory? Is there one special place that has your heart?
Excerpt
Chapter One
Hanna Casey looked up from her computer and was briefly enchanted by dust motes dancing in sunlight. Lissbeg Library was housed in what had once been the town's convent school. The dark hall where generations of girls had giggled and yawned through assemblies now had large windows at roof level and had been extended to make exhibition space and a reading room. Glazed cases set into oak panelling contained musty books left by the nuns, while the public collection stood in parallel rows on open-access shelves. Today, on a golden day at the heart of an Irish summer, shafts of sunlight flooded the steel shelving and glinted on gilded leather-bound books behind their glass doors.
From Hanna's seat at the reception desk, she could see Conor transferring returned items from a trolley to the shelves, handling them as deftly as he dealt with farm animals and machinery, and the occasional idiosyncrasies of the library's computer system. As the paperbacks, CDs, and DVDs disappeared into their places, she could hear him whistling cheerfully under his breath.
Hanna's desk, at the front of the hall, stood with its back to a glass wall that divided the panelled library from the state-of-the-art exhibition space. At the other end of the library was the staff loo and, beside it, a slip of a kitchen where she and Conor made coffee and hung their coats. Logging out, she left her desk and went to wash her hands. Conor looked up as she passed him. 'I'm nearly done here, Miss Casey. D'you want me to man the desk?'
Everyone else addressed her as Hanna, but Conor, her assistant, had begun volunteering in the library as a teenager, when her elderly predecessor had insisted on proper respect. Though now in his early twenties, the habit had stuck and, while Hanna hadn't the heart to object, there were times when it made her wonder what age he thought she was. Probably he never thought about it at all. He wasn't given to introspection and, between the library, his recent marriage, and work on the family farm, he wouldn't have time.
'When you've finished there you can take the desk. The cruise-ship crowd are coming at four, but that won't keep me more than an hour. I'll deal with those emails from Head Office when I'm done.'
'Right, so.'
Conor's part-time job involved taking the mobile library around the peninsula as well as helping Hanna in Lissbeg. Where work was concerned, he was efficient and reliable, although, as Orla, his mother, had once remarked to Hanna, when it came to people he often missed what was as plain as the nose on your face. 'God knows you couldn't get anyone kinder or more sensitive, but he's the world's worst for trying to fix things before finding out what's gone wrong. There was a time I thought we'd never get him married to poor Aideen at all.'
Hanna had known what she meant. The whole Finfarran peninsula agreed that Conor and Aideen were made for each other, yet Aideen's natural diffidence and Conor's instinct to problem-solve had made for an engagement fraught with misunderstandings. In the end, after months of planning a double wedding with his brother, he'd discovered Aideen had hated that idea from the start, so they'd sneaked off and made their vows in a cypress grove in Florence. There'd been a registry-office wedding later when they'd returned from Italy apologetic and exhilarated, and Aideen was now living on the farm. It had occurred to Hanna to wonder if newlyweds sharing a home with the groom's parents might produce tensions, but Aideen appeared to get on brilliantly with Orla and Paddy, and she and Conor seemed blissfully happy in their new life together.
Standing at the washbasin, Hanna inspected her reflection in the mirror. For a woman who wouldn't see fifty again, she reckoned she looked okay. Sooner or later, she expected, she'd take her stylish daughter's advice and get her hair cut and highlighted but, for now, she was happy to wear it in a single short plait. She'd never gone in for makeup when she was younger and, having retained the clear skin she'd inherited from her mother, still used no more than a touch of mascara. Smoothing her dark hair back from her forehead, she washed her hands, pulling a face as drops of water splashed onto her T-shirt. The library loo didn't rise to an automatic hand-dryer and blotting the marks with a paper towel wouldn't help; still, the day was so hot that they'd soon be gone. It was silly to feel one's appearance mattered when giving a short talk to a bunch of tourists, but the representative of the cruise line that had transported them to Ireland had banged on so much about its high-end brand that she almost felt she should be wearing Gucci. Which, she told herself cheerfully, was tough. They'd get her in jeans and a Live, Love, Read! T-shirt, and if they didn't like it that was their problem, not hers.
The Finfarran peninsula on Ireland's rugged west coast was a dream destination, marketed to visitors as 'The Edge of the World'. Most of its tourism centred on Ballyfin, a former fishing village at its westernmost point, overlooking the turquoise Atlantic. It was reached by a road that divided the southern and northern halves of the narrow peninsula and was known locally as 'the motorway'. One side of the foothills of a mountain range had been blasted to accommodate the last few miles of road, and what had been a sleepy port now had jetsetters strolling its streets, a spa hotel above a marina, and a string of restaurants where champagne and oysters were permanently on ice. The rest of Finfarran offered stunning landscapes, deserted beaches, boat trips, and B&B accommodation, while Lissbeg, once a market town, had shops, a bank, a post office, and the Old Convent Centre, now owned by Finfarran's county council. As well as Hanna's library, the centre contained offices, low-rent studios and workshops, and a public space that had once been the nuns' garden, where the Garden Café was a favourite haunt of locals as well as tourists.
Ballyfin's marina was too shallow for ocean liners, but smaller cruise ships regularly moored there. They carried what the tour operators referred to as 'discerning groups of culturally curious travellers'. Often middle-aged, these were always wealthy, though that was never expressly stated in the shiny brochures. Initially, Ballyfin had offered no more than a stopover at the Spa Hotel and a coach trip to the county town of Carrick, for photos and shopping. Then a US cruise line called Your World Awaits had spotted the hidden potential in Lissbeg Library, where the exhibition space displayed a manuscript known as the Carrick Psalter. The psalter had been gifted by Charles Aukin, a retired American banker with family links to Finfarran, who had also paid for the library's renovations. This was gold dust for Your World Awaits. What could be more attractive to the culturally curious than a medieval treasure tucked away in a little local library? There was, however, one problem. The cruise line announced that its clients required exclusivity. They wouldn't wish to join the long summer queues for talks given by volunteers from the local history society. What was wanted was a private showing by the librarian.
Hanna hadn't been impressed. To her mind, private viewings were inappropriate in a public library, but the offer of a hefty fee had convinced the county council, so she'd had no choice in the matter. Today's talk would be the third she'd given to a group from Your World Awaits, and she'd had to admit that, for the most part, they'd been genuinely interested. The manuscript had been digitised and the exhibition had interactive screens that allowed visitors to zoom in on details and to access translations of the text in six languages. Normally, Hanna turned one page of the psalter a month, but a special page-turn per private showing had been part of the deal. Though this offended her further, it secretly delighted her as well. Turning the pages always sent a tingle down her spine, giving her a sense of being in touch with the skilled hands that had made it, and those that had kept it safe for a thousand years. She'd studied the manuscript and been part of its digitisation process, yet the moments when she handled it still felt magical, and always it revealed something new. A previously unseen bird or grotesque face would look out through fantastic foliage, a line of text would wander down a page, like the steps of a celestial staircase, or a city would appear within the curves of an illuminated letter.
With her latest group gathered around her, she opened the psalter's display case. About the size of a novel you'd buy in an airport, the book's Latin text had illuminated capitals in inks and paints that were still as bright as they had been on the day they'd been ground in the medieval scriptorium. Looking at the open double-page spread, Hanna smiled in recognition. The original psalmists had lived and worked a world away from Finfarran but the psalter's illustrators had been inspired by their own peninsula. Here was the mountain range she crossed when she drove the back roads to Ballyfin. The familiar peaks and passes appeared within the first capital letter, while spears of gold and green darted down both margins, shot from a rising sun and a crescent moon. Hanna stood back as the group craned to see. 'There'll be plenty of time for everyone to look at the text closely. Please remember, though, that it mustn't be touched.'
The culturally curious, most of whom were women, tutted, registering horror at the thought. Mentally noting the most outraged, who were also most likely to try to touch the book if she turned her back, Hanna explained about the interactive screens. 'And now I'm going to turn the page and reveal a new psalm.' She reached out and paused, anticipating a question, which came, as if on cue, from a tall man with a goatee and glasses. 'Surely you ought to be wearing white gloves.'
'That's a common misconception.' Not wanting to put him down, Hanna gave him a friendly smile. 'Wearing gloves actually increases the likelihood of damage. Plus they have a tendency to transfer dirt and dislodge inks and pigments. Using clean, dry hands is best practice.'
It was evident that he didn't believe her but she didn't wait to argue. Instead she turned the page, producing a mass intake of breath. One of the pleasures of the Carrick Psalter was its idiosyncrasies. The psalms appeared in random order and, in some cases, such as this, a single verse had inspired whole pages of detailed illustration. Hanna recognised it. 'It's psalm one, verse three. "And he shall be like a tree planted by the rivers of water that bringeth forth his fruit in his season; his leaf also shall not wither, and whatsoever he doeth shall prosper."'
Glowing between her hands was a series of little gem-like images, set in roundels. A gold-framed box enclosed the verse, around which the pages were covered with green, crimson, and ochre leaves, as if the viewer were looking down on a dense forest canopy. Among the leaves the roundels showed like little clearings in the forest, full of activity. Four monks, with their habits girded up, were felling trees and loading them onto a wagon. In another roundel a lady in dark robes and a wimple indicated to a servant in a blue jerkin where he should plant a tree. Elsewhere, boys lay on their backs eating apples from a basket, and in one clearing, where grain had been harvested, men wearing hoods and curly-toed boots were winnowing. The chaff had been rendered as tiny gold specks, and the men's hoods, like the servant's jerkin, were ultramarine, an intense blue, which, Hanna explained, was made of lapis lazuli.
'Where did it come from?'
'The mountains of Afghanistan.'
'Wow. How did it reach Ireland?'
'By sea. And before that by camel train across deserts. Ultramarine was one of the most expensive pigments you could get.'
'Do we know who the lady was?'
Hanna shook her head. 'We don't even know if she depicts a real person. It could be a portrait of an abbess, though. In some monasteries monks and nuns lived in separate buildings and shared a church, and we know that nuns, as well as monks, painted manuscripts. Scientists found flecks of ultramarine lodged in the teeth of a medieval nun who died in Germany. She would have licked the end of her paintbrush as she worked.'
There was a chorus of interest from most of the group and a dubious snort from the man with the goatee and glasses. Privately, Hanna wondered, for the first time, why whoever painted these pages had used such expensive pigment. Usually ultramarine was reserved for royalty, God, and saints, but here it appeared on labourers and a servant. Perhaps it was drawing the viewer's eye to the importance of the image expressed in the verse. The planters and the winnowers were the figures that mattered, not the lady giving the command. Bending closer, she noticed – again for the first time – that a gold thread, poured from a jug in the servant's hand, linked all the roundels, and as her eye followed it across the pages and down to the right-hand corner, she saw it was a stream of water running into a pool fringed with flowers. There was a starry sky above the pool and, dancing round it, a ring of forest creatures: squirrels, hares, deer, and rabbits, all with their heads thrown back, as if singing to the stars.
The tourists had spread out, some choosing to look at the screens before examining the psalter. Hanna drew back to give them space, knowing that after a while they'd want to ask questions. As she stood near the door, keeping a watchful eye on the display case, her mind had already turned to unanswered emails and to the dinner she planned to have that night with her daughter. Then a voice spoke behind her. 'Well, I said I wouldn't believe it till I saw you with my own eyes!' Hanna swung round. The woman who'd spoken was in her fifties, short, and expensively dressed. Stepping closer, she raised her neatly plucked eyebrows. 'So, Hanna Casey, this is where you've been hiding yourself all these years!'