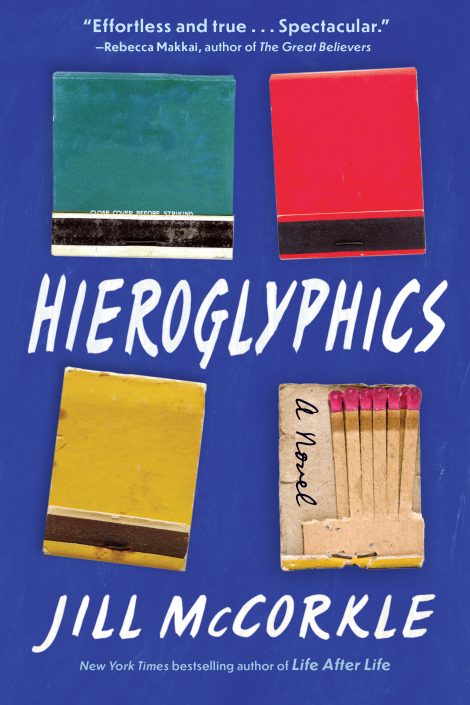 HIEROGLYPHICS
---
After many years in Boston, Lil and Frank have retired to North Carolina. The two of them married young, having bonded over how they both—suddenly, tragically—lost a parent when they were children. Now, Lil has become deter­mined to leave a history for their own kids. She sifts through letters and notes and diary entries, uncovering old stories—and perhaps revealing more secrets than Frank wants their children to know.
Meanwhile, Frank has become obsessed with the house he lived in as a boy on the outskirts of town, where a young single mother, Shelley, is now raising her son.
After many years in Boston, Lil and Frank have retired to North Carolina. The two of them married young, having bonded over how they both—suddenly, tragically—lost a parent when they were children. Now, Lil has become deter­mined to leave a history for their own kids. She sifts through letters and notes and diary entries, uncovering old stories—and perhaps revealing more secrets than Frank wants their children to know.
Meanwhile, Frank has become obsessed with the house he lived in as a boy on the outskirts of town, where a young single mother, Shelley, is now raising her son. For Shelley, Frank's repeated visits begin to trigger memories of her own family, memories that she'd hoped to keep buried. Because, after all, not all parents are ones you wish to remember.
Empathetic and profound, this novel from master storyteller Jill McCorkle deconstructs and reconstructs what it means to be a father or a mother, and to be a child trying to know your parents—a child learning to make sense of the hieroglyphics of history and memory.
Algonquin
Paperback
May 2021
336 Pages
9781643751382
Praise
"A moving and deeply appealing novel." —People
"A good novel can perform the same perception-bending trick as a lockdown: slowing time, throwing light on shadowed corners, reminding us of the interdependencies among us that we once took for granted . . . Vibrant, engaging . . . McCorkle, a generous, humane writer, knows that facing death allows us, as this terrible pandemic has, to focus on what is essential: how to take care of our vulnerable, and to appreciate the connections that sustain us." —The New York Times Book Review
"A bard of Southern fiction weaves a layered tale around a married couple who retire from Boston to North Carolina amid a beehive of secrets. A hidden journal, a childhood house, a long-ago fire: All emerge as keys and touchstones in McCorkle's shimmering prose." —O, The Oprah Magazine
"Jill McCorkle has long been one of our wryest, warmest, wisest storytellers. In Hieroglyphics, she takes us on through decades, through loss, through redemption, and lands in revelation and grace. As always with McCorkle, the story feels so effortless and true that we might well miss what a high-wire act she's performing. But make no mistake: She's up there without a net, she never misses a step, and it's spectacular."—Rebecca Makkai, Pulitzer Prize finalist for The Great Believers
"Engrossing . . . McCorkle finds an elegant mix of wistfulness and appreciation for life . . . Throughout, McCorkle weaves a powerful narrative web, with empathy for her characters and keen insight on their motivations. This is a gem." —Publishers Weekly, starred review
"Ingenious . . .Gathers layers like a snowball racing downhill before striking us in the heart with blunt, icy force." —Kirkus Reviews, starred review
"A powerful evocation of loss and yearning . . . McCorkle testifies to the ageless nobility of human beings who want the next generation to do better. A deeply moving and insightful triumph." —Booklist, starred review
"Demonstrating her widely recognized skill at creating memorable stories out of the stuff of daily life, McCorkle's empathy for a quartet of unassuming but appealing characters provides the foundation for a novel whose drama is modest, but whose insight is deep. Jill McCorkle is an unfussy writer whose storytelling skill almost gives the impression she's simply eavesdropping on her character's lives. It's that quiet talent that makes Hieroglyphics a novel whose appeal will only enlarge in the reader's mind with the passage of time." —Shelf Awareness
Discussion Questions
1. The character Lil says that we are all haunted by something. What do you think haunts each of the main characters and how do they each deal with it?
2. The catastrophic events referenced—the train wreck and the Cocoanut Grove fire—really happened. Why do you think McCorkle used actual events? In what ways does that affect how you read the novel?
3. Harvey's sections, told from a child's point of view, are markedly different from Lil, Frank, and Shelley's sections. How does his point of view color our reading of the other sections?
4. There are many references throughout the novel to childhood games and toys and keepsakes. How do they function for each character?
5. Language—what is communicated as well as what remains unspoken—is a central theme in this novel, from Lil's notes and diary entries to Shelley's transcriptions to Frank's study of ancient cultures. How does this relate to the title of the novel?
6. At the end of the novel, Shelley is literally left standing in a threshold. How would you describe that threshold? What do you think lies ahead for her?
7. The present storyline focuses on a day in Frank's life. How would you chart his journey?
8. The characters all have interests woven into the storyline: Lil has her work as a dance instructor; Frank has his studies of ancient burial rituals; Harvey is obsessed with horror tales (real and imagined), his made-up superhero, and animal droppings; Shelley entertains a wholly imagined narrative (the book she would write) while also doing her job. How do these interests help us understand the characters' perspectives?
9. Frank, Shelley, and Harvey all have brothers who are key figures in their lives. Discuss what you know about each brother and how these relationships affect the central characters' lives.
10. Lil spends a lot of time thinking about her marriage to Frank, with particular emphasis on one period of time. How does she resolve her feelings about his affair? How do you feel about her decision?
11. Grief is central in the lives of all four of the main characters. How has it affected the way they live?
12. In the aftermath of both the train wreck and the fire, people were identified by tags or scars or the contents of pockets. Discuss the relevance of these lists.
13. The four central characters' lives are all significantly influenced by their relationships with their parents. Which character's situation were you most drawn to? Even after we've lost parents, how do they live on for us and inform our lives?
14. Were you surprised by the ending? If so, why? If not, why did you expect it?
15. What kinds of things have you saved over the years, and why these specific things? Do you have any talismans? Would the meaning of these keepsakes be evident to anyone else, and if not, why not?
Excerpt
Lil
August 10, 2016
Southern Pines, North Carolina
You two have always wondered why I spend so much time filling these notebooks (Frank, you, too, if you're reading this!), but it is simply a part of my life, a way to clear my mind and to remember. Sometimes I just record the weather, something simple about the day. It is so easy to let everything run together. I had years that were that way, and I find such loss troubling; better to try to define something, the premature blue dusk of a winter afternoon or the long, clear light of summer, that kind of light that makes you feel immortal. And I guess that's why we hold on to our bits and pieces in the first place, because we aren't immortal, and though denial fills our days and years, especially those that have slipped away, that kernel of truth is always lodged within.
We all are haunted by something—something we did or didn't do—and the passing years either add to the weight or diminish it. Mine have diminished, perhaps because I've spent time thinking about it all. It might sound silly, but I see these bits and pieces as my contribution to evolution, the unearthing and dusting of the prints and markers that led me here. Some seem to bulldoze right through life and up to their headstones, but I want to take my time. I want to find the right words.
I imagine my recipient to be you two, or perhaps your children, and I hope this is so, rather than some stranger who comes in and hoists old boxes into a dumpster, or rakes away the remainders of my life, like the sad debris in the aftermath of a flood or fire. I will never get over the sight of what we left behind at our home of over fifty years to move down here, a mountain of cast-off things—old towels and linens, papers and books and shoes and pots, side tables and lamps, hoses and hoes, packets of seeds I meant to plant, and a rubber squeak toy that had been safely hidden away in the back of my closet by one of the dogs long dead. And so much more: things not needed, things long forgotten, cans of cream-of-whatever soup and V8 juice (why?) and peas that had sat there forgotten for years, and things that never should have been there in the first place, like Tuna Helper, or those things in my closet like that geometric-print minidress I bought in the '60s, hoping to look like Petula Clark or Judy Carne—a perky-pixie kind of dress that I never had the nerve to wear and instead looked at it there at the back of the closet for years, along with a wiglet and a long frosted fall and some jackets with shoulders resembling a football player or Victorian monarch. We divided it all into Goodwill, consignment, recycle, or landfill.
But there were also the things I couldn't let go of—letters, reminders, souvenirs—and I am taking my time, relieved when I find something that might have gotten lost in that mountain of debris, like one of your drawings from first grade or the stub from a movie I'd forgotten I even saw, or a note from my father.
When the moving van pulled away that afternoon and we got in the car and turned southward, the space within the car seemed so empty, vacant, our suitcases and silver chest in the trunk, an overnight bag and thermos of coffee on the back seat, and I had that terrible feeling that I had forgotten something. Because I was thinking of all the times the car was filled with you two, your belongings, your music and voices, the dogs, while going to school or on vacation, or just to the grocery store where I bought all of those things that I then put on the shelf there in our dimly lit pantry—on the red gingham contact paper I spent one snowy afternoon 40 years ago cutting and sticking in place—all those things that I placed there and then forgot about.
I like to imagine that I will be your cornerstone, a reminder of what was. The old building crumbles away, and yet there I will be (me, my life, our life) like when you were assigned time capsules in school. Remember? You both were in elementary school and were asked what you would take to leave on the moon. And then your children did it again with the turning of the century, and asked us to write a letter about what has changed in our lifetime. Your father wrote a lot! And he even made a timeline about all that had changed about cars and appliances, the telephone and the mail.
I have been writing notes and saving bits and pieces since long before you both were born, my attempt at explaining my life to myself, perhaps. I have so little of my own mother and have spent much of my life yearning for more. This habit of mine, trying to hold on to those days, was simply a way to reassure myself and to recall every detail of her—all I knew of my parents' life together and all I knew of her death. I was afraid of forgetting, a fear that has never diminished, and now I am forgetting things. There's no denying that I am forgetting. We all joke about it at a certain age (you will, too) but there's a line you cross when you don't talk about it in the same way. I am eighty-five years old, so what do I expect? You're all grown; your children are even grown, so what do we expect? That's what I keep saying to your father: "What do you expect?" We have both already moved past the estimated life expectancy for men and women in this country. We have both long passed the ages our own parents were when they died.
Sometimes, I feel like my life is all laid out before me: dots connecting, patterns shaped and designed, words naming and classifying me. We all have those moments when we are so aware of where we are; there are the moments when we feel graced and blessed, and there are likewise those when we say, "What am I doing here?"
I have tried to imagine my mother on that last night of her life. Surely, she asked, "What am I doing here? Oh God, what am I doing?"
I asked myself that same thing in that empty-feeling car, your father silent behind the wheel, as we got on I-95 and instead of heading north to Gloucester, as we had a million times before, we went south and kept going the rest of the day, neither of us saying much and yet both aware of the sad, questioning cloud hanging over us. And after a restless night at a Holiday Inn somewhere in Maryland, we rode much of the next day, until we got here and met the movers—belongings we had had for years looking so different in the warm, bright light.
Remember how you were here to greet us, Becca? You were our reason for coming, and we are happy to have this time near you and your family, but I still wake some days and think: "What am I doing here?" Even though we have been here for over a year now, I panic, and then I try to rationalize it all, to name the reasons and the benefits of living here. We have followed the migratory path of the snowbirds we once saw as traitors—the weaklings, your father and I called them as we stood armed with our snow shovels and salt. And, yes, ice and cold are hard on brittle bones, and, yes, help is needed when dealing with worn-out hearts and lungs and words that won't come. The love and attention of a child nearby cannot be underestimated—please know we are grateful, Becca. And yet there remain those parts of me that simply refused to come along, and they pull my mind this way and that all day, especially when I'm in here sorting through it all and trying to give it some order. I try to collect and hold on to them, but it is like grasping the wind, and yet those are the parts—what I knew as a child—that seem the truest parts of me.
Essay
Writing Hieroglyphics
When I was growing up, there was a train that passed daily not far from our house. I loved the sound of it and the whole neighborhood loved playing on the tracks. Even though we were told not to go there—admonished and threatened with the terrible things that could happen—we returned to put pennies on the tracks and watch them get flattened, waving to the conductor and the occasional man standing at the rail of the caboose. There was always someone saying how destroying a penny was against the law and we could get arrested, but that fear usually dissipated with the flat copper treasure in our pockets and the view of the many miles we could travel, crosstie by crosstie.
My dad told another train story, his childhood memory that then became laced with my own. He recalled the train crash that happened in our native county when he was an adolescent, a catastrophic event that made all the national papers, and left the survivors hospitalized and stranded far from home. He had gone, as many people had, to see the aftermath of it all, a memory that clearly haunted him. Though I knew it had happened fifteen miles away, I pictured it there just beyond our neighbor's backyard and the pine trees where I played. The details were impossible to forget: a freak snowfall, a stalled train crossing the track, a broken warning light, World War II soldiers heading home for Christmas. There were presents strewn, a bridal veil in the limbs of a tree, survivors filling every hospital bed in much of the state. I was an adolescent myself when I heard the story for the first time, sitting on our back steps with my dad and looking over the dark yard. He was grilling steaks, our dog was waiting for a bone, and so my memory is of his story but also my own story of that time with him. I imagined the crash and I imagined my dad as a boy witnessing the site, and I committed to memory the night I sat and listened to him, glowing coals, pipe smoke, the sadness in his voice as he described the loss. I was also haunted by the details and unfathomable grief, loved ones in other places waiting for news that would proclaim someone alive or dead: a clothing tag, a scar, a particular brand and size shoe—words and numbers and objects with the power to represent a life, convey a whole story. The dry-cleaning tag that looks like nothing but a dry-cleaning tag becomes an intimate object, as do the watch, the lucky coin, the button that person might have fastened in place before getting on the train.
During the many years I lived in the Boston area, I often heard references to the Cocoanut Grove fire with the same level of shock and reverence that all catastrophic events render. Lives end; time freezes.  We look for clues and meaning and can't help but imagine the what-ifs and if-onlys. And then all those bits and pieces of life we often take for granted take on new weight and meaning. Just a couple of years ago I saw an obituary that made reference to the fire—someone who was supposed to be at the club that night in 1942 and then had a change in plans. The fire took place a year earlier than the train wreck, and quite a few of those who died in the crash were heading home to the Boston area. It was cold. It was dark. It was sudden. Loved ones were left waiting and searching through those personal items—a ring or necklace, monogram, card—that would lend information.
In the novel, two of my characters—Lil and Frank—are dealing with parents who died in these tragic events. His father was on the train going home; her mother went to the club without telling Lil and her father that was where she was going. These losses led them to each other in the beginning, and now they have a long marriage behind them. Still, there is so much they don't know about their parents, and likewise so much their own children don't know about them and their life together. And there is Shelley, a young mother trying to raise her sons and working as a stenographer in the courts, her shorthand and recordings of local crimes helping her blot out much of her own troubled past.
Everyone has a secret. Everyone has a memory that haunts or lingers. Everyone has the door they want to close but for whatever reason, time continues to blow it ajar. Frank has not wanted to look, and until now he has avoided going there. Lil flings hers wide open and goes in with a flashlight, determined to see and know all that she can. Shelley has locked hers multiple times, but the wind keeps rattling all that she cannot escape, while her son, Harvey, is just beginning to find his way, doing what all children do, imagining his future and along the way finding and collecting and hiding little things: matchbook covers and flattened pennies.
In the early days of writing this novel, I read that when sites of orphanages or schools are excavated, there are almost always little caches of toys tucked away and hidden, children wanting to claim and protect what belongs to them. There are also the many versions of Kilroy was here—graffiti, handprints, notes in bottles—the stroke of immortality and desire to be remembered. I was thinking of each of these characters in terms of the mark they leave on the world they inhabit, from the most visible and easily discerned knowledge to the tiniest keepsake or scrap of paper to what is consigned only to memory and perhaps never revealed. It is an endless excavation, each discovered item carrying its own story. My hope is that the readers of Hieroglyphics will be entertained by these characters and their lives, but I also hope it will lead them to think of various fragments and images from their own lives and to experience the oldest and purest form of time travel—memory.