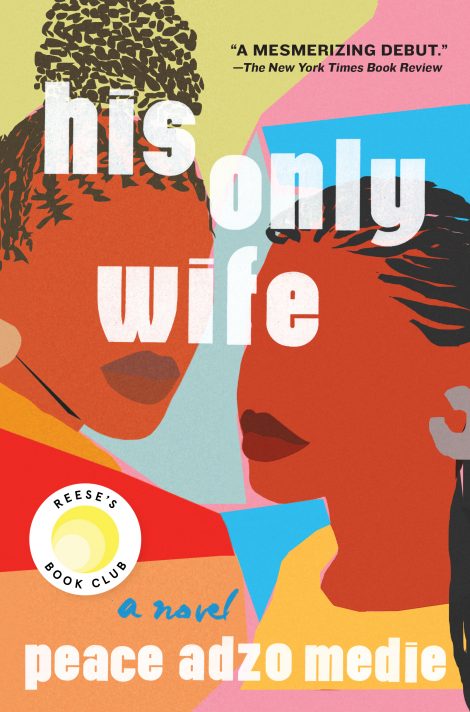 HIS ONLY WIFE
---
A Reese's Book Club Pick
"Elikem married me in absentia; he did not come to our wedding."
Afi Tekple is a young seamstress in Ghana. She is smart; she is pretty; and she has been convinced by her mother to marry a man she does not know. Afi knows who he is, of course—Elikem is a wealthy businessman whose mother has chosen Afi in the hopes that she will distract him from his relationship with a woman his family claims is inappropriate. But Afi is not prepared for the shift her life takes when she is moved from her small hometown of Ho to live in Accra,
A Reese's Book Club Pick
"Elikem married me in absentia; he did not come to our wedding."
Afi Tekple is a young seamstress in Ghana. She is smart; she is pretty; and she has been convinced by her mother to marry a man she does not know. Afi knows who he is, of course—Elikem is a wealthy businessman whose mother has chosen Afi in the hopes that she will distract him from his relationship with a woman his family claims is inappropriate. But Afi is not prepared for the shift her life takes when she is moved from her small hometown of Ho to live in Accra, Ghana's gleaming capital, a place of wealth and sophistication where she has days of nothing to do but cook meals for a man who may or may not show up to eat them. She has agreed to this marriage in order to give her mother the financial security she desperately needs, and so she must see it through. Or maybe not?
His Only Wife is a witty, smart, and moving debut novel about a brave young woman traversing the minefield of modern life with its taboos and injustices, living in a world of men who want their wives to be beautiful, to be good cooks and mothers, to be women who respect their husbands and grant them forbearance. And in Afi, Peace Medie has created a delightfully spunky and relatable heroine who just may break all the rules.
Algonquin Books
Hardcover
September 2020
288 Pages
9781616209155
Praise
A Reese's Book Club Pick
"Peace Adzo Medie's mesmerizing debut novel lives up to both the power of its first sentence and the promise of its author's first name. This is not a book to read with one eye on a beach volleyball tournament; it's a story to soak up in silence, on a long, cloudy afternoon when you have time to think . . . At a time when adventure is scarce, Medie gives you a lot to look forward to, think about and be grateful for." —The New York Times Book Review
"A hilarious, page-turning, sharply realized portrait of modern womanhood in the most infuriating of circumstances. A gem of a debut." —Wayetu Moore, author of She Would Be King
"A Cinderella story set in Ghana . . . A Crazy Rich Asians for West Africa, with a healthy splash of feminism." —Kirkus Reviews, starred review
"In her debut novel, Medie writes with a precise rhythm that builds the reader's anticipation. Themes like deception, ambition, love, and values drench the pages with conflict that evolves into an emotional rollercoaster." —Booklist
"This stirring tale sings when Afi learns to flex her limited power." —Publishers Weekly
"Afi's charm makes her an empowering example of modern womanhood . . . Its message bold and its viewpoint appealing, His Only Wife is an inspiring novel." —Foreword Reviews
"Medie gives Afi a voice that winningly combines insecurity, wisdom and dignity . . . The dramas of Afi's marriage and various family conflicts offer an entertaining plot rich with humor, but it is the story of the strong woman in a challenging and changing world that will capture readers' hearts. His Only Wife is a memorable novel of personal growth and choosing one's own destiny . . . [A] winning debut." —Shelf Awareness
Discussion Questions
1. How does the opening sentence reflect the rest of the novel? What does it lead you to expect about how Afi and Eli's relationship would develop?
2. How much do Afi's mother and her other relatives influence Afi's decision to marry Eli? Do you think she would have agreed to the union if this pressure were absent? Do you think women in your society are also subject to pressure to get married? If so, where does it come from and what does it look like?
3. Do you think Afi's decision to marry Eli was the right one? Why?
4. Other than their wish to see Afi and Eli married, are there other similarities between Afi's mother and Aunty?
5. What are the ways in which the novel shows the effect that Afi's social class has on her choices and on the way her relationship with Eli unfolds?
6. What does marriage mean to each of the women (Afi, Mawusi, Yaya, Evelyn, Afi's mother, Aunty) in the book? What do they expect of a marriage and what are the reasons for their expectations? Do their expectations change as the story progresses, and what explains the change or lack thereof?
7. How and why does Afi's relationship with her mother differ from Mawusi's relationship with her own mother (Daavi Christy)? How does Afi's relationship with her mother shape the decisions she makes?
8. How has Afi's mother's unwillingness to be open about sex, and her strictness regarding boyfriends, affected Afi's romantic relationships?
9. Afi, Muna, Evelyn, Yaya, and Mawusi are all dealing with society's expectation of how they should behave. What are the similarities and differences in what they face and in how they respond?
10. How is women's physical beauty defined in the novel by the Ganyo family and by others who comment on Afi's appearance? How does colorism factor into this definition?
11. Do you think Afi's decision at the end of the novel reflects evolving attitudes toward marriage? How so? What do these evolving attitudes look like in your society?
12. What does Eli's treatment of Afi during her pregnancy (after she returns from Ho) say about his character?
13. Do you think Eli's mother and siblings enable his behavior? How do they do this?
14. What do you think of Eli's approach to his relationship with Afi? What should he have done when his mother proposed marriage to Afi? What choices do you think he should have made after they were married?
15. Do you think Afi makes the right decision in the end? Why do you agree or disagree with what she does?
Excerpt
Eli came at 1:36 p.m.
I knew the exact time because I was sitting and staring at the analog clock on my phone when the doorbell rang. The sound startled me and I dropped the phone; I hadn't heard the lift stop and open on my floor. My mother rushed out of her room and mouthed "Go" while pointing to the door. I hesitated; for some silly reason I wanted to fish my phone from under the chair before I answered the door.
"Ah, open the door," she said with sound this time.
I stood up and smoothed my dress over my hips. My armpits were moist; it was a good thing that the fabric was light and patterned so that my sweat stains would not be visible. My feet felt heavy so that I needed extra effort to lift them. I imagined that I looked like a marching soldier. The frown on my mother's face told me that she was displeased. The bell rang a second time. She flashed her eyes as if they had the power to physically push me toward the door. My hand was so damp with sweat that it slipped off the round doorknob when I tried to turn it. I wiped my hands on my dress and tried again. This time I was successful.
Eli broke into a smile that reached his eyes when he saw me. He was leaning against the doorframe like someone who had been waiting for a long time to be let in.
"Please, good afternoon," I managed to say in a near whisper. Should I shake his hand, should I hug him, a kiss on the cheek? Last night I had imagined hugging him but now no greeting seemed right for this almost-stranger who was also my husband. It didn't help that he was jauntily leaning against the doorframe and openly staring at me, his smile intact.
"Afternoon, Afi," he said, his eyes never leaving my face. I lowered my eyes to look at my hands, and then my feet. Anything to avoid the intensity of his gaze.
"Please come in, Fo Eli," I heard my mother say from somewhere behind me. Only then did he look past me into the flat. I breathed a soft sigh of relief and stepped aside to let him in.
He was seated in one of the armchairs, his feet splayed, his arms resting on the armrests, and his lips slightly curved in a smile. In his hand were two large cellphones. He had a beard; I didn't remember him having a beard before. It was so neat that it looked as if it had been trimmed by someone using a measuring tool for accuracy. I assumed that the same person had trimmed his hairline. He had on a white shirt folded up to his elbows and tucked into black trousers. The brown leather belt at his waist matched his shoes.
"Let us bring you some water," my mother said. I was thankful for her words because I would have otherwise just sat and stared at him like a fool. I followed her into the kitchen as though we both needed to carry a glass of water. I decided at that moment that I hated the open floor plan of the flat because I really wanted to say something about the situation to her but Eli could see and hear me from the sitting room. So instead I took a jug of water out of the fridge and she a glass out of the cupboard, all without speaking to each other. I set the two items on a small silver tray and carefully walked back to the sitting room with my mother behind me. I placed the tray on the side table closest to Eli and poured the water into his glass. He lifted it to his lips and I went back to sit on the edge of the couch with my arms folded in my lap.
"Woezor," my mother said when Eli set the glass down.
"Yoo."
"How was the journey?" she asked him in Eʋe.
"It went well."
"Your siblings?" she continued.
"They are well."
"Woezor," my mother said.
"Yoo."
"You are the ones looking after people," she said, nodding her head.
"You as well."
"You are the ones who have worked so, so, so, hard," she said, still nodding, as though agreeing with herself.
"You as well."
"Are you well?" he asked. He looked at my mother, then at me, as he said this.
"We are well," she replied. I remained quiet like a child in the presence of two adults having a conversation. "Well, I brought your wife and decided to stay with her as she waited for you," my mother continued.
"Thank you," he said.
"Are you well?" he asked again, this time looking directly at me. I nodded and managed a weak smile. He nodded as though satisfied.
"Your wife cooked something small for you," my mother said.
"Oh, thank you," he said, his eyes on me.
"Please, you are welcome," I said.
A moment later I felt a sharp pinch on my back. It was my mother. She swiveled her eyes in the direction of the kitchen when I turned to look at her. I shot to my feet.
"Please, I'm going for the food," I mumbled and hurried to the kitchen. He chatted with my mother as I heated the stews, but twice when I looked over at them he was staring at me. I lowered my head and only looked at him again when I went to announce that the food was ready. I noticed how tall he was when he stood up. I had been too flustered when he first walked in to note this. He was taller than six feet, which when compared to my five-feet two-inches was a lot. He seemed bigger than when I last saw him, his chest and shoulders broader, but unlike Richard he did not have a paunch. He moved easily, like a much smaller man, but when he sat at the table, he was imposing. Maybe it was because he was sitting at the head of the table.
"Aren't you going to eat?" he asked me when I remained standing.
"Please, I've already eaten," I lied.
"But I can't eat alone so come and sit with me," he said, pointing to the chair nearest him.
"Yes, sit with your husband; I'm going to my room," my mother called from the sitting room. When I turned to look at her she was standing out of Eli's view and was blinking rapidly. I knew that she was warning me not to do anything that would displease him, or her, or Aunty, or everyone in Ho who had chosen me as the solution to the problem. The sweat from my armpits began to drip down my sides.
I sat on the edge of the dining chair and began to take slices of yam out of the Pyrex bowl and place them onto his plate as I had seen my mother do for my father when he would come back from work.
"That's okay," he said after I had placed the fourth slice on his plate.
"Please, do you want garden egg or kontomire?" I asked in a small voice, suddenly worried that he would not like either.
"I will start with the kontomire," he said.
I quickly began to scoop the greens onto his plate, careful to drain the excess palm oil out of the spoon before serving him. I hoped that my fast movements would prevent him from noticing my shaking hand. He began to eat as soon as I finished. He smiled after swallowing the first mouthful.
"Very good," he said and dug in again.
I beamed, pleased with myself. I wished my mother had been there to hear him, and Aunty as well.
"So how are you liking it here?" he said to me in English.
"Please, it's fine."
"It's quiet, ehn, not like Ho?"
I nodded and then smiled, but my smile faded as I began to believe that he would take offense at what I had said. I didn't want him to think that I was complaining about Accra.
"But I like it very much," I said quickly.
He looked up, his eyebrows arched. I think he was surprised by the force with which I spoke because I had been whispering and mumbling since he came in.
"What have you been doing?"
"Please, walking around the area, going to the market, housework."
He was quiet for a while and then asked me, "Isn't there anything else that you want to do?"
"Anything else?" I asked cautiously.
"Yes, to keep busy."
I paused as I remembered my mother's rapidly blinking eyes and her suggestion that I wait a year before starting my training. But I really wanted to start, and Richard hadn't discouraged me when I told this to him. In fact he had said that it was a "great idea." Why would his brother react any differently?
"Please, I want to go to fashion school . . . sewing school."
"That's good. Which one?"
"Emm . . . please, I'm still thinking about that."
"Okay. I will ask Yaya to help you look."
"Thank you," I said, relieved. It was only after this that I realized that we, as husband and wife, had just had a conversation.
Essay
Writing Afi
I began writing fiction in Ghana when I was about ten. I wrote because I ran out of books to read and, unwilling to wait for new books, decided to write them myself. I believed that to enjoy my stories, they had to be similar to the ones I was reading. And since the books available to me as a young reader were book series like Nancy Drew, the Hardy Boys, Famous Five, and Sweet Valley Twins, I thought my stories had to be set in Europe and the United States, even though I hadn't been to these places. The characters skied, though I had not yet seen snow, and celebrated Halloween and Thanksgiving, despite these festivities being foreign to me. I wrote a book-length story in my early teens and gave it to friends and a few adults to read. While it received some praise, one of my readers wanted to know why I had chosen to write a book set in California where none of the characters looked or sounded like me. I didn't have a good answer then. But now I know it's because I was writing the kind of stories I read.
Since then, I've written fiction that reflects my surroundings. Fiction that conveys the sounds, colors, and smells of the world around me, and illustrates life's beauty, ugliness, complexities, and contradictions. His Only Wife is a book written in this vein. In writing it, I wanted to illuminate how familial obligations and community expectations loom large and shape the decisions that girls and women make. I chose to explore this theme in a marriage because of the importance that is attached to women getting married and staying married in Ghana.
My academic research also fueled my interest in writing about social norms and marriage. I enrolled in a PhD program in 2007 and began a research project in which I studied how the police in post-conflict countries responded to violence against women. My interviews with police officers, women's rights activists, and survivors of violence in low-income communities in Liberia, and later in Côte d'Ivoire, shed light on how pressure from relatives and community attitudes prevented some women from filing a police report after they had been assaulted by a partner and contributed to many women staying in abusive relationships. Yet friends and relatives were also the ones that supported women in leaving violent partners. There was also an economic dimension to the decisions that many women made. After filing a complaint with the police, some women would return and attempt to withdraw the complaint, partly because they feared that they and their children would suffer financially if the abuser was imprisoned. Some also refused to cooperate with the police because they loved their partner. I've therefore spent a great deal of time thinking about the forces, both external and internal, that drive what women do within relationships. These forces can lead women to take steps that some observers might interpret as empowering, and others that might be seen as disempowering. But rarely are the causes and effects of our actions so simple.
Indeed, while my research revealed women who were constrained by society, it also showed women taking steps, big and small, sometimes with the help of those closest to them, to negotiate and resist the many pressures they faced. Their actions sometimes led to fitful and uneven life journeys, journeys that meandered, at times reinforcing gender inequalities, at times opposing them. I very much wanted to write a novel that reflected this reality, that was nuanced in its excavation of the tensions, the push-and-pull factors, and the fits and starts that are present in many relationships and familiar to many of us.
While Afi is very much a product of my imagination, her experiences and struggles are grounded in reality. She is young, beautiful, and wants a better life for herself and her mother. But there are barriers to this better life, the largest being Muna, the other woman in Afi's marriage. I've heard too many stories of women "stealing" men, and women fighting to "keep" men, so I decided to humorously poke holes in this narrative. So, we see Afi playing the good wife, cooking and cleaning, in the belief that it will win her the man. In fact, cooking and food feature prominently in the book because they are closely tied to notions of womanhood and being a good wife in Ghana. I also explore Afi's relationship with several people, including Eli; so, we get to see her fall in love. I'm a big fan of romance and think there are too few images of Black women falling in love and just being in love in books, movies, and other mediums, so I enjoyed writing about Afi and Eli's relationship and its evolution. Ultimately, it is Afi's struggle to maintain this relationship, and to be Eli's only wife, that propels the story.
I began writing His Only Wife in 2012, combining it with my research and academic writing. In 2013, I added teaching, dissertation supervision, and administrative responsibilities to my workload when I joined the University of Ghana as a research fellow. There were soon too many things competing for my time and I often set the novel aside for months to focus on my academic work. When writing, I did not want the novel to mirror my research. I had spent years thinking, talking, and writing about violence, which had begun to take an emotional toll on me, so it was very important that this novel offer a respite. Thus, the only rule I had while writing His Only Wife was that it could not contain physical violence, and I was largely successful in this regard.
Along the same lines, I did not want the book to be didactic. As much as I wanted it to be a book I could assign to the students in my gender and society classes, it was important that the characters and their story not be upstaged by these sociological and economic themes, that the story not be overpowered by big ideas, that the reader not feel as though they were being lectured to. I was writing an academic book alongside His Only Wife and was therefore always on guard, careful not to slip into social science writing while switching between the two.
My influences and interests have led me to write a novel that delves into the complexity that characterizes the lives of girls and women in Ghana, and in many places in the world. It embraces the tensions within and circuitousness of change, and complicates notions of women's empowerment and independence that imagine progress as always linear. It is a story about not only an individual but also a family and a community, and is filled with laughter and tears, and victories, big and small. And it is a story that began many years ago, when I decided to pause, and focus on what was happening around me.