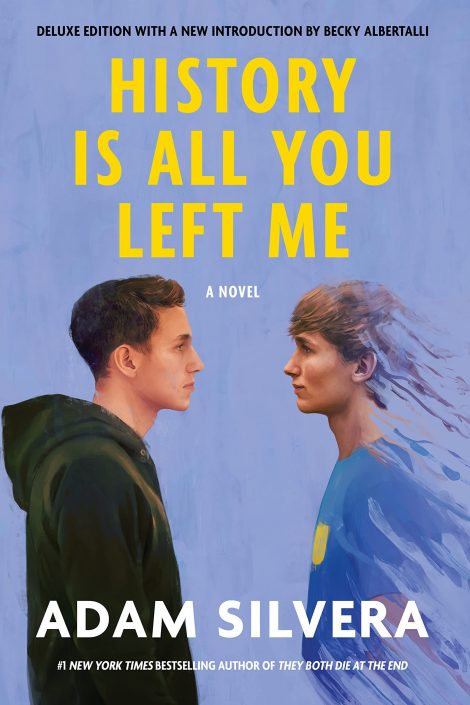 HISTORY IS ALL YOU LEFT ME
Deluxe Edition
---
A special deluxe edition featuring an introduction by Becky Albertalli, New York Times bestselling author of Simon vs. the Homo Sapiens Agenda; discussion questions; a new postscript from Griffin; and a letter from the author about the heartbreak that started it all.
From New York Times bestselling author Adam Silvera comes an explosive examination of grief, mental illness, and the devastating consequences of refusing to let go of the past.
When Griffin's first love and ex-boyfriend, Theo, dies in a drowning accident, his universe implodes. Even though Theo had moved to California for college,
A special deluxe edition featuring an introduction by Becky Albertalli, New York Times bestselling author of Simon vs. the Homo Sapiens Agenda; discussion questions; a new postscript from Griffin; and a letter from the author about the heartbreak that started it all.
From New York Times bestselling author Adam Silvera comes an explosive examination of grief, mental illness, and the devastating consequences of refusing to let go of the past.
When Griffin's first love and ex-boyfriend, Theo, dies in a drowning accident, his universe implodes. Even though Theo had moved to California for college, Griffin never doubted Theo would come back to him when the time was right. But now, the future he's been imagining for himself has gone far off course. To make things worse, the only person who truly understands his heartache is Theo's new boyfriend, Jackson. But no matter how much they open up to each other, Griffin's downward spiral continues. He's losing himself in his obsessive compulsions and destructive choices, and the secrets he's been keeping are tearing him apart.
If Griffin is ever to rebuild his future, he must first confront his history, every last heartbreaking piece in the puzzle of his life.
Soho Teen
Paperback
January 2022
312 Pages
9781641293174
Praise
An Entertainment Weekly Best Book of the Year
A TIME Magazine Top Ten YA of the Year
An Entertainment Weekly Most Anticipated YA
A PASTE Magazine Most Anticipated YA
A Bustle.com Most Anticipated YA
A PopCrush Most Anticipated YA
A Kirkus Reviews Most Anticipated YA
"Adam Silvera is a master at capturing the infinite small heartbreaks of love and loss and grief. History Is All You Left Me is a beautiful meditation on what it means to survive devastating loss. This book will make you cry, think, and then cry some more."—Nicola Yoon, #1 New York Times bestselling author of Everything, Everything
"Silvera offers a gem of a story about first love and great loss . . . Profound . . . It is so easy to idolize a first love, and even easier to idolize someone who has died. Griffin's gradual awareness of Theo's flaws is the true heart of this standout title."—School Library Journal, Starred Review
"A complex, touching valentine to love and friendship . . . [Silvera] gets the small details of love and loss exactly right. These moments are framed in exquisite prose . . . In this emotionally charged story, Griffin's desire to be honest with himself and others leads the reader to a greater understanding of how it feels to have a conflicted heart."—The Washington Post

"History Is All You Left Me overflows with tenderness and heartache. Even when its hero is screwing up royally, maybe especially then, Silvera's humanity and compassion carve out a space where it's not the falling that's important, it's how you pick yourself back up. There isn't a teenager alive who won't find their heart described perfectly on these pages."—Patrick Ness, New York Times bestselling author of The Rest of Us Just Live Here and A Monster Calls

"Silvera packs a powerful emotional punch in this multilayered story told partly in flashbacks by Griffin, who's mourning the sudden death of his best friend and first love . . . The conversational yet profound tone of the book highlights the author's ear for the musicality of language and his ability to convey deep emotion through attention to its cadence and flow. A novel to savor long after it ends."—Kirkus Reviews, Starred Review
"Though Griffin's vision is clouded by grief, passion, and guilt, readers will have no trouble understanding how unmoored Griffin has become: Silvera excels at capturing the confusion and pain he feels . . . Griffin has much to puzzle out as he tries to move forward, but he does so with the reassurance that real love exists."—Publishers Weekly, Starred Review
"Silvera's splendid sophomore novel is filled with tantalizing questions about lies and honesty, love and loss, and past and present . . . Beautifully realized, character-driven work of literary fiction . . . In those questions, they will find an unsparing honesty that brings closure to the novel and to Griffin's quest to let go of the past and embrace the future."—Booklist, Starred Review
Discussion Questions
1. Why do you think Griffin and Jackson are so immediately drawn to each other? Would they be friends—not to mention more—if Theo hadn't died?
2. When a breakup occurs, what's the best way to move on? Reliving the history, as Griffin does, or forgetting the past? Is the latter possible for Griffin? For anyone?
3. How does Griffin's OCD manifest, and what are the misconceptions that surround that condition? Were you surprised by how this played out in the book?
4. Griffin says, "I'm not a big fan of secrets. Secrets can turn people into liars . . ." Do you agree? Or are secrets more often a way of keeping safe the ones we love? What are some examples of both kinds of secrets in the book?
5. Relationships, houses, and futures, among other things, are all described in the book as being completed or notably incomplete puzzles. What do you think is the significance of this recurring image?
6. So often in novels, particularly young adult novels, absent or negligent parents are a part of the plot. How does it change the novel that Griffin's and Theo's parents are all together and happily married? Does their support detract in any way from Griffin's grief?
7. Would you have broken up with Theo when he left? Why or why not? Did Griffin do the right thing?
Excerpt
HISTORY
SUNDAY, JUNE 8TH, 2014
I'm making history today.
Time is moving faster than this L train, but it's all good since I'm sitting to the left of Theo McIntyre. I've known him since middle school, when he caught my eye at recess. He waved me over and said, "Help me out, Griffin. I'm rebuilding Pompeii." A puzzle of Pompeii made up of one hundred pieces, obviously. I knew nothing of Pompeii at the time; I thought Mount Vesuvius was the hidden lair of some comic book over- lord. Theo's hands had entranced me, sorting the puzzle pieces into groups according to shades before beginning, separating the granite roads from the demolished, ash-coated structures. I helped with the sky, getting the clouds all wrong. We didn't get very far with the puzzle that day, but we've been tight ever since.
Today's outing takes us from Manhattan to Brooklyn to see if the lost treasures in some flea market are as overpriced as everyone says they are. No matter where we are, Brooklyn or Manhattan, a schoolyard or Pompeii, I've planned on changing the game up on Theo on this even-numbered day. I just hope he's down to keep playing.
"At least we have the place to ourselves," I say.
It's almost suspicious how empty the subway car is. But I'm not questioning it. I'm too busy dreaming up what it would be like to always share this space and any other space with this know-it-all who loves cartography, puzzles, video animation, and finding out what makes humans tick. On a crowded train, Theo and I usually squeeze together when we sit, our hips and arms pressed against one another's, and it's a lot like hugging him except I don't have to let go as quickly. It sucks that Theo sits directly across from me now, but at least I get the very awesome view. Blue eyes that find wonder in everything (including train ads for teeth whitening), blond hair that darkens when it's wet, the Game of Thrones T-shirt I got him for his birthday back in February.
"It's a lot harder to people-watch without people," Theo says. His eyes lock on me. "There's you, I guess."
"I'm sure there will be some interesting people at the flea market. Like hipsters."
"Hipsters are characters, not people," Theo says.
"Don't hipster-shame. Some of them have real feelings under- neath their beanie hats and vintage flannels."
Theo stands and does a bullshit pull-up on the rail; his brain gets him top marks, but his muscles can't carry him as high. He gives up and hops back and forth between the train benches like some underground trapeze artist. I wish he would somersault to my side and stay put. He holds on to the railing and stretches his leg to the opposite bench, and his shirt rises a little so I peek at his exposed skin peripherally while keeping my focus on Theo's grin. It might be my last day to do so.
The train rocks to a stop and we get off, finally.
Manhattan is home and all, so Theo never bad-mouths it, but I know he wishes more of its walls were stained with graffiti like they are here in Brooklyn, bright in the summer sun. Theo points out his favorites on the way to the flea market: a little boy in black and white walking across colorful block letters spelling out DREAM; an empty mirror demanding to find the fairest of them all in a crazy neat cursive that rivals Theo's perfect handwriting; an airplane circling Neptune, which is just fantastical enough that it doesn't give me flying anxiety; knights seated around Earth, like it's their round table. Neither of us have any idea what it's supposed to mean, but it's pretty damn cool.
It's a long, hot walk to the flea market, located by the East River. Theo spots a refreshment truck, and we spend five bucks each on cups of frozen lemonade, except there isn't enough of the sugary slush left so we're forced to chew ice to survive the heat.
Theo stops at a table with Star Wars goods. His face scrunches up when he turns to me. "Seventy dollars for that toy lightsaber?"
Theo's inside voice sucks. It's a problem.
The forty-something vendor looks up. "It's a recalled saber," she says flatly. "It's rare and I should be charging more." Her shirt reads princess leia is not the damsel in distress you're looking for.
Theo returns her glare with an easy smile. "Did someone pull an Obi-Wan and cut someone's arm off?"
My knowledge on all things Star Wars is pretty limited, and the same goes for Theo's knowledge on all things Harry Potter. He's the only sixteen-year-old human I know who isn't caught up on everyone's favorite boy wizard. One night we argued for a solid hour over who would win in a duel between Lord Voldemort and Darth Vader. I'm surprised we're still friends.
"The battery hatch snaps off easily and children can't seem to keep them out of their damn mouths," the woman says. She isn't talking to Theo anymore. She's talking to an equally unhappy dude her age who can't figure out an R2-D2 alarm clock.
"Okay, then." Theo salutes her, and we walk away.
We stroll for a few minutes. (Six, to be exact.) "Are we done here?" I ask. It's hot, and I'm melting, and we've definitely seen that some of the treasures are way pricier than they legally should be.
"Hell no, we're not done," Theo says. "We can't leave empty- handed."
"So buy something."
"Why don't you buy me something?"
"You don't need that lightsaber."
"No, stupid, buy me something else."
"It's safe to assume you're buying me something too, right?" "Seems fair," Theo says. He taps his dangerous watch. It is actually for-real dangerous, as in it's not safe to wear. I'm not even sure how or why it got made, because its sharp sundial hands have scratched unsuspecting people's bodies—mine included—enough times that he should throw it in a fireplace and kill it dead and then sue the manufacturer. He wears it anyway because it's different. "Let's meet at the entrance in twenty minutes. Ready?"
"Go."
Theo dashes away, nearly crashing into a bearded man with a little girl sitting on his shoulders. He is out of sight in seconds. I check the time on my phone—4:18, even minute—and I speed in the opposite direction, into an airy labyrinth full of people's relics for sale. I run past crates of old sneakers, crooked rows of smudged mirrors like a filthy funhouse, poles with floral pash- minas that billow from a hidden fan, and buckets of seashells sold in tandem with paintbrushes.
The seashells are kind of cool, I guess, but they don't really scream "Theo!"
A minute or so later, I hit a grid of the market that does speak Theo's language. A dream catcher with a willow hoop dyed his favorite shade of green. An entire table of tiny ships inside bottles. He was recently reading up on their intricacies in the hopes of making one himself, except I know he wants his bottle to have a spaceship inside because he always has to put his Theo twist on things.
I still have all the time in the world—if the world only had twelve minutes to offer, at least. It's too bad he's not more of a fantasy fan, because the letter openers here are pretty boss and I'm sort of hoping he's found this table already and will surprise me with one, preferably the one designed like a sword sheath or this one with the bone handle. It's okay because I have all the time in the world . . . Actually, right now, no I don't, because according to my phone, I only have nine minutes, an odd number that's getting me really anxious, so I scratch my palm while running again. I somehow return to a world of more misses. Theo has no current use for breakfast-friendly pots and pans since he's pretty happy eating bowls of cereal with orange juice, and he definitely doesn't need gardening tools unless they come with instructions on how he can grow more video games and computer apps for free.
Then I hit the jackpot.
Puzzles.
I glance at my phone again: six minutes left. I'm no longer anxious; I'm excited. I know from being over at Theo's enough that he doesn't own any of these: a steampunk barn house gliding away on wings built of scraps from a satellite; Santa's sleigh being pulled by dolphins underwater (I don't want to know what's in those wrapped gifts, but I'd also love to hear Theo's guesses); a 3-D puzzle of a soccer ball, and the 3-D part is cool, but the sports part is less cool. I'm not sure where Theo stands on 3-D puzzles, but this doesn't seem like the one "to kick it off"—ha.
Boom, got it. The fourth one in the row on the table: Doomed Pirate Ship. The pirates are being thrown overboard by stormy weather and a raging sea; some try to climb back up, while another hangs from the plank. I know Theo will create a kick-ass story behind this one. The vendor drops the puzzle in a brown plastic bag and even though it costs nine bucks, I just shove a ten into her hands and jet back.
Theo is waiting by the exit, pressed against the wall to hide away in the shade, like a vampire who stayed out too late— too early? I don't blame him. We're both sweating. He looks at his sundial watch. "Two minutes to spare! Let's get the hell out of here before we go up in flames, or, worse, you get sunburn."
On the way back to the subway, the only clue I have of his gift is a box. It's a perfect cube. I have zero guesses as to what it is. Underground we're hidden from the sun, but the mugginess of a crowded platform is unbearable in its own way, like we've set up camp at the top of a volcano and zipped our tent shut. We somehow survive the six-minute wait, and once the train opens its doors, we race to the corner bench and sit before a couple of college-age-looking guys can take the seats for themselves. The air conditioner is on full blast, and I feel more like myself.
"Presents?" Theo asks, pointing at my bag with finger guns.
"You finished shopping first, so you go first," I say, inching my leg a little closer to his so our knees might accidentally touch.
"I'm not sure what kind of logic that is, but okay," Theo says.
He gives me the little box and whatever is inside doesn't weigh that much and slides back and forth as I toss it from hand to hand. I open it and pull out an ornament of none other than Ron Weasley, Harry Potter's best friend.
"What do you think?" Theo asks. "I know he's your favorite character, so you probably already have this, but I thought this one was cool, especially since he's got that seen-better-days roughness going on."
I nod. It's true: this Ron Weasley figurine is a little beat-up, the paint chipped on his red hair and black robe. But he's not my favorite character. It's an easy mistake because Ron is my favorite in the trio—sorry Harry, sorry Hermione—and it's not as if they make ornaments for characters that were only alive and important in one book. But Cedric Diggory is my absolute favorite character in the series, in any book, really. When Cedric died at the end of the Triwizard Tournament, I cried for way longer than I've ever admitted to anyone. Cedric's death is no doubt my most painful loss ever. But it's okay, it's not like I know for sure who Theo's favorite Star Wars character is. I want to say Yoda, but that sounds stupid, even to me. It's the thought that counts.
"This is awesome," I say. "And I don't own it already, so thanks." I wonder if the previous owner got over the series and pawned this little guy for fifty cents or something. One man's loss and all that, I guess. "Okay. Your turn." I'm missing the emptiness of the train we rode out, hyperalert that there are nameless spectators watching us exchange gifts and drawing their own conclusions about how we must be dating. It sucks that they're wrong. It double sucks that there's a chance Theo may be too scared to even be my friend after today.
Essay
DEAR READER,
Years ago I met my first serious boyfriend—another author, before I was one myself—at a book event. We'd had some social media exchanges and hit it off in person, hanging out on the streets of rainy New York until morning. But he didn't live in New York. We stayed in contact daily and it wasn't long before I was ready to move out of the city I had called home my entire life to be with him. I came out to my mother and the rest of my family, packed an extremely large suitcase, got on a train, and left home. All was well for months with my then-boyfriend until I returned home for professional reasons. The relationship was long distance again, and what was once a source of happiness was growing into one of frustration for not physically being with one another. I ended things before it could turn ugly and knew we'd be better as best friends. I trusted we'd one day find our way back to each other.
Until he met someone else in a new city.
Watching my first boyfriend fall in love with someone else left me in this long state of brokenness because even though I wanted happiness for him, I wanted him to find that in me. I became insufferable with my jealousy and insecurities, and suffered through hopelessness and strong suicidal urges (not the first time in my life or the last). One day he called to tell me he and his boyfriend almost drowned at the beach, and from then on, my already fragile state exploded into extreme paranoia that there was a chance I'd lose him forever, that I'd lose him before I could tell him I still loved him without interfering with his own relationship. After a dinner in New York with my ex and his boyfriend—who'd slowly become a friend of mine—I was feeling hopeful again after I finally accepted the pair were a much better match than we ever were together. Maybe I wasn't screwed on finding my equal either. It wasn't exactly a happily ever after for me, but it was a promising new beginning.
This is where History Is All You Left Me comes into play. Much like my debut novel, More Happy Than Not, which was also very personal, I wrote History for personal therapy. But there was a twist in Griffin's narrative. His boyfriend, Theo, didn't simply move on—he drowned. The very thing I worried was going to happen to my ex back when I still loved him. I've always viewed death as the ultimate form of abandonment. A runaway can always come back home, but no one can come back to life.
This story is about the unlikely friendship between two boys grieving the same first love. But before they can reinvent their future, they have to confront their histories. And in Griffin's case, his biggest roadblock is himself. But the new beginning will be worth it.
Happy reading,
ADAM SILVERA