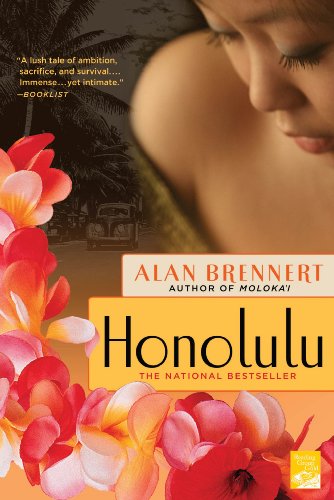 HONOLULU
---
"In Korea in those days, newborn girls were not deemed important enough to be graced with formal names, but were instead given nicknames, which often reflected the parents' feelings on the birth of a daughter: I knew a girl named Anger, and another called Pity. As for me, my parents named me Regret."
Honolulu is the rich, unforgettable story of a young "picture bride" who journeys to Hawai'i in 1914 in search of a better life.
Instead of the affluent young husband and chance at an education that she has been promised,
"In Korea in those days, newborn girls were not deemed important enough to be graced with formal names, but were instead given nicknames, which often reflected the parents' feelings on the birth of a daughter: I knew a girl named Anger, and another called Pity. As for me, my parents named me Regret."
Honolulu is the rich, unforgettable story of a young "picture bride" who journeys to Hawai'i in 1914 in search of a better life.
Instead of the affluent young husband and chance at an education that she has been promised, she is quickly married off to a poor, embittered laborer who takes his frustrations out on his new wife. Renaming herself Jin, she makes her own way in this strange land, finding both opportunity and prejudice. With the help of three of her fellow picture brides, Jin prospers along with her adopted city, now growing from a small territorial capital into the great multicultural city it is today. But paradise has its dark side, whether it's the daily struggle for survival in Honolulu's tenements, or a crime that will become the most infamous in the islands' history…
With its passionate knowledge of people and places in Hawai'i far off the tourist track, Honolulu is most of all the spellbinding tale of four women in a new world, united by dreams, disappointment, sacrifices, and friendship.
St. Martin's Griffin
Paperback
February 2010
464 Pages
9780312606343
Praise
"[A] poignant, colorful story."—Kirkus Reviews
"Brennert's lush tale of ambition, sacrifice, and survival is immense in its dramatic scope yet intimate in its emotive detail."—Booklist
"'Regret' is the given name of the protagonist of Alan Brennert's beautiful, sprawling novel Honolulu… Brennert's realization of a character of so different a time, place and gender of his own is an amazing accomplishment in itself. Honolulu is a delight."
—BookPage
"This delightful, suspense-filled feminist novel and social history movingly portrays the ambivalence, confusion and longing suffered by immigrants making their way in a new world, but reveals how women who may be powerless individually, can band together into a triumphant sororal circle of unstoppable strength."
—Newark Star-Ledger
Discussion Questions
How do you feel about Jin's decision to leave Korea? What do you think that you might have done in her place? How do you regard the various decisions she made after learning the truth about her fiancé in Hawai'i?
How would you interpret the poem by Hwang Chini on page 26 within the context of the story?
Korea and Hawai'i were both small countries, in strategic locations, that came to be dominated by more powerful nations. In what other ways were the Korean and Hawaiian societies of the time both similar and different?
Compare and contrast the lives of a Korean kisaeng and an Iwilei prostitute.
How does the author weave real people and events into the lives of his fictional characters, and how do they contribute to your understanding of Jin's circumstances? If you were already familiar with any of the historical figures, how do you view them after reading the novel? For example, the author is uncertain of May Thompson's fate in real life—what do you think she might have done after leaving Honolulu? What do you think about the Governor's decision to commute the sentences of Lt. Massie and the others convicted in Joe Kahahawai's death?
How have Americans' attitudes toward immigrants changed—or not changed—since the 1900s?
The biography Passage of a Picture Bride describes its real-life subject as having a "positive outlook and broad-mindedness, unusual traits among Korean women" of that time. How does this statement apply to Jin and her fellow picture brides?
What binds Jin and her "Sisters of Kyongsang" together, other than the kye? What purpose do they serve in each other's lives?
What is the significance of the patchwork quilts not just to Jin's life, but to the life of Hawai'i itself?
At the end of the novel, Jin says "Hawai'i has often been called a melting pot, but I think of it more as a 'mixed plate'—a scoop of rice with gravy, a scoop of macaroni salad, a piece of mahi-mahi, and a side of kimchi. Many different tastes share the plate, but none of them loses its individual flavor, and together they make up a uniquely 'local' cuisine. This is also, I believe, what America is at its best—a whole great than the sum of its parts. What do you think of her statement? What is gained and what is lost—both in Hawai'i and in the U.S. as a whole—in becoming a multicultural society? How might this be particularly relevant to Native Hawaiians?